Giới trẻ
Quoc Truong: "After building the house, I'm ready to get married"
The actor from Can Tho said that after 13 years in Ho Chi Minh City, he had achieved certain results. Quoc Truong considers himself lucky.
Quoc Truong came to the interview after bringing his parents breakfast and coffee. This is the actor's habit for many years when his parents go to Ho Chi Minh City with their son. And always, even though he's busy, he still takes the time to drive himself to Can Tho, pick up his parents to Ho Chi Minh City or vice versa. According to Quoc Truong, these tasks can be assigned to employees, but he always wants to do them himself. For the actor, the time spent with his parents always brings him a sense of peace and happiness. He admits that his parents are also his motivation to strive and try harder in his career.
The Vietnamese actor's cat-shoe is not enough to live on
Minh Hang and a number of artists have become film producers and investors when they have business results. What about Quoc Truong?
This question swirls in my heart. I feel that being an actor is not enough to live on, only a star can make a living. But really a star will not be rich. Rich here is compared with the average income of people, not even compared to successful businesses.
My dream is to contribute to the development of the country's cinema.
I acted in movies from the past and received extremely low salary. In the early days of filming, I only dared to eat a plate of rice for 25 thousand dong, eating with the bricklayers. At that time, I had already played 5 main roles. The audience sat down to eat together, realized that I was filming a movie and asked: Do actors eat here? I answered: I act in movies but I am very poor. The cadre is only taller than the workers.
I thought to myself that in the future, if I was rich, I would make movies, pay high salaries to actors, and invest in accommodation for my colleagues. I want to buy buses, convert them into mobile homes for actors to rest. Even mass actors need a decent place to rest, not having to be dragged around like now.
I make movies determined not to need too much profit. If I make a profit of 50 billion, I only need to keep 5 billion to maintain the company, 45 billion to pay and take care of living expenses for actors and staff. When I was filming, I was heartbroken when I saw many elderly actors like my father and uncle have to wait. Vietnamese cinema needs to change and improve the working environment for actors and employees.
People make movies to make them rich, but I want them to be rich. Quoc Truong is rich in other fields. Hopefully by the age of 40, I will have enough conditions to play hard with that dream.
In Hong Kong, there is Mr. Co Thien Lac who I admire. Despite the downfall of the cinema, he still managed to stay strong and do everything he could to support.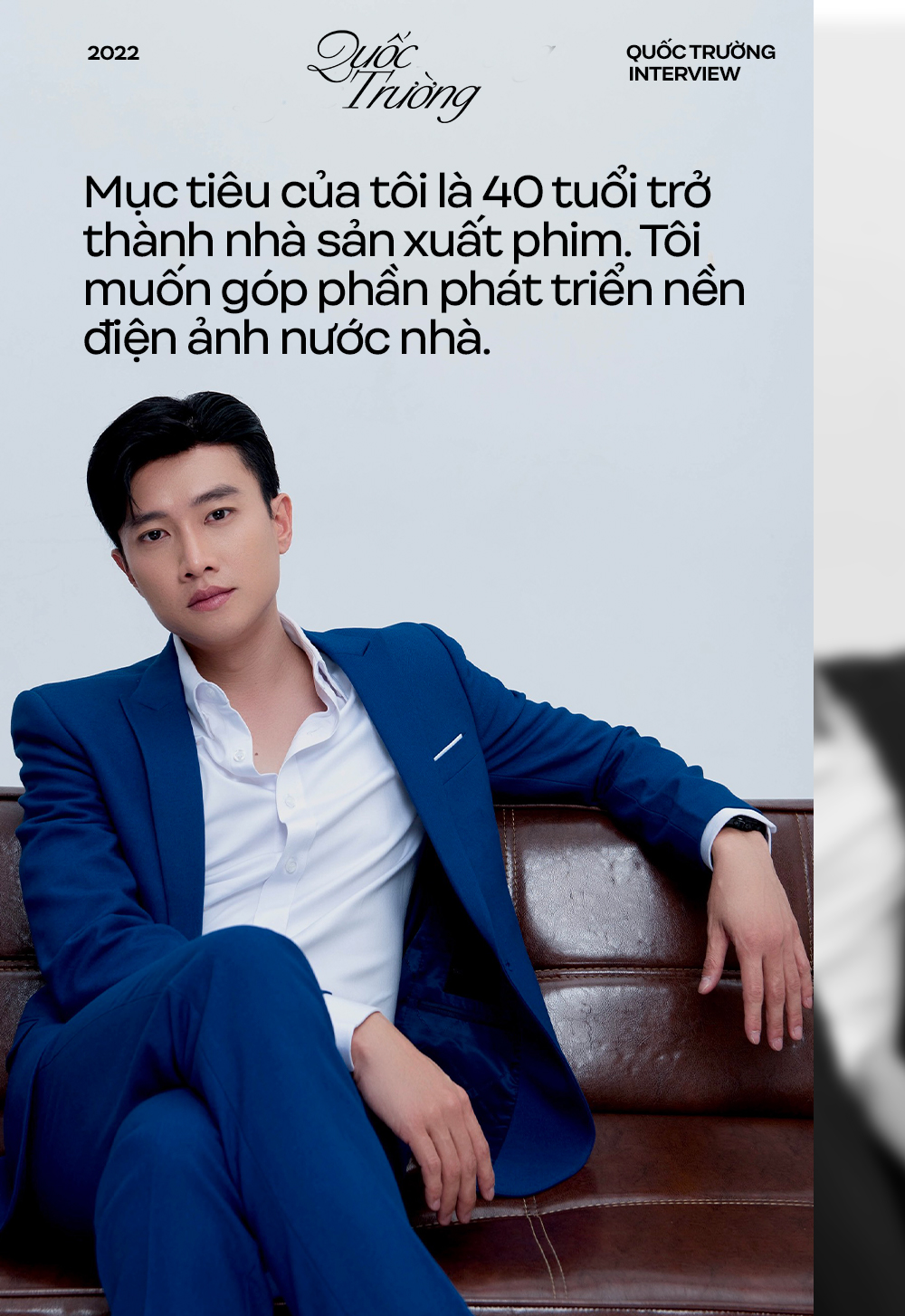 In the movie segment, the audience still expects him to have more breakthrough roles. Being a producer is also a way for you to indulge in the roles you like?
No, until then, if there's a role that suits me, I'll play it, not greedy. If you invest in any movie, act in that movie, people find themselves greedy. If the person has a famous number, plays a few movies and is still popular, no need to plan much. At that time, I could play a small role. My big goal is to contribute to the development of the country's cinema.
Does anyone have a business without profit?
People living on film investment will have to calculate the profit. But I'm determined to make a film for the sake of dedication, I won't count. At that time, film production will be Quoc Truong's game. If I win, I will split the money between my brothers. If I lose, I pour money from the business. We only eat three meals a day, sleep in the same bed, stay in the same house, and drive a car. Buying multiple properties do? Too much money for me to enjoy. But that is easy to spoil the child. Money should only be given to parents and people around.
How is the Vietnamese film market in your opinion?
I see the Vietnamese film market growing. That leads to an increase in entertainment demand. Vietnamese audiences watching movies are increasingly civilized and fastidious. The more demanding the audience, the more developed the film industry. We also wish filmmakers would have more creative opportunities. If Korea is not comfortable, open how to create movies that shock public opinion and win Oscars.
Will not leave property to children
Looking back at his achievements, what do you think he was successful for?
It all comes from luck, maybe because I have many blessings, so I often make the right decisions. I also feel that I am not good enough, acting is not as good as this person, doing business is not as good as other people, handsome is not as good as many people. So it can be said that what I have today is due to luck. Luck comes from within, from the little things we create ourselves. For example, being humble, grateful, greeting adults. There are people who are better than me but the opportunity does not come. And I'm lucky to do that.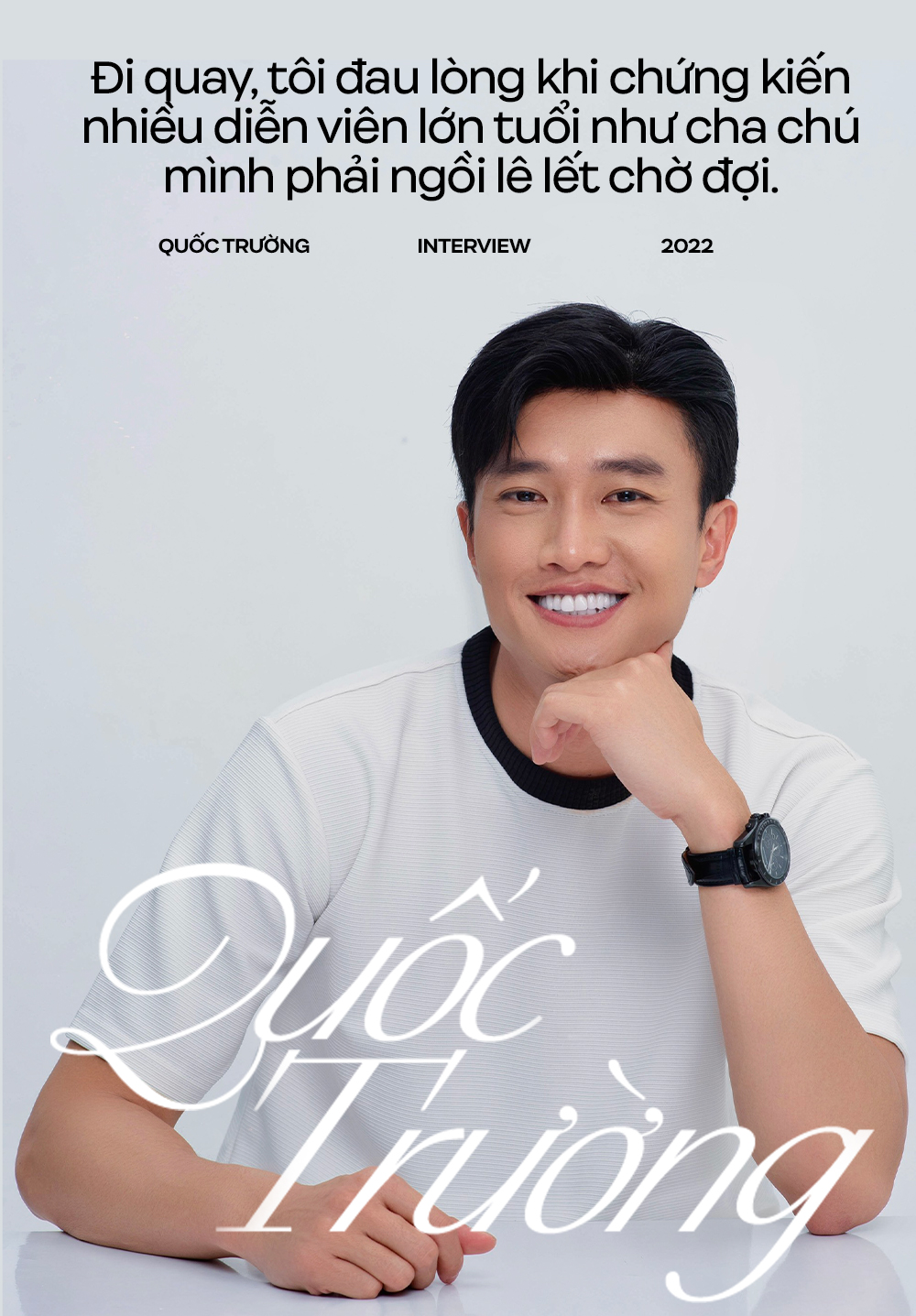 What decisions make you proud?
Those are all giving decisions. Before every decision, I ask myself: will it affect my customers, partners, employees? Am I lying to myself? My motto is to hire good people, pay high salaries without fear of spending money, as long as there is no loss. This is not ideal but appropriate for the situation of the business. If I give before, when the company is in trouble, the staff will support me back.
In business, people management is the most difficult. Employees are happy and excited at work, they will help the company develop more. I hold too much profit for nothing. Too much money spent on children only spoils them. In the future, I will not leave an inheritance to my children.
Where did you get that thought from?
Later, if I have children, I will tell them in advance to prepare mentally not to have a single penny in the family. There is no promise for property, the new child is independent and mature. I determine what I leave to my children is my prestige in society. I see many rich people who leave a lot of money to their children and they are all perishable. Many Vietnamese parents do not dare to eat, saving all their money for their children. If the child does not have the effort, learn how to win the heart, it will be difficult to be brave in life. However, there are also exceptions.
Buy a house in Ho Chi Minh City after 13 years
Newly completed villa over 300 m2 in Ho Chi Minh City. That is the result of how long you worked?
I don't remember either, maybe a few years ago. Everything happened by fate, I missed the apartment in the center, so I had the opportunity to meet the current land. Looking back, I consider myself lucky because I had the opportunity to buy a piece of land I liked. Living in a spacious house is always preferable.
What does this mansion mean to you?
It marked me officially having my own house after 13 years of packing up in Ho Chi Minh City to set up a business. The house is really meaningful, with a personal mark. This place gives me a sense of peace after the pressure of work. Maybe this is also my future home.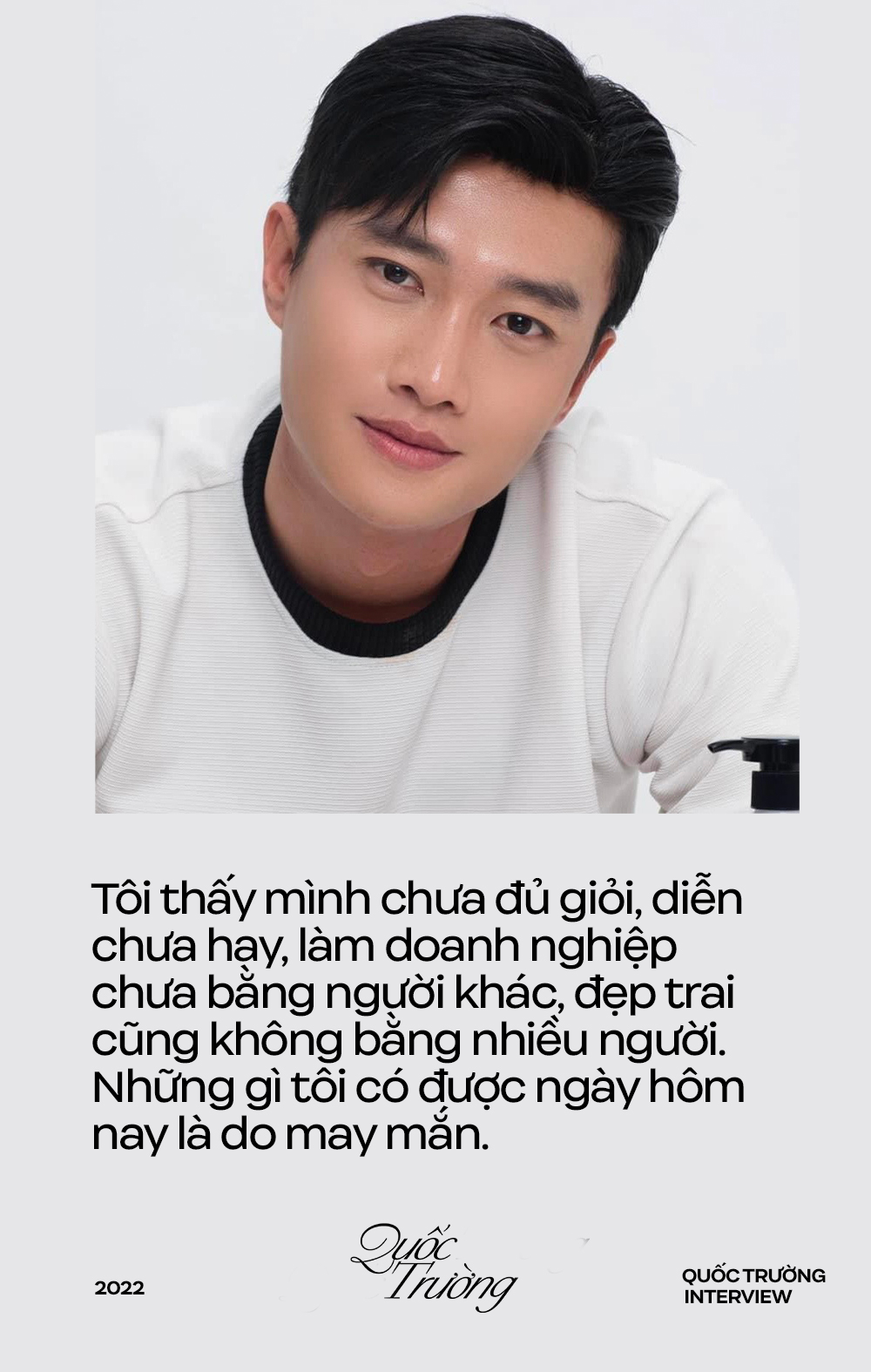 The house in Can Tho that he built for his parents is also several hundred square meters wide. Your hobby is buying large land, big house?
Yes, it's a common hobby. When having enough conditions, everyone wants to have a comfortable spacious house and good feng shui. I was no exception.
Living alone in a large house, do you feel lonely?
Sometimes I like being alone, but I'm afraid of being alone. Being alone for too long is also lonely. But have to accept because loneliness also has its own beauty. Moreover, taking advantage of enjoying a lonely life, maybe tomorrow I will fall in love with lightning, and I will be busy again.
It can be said that my current life is peaceful, happy, and quite leisurely.
Building a new house, perhaps Quoc Truong is also ready for a wedding?
Yes. After building the house, I am ready for married life. I am excited and waiting for love to come.
But really, when you have everything in hand, how easy and difficult is it to choose your lover?
I think at the age of 35, there is no longer any standard for love, because all bitterness and sweetness have already been experienced. So now, whoever shakes me will be my wife. Of course that person must have kindness and tolerance.
His relationship with Midu or Bao Anh is very good. Fans also often push boats for him and them. You seem to be moved by them too?
I used to be touched by them. They are all women that I think anyone who comes in contact with will be moved. Both are beautiful, talented and profound.
In fact, it's good to have someone who loves the same profession or not. If in love, both can still spend time together, just afraid that love is not big enough for each other to cut personal and work time.
According to ttvn.toquoc.vn
You are reading the article
Quoc Truong: "After building the house, I'm ready to get married"

at
Blogtuan.info
– Source:
infonet.vietnamnet.vn
– Read the original article
here