Thị trường
Strangely, bananas must be boiled to be delicious, lemons are not sour, still "sold out"
Strange type of banana: Only boiled, baked is delicious
Ms. Minh, owner of a fruit shop in Me Tri (Hanoi), said that wax bananas are a specialty of the Southwest region. The fruit is small and fat, looking quite similar to porcelain bananas. There are two types of wax bananas: white wax bananas and turmeric wax bananas. Turmeric Wax Banana is evaluated as flexible, sweeter than white wax banana.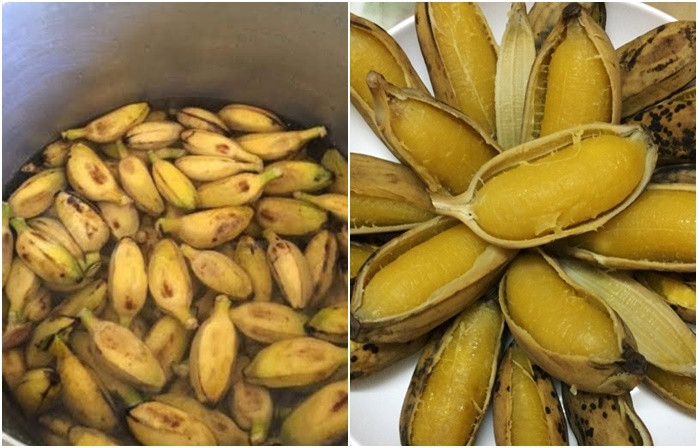 "The uniqueness of the wax banana that makes many customers fall in love is because this banana is only boiled or baked, it is delicious to eat. At that time, banana nectar will be gathered in the middle, both fragrant and sweet, eating with a crunchy feeling, but the banana intestine is as flexible as wax", Ms. Minh said on Knowledge and Life. Because of its unique delicious taste, wax bananas are always "hot goods". The price of turmeric wax banana is 100,000 VND/3kg.
Sweet passion fruit hundreds of thousands of VND / kg still "sold out"
At the typical agricultural product exhibition held by the Ho Chi Minh City Farmers' Association recently, many unique seedling products have attracted visitors. In there, sweet passion fruit of old farmer Sau Cong (Soc Trang) costs more than 110,000 VND/kg, 4-5 times higher than normal passion fruit, still has no goods for sale because of its strange taste…
Showing off the sweet passion fruit that he exclusively bred from Colombia's passion fruit tree with longan, Mr. Sau Cong said in Tien Phong Newspaper, after more than 3 years of experimenting, many times of extraction, selection… Finally he has successfully bred sweet passion fruit, characteristic aroma, high nutritional value.
Strange job: "Cut" the tree to get water, climb the tree to knock durian fruit
Planting trees is not only for fruit and timber. Dan Viet newspaper said that in Vietnam, you can make money by… brewing wine in trees, such as specialty wine taken from the Doak tree.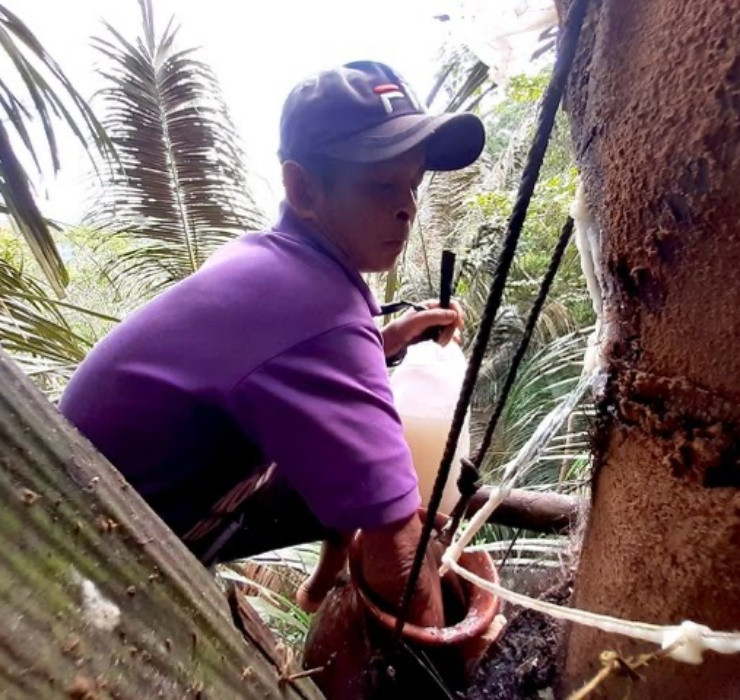 Residents of Dak Plinh commune (Kong Chro district, Gia Lai) said that when taking Doak wine, they have to choose trees with a lifespan of more than 15 years. The distance from the tree to the stream bank is also one of the factors that determine the deliciousness of the wine, the ideal distance for the Doak tree to produce the best wine flavor is about 30m from the stream bank. When harvested properly, this plant will produce a white wine, with a bit of pungent taste, a strong aroma and absolutely no intoxication for the drinker.
Phong Dien district (Can Tho city) is in full bloom of durian harvest. The Can Tho newspaper said that the productivity of this year's durian crop increased compared to the same period last year, so durian knockers (also known as knockers and cutters) are busier.
The talent of those who "knock" durian is to assess the age of the fruit right from the moment when it has not yet smelled the aroma. At gardeners, the price of workers "knocking" durian ranges from 1-3 million VND/person/day. The salary paid for the job of "typing" durian is high, but few can follow the job.
Three types of strange branches cause a market fever
In addition to traditional flowers, consumers are also on the lookout for unique indoor plants that can last for up to a month. In particular, imported stone pine is the most unique branch on the flower market today. Priced from 130,000-150,000 VND/bundle, with a durability of 15-30 days, this type of branch is considered to be a super saver for women who play flowers.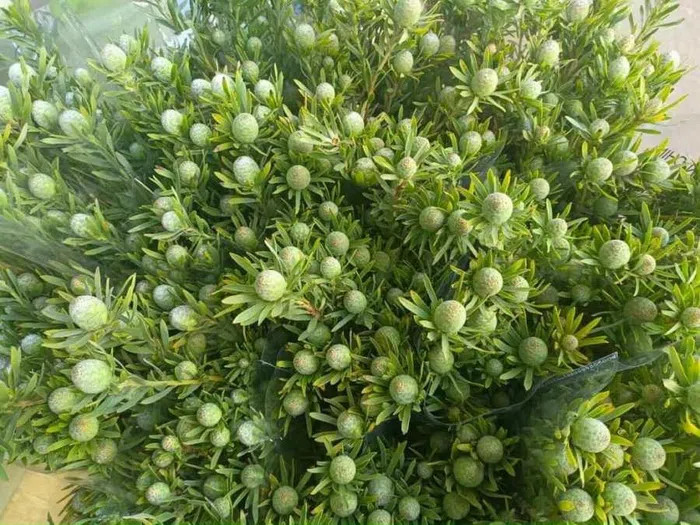 Besides stone pine, the flower market in Hanoi appears plum branches from Moc Chau, priced quite cheaply from only a few dozen to several hundred thousand dong/bundle. The plum branch has both fruit and young leaves, and the price is reasonable, so it is attractive to buyers.
At the end of 2021, the market has a "craze" for planting forest cherry branches. Fancy forest cherry branches are sold in bundles for only 120,000 VND/bundle. Forest cherry branches are popular because of their slender shape, when planted, they exude the wild look of nature, not drying like many other flowers.
"Saltwater chicken" – a rare specialty in Phu Yen, priced at 2.5 million VND/kg
Boo fish, also known as "armoured fish", "saltwater chicken", is one of the rare fish in Phu Yen. According to Dan Viet newspaper, with a hard skeleton under the black speckled skin, this "salt water chicken" has a tough, sweet and fragrant meat and has become a favorite seafood for many people.
Cockatiels grow very slowly, the number is very small. To reach a weight of about 1kg, it takes about 3-5 years for the bony fish, so the bigger the fish, the higher the price. This is a rare and expensive specialty among fish caught in Phu Yen. Fresh bovine fish is being sold by seafood shops for 1.3-2.5 million VND/kg.
Hanoi Pho restaurant cooks stone bowls at 300 degrees Celsius, customers "self-catering"
Owner noodle shop This is Ms. Chu Phuong Linh. According to Dan Tri newspaper, in order to make a difference with famous and long-standing pho restaurants in Hanoi, Linh decided to use stone noodle soup. "Normal pho bowls will cool down, but stone noodle soup will be hot until diners finish enjoying it. This makes the bowl of pho fresh, hot and also more unique", Ms. Linh shared.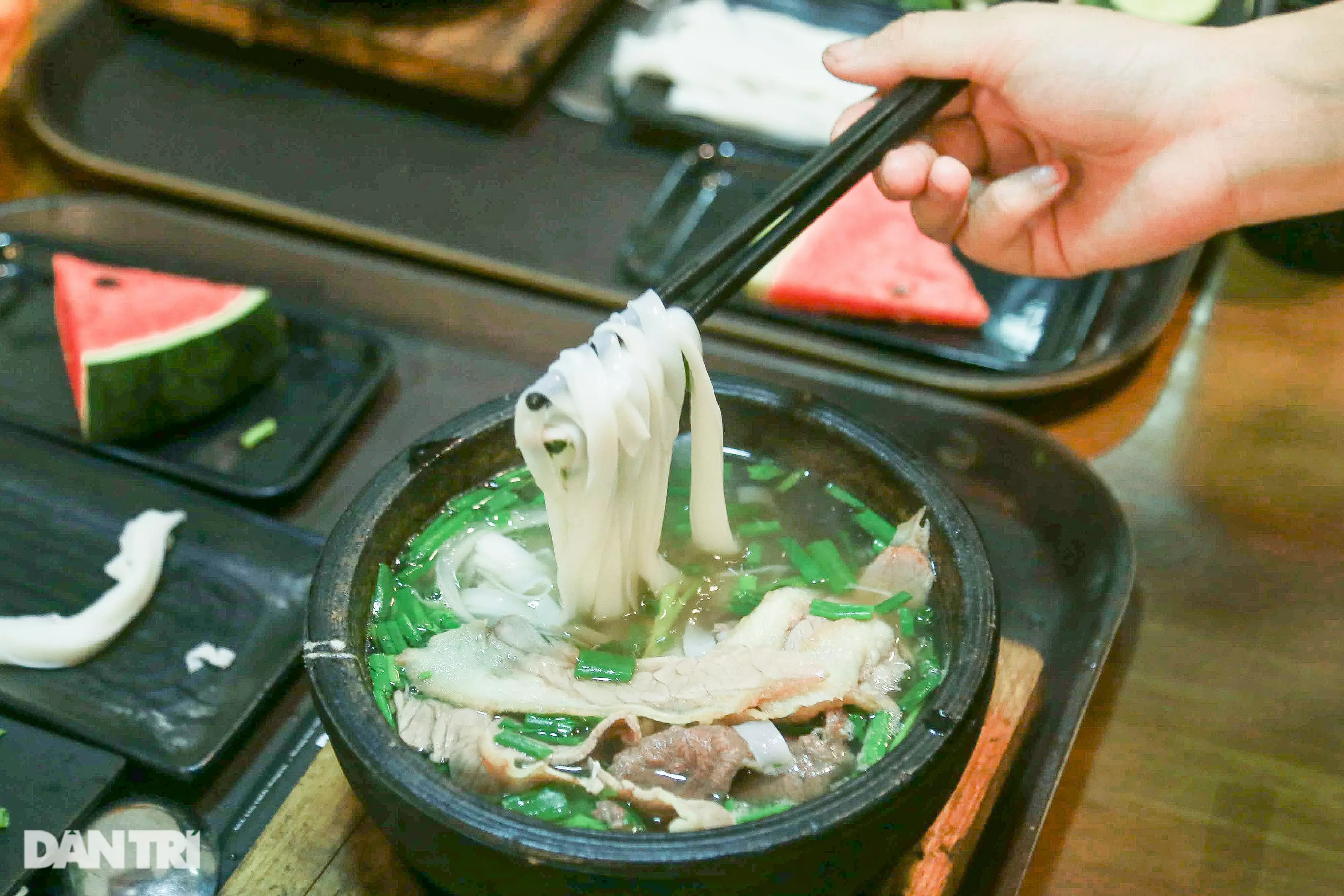 The process of making a bowl of stone noodle soup goes through many different steps. The recipe for pho broth was made by Ms. Linh according to the "herditary secret". The pho used at the restaurant is made exclusively by manual coating method.
The stone bowls were ordered by Ms. Linh from Binh Dinh and meticulously transported to Hanoi. In order for the stone bowls to retain heat for a long time, the owner bakes them with a gas stove at a temperature of up to 300 degrees Celsius, then pours boiling noodle soup into it and immediately brings it out to diners. To enjoy this dish to the fullest, when the staff brings it out, diners should immediately put the meat in the bowl, skillfully adjust the rare, cooked according to their preferences.
Come and see the giant river fish weighing more than 100kg
A representative of LT restaurant (in Long Xuyen city, An Giang province) said on Dan Viet Newspaper, the restaurant had just bought a giant freshwater stingray from a fisherman (living in Kien Giang province) caught. Many curious diners flocked to the restaurant to see and enjoy the stingray meat.
The freshwater stingray weighs more than 101 kg, has a width of 1.9m, a length of 1.6m. The restaurant's representative said it would sell the fish for about 500,000 VND/kg.
Hanh Nguyen (Synthetic)
You are reading the article
Strangely, bananas must be boiled to be delicious, lemons are not sour, still "sold out"

at
Blogtuan.info
– Source:
vietnamnet.vn
– Read the original article
here