Tin
The person wearing 100 gold trees in Saigon: A hobby since childhood, not afraid of robbers
In 14 years, this person bought a lot of jewelry such as necklace, bracelet, ring, earring, anklet, foot ring, etc. with the value of 100 gold trees.
Wear a lot of gold for fun and to attract attention
Do Ngoc Thuan (34 years old, district 11), also known as "Seven Balls", is a name that is noticed on social networks with many pictures of wearing a lot of clothes. jewels gold in his neck, 2 arms, 2 hands, … According to this man's estimate, the number of jewelry he is wearing is worth about 100 gold trees.

Clip: Close-up of a man's 100 gold tree jewelry set in Saigon
Pointing to the large and small gold bangles covering both arms, Thuan said: "On the right are 19 gold rings, about 19 gold trees; On the left are 30 gold bracelets, we have about 30 trees, at the time of buying more than 1 billion dong.
And here is a gold ring called Seven Balls, I just received it yesterday. This car ordered and waited for 2 weeks, priced at about 100 million. The other rings are about 50 million each…"
This man said that wearing gold is a hobby that has been there since he was a kid, and in 2008, he started wearing more gold to attract people's attention.
"Before, when I was not popular online, but I wore a lot of gold, every time I stopped to wait for the green light, I saw many people pointing and admiring. Later, when I opened a hotpot and snack shop, I decided to wear more gold. to attract attention, also for guests to eat can ask for fortune." – Convenient to share.
In addition to necklaces, bracelets, rings, earrings, Thuan also wears anklets and foot rings.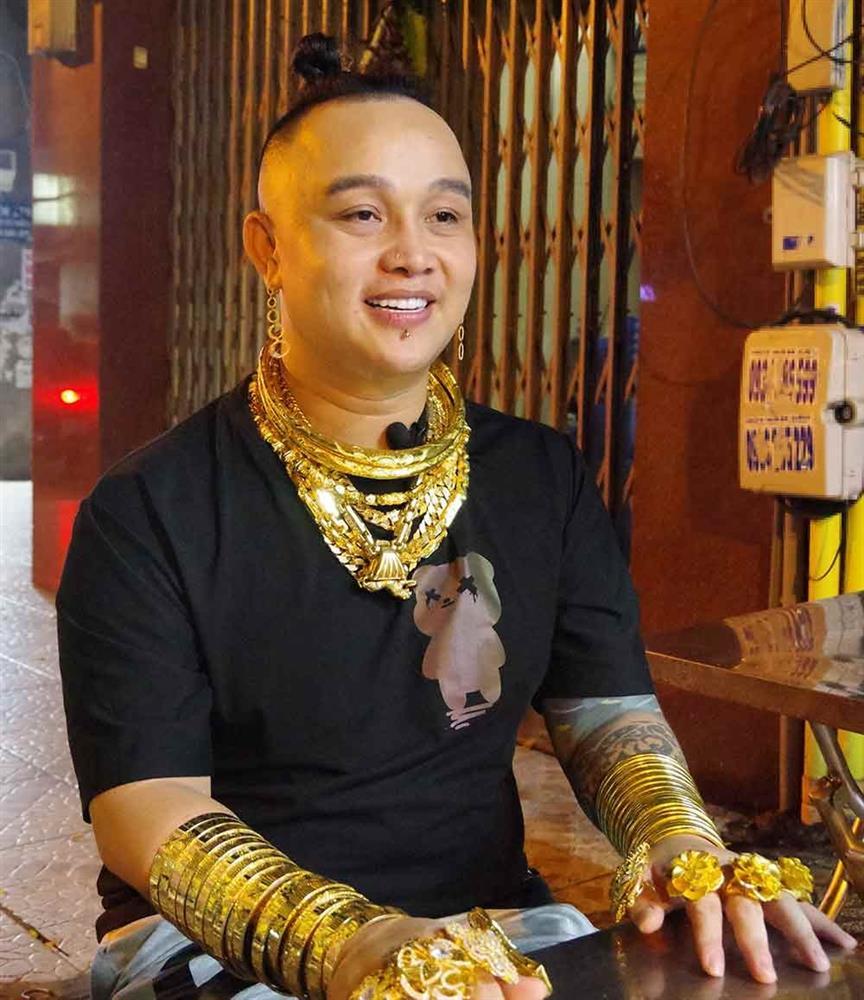 The man wears 100 gold bars in his arms, fingers, neck,… – Photo: Nhu Khanh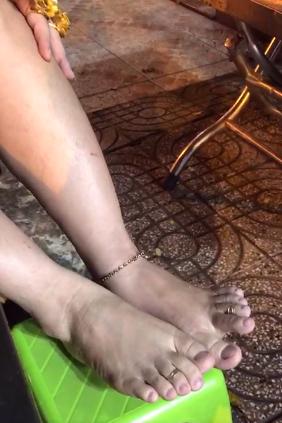 The toe is also ringed…
2 times met robbers
On a rather late evening in 2014, while walking on Lu Gia Street (District 11), Thuan noticed four men following behind him. Suspecting that this is a group of bad people trying to approach to rob him of the gold, Thuan quickly ran into a nearby convenience store to hide.
"At the moment, a group of people are just hanging around outside waiting for an opportunity. The employee at the convenience store told me that I should call my relatives to pick me up, not go out alone. A close friend came to drive me home safely afterwards. , when I came out of the convenience store, I saw 4 guys driving 2 motorbikes and they changed riders so I wouldn't be on the lookout." Thuan recounted.

Clip: The man wearing 100 gold bars tells about 2 times he met robbers
Another time, while driving a SH car with a new iPhone on Le Van Sy street (Phu Nhuan district), Thuan was chased behind by a group of people. "These people approached and told me to stop, then demanded to check my papers.
Knowing that I encountered a group of bad people, I shouted loudly for everyone around to hear. At this time, the group of people ran away but their hands still grabbed my necklaces. I managed to capture the chain but lost the gold pendant. When I got home, I was very scared, but the fear also went too quickly…".
Until now, when asked if he is afraid of being robbed when he wears too much gold on the street, Thuan laughs, affirming that he is "not afraid": "I still ride my motorbike around my house to pick up goods and deliver goods; I only hire bodyguards when I go far, out of town." – man wearing 100 shared gold.
"Who can prove I wear fake gold, I give it all"
Thuan said that all the gold he was wearing was ordered to work at a single gold shop. "I am a loyal customer there, every day I stop by to ask if there is a new model, if there is, I order it."
One of Thuan's favorite jewelry is a ring with a heart face and the words "Seven Balls". Other rings were designed by this man himself and ordered by the gold shop to make his own.
When he knew that many people suspected that he was wearing fake gold, deliberately attracting attention, Thuan shared: "In the locality where I live, everyone knows I've been wearing gold for a long time. Now anyone in doubt can go with me to the gold shop to verify, if it can be proven that I'm wearing fake gold, I'll give it all away. If the gold I wear is real gold, they just need them to give me 5 million".
Thuan said the money to buy gold comes from capital accumulated over many years. More than 2 years ago work business Convenient snack shops so he invested in buying more gold. "In the future, I will buy more necklaces to cover my neck." – smiling man, said.

Clip: The man said he would give all the gold if anyone could prove that he was wearing fake gold
Customers who come to Thuan's shop often ask for a spirit by touching and stroking the glittering gold jewelry on his hands. Even some guests asked him to take off the ring so they could put it on his finger, and he happily agreed.
"I'm very happy if those who ask for astral and luck and fortune really come to them. But begging is also a part, everyone still needs to work with all their abilities and dedication." Thuan said.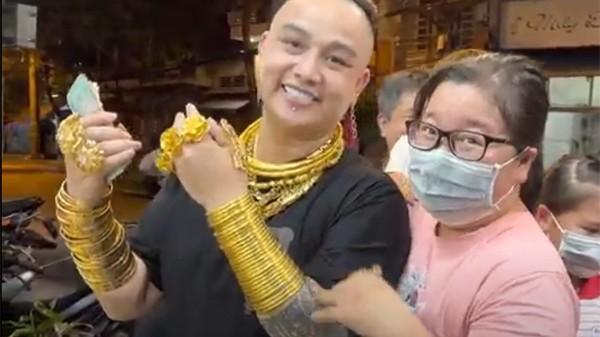 Customers come to the shop to ask for his fortune – Photo: Nhu Khanh
According to VTC
You are reading the article
The person wearing 100 gold trees in Saigon: A hobby since childhood, not afraid of robbers

at
Blogtuan.info
– Source:
2sao.vn
– Read the original article
here