Thế Giới
Ukraine conflict triggers race to produce potash fertilizer to help prevent hunger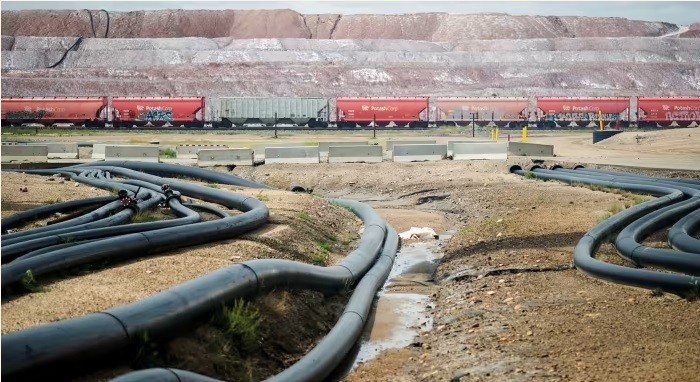 For most of the past decade, the market for potash (potassium compound, key ingredient in fertilizer production) has struggled with overcapacity and falling prices. But as the embargo chokes off supplies from Russia and Belarus, two countries that account for 40% of global fertilizer production, importers are racing to find alternative sources, along with a growing warning. about the global food crisis.
In Brazil, a center of agricultural production, fertilizer prices have increased by 185% over the past year, to $1,100 per ton. This increase in Europe is even higher, to 240%, equivalent to 875 euros/ton.
Potash is a mineral found in potassium deposits that was formed during the evaporation of seawater and the movement of the sea floor over millions of years. This compound is rich in potassium, one of the three most important nutrients for plants besides nitrogen and phosphorus.
However, the cultivation of a variety of food crops such as corn, soybeans, rice, and wheat suddenly cut off the essential raw material potash, threatening global crop production. Producers are looking to expand production as potash prices soar, along with geopolitical tensions that transform traditional trade flows, the increasingly prominent role of supply security.
BHP (Australia) is considering putting the project at Jansen in Canada worth $ 5.7 billion into operation in 2026 instead of 2027 as planned. The world's largest mining group also embarked on research to expand the second phase of the project, doubling its capacity to 8 million tons of potash/year.
In Brazil, cheerleaders for a $2.5 billion potash mining project in the Amazon jungle, the largest in the region, if approved, have accelerated efforts to get it licensed. To get an environmental license, the Brazilian company Potash must negotiate with local people.
Smaller companies are raising capital to start or complete new projects. Highfield Resources, an Australian listed company that plans to develop a potash mine in Spain this year, has access to a package of credits worth €312.5 million from European banks. Europe. The company has also started negotiations with potential partners. "We've seen a huge difference in interest levels since the start of the war in Ukraine," said Highfield Resources CEO Ignacio Salazar.
Across the Atlantic, Western Potash (Canada) has also received a loan of $85 million from Appian Capital to develop a point potash project in Saskatchewan.
Potash prices increased sharply mainly because Belarus could not find a solution to export potash to the international market because of the sanctions of the US and the European Union (EU), followed by the blockade of railways and seaports by Lithuania. transporting ore from Belarus. The country currently exports only about 5% of its total output and mainly to China.
In a report released last year, BHP forecast global potash production to be around 86 million tons by 2030, up from 76 million tons in 2020. However, analysts now admit that it is difficult. to achieve this output, because most of the new mines expected to come into operation are concentrated in Russia and Belarus.
"If these projects are delayed or canceled due to lack of funding, there will come a time when we will find ourselves in a situation where the supply stress will persist longer," said Humphrey Knight, head of analytics. about potash at consulting firm CRU, commented.
Slavkaliy (Belarus) company was forced to stop the project of 2 million tons of potash/year at the Nezhinsky mine due to difficulties in accessing capital. Industry analysts suspect a similar fate will befall the project in Talitsky, invested by Russian company Acron.
According to Humphrey Knight, there are quite a few risks associated with the market outlook. The bottom line is that it is unlikely that Russia and Belarus will be permanently excluded from the market and this is an unexpected change in supply. But it is very difficult to replace supply from these two countries in the short term, especially given that the world's most attractive potash mines were brought into play during the commodity boom of the early 2000s.
You are reading the article
Ukraine conflict triggers race to produce potash fertilizer to help prevent hunger

at
Blogtuan.info
– Source:
danviet.vn
– Read the original article
here