According to The Economist, Southeast Asia is one of the most vulnerable regions to climate change in the world. However, this smoky region doesn't seem interested in giving up fossil fuels yet; But in that dark picture, Vietnam is a bright spot.
Vietnam leads in clean energy transition
According to The Economist, within 4 years to 2021, the share of solar power in Vietnam has increased from zero to nearly 11%. This is not only a faster rate of growth than most other parts of the world, but also a higher share than that of major economies like France or Japan. Last year, Vietnam became the tenth largest solar power producer in the world.
Emphasizing Vietnam's commitment to the energy transition, Prime Minister Pham Minh Chinh in November 2021 announced it would stop building new coal-fired power plants and reduce net emissions to "zero". in 2050.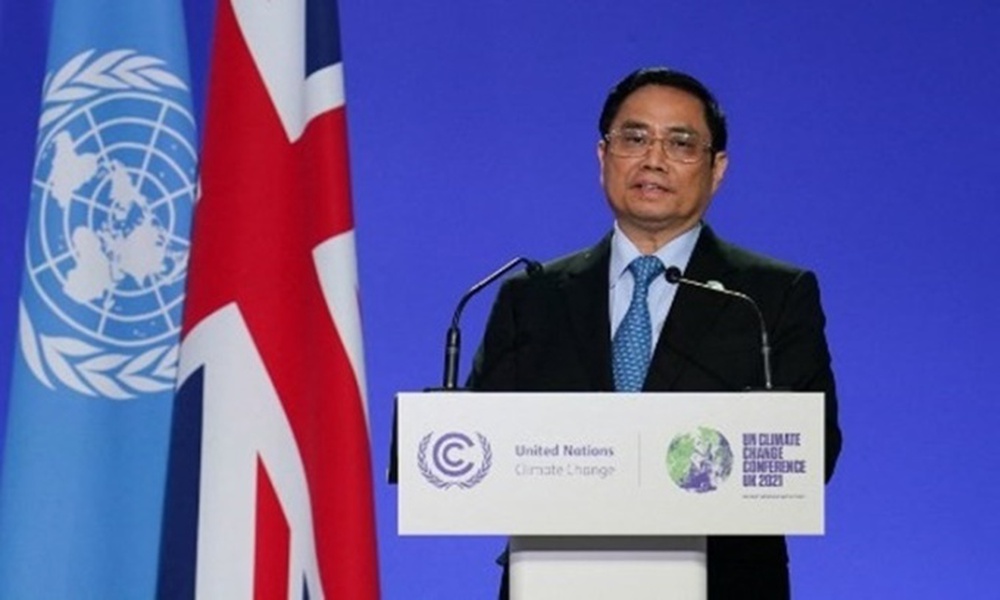 Prime Minister Pham Minh Chinh presents a national statement within the framework of the COP26 Climate Change Summit in Glasgow (Scotland) on November 1, 2021. Photo: AFP.
According to The Economist, in the transition to clean energy, other Southeast Asian countries can learn from Vietnam's experiences.
According to a study conducted by Paul Burke and Thang Do from the Australian National University, since 2019, Vietnam has quadrupled its wind and solar power capacity. This "extraordinary achievement" is largely driven by political will and market forces.
In 2017, the Vietnamese government began paying solar suppliers a flat rate of up to 9.35 cents per kilowatt-hour supplied to the grid. This price is quite generous as the cost per kilowatt hour usually ranges from 5-7 cents. As a result, 100,000 rooftop solar panels were installed in 2019 and 2020, bringing our country's solar capacity to a "huge" 16 gigawatts.
Many other Southeast Asian countries have tried to apply grid pricing, but they are not attractive enough.
According to The Economist, reforms to make it easier for foreign investors to do business in Vietnam have also contributed to the success of this strategy. In contrast, foreign investors in other Southeast Asian countries often feel left out when they have to compete with domestic fossil fuel companies, which enjoy large subsidies.
But still need more effort
According to consulting firm Dezan Shira, if Vietnam hopes to achieve net zero emissions by 2050, more effort is still needed. Demand for energy in Vietnam has grown by about 10% annually over the past decade, and much of it is met by coal-fired power.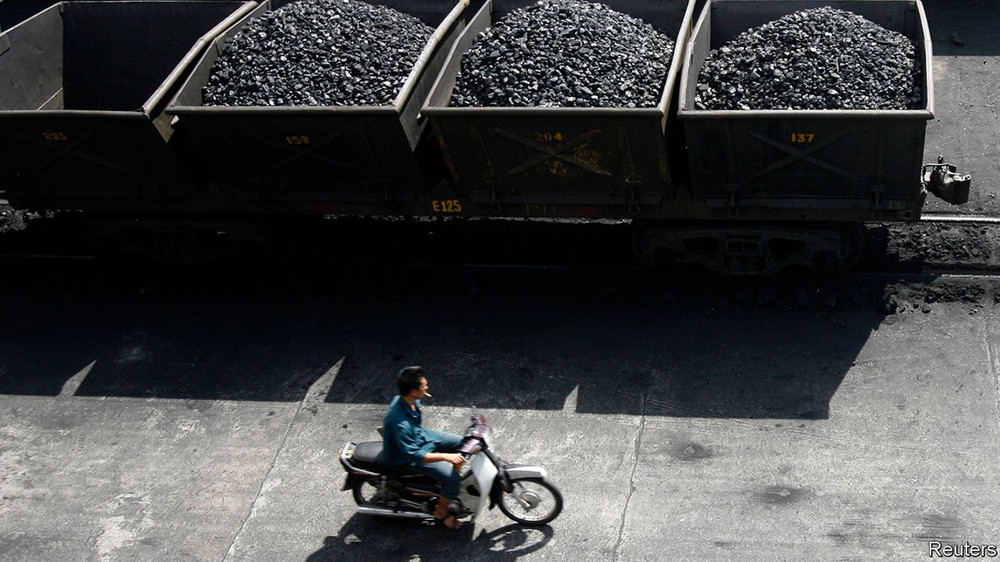 A worker rides a motorbike near a coal truck before it is loaded onto a Chinese ship at the port of Cua Ong Coal Recruiting Company (Cam Pha town, Quang Ninh province). Photo: Reuters
Ember – an energy consulting organization based in London (UK) – said that in the five years to 2021, the proportion of electricity generated by dirty garbage has increased from 33% to 51%. Besides, the Government of Vietnam must also ensure that the economy will continue to grow, even if the whole country stops using coal-fired power. Before the pandemic, Vietnam's economy grew at 5-7%.
Researcher Paul Burke says: "Government strategists need to ramp up wind and solar quickly and consistently year after year." Most of the electricity generated from renewable energy in Vietnam currently comes from hydroelectric dams.
According to Mr. Burke, strategic planners also need to consider that the grid must be expanded and upgraded to cover the whole country and be able to cope with the intermittent character of electricity due to renewable energy. create offers.
Improving the grid will be extremely expensive, almost certainly requiring the government to seek private investment, experts say. However, policymakers are likely to be concerned about national security, leaving grid-related issues to the private sector. However, to achieve this goal, Vietnam needs to quickly implement this work.
US supports $36 million clean energy project
On June 3, Deputy Minister of Industry and Trade Dang Hoang An, US Ambassador to Vietnam Marc Knapper and Director of the US Agency for International Development (USAID) in Vietnam Ann Marie Yastishock attended the launching ceremony of a project. clean energy project worth 36 million USD.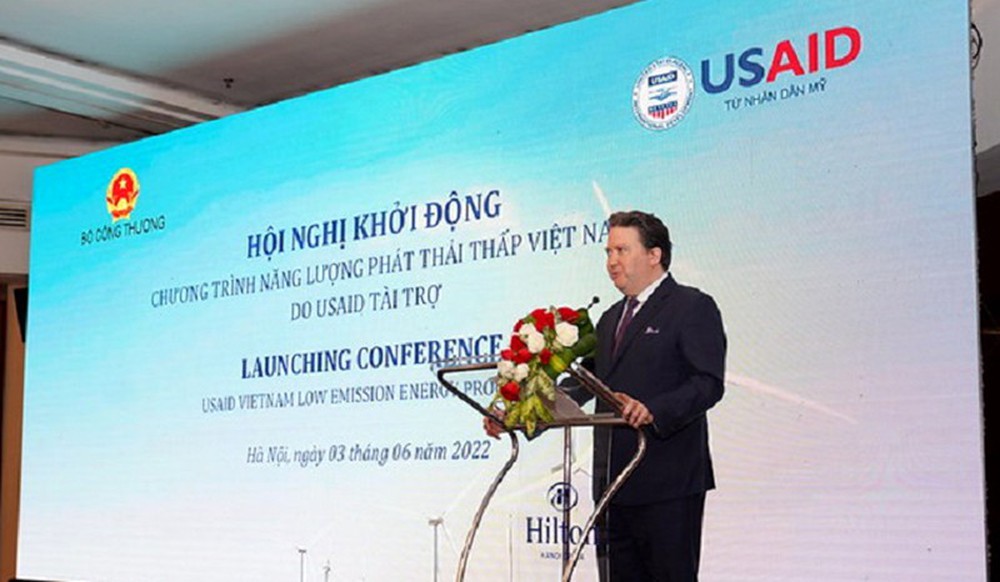 US Ambassador to Vietnam Knapper emphasized: "The US government is proud to be Vietnam's partner on the journey to clean energy". Photo: US Consulate General in Ho Chi Minh City
The project called Vietnam Low Emissions Energy Program II (V-LEEP II) will promote the success of the V-LEEP I project implemented in the period 2015-2020. This is a USAID-funded project and was first announced by US Vice President Kamala Harris during his official visit to Vietnam in August 2021.
Within the framework of the V-LEEP I project, USAID collaborated with and supported the Ministry of Industry and Trade to develop Power Plan VIII and design a pilot program for a direct power purchase mechanism (DPPA).
Accordingly, allowing businesses in Vietnam to buy electricity directly from private power generation companies using renewable energy instead of through domestic power companies. V-LEEP I also cooperated with the private sector to successfully mobilize more than 311 million USD to develop wind and solar power projects with a total capacity of 300 MW.
Promoting those results, the V-LEEP II project will continue to cooperate with the Ministry of Industry and Trade to promote clean energy deployment through mobilizing private investment, supporting project design for developers. energy projects and technical assistance to lenders.
The project's goal is to support the development of 2,000 MW of renewable electricity to be put into operation in the period 2020-2025 through mobilizing the participation of the private sector. Through this project, USAID and the Government of Vietnam will continue to work together to improve energy planning and operations to improve the efficiency of the energy sector.
https://soha.vn/viet-nam-dan-dau-dong-nam-a-trong-cuoc-dua-nang-luong-sach-dung-thu-10-the-gioi-2022060711114624.htm
You are reading the article
Vietnam leads Southeast Asia in the clean energy "race", ranking 10th in the world

at
Blogtuan.info
– Source:
Soha.vn
– Read the original article
here