Giới trẻ
Wedding party of singer Minh Hang banned children, what do young people think about the trend from the West?
In recent days, social networks have been buzzing about whether children should be allowed to go to weddings. This problem stems from the fact that singer Minh Hang objectively asked to attend her wedding without bringing children.
Although the trend of weddings banning children has been quite popular abroad for reasons of safety and cost savings for homeowners… but the content of Minh Hang's invitation card still causes many conflicting opinions. .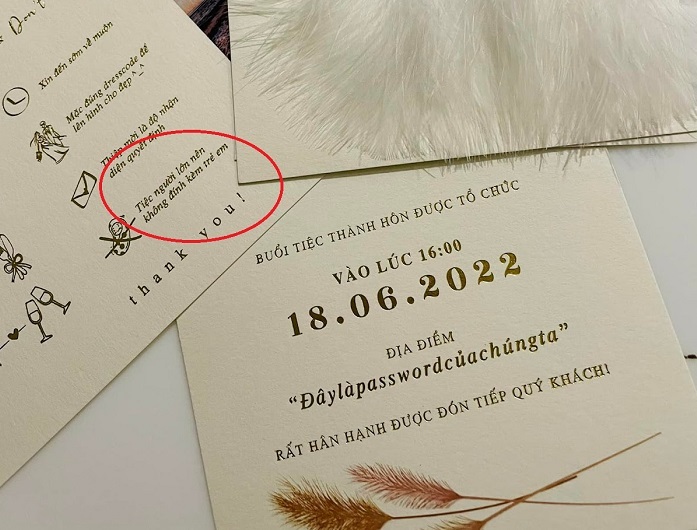 The content of Minh Hang's wedding invitation note: "Adult party should not include children".
Wedding is a happy day, why ban children?
Beauty Nguyen Hoai Phuong Anh – Miss Academy of Journalism and Propaganda 2018 said that when someone invites her to the wedding, it is already close places. Wedding is also a time to meet and know about each other's lives.
Phuong Anh stated: "The wedding is one of the most important parties in everyone's life. Depending on the wishes and organization of each couple, the number of guests and the venue will be different.
Normally with traditional weddings, the presence of children is also part of the party.
However, many couples today tend to hold a Western-style wedding and only invite close friends to attend at locations such as the beach or other church where they live. And the fact that guests bring small children to attend is also a bit inconvenient.
So the important thing here is that we should respect the wishes of the bride and groom. The wedding forbids children not because they don't like children, but they want that when attending and having fun with them, all friends and relatives will be comfortable and not have to worry about any factors. around".
According to Phuong Anh, it is very normal for guests to bring children to attend luxury parties or weddings and birthday parties. When deciding to bring children to the party, parents need to give good education and teach their children to have an active participation attitude, not to affect the general atmosphere.
"We can teach children what it's like to be at a party. That not only helps the child enjoy, but also helps the parents fully enjoy the happy moments when participating in the party.
Children are not guilty, and we should not be too strict when banning them from participating in parties. Most importantly, parents have a way to educate their children to participate with the right attitude, not arbitrarily, without neglecting…", Phuong Anh shared.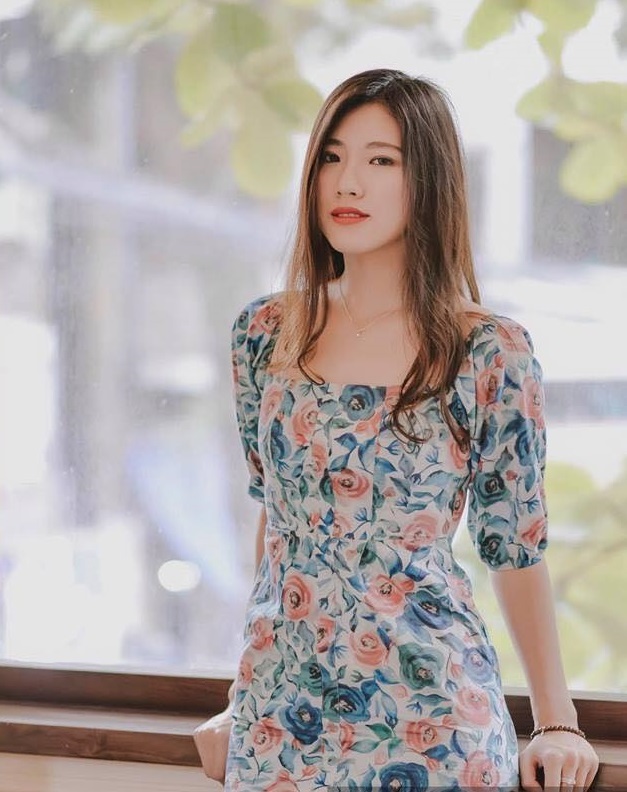 Miss Press 2018 – Nguyen Hoai Phuong Anh
Some other young people also agree with the hot girl of the Newspaper School, and at the same time think that the children participating in the party are also part of the blessing for the bride and groom to soon give birth and have a peaceful home.
Friend Ngoc Quynhan alumnus of Foreign Trade University said: "I think in Vietnam it is very normal and culturally appropriate for children to go to weddings. Has anyone thought that having children participate is also a blessing for the bride and groom? If you look at the wedding from the perspective of perfection, fun, and enjoyment of today's youth, then of course children have the right to attend. Later, the owner of the party will have children, and then they will understand how it feels to receive an invitation and forbid their children from coming."
Friend CMA said: "I don't agree with this ban. Weddings are the beginning of the beginning of children. Let's be happy that we have children."
Many people bring children, the party turns into a kindergarten!
Advocate that children should not be brought to adult parties, formal events, friends Ceiling sage, Alumni of the Academy of Journalism and Communication commented: "I support this, the best drinking party bans children. When going to a party, children crying, running, jumping or playing are very annoying for others and service staff, easily causing danger. There is also a part that causes a shortage of tables for other guests when they come to the party."
Friend Army (28 years old, Hanoi) also thinks that:"When holding a party, people only count the number of people invited, if one person goes and brings a small child, the number of seats prepared will not be enough for the invited person. The wedding must also be economical in the end. It's too much of a loss for the whole family to bring the children along with only 1 envelope to celebrate! Children also have 1 seat, let alone being young, it's not worth it, how many couples work hard to borrow money wedding, the fear of loss is obvious. If you don't like it, you can't attend, their party, they have the right, don't complain!".
Concerned about the safety of children when going to large parties, you Intelligent Update (30 years old, Thai Binh) stated:Wedding parties often use a lot of complicated electronic equipment, with many wires and sockets. Bringing children under the age of 5 to the party can be dangerous for the children themselves if parents are not carefully monitored.
Personally, I support child-free weddings because some people don't know how to take care of their children, leaving them free to run around until the wedding party is broken, but instead of compensating or accepting responsibility, they say an inhibitory sentence." Little children know nothing!" Adult parties that ban children are like movies labeled 18+. Those who call out discrimination should not go, but if you want to participate, you should find a place to send your children and join."
Some other opinions believe that children should be restricted only when the party has activities that are not suitable for children.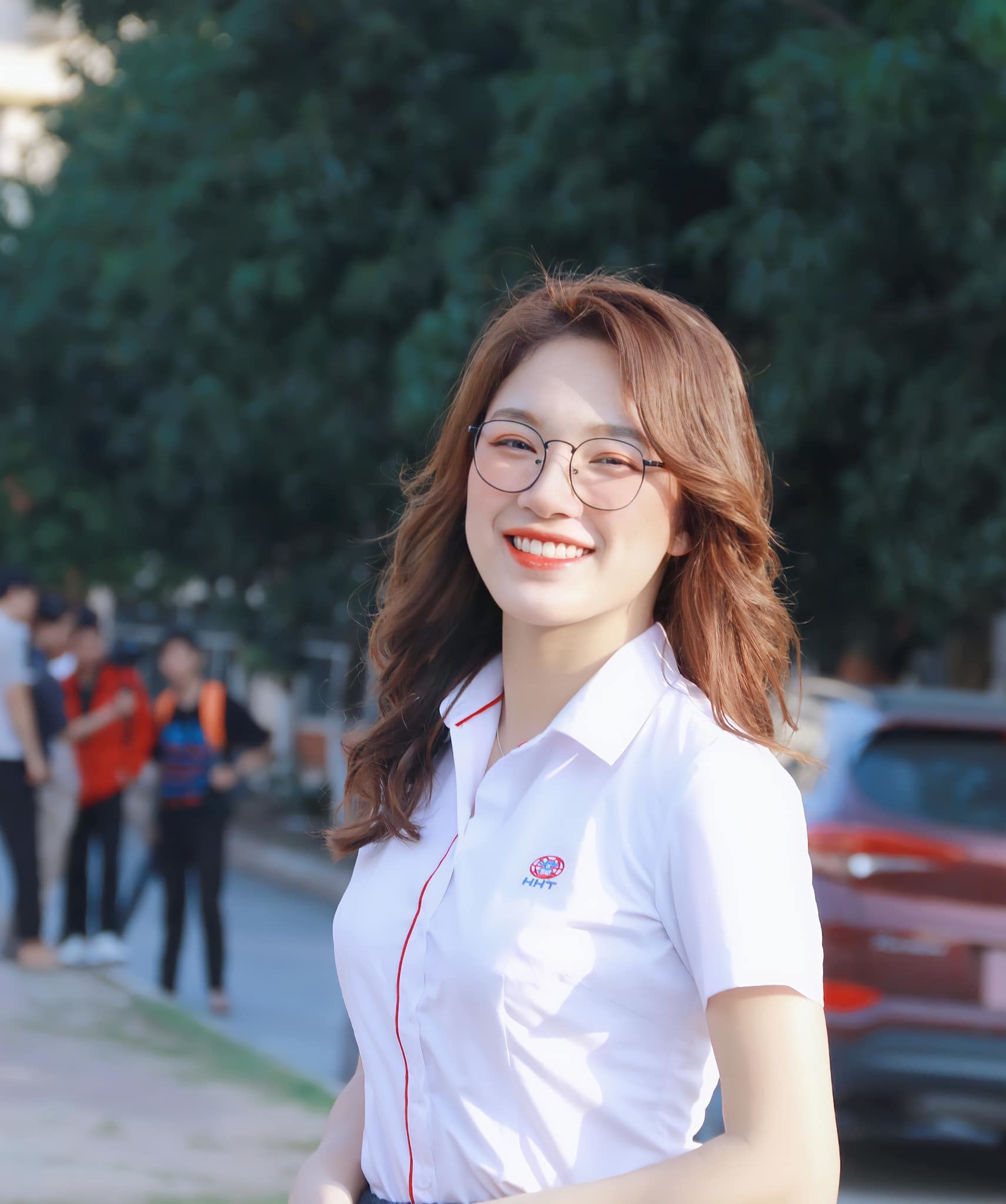 Teacher Tieu Ngoc
Beautiful teacher Tieu Ngoc (currently a lecturer at Hanoi High-Tech Vocational College) stated: "I'm a person who loves and likes children, but in terms of organizing parties, I think it depends on the theme and atmosphere of the party to bring children along.
There are parties that are really only suitable for adults. When there are children following, don't talk about other issues that we think simply children following will feel the party atmosphere, or sometimes children feel lost and unfamiliar, which makes them sadder. So depending on the party situation, we should or should not bring children along.
In addition, children are like buds on branches, instead of strict prohibitions, adults should teach children the necessary things, politeness, and become good children. Children also need to go to public and dignified places so that they can interact and develop social communication skills.".
Aries
You are reading the article
Wedding party of singer Minh Hang banned children, what do young people think about the trend from the West?

at
Blogtuan.info
– Source:
infonet.vietnamnet.vn
– Read the original article
here