Top choice of Vietnamese chef king
3 Mien anchovy dipping sauce – a familiar condiment trusted by Vietnamese chefs, now brings the biggest incentive program of the year to thank customers who have trusted the product for many years. Accordingly, from now until the end of June 26, 2022, when buying a bottle of 3 Mien Ngon and Convenient Anchovy Sauce, users will receive an additional 25% of the capacity, increasing from 800ml to 1000ml, the price remains the same.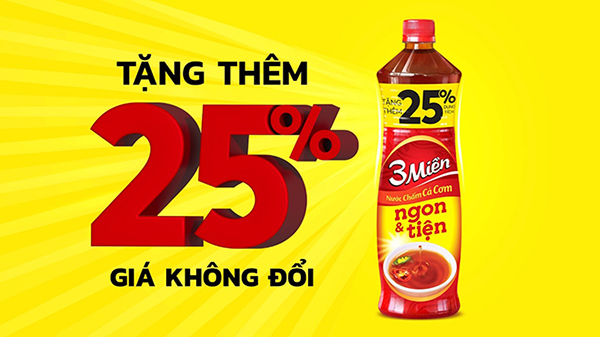 3 Mien anchovy dipping sauce gives 25% extra capacity, price unchanged.
For housewives, fish sauce is an ingredient that only needs to be seasoned with a few drops for braised, cooked, sautéed dishes or used for dipping to make the dish more delicious and convenient. According to famous chefs, fish sauce is a condiment that must always be available on the kitchen shelf, from dishes in rustic family meals to high-class dishes in restaurants and hotels.
Referring to this bold Vietnamese spice, Chef Tuyet Pham – Runner-up of Vietnam's Chef King 2015 also expressed his love and appreciation for the taste of the quintessence of national cuisine. With Chef Tuyet Pham, every Vietnamese dish when cooked by her is not only the King of Chefs, but also carries the shadow of her homeland, the stories associated with moments of family happiness, close friendship, with culture and people across the S-shaped strip of land. Therefore, the "national soul, national essence" seasoning like a bowl of rich, aromatic and delicate fish sauce is associated with the talented chef. This is during the journey of natural migration to breathe life into Vietnamese dishes.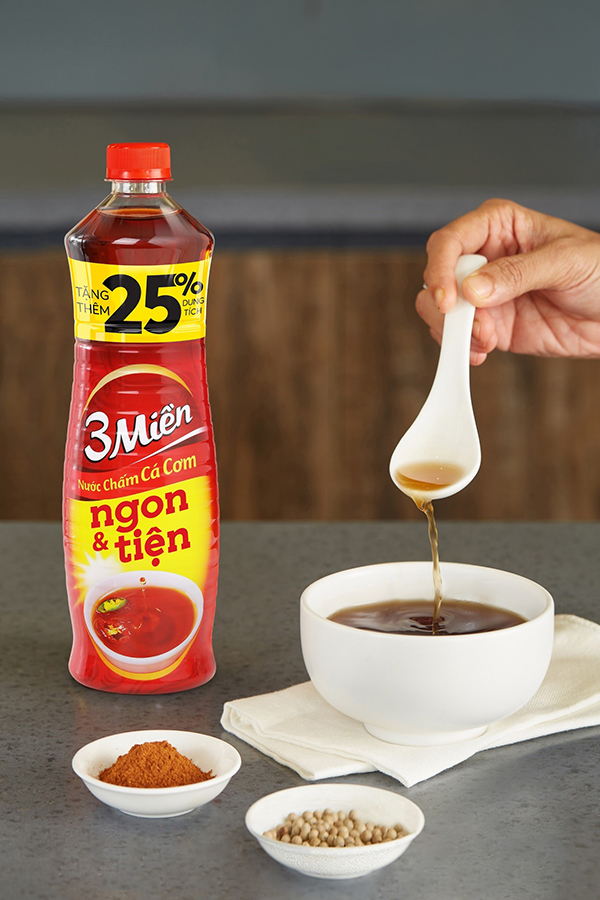 3 Mien Sauce – an indispensable condiment in every Vietnamese kitchen.
3 Mien anchovy dipping sauce encapsulates the essence of Vietnamese cuisine
Since childhood, Chef Tuyet Pham has found joy and love for food in her parents' burden of noodles. That's why when becoming a chef, she is always enthusiastic about each dish she makes and fish sauce is the spice that makes the dish more sublimated and complete.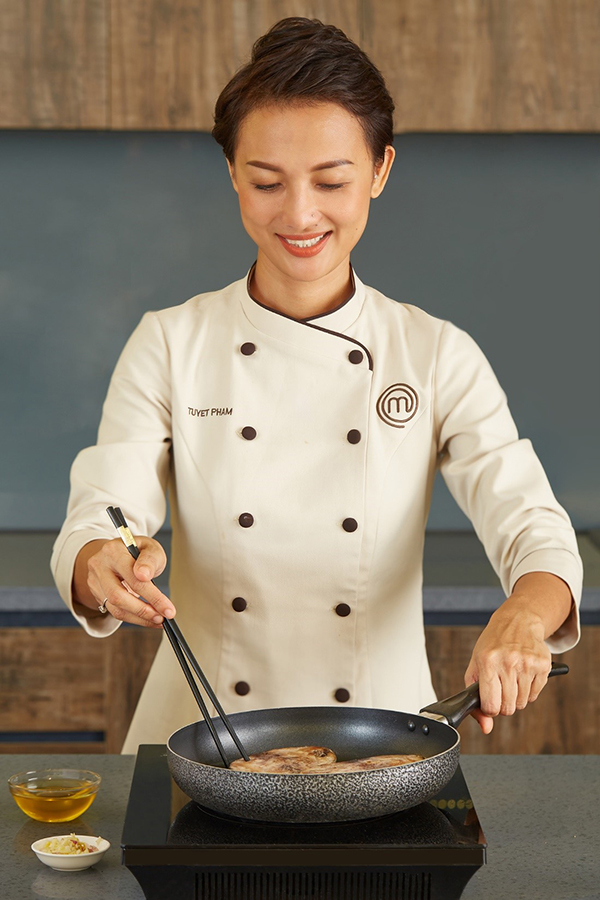 3 Mien anchovy dipping sauce is Chef Tuyet Pham's first choice.
3 Mien anchovy dipping sauce has ingredients from pure anchovy fish sauce, specially prepared with own secret from experts knowledgeable in Vietnamese cuisine. Each drop of 3 Mien dipping sauce is delicious and convenient to pour into a cup with a golden brown color, a mild aroma and perfect taste, can be used immediately without any additional seasoning. It is the deliciousness, convenience and quality guaranteed by Uniben – the leading food company in Vietnam, 3 Mien Anchovy Sauce is not only an "assistant" in all unique and creative recipes. of Chef Tuyet Pham but also the link that connects the chef to spread delicious dishes across 3 regions of the country.
It can be mentioned that Bun Cha Ca Da Nang with the sweet taste of the broth, the rich pineapple flavor of the fish ball is a familiar and delicious dish of the Central people. But in order for the dish to both retain its traditional flavor and be creative in combining ingredients to suit many people's taste, the MasterChef version of the MasterChef version has its own variation: fried pineapple (pineapple). with sugar and fish sauce. In particular, in order for the broth to have the right taste, Chef Tuyet Pham has chosen 3 Mien Dipping Sauce with a mild aroma, with a golden brown color, just a few spoons can create richness, taste, and taste. Save cooking time.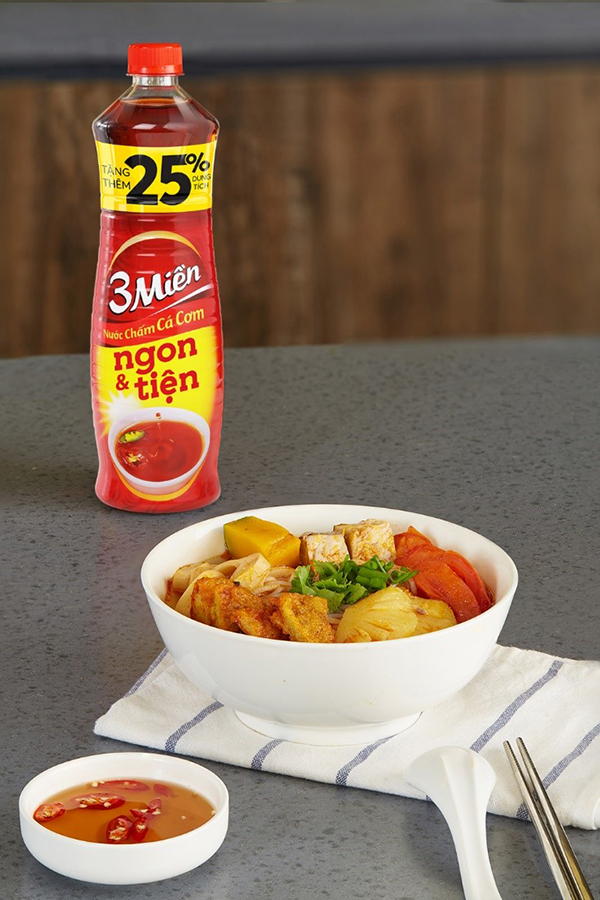 A little variation when stir-frying pineapple with 3 Mien Anchovy Sauce creates a distinct taste for the Central Coast fish noodle soup.
Or boneless pork thighs, cooked with fish sauce and served with bread, the marinating stage is extremely important, in addition to pepper, five spices, oyster sauce, sugar, and garlic, the soul creates the "god" marinade. "saint" is indispensable for 3 Mien Anchovy Sauce, which helps create a rich flavor that permeates every fiber of meat for a full-flavoured dish.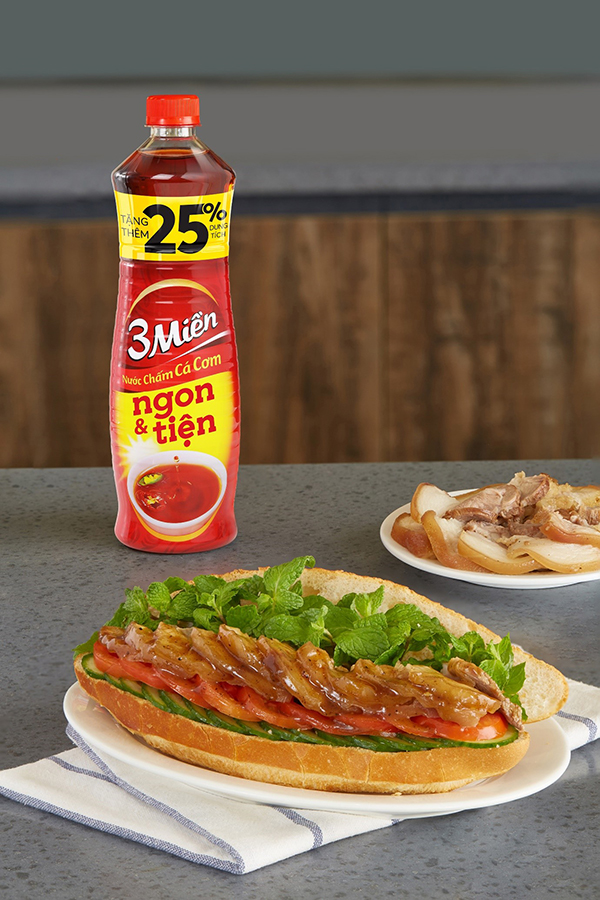 Chef Tuyet Pham's dish of boneless pork thighs cooked with fish sauce is indispensable with 3 Mien Anchovy Sauce.
Delicious and convenient are the factors that make 3 Mien Anchovy Sauce become the first choice of Vietnamese chefs. The product is the crystallization of the essence of Vietnamese cuisine, preserving the original flavor in Vietnamese culture, cuisine and people.
You are reading the article
3 Mien Anchovy Sauce – The trusted choice of Vietnamese chefs

at
Blogtuan.info
– Source:
Eva.vn
– Read the original article
here