Đời sống
68% of F0 have post-Covid-19 symptoms, need a long-term solution to overcome their health
17.4% have post-Covid-19 symptoms for more than 5 months
The survey was conducted over 17,000 people participating in the post-Covid-19 health care examination program in the Journey of Young Doctors to follow Uncle Ho's orders, volunteering for public health in May 2022.
The results showed that the majority of patients still had post-Covid-19 symptoms from 2 to 5 months (accounting for 68%), however, up to 17.4% of patients had post-Covid-19 symptoms for more than 5 months and Approximately 5% of patients still have these symptoms 10 months after the test result was negative for SARS-COV-2 virus.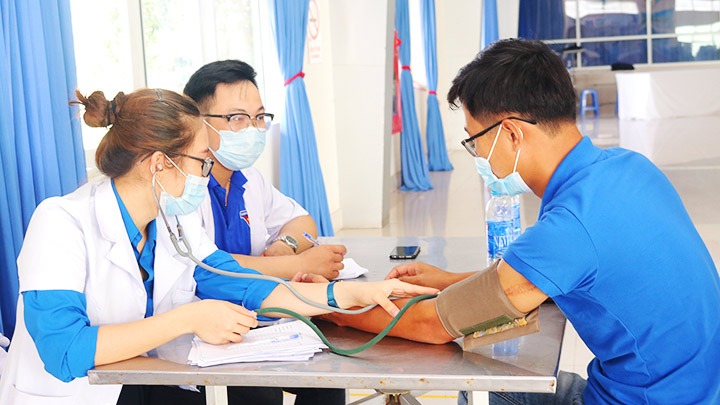 Patients usually have 2-3 typical symptoms related to post-Covid-19 out of 203 symptoms identified by the Ministry of Health, mainly focusing on the group of mental illnesses such as (dizziness, headache, difficulty concentrating, insomnia, …) and respiratory diseases (cough, difficulty breathing).
The study also showed that the severity and duration of Covid-19 symptoms was not related to the duration of Covid-19 infection (only 2% were positive for SARS-COV-2 more than 14 days) or severity. important when infected with Covid-19 (with severe symptoms and hospitalization when Covid-19 infection is less than 10%).
Compared with some previous studies, there was an association between prolonged infection time and severity of Covid-19 infection and post-Covid-19 symptoms.
The study also showed that the proportion of women tended to be higher than that of men in terms of the possibility of prolonged Covid-19 (64.63% female and 35.37 % male), this was also stated in many previous studies. .
Through the measurement of the patient's height and weight, the research team used BMI to classify and record 28.74% of the underweight patients and 8.71% of the obese patients, showing that nutrition Inadequacy or obesity can also make people more likely to experience prolonged post-Covid-19 symptoms.
70.80% of patients consciously exercised themselves (exercise, practice breathing) after being infected with Covid-19.
The study also showed that for the group of young workers, an underlying medical condition was not a factor affecting the likelihood of a prolonged post-Covid-19 syndrome (only 3.6% of patients had an underlying medical condition).
However, through regression analysis, the study showed that for male patients, having Covid-19 duration of more than 14 days, smoking, drinking alcohol and not exercising all increase the risk. prolongation of post-Covid-19 symptoms.
Post-Covid-19 is no longer a personal matter
Nguyen Huu Tu, Vice President of the Vietnam Association of Young Physicians, a research member, said that in the context of the country gradually adapting to the new normal, post-Covid-19 or Covid-19 symptoms persist, especially Especially for the young workforce is a new challenge for the health sector as well as the country in general.
Currently, Vietnam has nearly 11 million people infected with Covid-19, with the majority of people of working age. To ensure the health of this workforce is also to ensure human resources for the development of the country, requiring all sectors and levels to have appropriate policies to support people to recover from Covid-19 – 19.
Post-Covid-19 issues are diverse and spread across specialties, levels, and locations, so to be able to intervene in a comprehensive way requires the interdisciplinary participation of many sectors and mass organizations. , social force and medical expertise.
In particular, urgent issues such as mental health problems and care in the community, schools, and businesses are still thin, requiring solutions to support and expand intervention coverage.
Therefore, it is necessary to support policies, promote medical socialization so that all people have conditions to check their respiratory function, and strengthen guidance and dissemination of respiratory rehabilitation exercises," he said. Tu recommended.
What should people do when they have post-Covid-19 symptoms?
For people with Covid-19 and post-Covid-19 symptoms, Tu also recommended, people need to
– Increase physical activity and proper nutrition;
– Get information through official sources, avoid self-use of unspecified drugs (especially antibiotics), avoid using drugs of unknown origin, traditional medicines, and ethnic medicines not yet recommended by the Ministry of Health for treatment. treatment or support post-Covid-19 recovery;
– Monitor your condition, note rare syndromes (autoimmunity, persistent chest pain, …) but also avoid panic, seek medical attention when not necessary.
Please watch the video on Rehabilitation Guidelines for people with Covid-19 and post-Covid-19
Guidelines for rehabilitation for people with Covid-19 and post-Covid-19
You are reading the article
68% of F0 have post-Covid-19 symptoms, need a long-term solution to overcome their health

at
Blogtuan.info
– Source:
danviet.vn
– Read the original article
here