Business
Access Singapore education anytime, anywhere
Understanding the thoughts of parents, Geniebook – Education Technology Company (Ed-tech) from Singapore has designed the Geniebook online learning platform applying personalized AI technology with a trio of products: GenieSmart, GenieClass and GenieAsk for primary and secondary school students with intensive practice: Singaporean Math, Academic English, Science according to Singapore educational standards.
In particular, Geniebook also enhances the Parent App, a special application that helps parents understand their children's strengths and weaknesses in detail so that they can accompany and support their children in learning effectively whenever, wherever stay anywhere.
More than 150,000 parents have trusted Geniebook to help students achieve optimal results in English, Math and Science according to Singapore educational standards and confidently conquer international exams. Geniebook is the optimal solution to help children learn and play during the summer and still achieve excellent results when they return to school.
GenieSmart: A personalized AI exercise system that optimizes learning results

Learning with purpose and focus will save time and be more effective for students.
Applying AI technology to analyze each student's strengths and weaknesses, Geniebook founder Mr. Neo emphasized: "This is a self-directed learning method driven by advanced technology. In fact, According to Geniebook's statistical analysis of data, 90% of our students improve after only 8 exercises."
GenieSmart is helping students master knowledge quickly by operating on modern algorithms with patented AI technology in education, with more than 150,000 questions.
"By digging into students' weak points and practicing these topics every day, GenieSmart helps students gain confidence and build active learning habits that children can apply to all other subjects. ", Ms. Alicia, co-founder of Geniebook added.
GenieClass: Bringing the school experience to an online platform
With GenieClass, every online lesson always brings joy and excitement to students. LIVE online classes are taught by a team of experienced teachers, graduated from leading universities. All lectures are saved and students can easily review the video if they do not have time to attend class that day.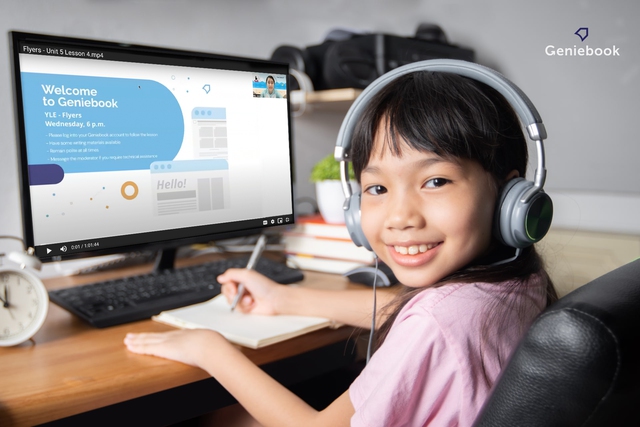 Especially, each online lesson on GenieClass will be wrapped up in 60 minutes of dynamism and excitement thanks to the lecture with many animations, interactive games, bringing an interesting and new learning experience to students from all over the world. country.
GenieAsk: Real-time chat with bilingual teachers
Right after the online class on GenieClass, if children still have questions, they can ask questions and get answers from a team of bilingual teachers (English-Vietnamese) using the GenieAsk chat tool.
With GenieAsk, kids can access from 3pm to 9pm weekdays, each chat is moderated by the teacher to ensure a safe space for students to ask questions, get study tips and participate in Geniebook's extracurricular activities.
Students are also encouraged to help each other with their Geniebook assignments and learn from each other. This helps to improve social skills and online etiquette.
"When it comes to Math, GenieAsk is a useful method to reinforce learning, especially when students ask questions related to important concepts. Students can discuss approaches to solving problems. such exercises and teachers can guide how to think critically to successfully solve the exercises and always have the correct answers," added Mr. Kajendran – Singapore Primary School Math teacher.
Above all, Geniebook helps children form study habits and high discipline thanks to timely rewards with the reward system (Bubbles Store).
"My child won the gold medal in international math thanks to studying the Singapore standard curriculum with the Geniebook app," shared Mr. Tuan – Minh Nhat's parent.
Sharing the same opinion, Ms. Le Son Ca – Ai My's parent was also happy when her child found an effective learning solution. "My child received reinforcement learning according to the Singapore Mathematical Standard Program and improved his results and critical thinking thanks to the intelligent learning model Geniebook".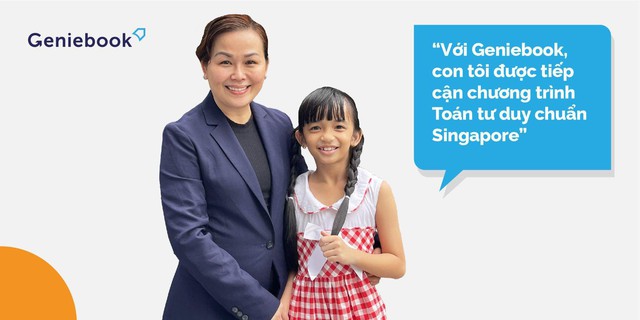 Let your child access the golden opportunity with modern personalized education method anytime, anywhere.
Register now for a free ability test for your child.
Special offer for Parents who register before June 20, 2022.
Quantities are limited and the offer may end early.
Contact to register for a free capacity test and program consultation:
0865,959,533 | 0978,664.867 | 0901.335.692 | 0798.999.123
0842.345.679 | 975.612,158 | 0984.248.389 | 0913.591.305
Website: https://go.geniebook.com/vietnam2/
https://cafebiz.vn/tiep-can-Giao-duc-singapore-bat-cu-khi-nao-bat-cu-o-dau-20220608170048077.chn
Following the Economic Lifestyle
You are reading the article
Access Singapore education anytime, anywhere

at
Blogtuan.info
– Source:
cafebiz.vn
– Read the original article
here