Life Style
Yêu
Getting to know each other by "swiping right" Tinder, Vinh Phuc girl "invited" her boyfriend to quit her job in the city and return to her hometown
"My working day is very simple. In the morning, the couple drives to their hometown to pack goods with the staff. After that, I focus on consulting and answering customers in the afternoon. In the evening is the afternoon. When I'm most focused and creative, I usually design photos, videos, create content and create marketing campaigns."
Do Thu Thuy (25 years old, hometown Vinh Phuc) excitedly talked about her current job selling knives. But few people know that, before that, both Thuy and her husband, Mr. Vu Dang Khoa (29 years old), had times of struggle with their inner self: Should they continue to start a business or return to Hanoi? Do housewives work, sit in an air-conditioned office, receive a salary at the end of the month?
A "sweet" proposal from a new boyfriend
Ms. Thuy used to be a project manager at an online education company in Hanoi, however, after her mother's death, she felt mentally unstable and could not stay in Hanoi. Therefore, to continue her daily work, she travels more than 100 km from Vinh Phuc to Hanoi to go to the company in the morning and return home late at night.
She confided: "However, one day, after being scolded by my boss, I suddenly craved a free life so much. I wish I could cook at home and do whatever I want to do, as long as I don't get scolded by anyone and don't get scolded by anyone. hit the deadline". Thuy's boyfriend, Mr. Khoa, had only known her for more than a month through the dating app Tinderimmediately consoled: "If you want to quit your job, then just quit, I can take care of you."

So, Ms. Thuy submitted her resignation letter. As for Mr. Khoa, life is stable, has a house in Hanoi, is working in a foreign bank, opportunities are wide open, then he also decided to quit his job, and go back to Vinh Phuc with his girlfriend to start a business again. At that time, her boyfriend also confided to Thuy, her parents had a forge in the countryside to make knives, he wanted to sell his parents' goods and bring his hometown's products to a larger market.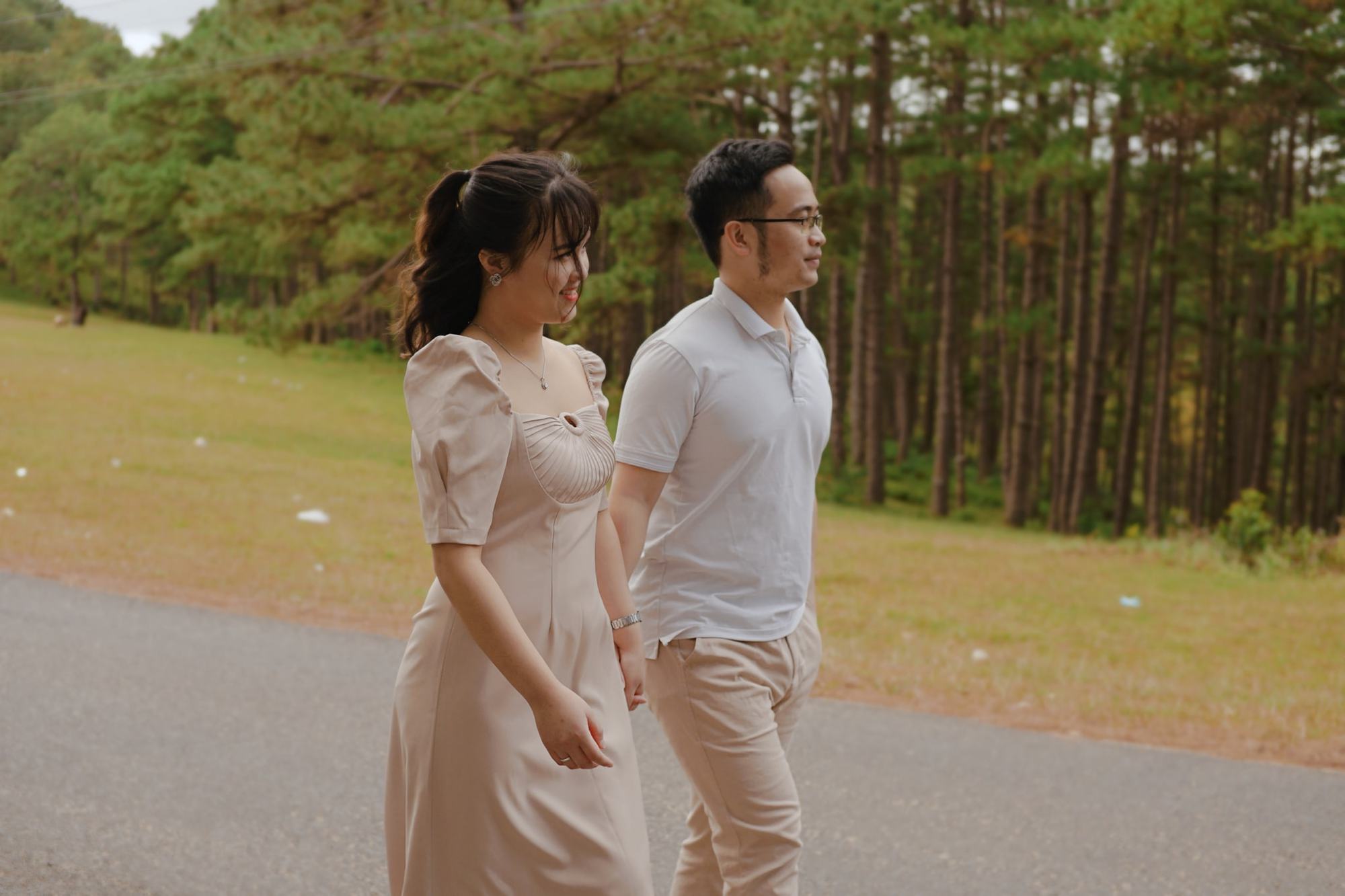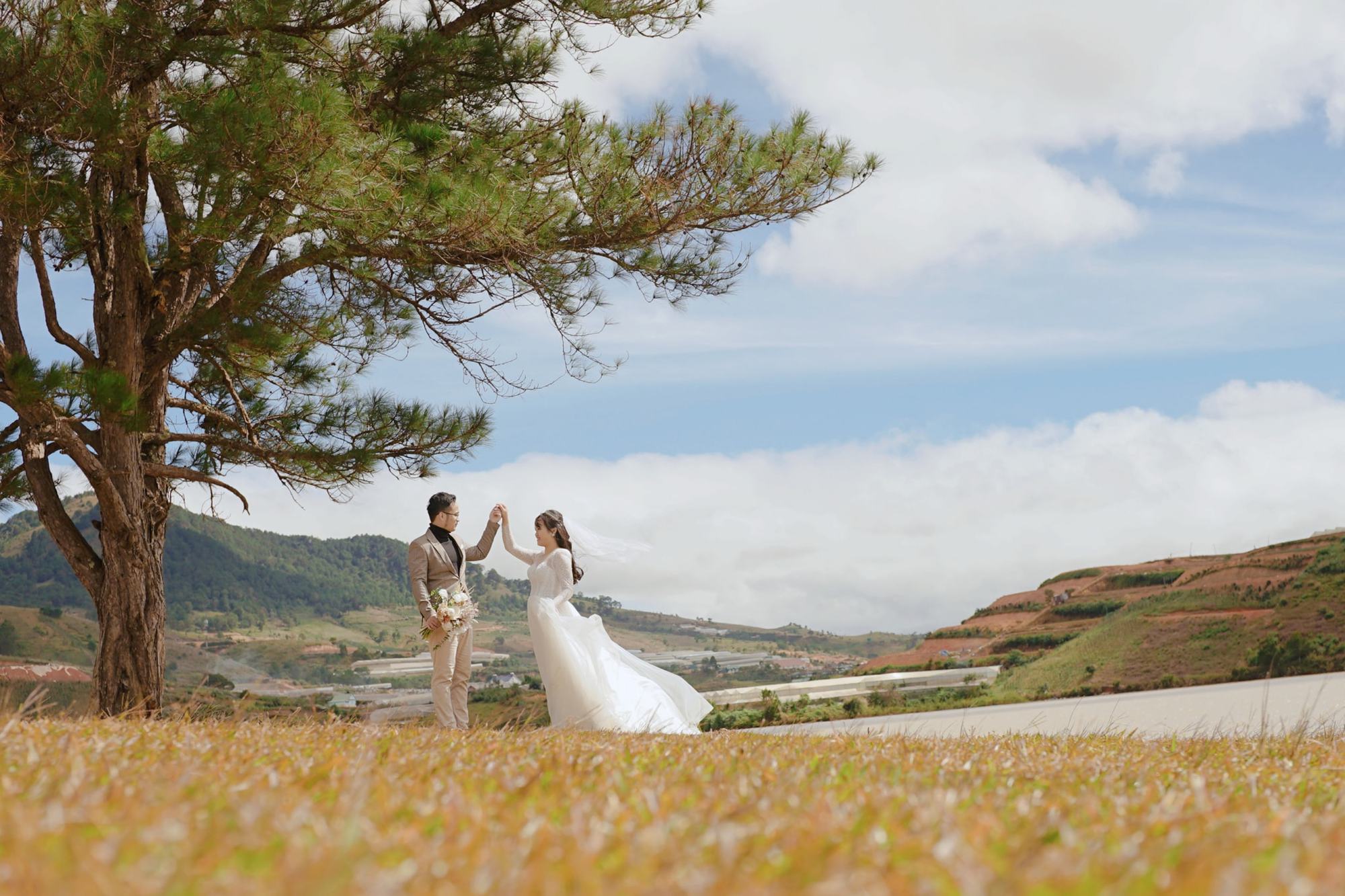 "When my husband suggested selling a knife to start a business, we had only known and loved each other for about 2 months. To be honest, I didn't have much faith because I was not a person who "loves the kitchen" too much. When I got home from my boyfriend (my husband now), my mother-in-law brought black knives and they were in bad shape, so I was worried about how to sell them on the market. this product"Thuy recalled.
Since then, she herself has only focused on training, so her knowledge of online sales, marketing… is almost zero, so she is quite worried about the output of the product. However, seeing Khoa's efforts to help his parents, Thuy also "clicked" to agree.
The journey starts from 0
The time when both started selling knives was around May last year, when the North entered the hot summer season. After finishing their personal work, the two rode motorbikes to their hometown about 20 km away from the inn to get a knife, go through the noonday sun, and eat lunch until 1-2 pm because they are still busy packing, picking up goods, taking pictures. photos, videos…
She smiles happily. "From a girl who claims to only wear high heels and elegant business clothes, for more than a year now, I have only worn thongs and shorts to keep cool. My lover and now my beloved husband, from a bank employee I go home every hour to work as a village teacher and shipper for my wife. We go to pick up goods regardless of day and night, hot sun, rain, thunderstorms, thunder and lightning. There are days when lightning is so terrible, I just go and meditate. "Namo Amitabha Buddha".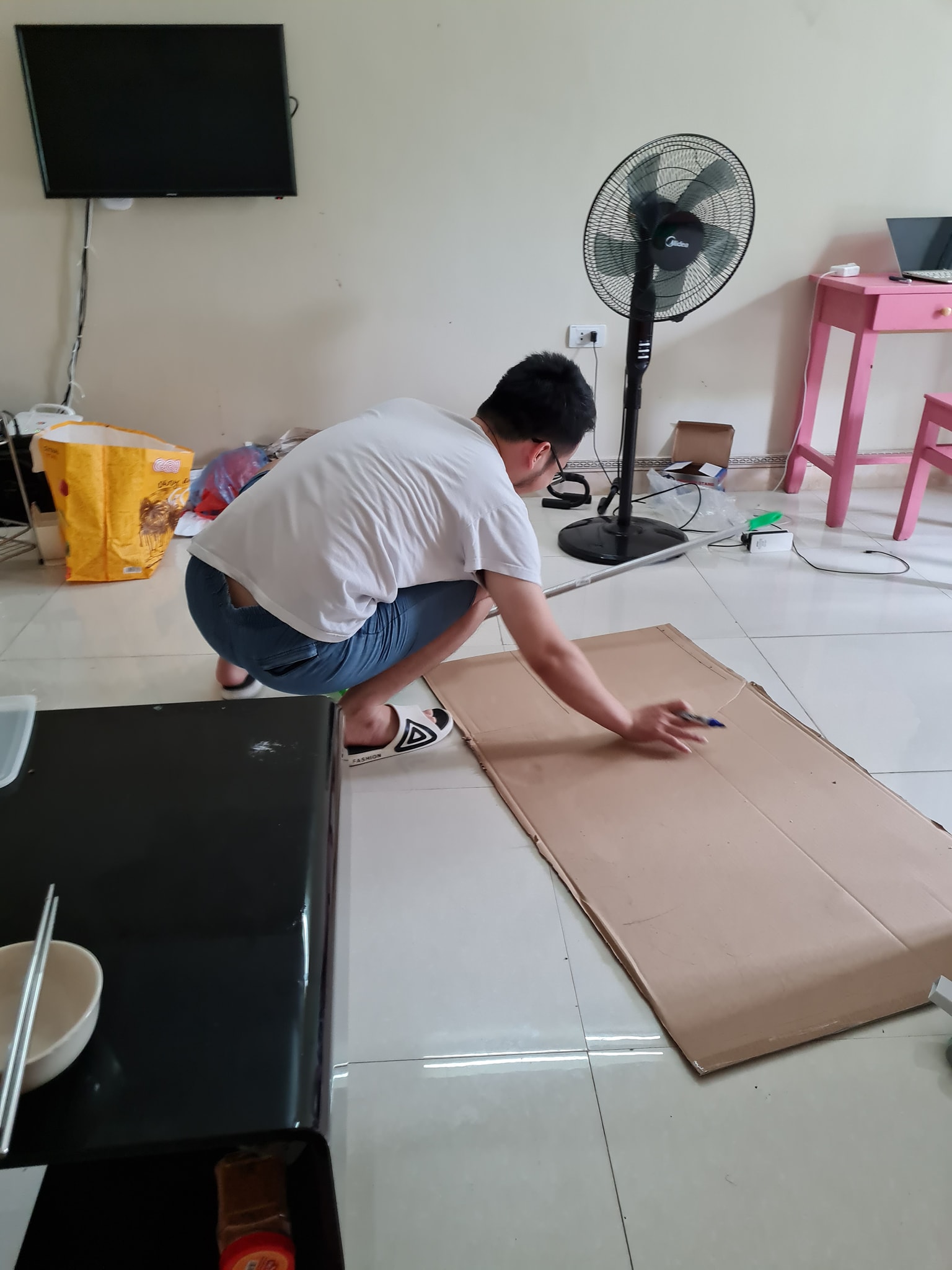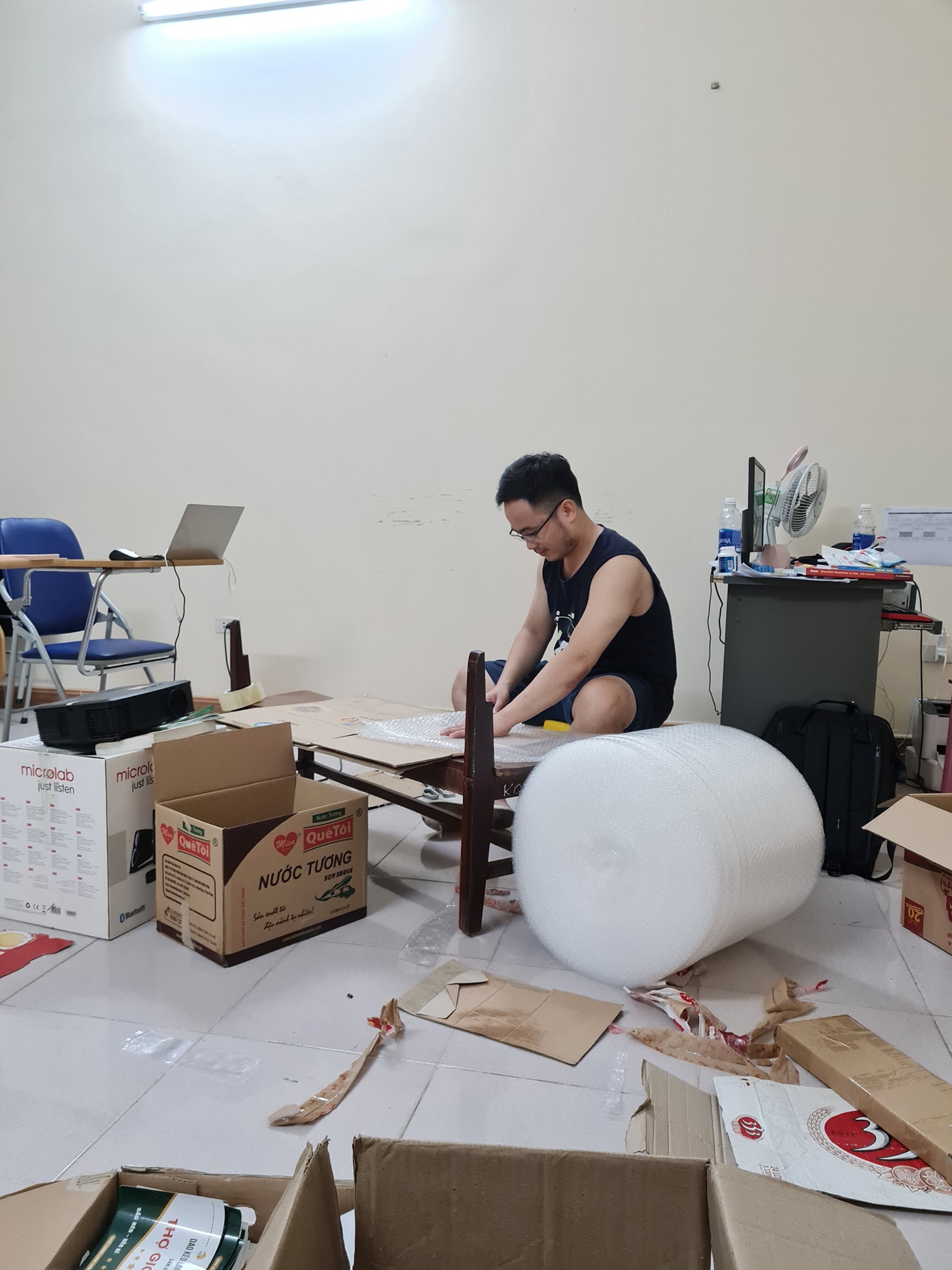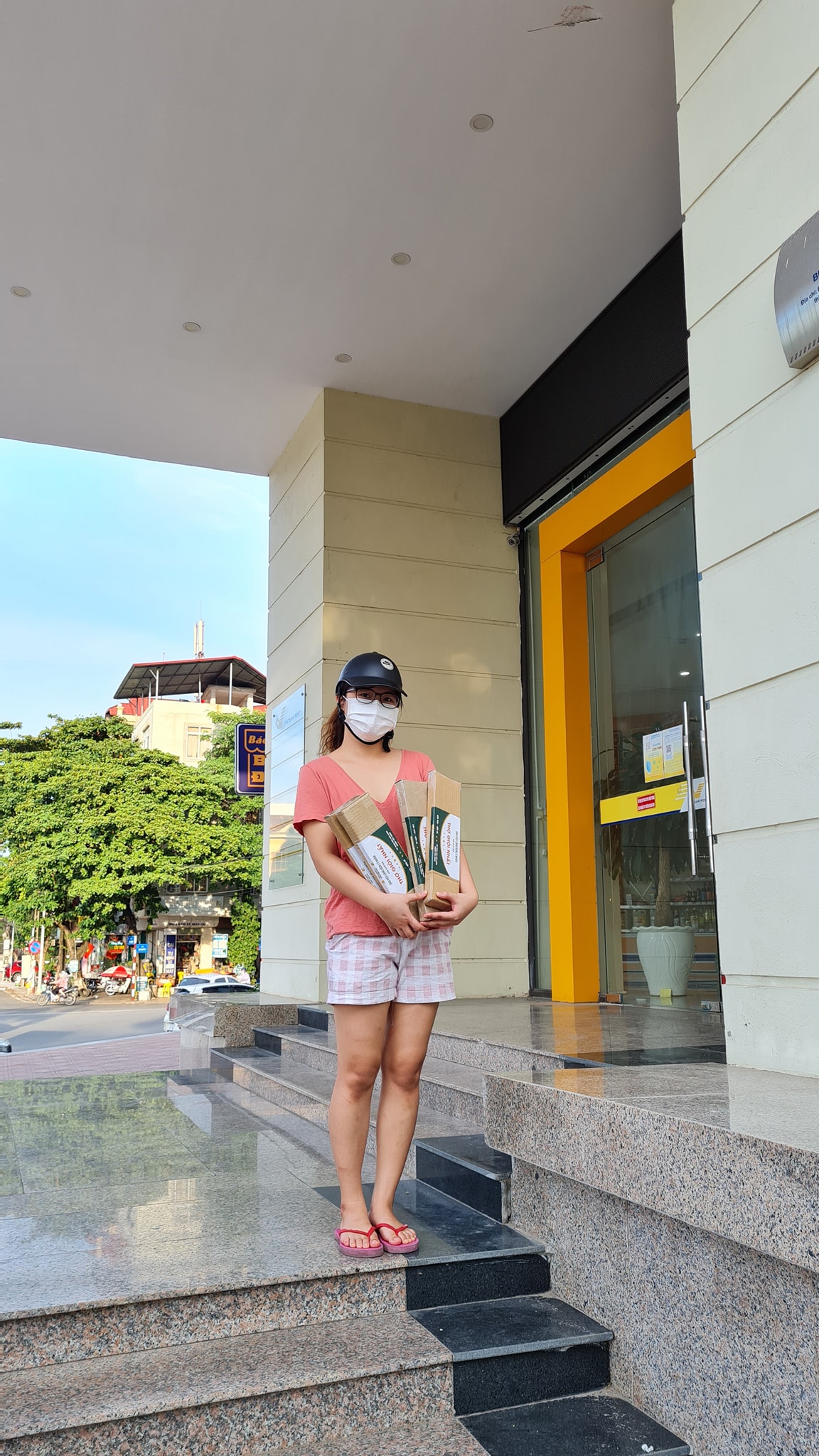 The difficulty encountered when starting a business for the first time, for both Khoa and Thuy, must have been finance. Even though it was given to me by my father mother-in-law I supported a lot of capital, but initially the number of knives sold was still small, so the revenue was quite low. As a result, the mood of the couple is sometimes not good. There were times, when she felt sorry for herself when she recalled the time when she worked in Hanoi with a good income, she could buy anything she wanted, but now her income has completely decreased, she has to think and measure everything she spends. count…
At a time of too much financial pressure and difficult business, at the same time, she and her husband received many attractive job offers to return to Hanoi, good job, high salary, Mr. Khoa asked Ms. Thuy: "Do you want to go back to your previous life? But I find it so hard to live like this.". Thinking a lot in her heart, but with her reckless, stubborn nature, Ms. Thuy still insists that she will not return to Hanoi and is determined to sell knives to the end.
"That night I cried a lot and always opened my phone to look at old photos, when I was still wearing business clothes, being able to travel, working, meeting and being admired by everyone with the label. "The head of the department" since I graduated from college. What about now? Just a 24-year-old girl selling knives? Low income, all day long on the street to ship goods, I don't even dare to meet my relatives much and was extremely sad when I received the question: "What are you doing?"Thuy revealed.
Sweet results for endless efforts
However, after all such difficulties, she is always the one to encourage and give spiritual shock to both husband and wife. Ms. Thuy herself reads more books about talented entrepreneurs, they also went from zero, they also tasted honey, they also gave up everything to start all over again… and wondered in reverse. myself: "So why can't I do it when the two of us have so much support from our parents behind us?".
She affirmed that the common character of both her husband and wife is that they are both hard working and patient to achieve the set goals. Therefore, such encouragement and encouragement means a lot to her on the journey of many challenges. Thuy's biological father also helps the children by canning products. Parents-in-law support sales capital for the first 6 months, then all profits are used to rotate capital to import goods and develop work.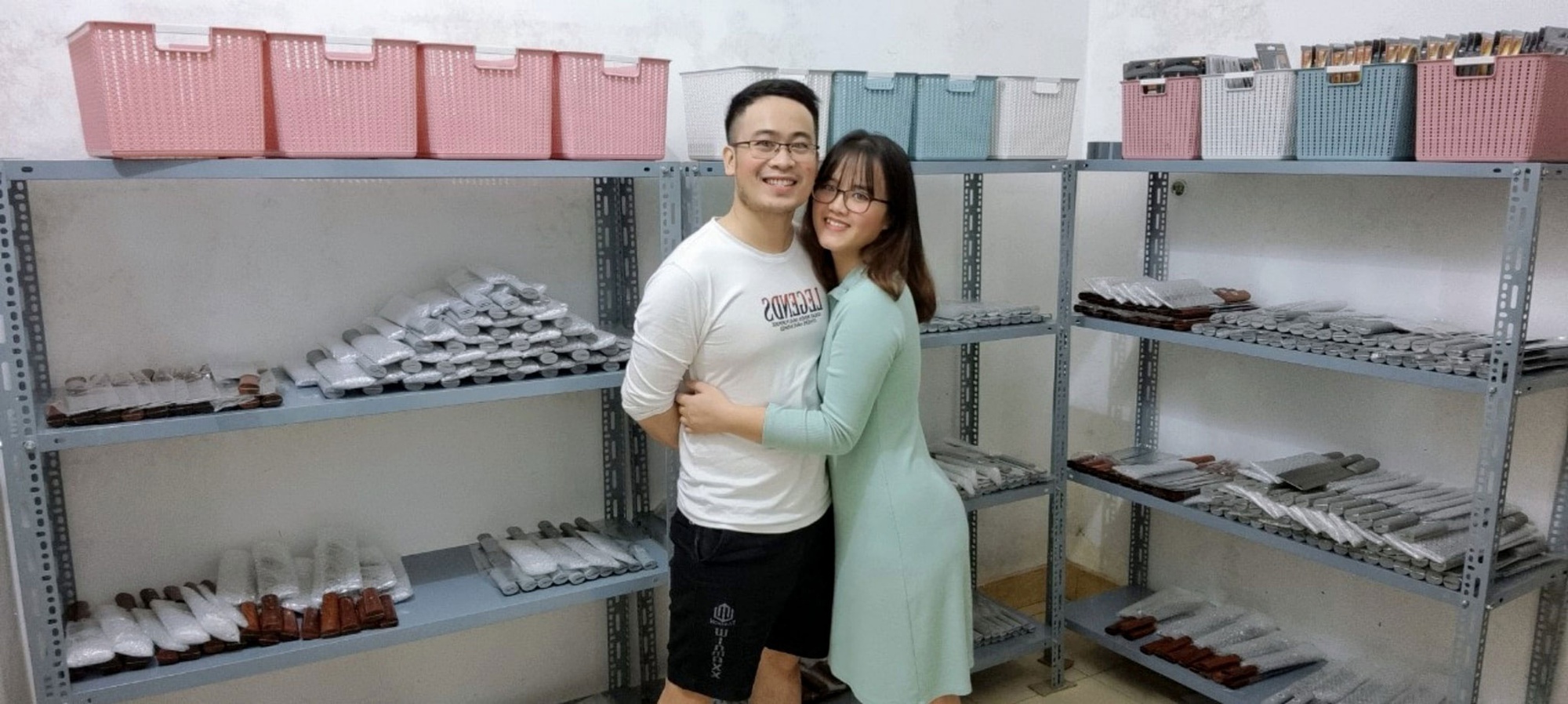 From the first revenue, Ms. Thuy registered to sell on e-commerce platforms and tried running ads. Whenever I see someone good at selling or writing good content, I always start a conversation, ask for suggestions and try to learn everywhere, start staying up all night to edit photos, write content, think and worry. for good sales and marketing, then how to save products with environmental protection plastic paper, improve designs, products … or how to have a professional customer care and after-sales policy , kind…
Thuy happily shared: "My family's income is currently unlimited because the revenue comes from many sources, although it's not too high, it really helps me and my wife have a pretty comfortable life, buy whatever you like, choose good things. Currently, my life is quite busy and stressful, so to say I'm satisfied or not, I think 70% will be satisfied. I still want to have more time, health, creativity… to be able to do it. work and develop work faster and stronger."
On average, each knife sold by your brand costs from 100,000 – 300,000 VND/set, more functional knives cost 400,000 – 500,000 VND/set. In the past 2 months, thanks to a viral post on MXH, your revenue has been more stable, an average of 200 million VND per month.
Revealing that the couple's upcoming goal is to establish their own brand of cutlery, research and improve the quality and design of products, Thuy also hopes to create a website that Buyers can design the knives they want (size, material, price, use, engraved name…) and those knives will be meticulously "weighed" by the blacksmith's hand, careful. Along with supporting the business, Thuy's husband also opened an education center in the countryside and her family is also preparing to welcome a new member after nearly a year of living in the same house.
You are reading the article
Getting to know each other by "swiping right" Tinder, Vinh Phuc girl "invited" her boyfriend to quit her job in the city and return to her hometown

at
Blogtuan.info
– Source:
Afamily.vn
– Read the original article
here