Kinh doanh
World
Number of cars per 1,000 people in Korea is 487, Singapore is 98, Philippines is 45, Vietnam is how many?
In JapanAccording to the statistics agency, the number of registered cars has reached 68.9 million units, which means that 1 in 2 Japanese people will have a car. Notably, the number of cars registered in Japan is almost equal to the number of bicycles (69.1 million units).
With South Korea, the number of cars registered in this country of nearly 52 million people reached 25.07 million at the end of March 2022, equivalent to 487 people owning a car for every 1,000 Koreans, according to the number data from the Ministry of Land, Infrastructure and Transport.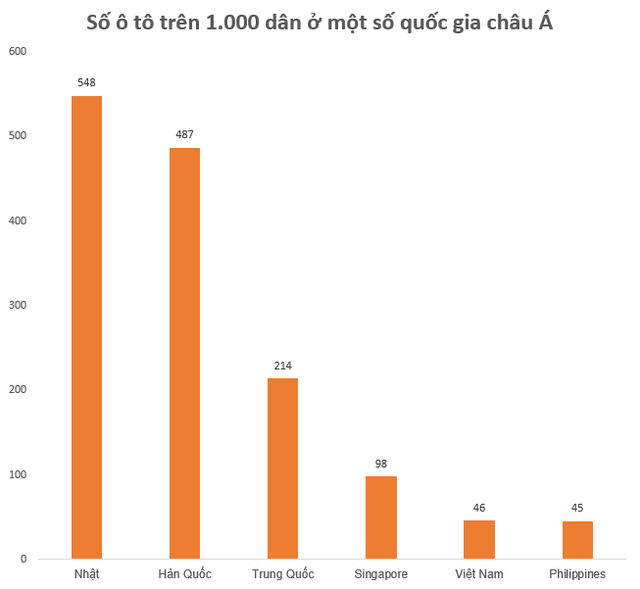 Calculation based on vehicle registration data from national registries. Registered car figures – not just the number of privately owned cars
The most populous country in the world – China – currently has 302 million cars in circulation. Thus, the average number of cars per 1,000 people will be more than 200.
Currently, the number of cars in Singapore is equivalent to about 10% of the population. In fact, Singapore is one of the most expensive places to own a car in the world. Here, people buy car must participate in the bidding to obtain a Certificate of Entitlement (COE). Tenders are held twice per month.
The COE fee for a small car is SGD 25,920 (about $19,000) and can fluctuate depending on supply and demand. Car buyers also have to pay an additional registration fee (ARF). These charges are supposed to address traffic congestion in Singapore. However, there are no specific studies evaluating the effect of car purchase costs on traffic congestion.
According to data from the Vietnam Register Portal, as of November 2021, the total number of automobiles in circulation in Vietnam is 4.512 million units. Thus, the number of cars per 1,000 people in Vietnam is about 46. This number is calculated based on the total number of registered vehicles, not the number of personally owned cars.
Vietnam is currently car market has a high growth rate in Southeast Asia. According to Nikkei Asia, in 2021, Vietnam first witnessed a high increase in car sales in the last 2 years with 300,000 vehicles, up 3% over the same period last year. In 2021, Vietnam continues to rise to the 4th position in the group of new car sales in the region, this position was previously held by the Philippines for a long time.
According to data from the General Department of Customs, in 2021, auto imports will reach 160,035 units, worth $3.7 billion, up 52.1% in volume and 55.7% in value compared to 2020. The average number of imports is 13,336 vehicles per month.
Vietnam imports cars mainly from three markets: Thailand, Indonesia and China. These three markets account for 92.4% of the country's auto import market share. Compared to 2020, car imports from China increased sharply, more than 206.6 percent and Thailand increased by 53.6%.
In terms of value, imports of CBU cars from Thailand in 2021 reached US$1,509 billion, up 40.7% compared to 2020. From China was US$873.1 million, up 216.8%. From Indonesia reached 559.5 million USD, up 27.5%. From Japan is 150 million USD, up 36.3% compared to 2020. From Korea is 106 million USD, up 42% and from EU is 85 million USD, up 52.2%.
Average import price in 2021: reaching $22,853 per unit, a slight increase of 2.3% compared to 2020. Car prices increased sharply in cars imported from Germany (up 40%), the United States (up 19.6%) ) and reduced prices of cars imported from India (down 66%), Russia (down 14.2%), Thailand (down 8.4%).
You are reading the article
Number of cars per 1,000 people in Korea is 487, Singapore is 98, Philippines is 45, Vietnam is how many?

at
Blogtuan.info
– Source:
Soha.vn
– Read the original article
here