Toyota Land Cruiser has always been known for its durability over time, with its ability to operate off-road as well as adapt to any terrain. However, this car is usually only for middle-aged people because of its mature and somewhat mature design. Especially the old generation Land Cruiser lines, which are not for the masses at this time.
Going against the crowd, a young 9X named QC in Quang Tri decided to part with the trendy Mazda3 to buy a 2004 Toyota Land Cruiser GX 4500 of the 100 series (currently 300 series). Vehicle is used. Up to now, QC has used the car for another 4 years.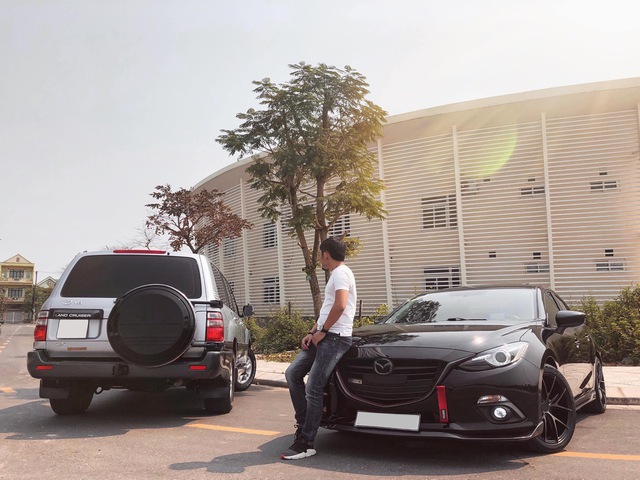 QC next to the used Mazda3 and the Land Cruiser purchased to replace it.
We had a conversation with QC to find out why a young person chose an old Land Cruiser and this young person's evaluation of the car after 4 years of attachment.
Outperforms other cars of the same price range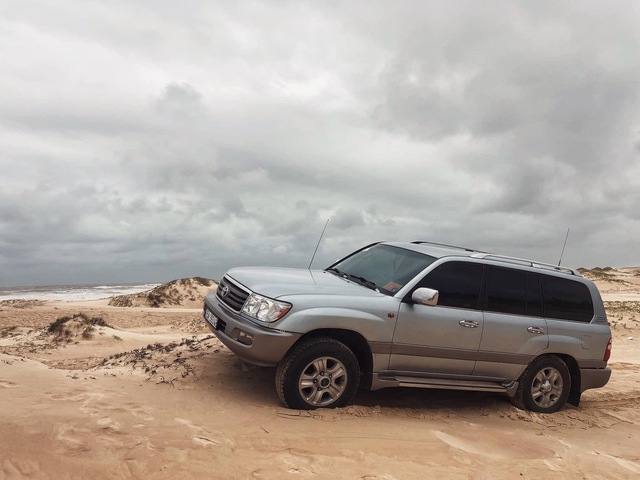 The biggest advantage of the Land Cruiser is that it can operate on many types of bad terrain.
* Hello. It is known that you sold your Mazda 3 to change to a Toyota Land Cruiser that was 14 years old then. Why did you decide to go against the majority?
– At that time, I also hesitated a lot, because the old Mazda3 and Land Cruiser were really two completely different options.
At that time, I had been using the Mazda3 for 3 years. Maybe it's just fate. I happened to sit on a 1997 Land Cruiser and drove it for a long time, so I fell in love, and to be honest, I am addicted to driving this SUV.
The 1997 Land Cruiser, although old, gave me everything I needed in a car in the same price range as the Mazda3 I was using at that time, it was superficial, spacious, sitting 8 people was still comfortable, Extremely smooth ride and powerful engine. In particular, I am extremely fascinated with the sound of the V8 engine every time it starts, it sounds very powerful, along with the number of floors running extremely well. In addition, since I was a child, I have been fascinated by this car line. That was my motivation to buy a 2004 Land Cruiser to use.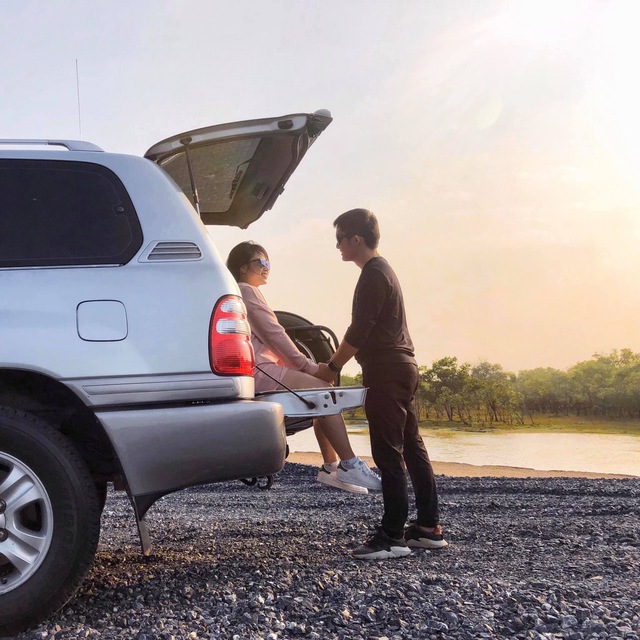 * In the same price range, in the same life, there are still many other 7-8-seat SUVs, still spacious enough, and also have big "dots" like Mitsubishi Pajero or Nissan Patrol. Why must it be Toyota Land Cruiser?
The large SUVs that are as big as the Toyota Land Cruiser I've run over like the Nissan Patrol or the Mitsubishi Pajero all have their good points, but the Toyota car is still the most different. It brings a different driving experience than other models, which is difficult to describe. Moreover, the Land Cruiser is overall more durable than other SUVs of the same age.
Just need gasoline to run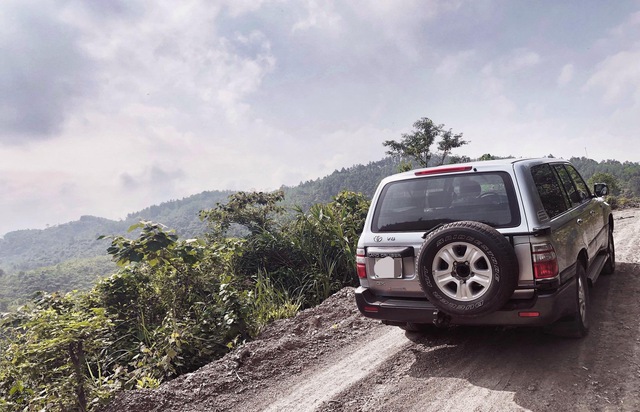 The car is not damaged, just need to worry about refueling.
* Using a large "dotted" car will certainly consume a lot of gas. Do you have this problem before changing from the Mazda3 that is the "king of gas savings" in the segment to the SUV that is known as the "gasoline tycoon"?
At that time, the price of gasoline was not so high as now, playing a car with a V8 engine was not too much of a problem for me. It is true that at this time, when filling up this car with gasoline, it is quite "painful for the wallet". Anyway, the car has a V8 engine and over time eating a lot of gas is inevitable. The full capacity is up to 150 liters, when I fill it up with 3.8 million VND.
In return, the Land Cruiser gives you experiences that Mazda3 cannot bring. This car I use for daily work, or off-road trips with my club from sand dunes to Ho Chi Minh trails. I also often go on business trips to other provinces, as well as visit my wife's hometown Ha Tinh or my furthest trip to Hanoi. Even on bad roads, when I drive the Land Cruiser, I don't hesitate. Every time the whole family goes away, everyone feels very comfortable when sitting in this car. It is indeed a car trusted by leaders to use.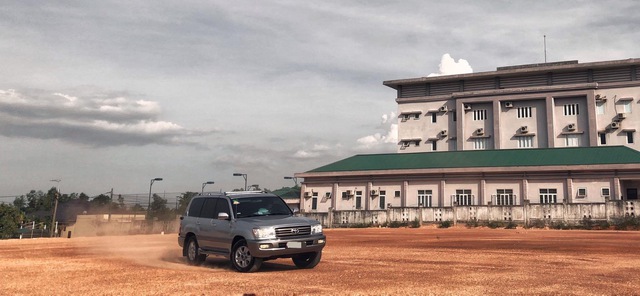 * Is the old car more than ten years old, is it damaged or not? Choose such an old car, what do you notice?
When I researched deeply about the Land Cruiser, I found that this car is really a stone pot, no matter how harsh it is, I am not afraid of damage. I myself have used the car for another 4 years and found this to be true.
Before buying a car, I consulted with Land Cruiser groups and asked friends for help. Buying a Toyota in general and a Land Cruiser in particular is also very simple. Toyota cars are extremely durable, so when I was looking for a car, I never cared about the odo number. As long as it hasn't been flooded or hit hard, it's fine. Fortunately, I found a car that the previous owner kept very carefully, so the quality of the car is still very good, the engine is smooth, the chassis is beautiful, the interior and exterior are old. I closed after 5 minutes to see the car because I was so in love with its original quality.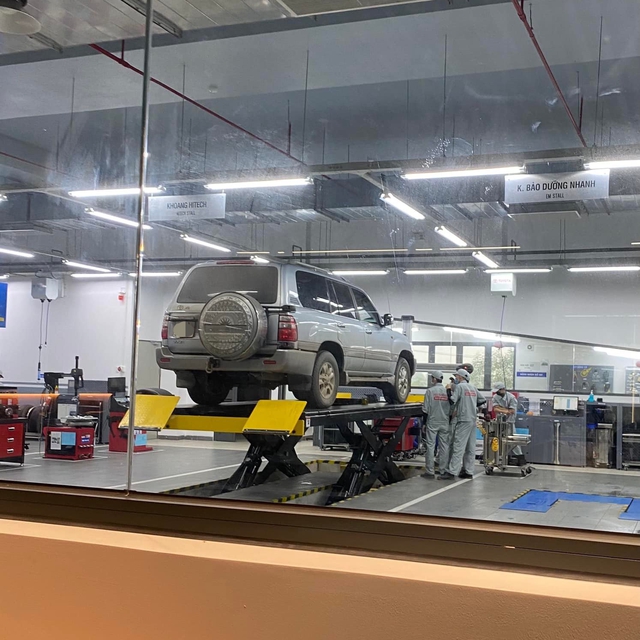 In general, buying a Land Cruiser whether 10 years old or 20 years old does not need to think too much, just fill up with gas and run. Up to now, my car has run more than 250,000 km but no damage has arisen except for details that depreciate over time. The car is regularly maintained so it is in good condition. Only once while moving my car was kicked on the glass and cracked, so it was over 35 million VND.
Durable design with time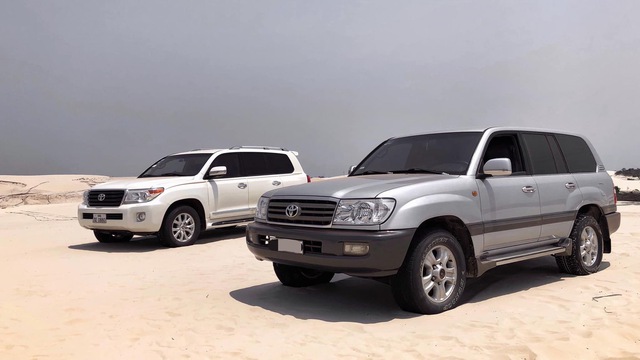 The design of the car is still legendary to this day.
* People often consider Land Cruiser as a car for middle-aged people and older. Someone jokingly called this the president's car. As a young person, what do you think about that idea?
I do not pay much attention to this issue. The important thing is that I like the car and the car gives me the values ​​that I need, but not everyone's interests are the same. At the time I bought a car from 2018, such a view on social networks as well as the name "chairman's car" was not too widespread.
To be frank, the car's shape is not as sleek and luxurious as the newer models. However, in my opinion, this car is durable over time. It still exudes the very nature of a Vietnamese car that has made Toyota's name in many markets around the world. That's not just my subjective opinion, but I've seen many other people comment as well. As for my own car, I have upgraded the steering wheel and front light cluster of the 2007 model to look more modern.
I think I will stick with the car for a long time. The love I have for the Land Cruiser is as durable as the durability of this car.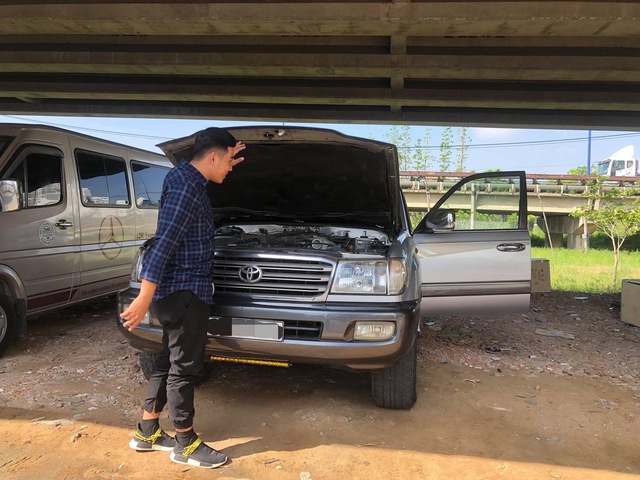 * Thank you for sharing.
Some other pictures of QC's Toyota Land Cruiser: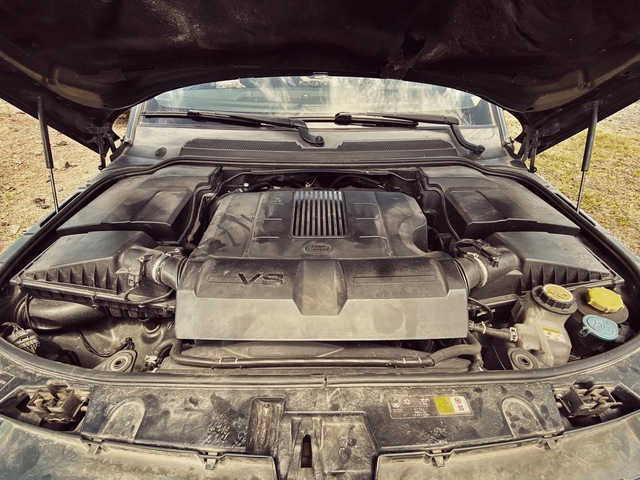 https://autopro.com.vn/9x-quang-tri-ban-mazda3-mua-toyota-land-cruiser-2004-chay-hon-250000-km-da-dung-la-nghien-du-thu- co-pha-province-kho-hong-duoc-20220607112456955.chn
You are reading the article
'Once used, you are addicted to everything, even if you break it, it's hard to break'

at
Blogtuan.info
– Source:
autopro.com.vn
– Read the original article
here