Business
Options for Malaysia to fight food inflation
Food and fuel are the items that push the consumer price index in Malaysia to a high. Photo: Reuters
According to Executive Director of the Malaysian Socio-Economic Research Center (SERC) Lee Heng Guie, inflation is having a strong impact on food prices. Many consumers find their grocery bills steadily increasing and wage earners pay more for meals. The consumer price index for foods such as vegetables, grains and meat has increased.
Rising food inflation has had a strong impact on the disposable income of low- and middle-income households to spend on essential expenses. This is also the cause of the global food crisis, especially in emerging economies and low-income countries that have experienced a shortage of foreign exchange and are vulnerable to food price shocks.
Food inflation pressure
Food prices rose in the years leading up to the COVID-19 pandemic driven by both supply and demand. The increased demand stems from better economic growth, increased purchasing power and population pressures. Meanwhile, food production is limited due to uneven crop yields, climate change (poor harvest), increased production costs, diseases, and changes in quality and output.
The second reason is that the crisis caused by the pandemic is still lingering, leading to closure measures and restrictions on movement. Supply disruptions cause food prices to skyrocket. Following the reopening of the economy, pent-up demand was released that put more pressure on supply chain resilience, driving prices higher.
Business costs and raw material prices in food production and processing both increase, and this will gradually be reflected in consumer prices with a lag of at least 6 months or sooner if producers unable to cope with this growing cost. From the end of 2019 to the end of April 2022, the World Bank's (WB) food price index has increased by 54%, with chicken up 83.4%, corn up 108.5% and soybeans up 88. ,first%.
Besides, the pandemic has increased the cost of shipping as well as delivery services for customers. The Russian-Ukrainian conflict that broke out in February 2022 further exacerbated supply disruptions and pushed up commodity prices (maize and wheat), energy prices, industrial materials, fertilizers and animal feed. higher in the long run. Higher wheat prices will lead to higher food prices while more expensive feed and fertilizers increase the cost of food production.
The US raised interest rates and made the dollar stronger. Since most food items are traded in USD, countries with weaker currencies have seen their food import bills rise.
Rising prices have prompted some countries to implement short-term interventions such as subsidies, price controls and price ceilings. In addition, there are temporary measures to reduce import duties and impose export restrictions to maintain or improve domestic supply. However, unfavorable global developments put more pressure on agricultural market prices, making these measures less successful.
On the Malaysian side, the integration of the country's domestic market with the global one means that domestic producers and consumers will have to contend with global influences on food supply and demand as well as on the global market. effects of food inflation.
The share of agricultural commodities that Malaysia depends on imports to meet domestic demand has increased to 13.7% from 7.3% over a 28-year period (1987-2015). In 2020, 8 items with an import dependency ratio (IDR) exceeding 50% include cuttlefish (52.2%), fresh milk (53.5%), round cabbage (63.6%), chili (72.4%), beef (78.1%), ginger (81.5%), mango (86.2%), and lamb (90.4%).
Ensuring food security, affordability and price stability remain a national priority and complex tasks. Both government and the private sector need to work together to ensure a sustainable food supply.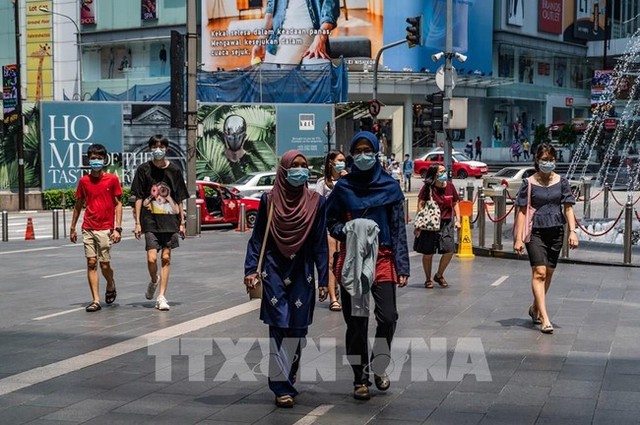 People wear masks to prevent COVID-19 infection in Kuala Lumpur, Malaysia. Photo: AFP/VNA
Action plan
Several short-term measures such as subsidies and ceiling price controls on food items/materials (for consumers and producers), and a ban on chicken exports have been implemented. However, government subsidies and the imposition of price ceilings to control food prices will burden persistent budget deficits, and may pose risks to the country's credit rating.
Therefore, food assistance should be available to vulnerable households through food stamps/stamping or cash assistance. Another portion of the budget could be used to promote food production programmes. Price ceilings and other price controls cannot solve food shortages. Attempting to price lower will only pressure existing demand, leading to worse shortages.
For producers, if subsidies and price ceilings are set below their cost, this affects economic efficiency and reduces supply. In the context of severely constrained supply due to soaring input prices and international supply chain disruptions, it remains unclear whether price controls will incentivize suppliers and manufacturers to increase output. or not.
To ensure the sustainability of the agricultural sector and food security, SERC experts recommend short- and medium-term action plans:
First, prevent market intervention. While government interventions are well-intentioned, they often backfire. These measures can distort market operations and resource allocation and discourage agricultural production. The primary focus of government should be on creating competition (not protection) in all segments of the food supply chain (food producers, purchasing, storage and distribution systems) to reduce costs, limit loopholes in the food management system.
Second, encourage technology diffusion and smart farming. Both government and the private sector need to accelerate the assimilation of technology in food and farming, while maintaining environmental sustainability, crop productivity and mechanization. This will reduce reliance on costly inputs, labour, fertilizers and pesticides and help stimulate food production.
Third, increase the area of ​​arable land. Only 5.5% of the total arable area (nearly 450,000 ha) is used to produce fruits, vegetables, herbs and other crops. On average, the whole country has less than 200,000 hectares of land for growing fruit trees and less than 100,000 hectares of land for growing vegetables in the 2016-2020 period. This compares with 5.9 million hectares for oil palm and 1.1 million hectares for rubber.
Fourth, promote all elements of the food supply chain from producer to consumer (cultivators, food processing industry and food wholesale and retail distribution sector). Building more flexible food supply chains and management systems with more capacity for collection, processing, transportation and storage in different geographical areas of the country will provide more and more options. choose better markets for consumers and producers.
Finally, provide real-time market information. Invest in market information systems to provide reliable and timely data on production, food supply and demand, trade and prices. This sends the appropriate price signal from the producer to the consumer; to strengthen supply chains, stabilize prices and reduce business risks.
You are reading the article
Options for Malaysia to fight food inflation

at
Blogtuan.info
– Source:
cafebiz.vn
– Read the original article
here