Giáo dục
Life Style
Review of Genesis school – A beautiful school like a park in Tay Ho district
Genesis School is a school located in the middle of the new Nguyen Van Huyen street leading to Tay Ho Tay urban area, Hanoi (currently training grades from preschool to primary school).
The total area of ​​​​more than 6000m2 with green-covered construction ensures all 3 international quality criteria in terms of space, function and aesthetics.
This is considered a pioneer school in Green Education in Vietnam. Educational philosophy upholds the original values ​​of nature and essence in order to create classes of young people who are responsible for themselves and know how to live humanely.
The tuition fee is 80 million -120 million/year for the Integration system and the IPC system.
DESIGNED FOLLOWING THE GREEN STARTING PHILOSOPHY
Some people imagine a drop of water, some think of a leaf, others imagine a pebble… when looking at the shape of this school. All are true because Genesis School is designed based on inspiration from nature, with the philosophy that the original material of the earth should be preserved and respected as much as possible as it is.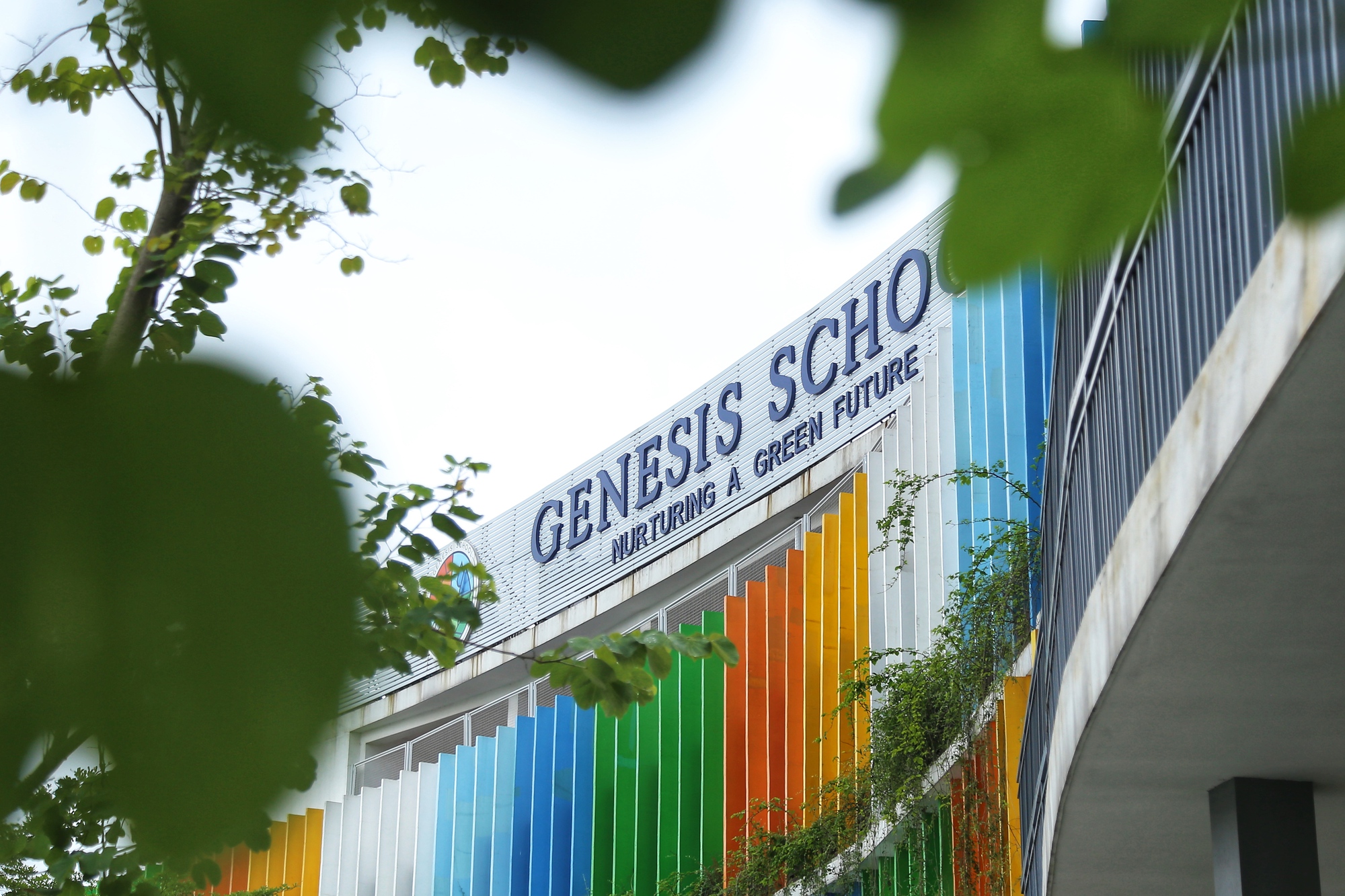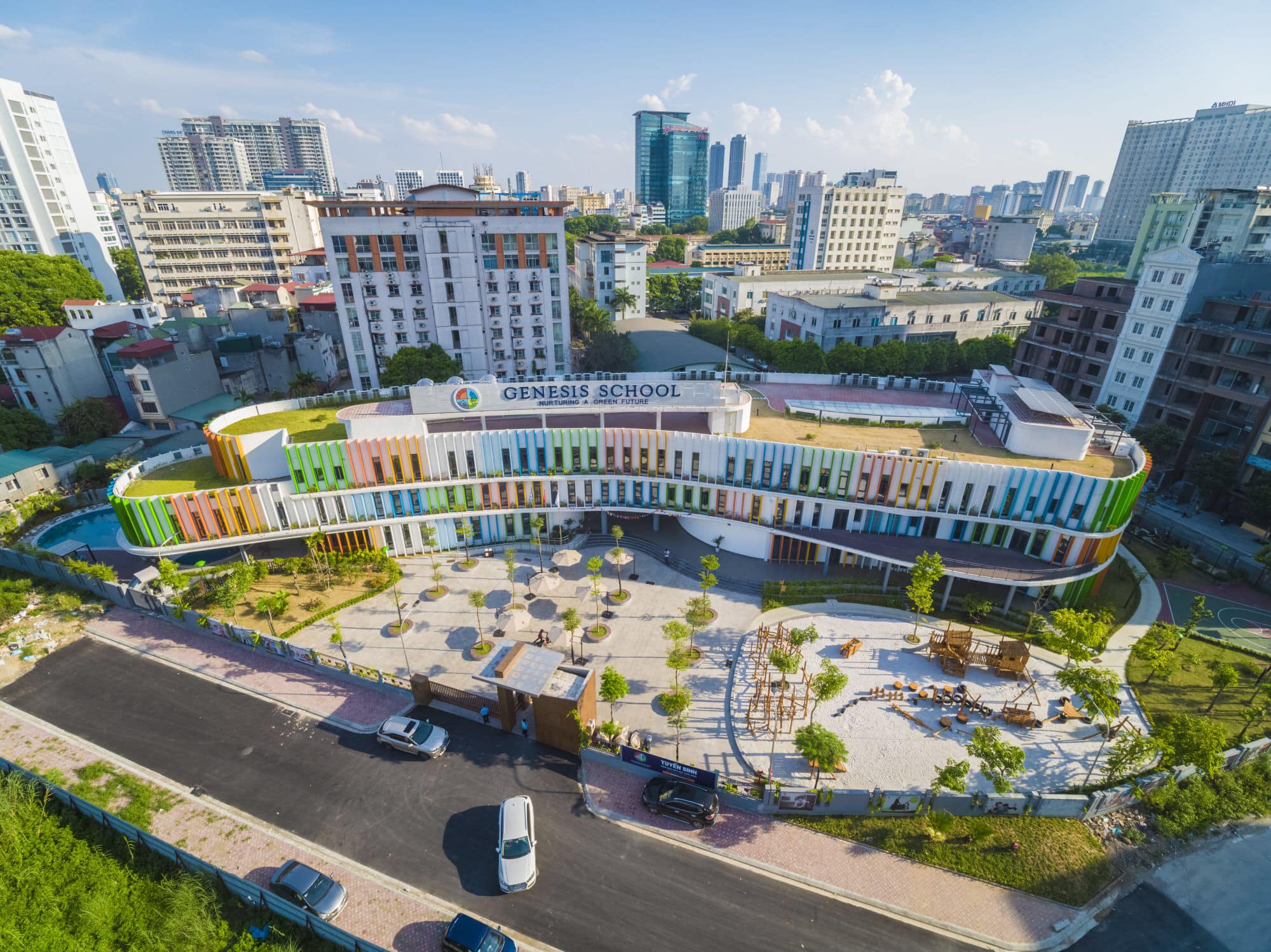 In fact, the overall architecture of Genesis is designed to simulate the shape of a cobblestone, placed in the middle of the optimal green space for children, ensuring 100% open vision filled with natural light.
Building materials and equipment at the school are also focused on safety and environmental friendliness, saving 46.7% of water, 51% of energy used, and the total heat transfer index of the class. construction shell reduced by 56%…
The main school building is also designed to be spacious, scientific and smart. There are 3 floors for students' study and activities. The first floor is for preschool students, the second floor is for primary school students, and the third floor is for functional classrooms.
The classrooms here are fully equipped with international standard furniture and materials following the trend of being friendly and sustainable with the environment. On the 3rd floor, modern functional areas help students have the best learning experience. Modern, attractive, creative curiosity and safety are the key elements in the design.
Outside the indoor learning area is a sand court system; pool; basketball and football courts; hydroponic garden… forming an overall friendly green living space.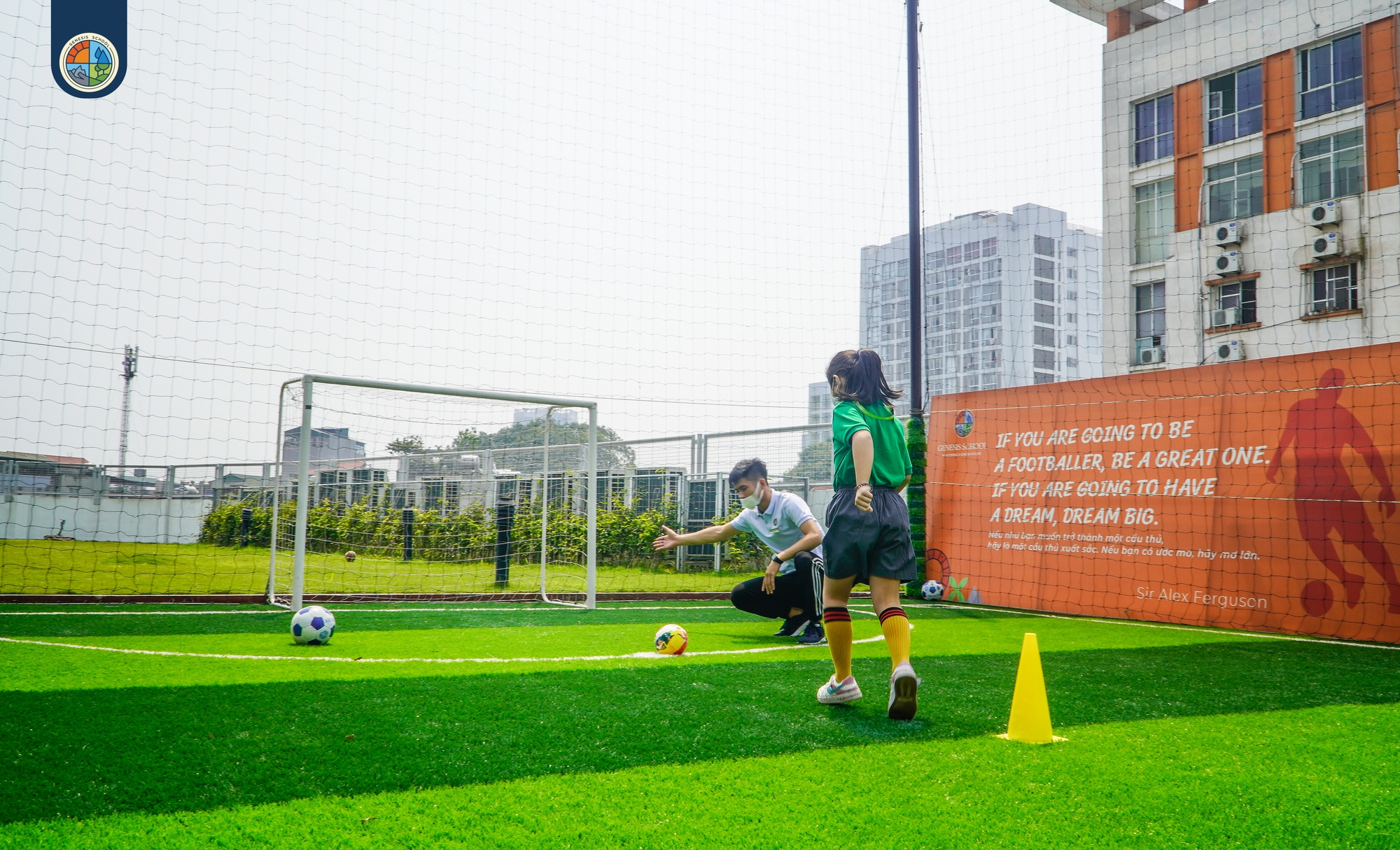 The school is filled with natural light, the ventilation thanks to the path of the wind has created harmony in the whole. This is an impressive point for the eyes of the person entering and admiring it. Therefore, students studying here confess that they always feel comfortable because of the friendliness of the design from the respect for the original that the school is aiming for.
Genesis is also the first Vietnamese school project to receive a gold-class LOTUS green certificate appraised and approved by the Vietnam Green Building Association (VGBC).
POLIOR OF GREEN EDUCATION IN VIETNAM
With the goal of education for sustainable development, Genesis has become a school considered a pioneer in Green Education in Vietnam. More than just a slogan or an initial investment of green facilities, Genesis is a model of experiential learning associated with a green life that many parents love.
From the pebble model in architecture that upholds the original values ​​of nature to the educational methods and learning contents of the school, all aim to create classes of young people who are responsible for themselves, always inquiring, learn about the world, live humanely, love and respect the green planet. Genesis also sets a higher goal when building itself to become a model of spreading Green lifestyle, actively contributing to sustainable development.
This school is also built with a closed cycle model in waste treatment and recycling. Organic waste is processed into organic fertilizer to take care of plants right in the school. The building of a green educational environment is clearly defined by the school not only in words but also in actions to instill in children forming a green culture as naturally as in daily life.
Practical actions are mentioned such as: Using a solar energy system to meet 40% of electrical energy consumption; have a rainwater collection system for watering plants in the garden; program "6th say no to plastic"; children learn more outdoors; There is a rainwater collection system for watering plants…
Mr. Phan Anh, Director of the Genesis Education System, said that it is necessary to understand Green in a broader concept, not just limited to issues of environmental protection: Education today must do how to help people develop harmoniously both intelligence, personality and energy so that people can live in a civilized world with modern technology and rich material, but do not lose yourself, and at the same time constantly develop the above core values ​​to achieve true happiness."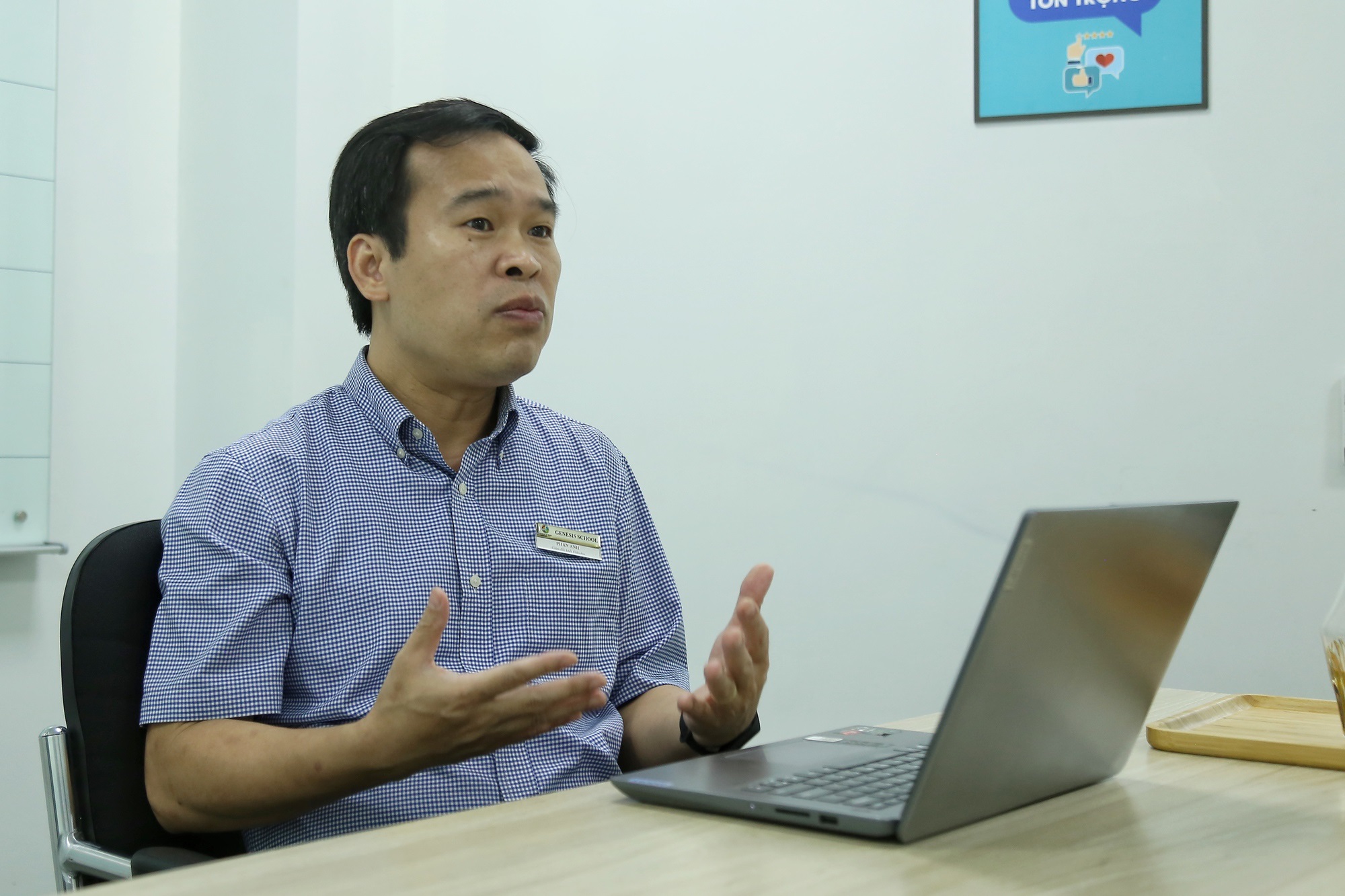 SPECIAL SUBJECT ONLY GENESIS IS AVAILABLE
To make living Green become such a natural need, Genesis builds an educational program with a harmonious combination of theory and practice. In the process of contact with nature, children learn about knowledge and skills through a special subject called Green Project, etc. with visual learning activities, closely connected with the environment. reality.
The Green Project has followed Genesis since the school's founding in 2019 and has become a subject only available at this school. A school representative said: "For students who have studied the subject from the first to the third grade, parents and teachers can notice that the children have changed a lot in terms of knowledge, attitudes and skills in related matters. The students all form a sense of recycling and saving in daily life at school and at home from the smallest things".
The Green Project Department has chosen to pose environmental issues in a way that is close to students and their surrounding lives such as recycling waste, saving energy in electricity, water or food… Interdisciplinary teaching method is also focused by the school so that knowledge can be "absorbed" in the most natural way.
In particular, the school's teachers also pay great attention to building a greener project culture in a more "mature" direction. For example, from the way of speaking, thinking, or through video lessons, all contribute to evoke empathy about life in many different aspects. In addition, the subject encourages students to use English, contributing to creating an environment for students to practice this second language.
Students actively take the steps to learn about topics, research, find information, conduct experiments, build presentations, etc. Teachers play the role of guiding, supporting, and providing learning resources.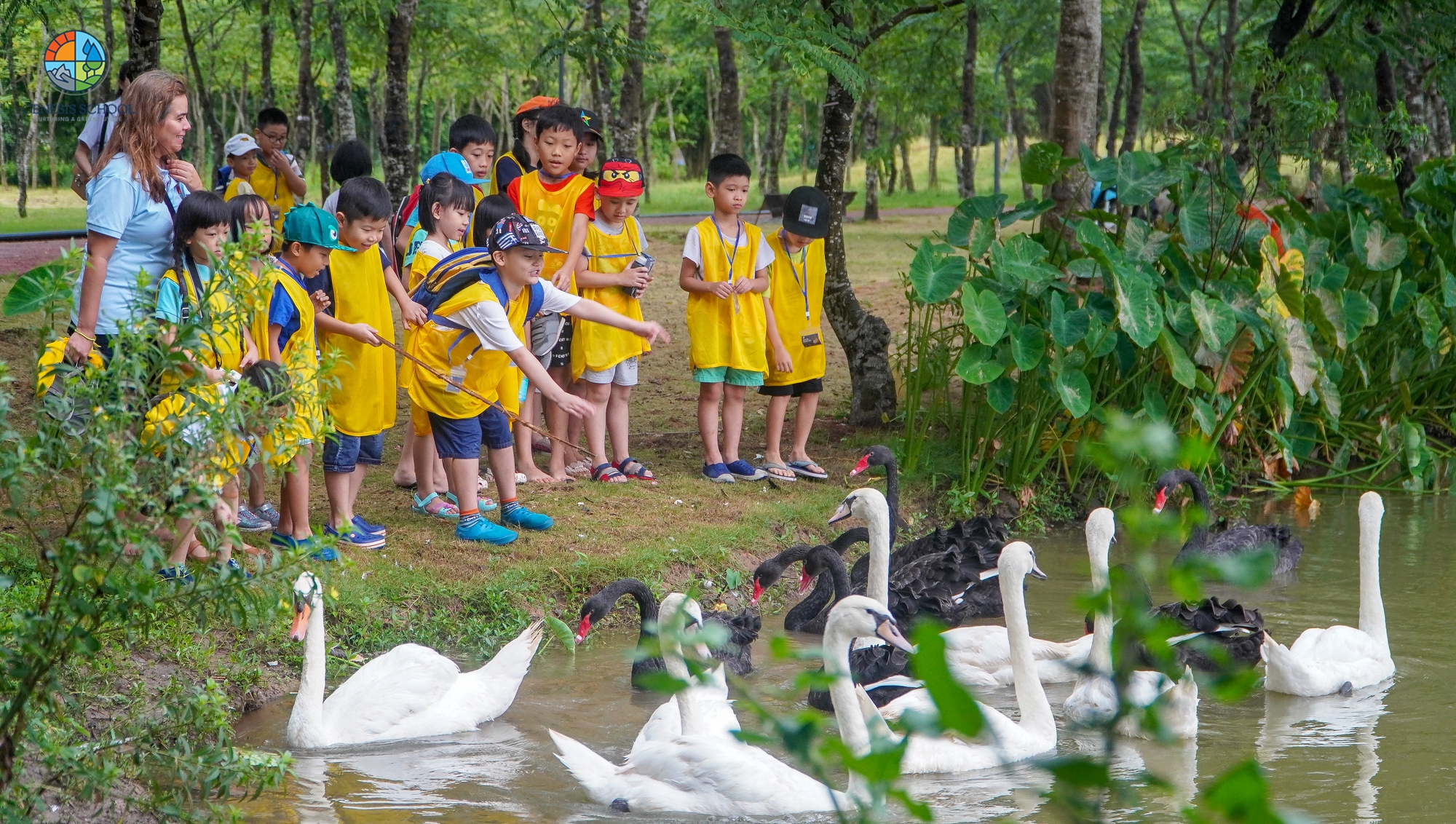 In addition to the central "Green" factor, the personalized education method and the way of not turning students into "workshop solvers" also make this school the optimal choice for many parents sending students. entrust your child.
https://afamily.vn/quan-tay-ho-co-ngoi-truong-6000m2-dep-nhu-cong-vien-tre-nho-duoc-hoc-1-mon-dac-biet-hinh-thanh- medical care
You are reading the article
Review of Genesis school – A beautiful school like a park in Tay Ho district

at
Blogtuan.info
– Source:
Afamily.vn
– Read the original article
here