Khỏe - Đẹp
The "huge" tumor is up to 40 cm in diameter, occupying almost the entire woman's abdomen
Two weeks ago, the condition was more bloated, indigestion and nausea, Ms. When he went to the hospital, he found a "huge" tumor occupying almost the entire abdomen.
About a year ago, Ms. Seeing the symptoms of abdominal distension gradually increasing, she felt her abdomen was harder, she still ate, drank, urinated normally, did not lose weight, so she did not go to the doctor, thinking only because of a poor digestive tract. In the past 2 weeks, the phenomenon of abdominal bloating is more, indigestion with nausea after eating. Ms. D just came to K Hospital on May 16.
The patient came to the hospital with pale skin and mucous membranes, thin body (39kg – 1m 55, BMI 16.2), abdominal examination detected at least 2 intra-abdominal tumors, large in size, from the pelvis to the pelvis. , the right flank.
Computed tomography scan showed a large diffuse tumor occupying nearly the entire abdomen. Ms. D. was diagnosed with a large retroperitoneal tumor.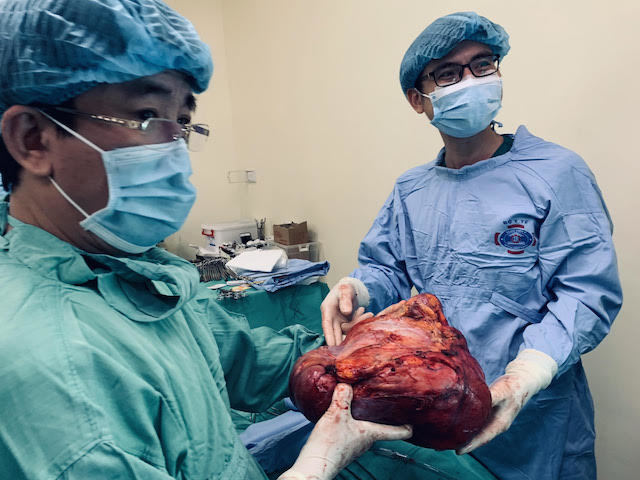 The biggest tumor ever, BV K has ever operated on
The doctors conducted a consultation and gave the indication for surgery to remove the entire tumor because with such a large size, the tumor pressing would greatly affect the patient's health.
The surgical team including Assoc. Prof. Dr. Kim Van Vu, Head of General Surgery Department of Quan Su and other doctors performed surgery to remove the entire tumor size 40×40 cm extending from the pelvis to the lower border of the liver for Ms. . Multilobed multilobular tumor originating from the posterior abdominal wall pressing on the right kidney, the right colon deviated to the left, sticking to the duodenum and the superior mesenteric vascular system is difficult for the surgeons.
"The tumor is very large, sticky, if not careful, it will damage surrounding structures, endangering the patient's life. Therefore, the surgical team did a meticulous, careful dissection, calculating very carefully how to remove the entire tumor while preserving all healthy organs. Thanks to that, the surgery was successful and the patient recovered well."
After surgery, the patient is stable and discharged from the hospital.
According to K Hospital, the surgery for female patient Tran Thi D. 62 years old, from Vu Ban district, Nam Dinh is one of the cases of surgery at K Hospital with the largest tumor ever, with a diameter of up to 40cm.
Through the case of Ms. D. K Hospital expert, each person needs to pay attention, listen to their own health, go to the doctor promptly when there are abnormal signs, should not be subjective, "self-diagnose" and then there are huge consequences that make treatment much more difficult.
N. Huyen
You are reading the article
The "huge" tumor is up to 40 cm in diameter, occupying almost the entire woman's abdomen

at
Blogtuan.info
– Source:
infonet.vietnamnet.vn
– Read the original article
here