Gia đình
The love story of Vietnamese and Brazilian husband and wife
Come to the program Son and wife Episode 458 is a Western guy – Paulo Henrique and a beautiful Vietnamese model Nguyen Cao Ky Duyen (27 years old). It is known that Paulo is a Brazilian who has lived in Vietnam for 7 years, currently a model and DJ. The love story of two people started from the time they met by chance while going out with a mutual friend.
"I just saw the smile, my wife's eyes were immediately attracted" – the Western guy revealed his first impression when he saw the beautiful Vietnamese model. However, Ky Duyen at that time still did not have much sympathy for the other side: "I don't want to have a boyfriend as a model, but also as a DJ. He is handsome so I think he will have many very complicated relationships. I'm a jealous person, so I thought that if I fell in love with you, it would hurt my heart."
That is the clear view, but Ky Duyen also admitted that she "forgot all her previous thoughts and fell in love" after only a few times talking and having coffee together. The secret of the Western guy when conquering Ky Duyen is simply sincerity.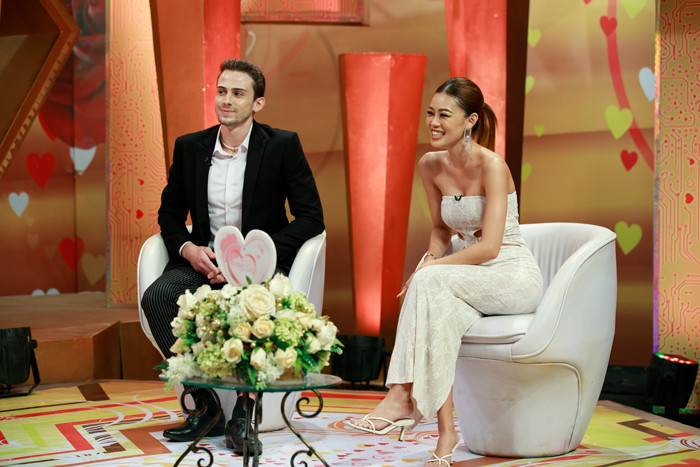 "Love is not a choice, it's just that I like her more and more. After 4 dates, I think I met the right person. She is mine, I like her, like her family, like Duyen's style, life attitude and way of speaking," Paulo revealed.
DJ Paulo was even very shy when asked about his first kiss: "I guess I could kiss Duyen sooner, but I think it would be great to wait until I understand Duyen completely. And that feeling was really great. I was driving home and I was smiling all the time."
Before getting married, the two lived together for nearly a year when they went to Brazil to visit Paulo's parents. Recalling the memory of bringing his wife back to visit his parents, Paulo laughed and said: "Debuting with pink hair for the first time made my parents a little embarrassed. But when they have time to learn and live together, they love Duyen very much because of Duyen's cute temperament, and often help with household chores."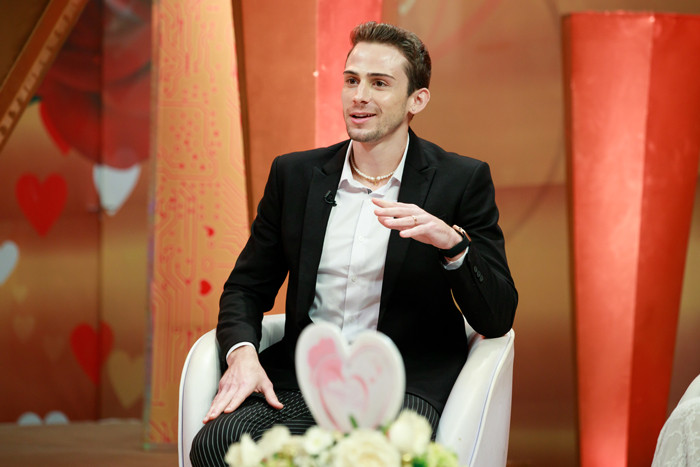 Possessing a beautiful appearance, very brave and personality, it is not surprising that Ky Duyen is the one who proposed to her boyfriend.
Sharing with MC Hong Van and Quoc Thuan, during a stressful time of the pandemic, because she didn't want her boyfriend to worry much about the cost of the settlement card and tourist visa, Ky Duyen boldly suggested: "Or we should get married. !".
At first, Paulo agreed, but then suddenly refused and postponed the wedding for fear that Ky Duyen would feel disadvantaged, because he had not proposed to her properly. But for the model, the proposal is just a formality, it doesn't matter, so now the two have registered their marriage for more than a year. The couple is expected to hold a wedding later this year when Paulo's parents can come from Brazil to Vietnam to attend.
Sharing about her married life, Ky Duyen said that during the stressful time of the Covid-19 epidemic, she could not work and had no income for 4 months, causing Paulo to fall into depression. He gets angry easily, so the couple often quarrel over petty things. Later, when realizing that her husband was having emotional problems, Duyen often kept quiet to appease her husband and avoid quarrels.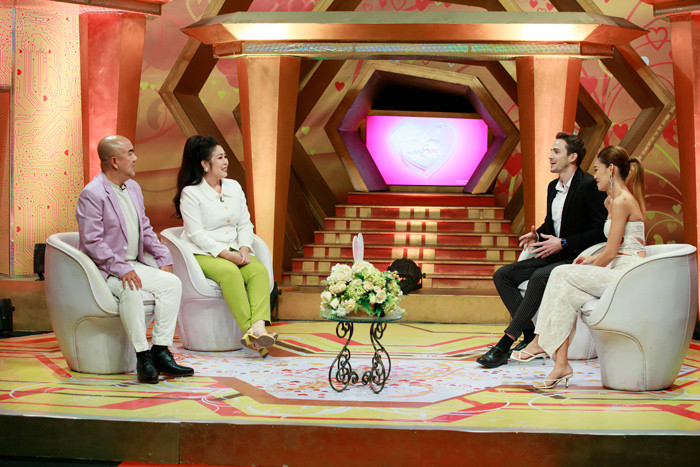 She also enthusiastically "exploded" her husband: "Paulo is very jealous, if anyone looks directly at his wife, he will come and ask him directly why. But most especially, her husband sleepwalks and acts like the real thing. One day, while he was sleeping, he dreamed that the husband and wife were arguing, so he sat up and looked at his wife and said that she was fake and blamed her. Another time he was sleeping when he got up and walked around the house and said that someone was spying on his house.
Although it is a funny story about the married life of a young couple, MC Hong Van also subtly advised Ky Duyen to take Paulo to see a doctor for advice and improve sleepwalking.
At the end of the program, Duyen wants her husband to become calmer, less hot-tempered and less jealous for a happier married life. At the same time, she also shared that both husband and wife do not want to have children at the moment. In the near future, maybe 2-3 years from now, when Paulo is calmer, more emotionally controlled and psychologically more stable, both will have a baby.
Paulo and Ky Duyen brought a very new color to the show with the love story, the marriage of Vietnamese wives and Western husbands with a very modern but equally emotional outlook on life and love.
Thanh Thanh
You are reading the article
The love story of Vietnamese and Brazilian husband and wife

at
Blogtuan.info
– Source:
vietnamnet.vn
– Read the original article
here