Every woman wants to have a standard bust to have a charming body and more confidence. Therefore, many people are willing to spend a lot of money on breast augmentation in the hope of impressing the people around them. But for Ms. Be Ngoan (54 years old, HCMC), having "super big" breasts caused too many tragedies for herself.
The woman who owns a bust up to 130cm
At the beginning of the story, the woman who lives near Be Ngoan's motel room honestly said: "She comes to my house every day to collect ticks and bottles. At first, I was curious about the huge breasts and then wondered how can they be so big? Then I began to observe and observe that she was in a very pitiful situation: she was illiterate, had no homeland or relatives. That's why I often invite her to my house to eat and then ask questions and encourage her."
As soon as she finished speaking, another woman revealed that Be Ngoan was very beautiful even though she was over 50 years old. She has two small legs but her upper body… is too big. Then 2 ladies took us to this particular woman's motel room.
The room is not too big but everything inside is neatly arranged and, clean. "I went to pick up bottles, people love and support the most, so I have money to rent a house to live there. In this house, people take 1.5 million VND/month, in the past I always wandered around under bridges or abandoned villas to live," said Be Ngoan.
The Good Girl and her "super huge" breasts.
Wondering about the name Be Ngoan, the woman with big breasts laughed: "I have many names! Some people call Baby good, others call Baby Fat, etc. I don't know what my name is because no mother has named me, nor do I have any papers. That's why I like that people call me Good Girl because I'm so cute."
Since childhood, Be Ngoan has lived alone with no family around. According to her memory, she remembers she was once taken by a man to the forest in Da Lat (Lam Dong) to live with animals. Whenever she was hungry or thirsty, she instinctively ran into the village to beg for food, but was chased away by the same person.
"When I asked why they wanted to 'lock me up' in the forest, that person yelled because I was young, I had huge breasts, I might have a disease, so I don't want to affect the people. At that time, I really wanted to know where I was born, who were my parents? But they just say they're not my father, nor are they familiar? They even told me not to go looking for my parents because my breasts have caused them so much pain,' cried Be Ngoan.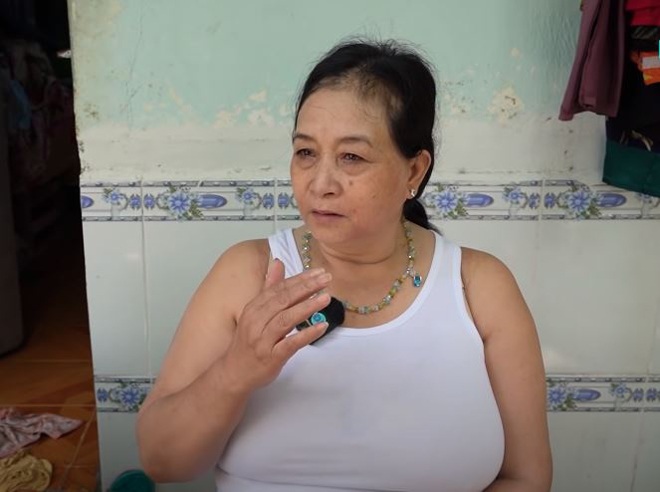 Be Ngoan cried when talking about her past.
Living in the forest for a while, poor Be Ngoan continued to be taken by the man to the cemetery to live. There she took shelter in a grave and managed to survive by… taking incense burners from people in the village. At the age of 9, she got out of the grave and started living a "moving here and there" life.
The woman with big breasts has wandered around Da Lat begging for food. Once, she was hit by a truck carrying goods from Saigon to Da Lat and was seriously injured and had to go to the hospital for emergency treatment. "Instead of taking me to the nearest hospital, they took me to Cho Ray Hospital (HCMC) for treatment. Since then, I have been wandering in this place until now, for many decades, "she confided.
Alone wandering around Saigon
In a prosperous urban place, Ms. Be Ngoan wanders everywhere, begging for food and then picking up ticks and bottles to earn a living. She said that many people advised her to apply for a decent job to do, but she just laughed it off. They didn't know that she couldn't read and write, how could she get a job. More than that, she has a round 1 up to 130cm – extremely heavy, can't run, if you're tired, you can't work like a normal person.
"I'm old, but it (ie round 1 – PV) is still 130cm, how big was it when I was young? It's okay if I lie down to sleep, but it's very difficult to walk! Therefore, I cannot do physical work that requires health. I had to go pick up the bottles, earn any money or that.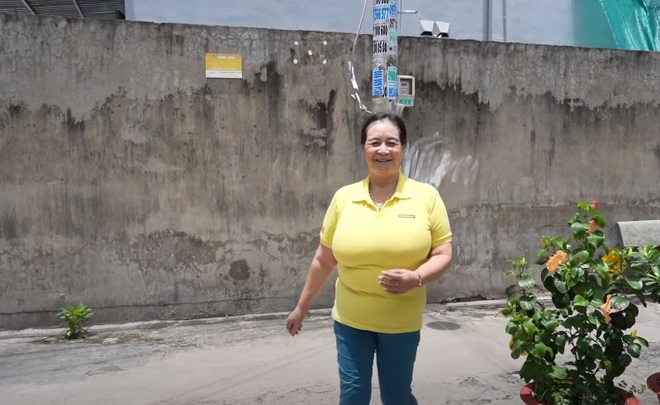 In a prosperous urban place, Ms. Be Ngoan wanders everywhere, begging for food and then picking up ticks and bottles to earn a living.
Some people wonder if I have a breast pump? I don't have money to pump. I also don't want to have such big breasts. My life has had too many tragedies and sorrows because of it," said Be Ngoan.
Referring to whether, after the accident, Be Ngoan lost her memory so she couldn't remember who her family was, she affirmed: "I have not lost my mind at all. To this day, I still vividly remember the image of myself being kicked out of the village. I still remember the man who left me in the woods and the cemetery. I once thought of going back to Da Lat to find them to ask again about the origin, but to no avail. I have lived more than half of my life with many injuries, so I'm used to it. If my parents wanted to see me, they wouldn't have abandoned me like that?"
When she was young, Be Ngoan used to love and live as husband and wife with a man. But when she gave birth to a baby one month ago, this person hugged the baby and disappeared. She went crazy looking for her son but couldn't find her. "What a beautiful child! I went crazy looking but couldn't find it. I guess I have my own family now", the woman fretted about her blood.
You are reading the article
The Saigon woman is miserable because the first bust is too big up to 130cm, the background is not clear

at
Blogtuan.info
– Source:
Eva.vn
– Read the original article
here