"Effortless chic" is a style that is "simplified, highly applicable, trendy and effortless". It can be said that this style has made a stylish brand of Paris ladies, as well as a style that fashionistas pursue. It doesn't require complicated hairstyles, bold make-up, fancy outfits or spending time and money to get flawless flawless skin, "Effortless chic" is still enough to highlight the inherent beauty. your own and unique in your own way. Let's learn the following 4 rules to make this clear:
1. Simplicity is the best
Simple and monotonous in dress are two completely different definitions. Simplicity enhances the natural contours of your body and makes you stand out and different because of it, while monotonous makes you look boring and lost in the crowd. So, how to dress simple, not monotonous?
– Choose clothes with well-sewn seams, high-quality materials, and beautiful shapes. Thanks to that, although the outfit is simple, it is enough to create its own charm.
– Prioritize "basic" items such as: flat skirts, oversize shirts, loose pants, … because they never go out of fashion.
– Tips to create accents: mix clothes and accessories (maximum 3 items). French girls prefer to use silk scarves because of their high applicability and can be transformed with many different styles.
The beauty of the "Effortless chic" style is that it brings comfort and ease not only to the wearer, but also to the person who looks at it.
2. Beautiful natural hair is an expensive highlight for the style
Since the principle of "Effortless chic" is to limit accessories, try to turn parts of your body – such as your hair – into expensive accessories that only you can have. That is also the reason why French women prefer loose, loose hair instead of fancy hairstyles or buns.
If you are curious how the Paris ladies avoid greasy, thin hair, here is the answer:
– Prioritize using shampoo – conditioner that has the ability to naturally nourish hair without causing stickiness.
– Point up the hair with a seductive, long-lasting perfume, to make an impression.
– Tips for naturally bouncy hair: Blow-dry your hair at a low temperature until the hair is still a little damp, twist your hair, clip it to overnight and "voila"… you will have gentle, bouncy wavy hair the very next morning.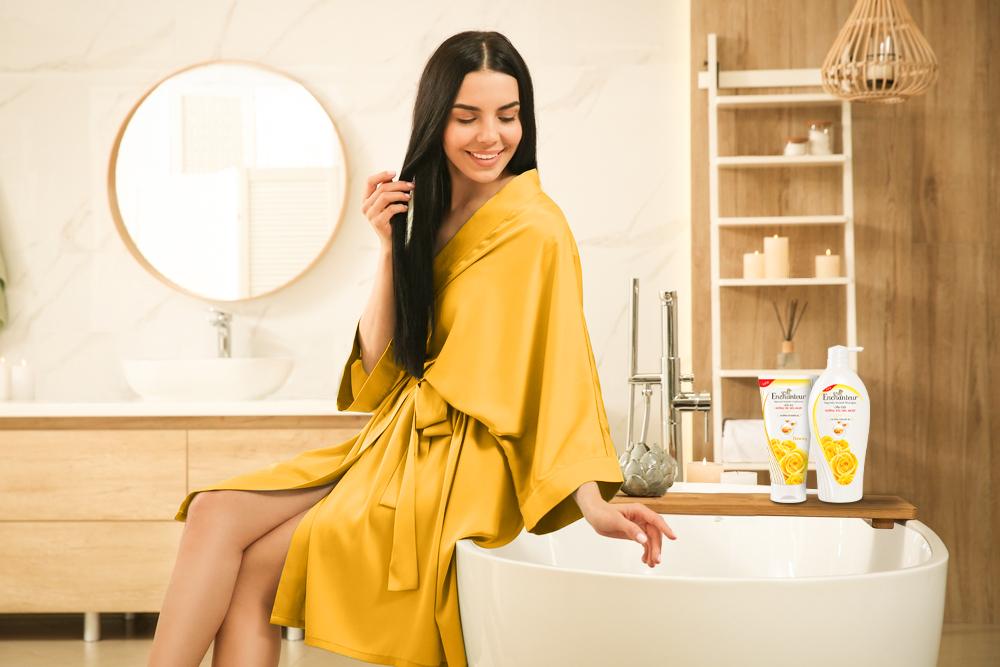 Inspired by French charm, the Enchanteur shampoo and conditioner duo rich in Pro Vitamin B5, Olive essence, Amino Protein and French perfume is a must-see suggestion this summer for girls who love voluminous hair. Perfumed, fragrant all day long.
3. Cherish the smooth beauty of your skin
French women care about their hair as much as they love their body skin. They believe that healthy, silk skin is the key to charismatic beauty. However, you will be surprised by how their skin care is not fussy at all, because for French girls, "simple is the best":
– Make sure the body skin is sufficiently moist by choosing a shower gel containing many nutrients for maximum moisture, and applying a body cream right after bathing. Note: Prioritize choosing moisturizing ingredients suitable for summer, not creating a sticky feeling such as: honey, aloe vera, Silk Protein…; Avoid oil-based substances that can clog pores and cause acne.
– Apply sunscreen on the whole body before going out and use aloe vera gel to give first aid to the skin as soon as it comes back from outside to limit the harmful effects of UV rays.
– Choose a shower gel with the same scent as the shampoo and conditioner set to increase the effectiveness of scent retention and help her every movement radiate a gentle, natural fragrance.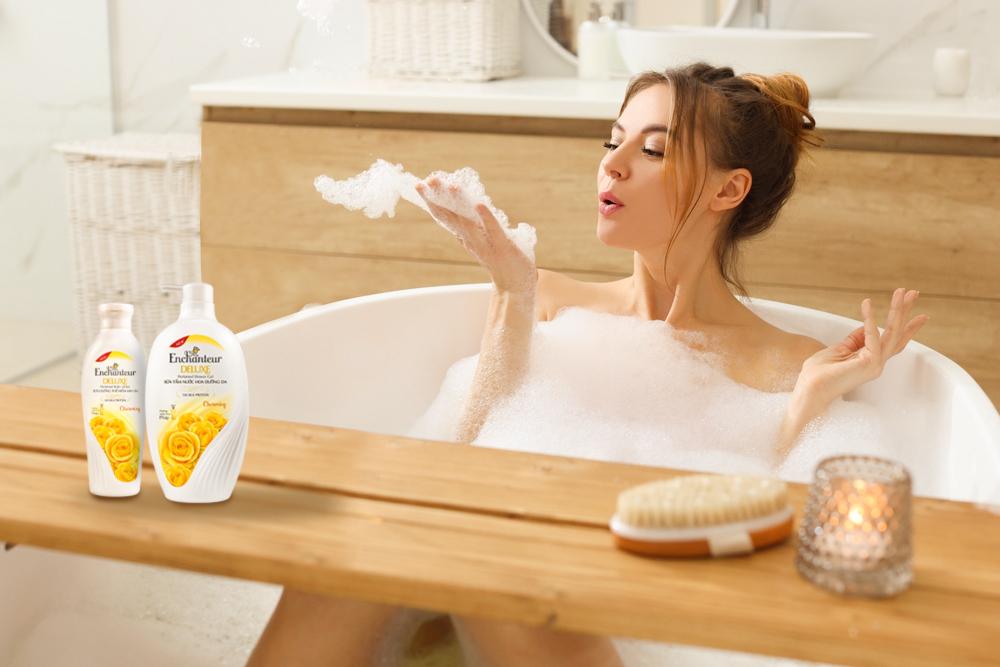 With the help of the French perfume-oriented skin-loving duo from Enchanteur, including: Body lotion rich in Silk Protein, and Body Lotion containing Olive oil and aloe vera, the day she owned it. Owning smooth, fragrant skin is definitely not far away.
4. Never lack of scent
For French girls, perfume is an essential accessory to complete the style and highlight the individuality. Therefore, collecting scents to use in different events is also a habit of many stylish ladies.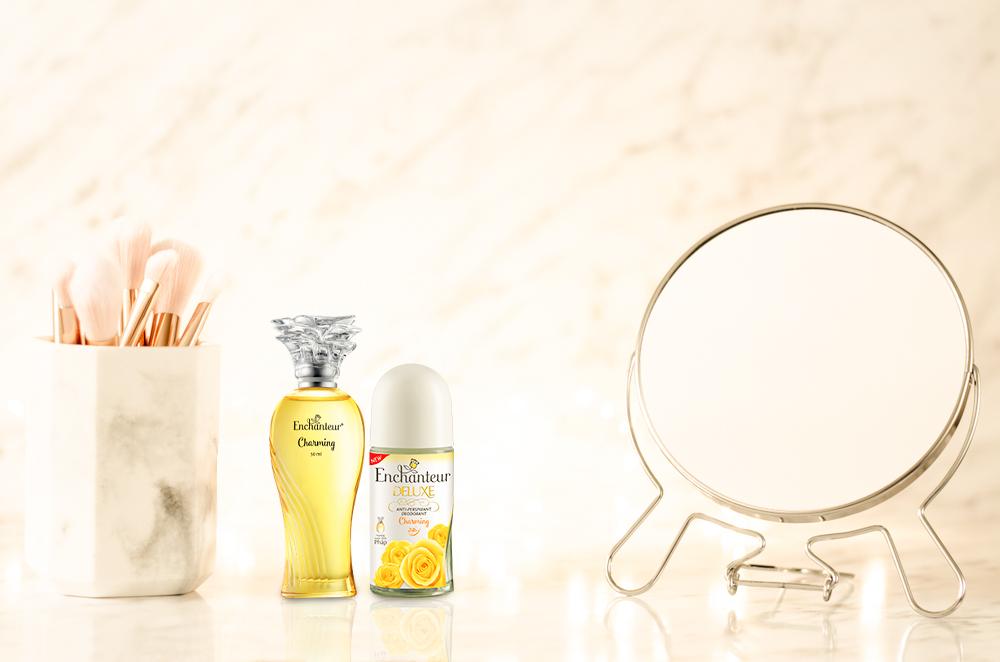 There is a trick to help the scent on the body stick and spread better is to use the Perfume Deodorant Roll and the Enchanteur Perfume with the same scent. This combination can really help you leave your personal mark extremely effectively.
Along with perfume, deodorant roller is also an indispensable accessory for neat and elegant ladies, especially in hot summer weather that makes sweat glands active. There is a trick that French women often apply that will use deodorant rollers at night before going to bed for maximum absorption of the product, ensuring effective prevention of odor-causing bacteria.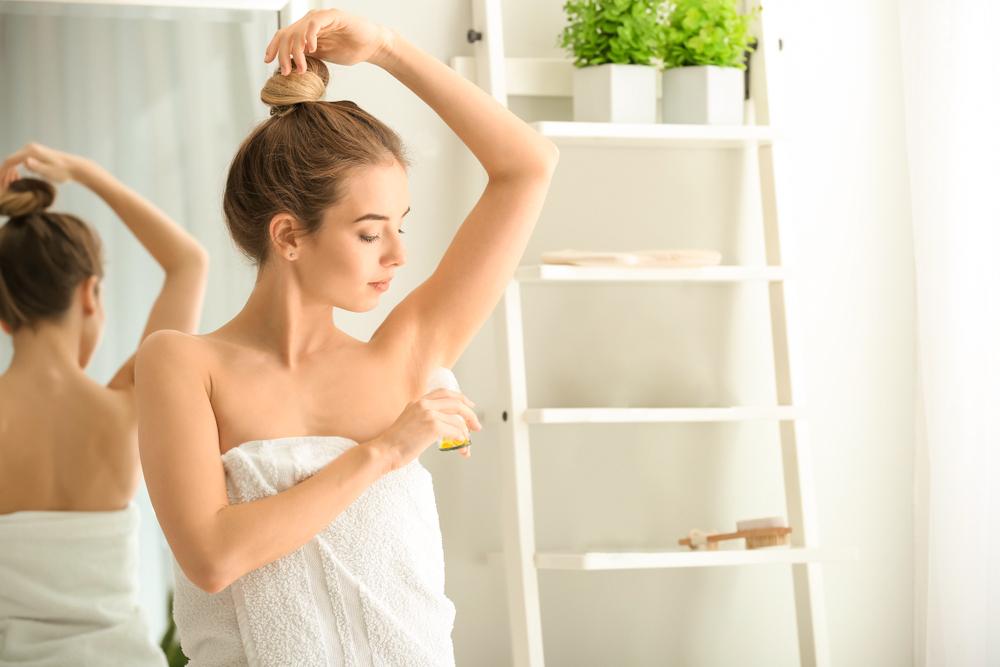 Enchanteur Fragrance Deodorant Roller with a special formula not only helps prevent body odor effectively, leaving the skin under the arms comfortable and dry for 24 hours, but also points on the body of French perfume to help men and women. confident and charming all day long.
It's time for the ladies to shake off all hesitation and try to apply the above rules to confidently conquer the quintessential French fashion style "Effortless chic". Experiment a lot to see what works best for you. Because we are girls, and we always have the right to paint ourselves with lots of colors!
Originating more than 25 years ago from the elegant fragrance of Parisian girls, Enchanteur is a beauty care product line with high-class French fragrance, accompanying young girls in search of romance and sophistication. in life.
Enchanteur's products are being sold at supermarket systems such as Aeon Wellness, BigC, VinMart, Lotte, Coopmart, Emart… and prestigious cosmetic stores in cities such as Ho Chi Minh City. Ho Chi Minh City, Hanoi, Can Tho… and through online sales channels such as e-commerce channels. In addition, girls can access fanpage Official Enchanteur for more personal care product lines with legendary fragrance lines from France.
https://kenh14.vn/bi-mat-dang-sau-phong-cach-effortless-chic-chuan-phap-ma-bao-co-gai-mo-uoc-20220608114830877.chn
You are reading the article
The secret behind the French standard "Effortless chic" style that many girls dream of

at
Blogtuan.info
– Source:
Kenh14.Vn
– Read the original article
here