Giải trí
The truth is 'one watermelon is equal to 6 bowls of rice' and the benefits of the fruit known as the 'king of summer'-Health
The reason watermelon can be called "the king of summer" because it has a sweet and succulent taste, helps quench thirst and quench thirst, contains many substances such as glucose, malic acid, fructose, amino acid protein and is rich in amino acids. vitamin C…
Watermelon also has substances such as carotene, thiamine, riboflavin, niacin, ascorbic acid, crude fiber, inorganic salts, calcium, phosphorus, iron, etc.
Because of the high sugar content, for diabetics, the question is whether it is possible to eat this "king of summer" fruit?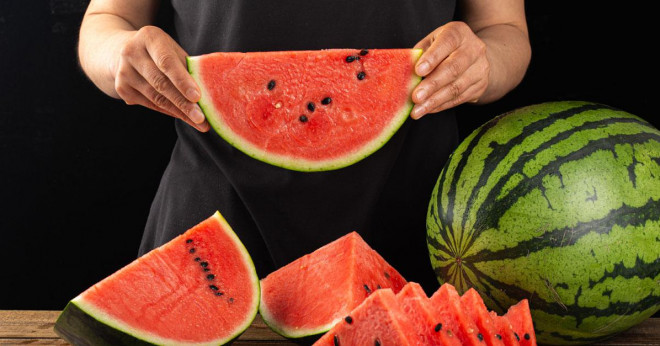 The rumor that "one watermelon is equal to 6 bowls of rice" is actually a bit exaggerated. The calories of watermelon itself are not high, mostly water, 100 grams of watermelon flesh without the skin, in fact, the calories are about 30 kcal , even lower than the calories of an apple.
Most people think that people with diabetes should avoid eating watermelon as much as possible, because the taste of watermelon is relatively sweet, easy to cause blood sugar fluctuations after eating.
Some people will also worry that although it is low in calories, the "glycemic index" (GI – the rate at which blood sugar rises after eating food) of watermelon is quite high, which is not conducive to sugar control. in blood?
Some foods don't taste sweet, but have a high glycemic index, and some foods that are sweet don't have a high glycemic index. According to research, the glycemic index of watermelon is 72, which is relatively high (Between 55 and 69 is average, over 70 is considered high).
However, the glycemic index (GL – represents the combination of carbohydrates and actual GI in a serving) when eating watermelon is relatively low, GL = 2 for every 100g of watermelon. Because of the low GL content of watermelon, diabetics can eat this fruit in moderation, in balance with other foods in the meal.
To eat melon safely, people who like to eat sweet must do the following things:
1. Control the amount of food
Although diabetics can eat watermelon, it does not mean that patients can eat watermelon in large quantities at one time.
After all, watermelon is also a sugary food, eating too much will also lead to the body loading too much sugar and water, increasing the burden on the patient's kidneys, increasing the frequency of urination, causing fluctuations. blood sugar.
Therefore, if a diabetic patient wants to eat watermelon, they can eat up to 200g per day, not being too greedy will cause blood sugar to fluctuate.
2. Can eat watermelon when blood sugar is stable
The blood sugar level of the body of a diabetic is in an unstable period, it is best to avoid eating watermelon and any food containing sugar.
In order for the blood sugar level to return to normal as soon as possible, the patient should strictly control their eating, adjust their diet, wait until the blood sugar level is stable, then eat a small amount. watermelon.
3. Eat watermelon between meals
It is best for diabetics to choose the interval between meals during the day to eat watermelon, because during this time, the stomach has digested most of the food eaten.
In addition to watermelon, you can also eat other fruits in small amounts to help your body replenish nutrients.
4. It is best to reduce eating staple foods after eating watermelon
If diabetics find that their blood sugar is significantly higher after eating watermelon, they should try to reduce their intake of the staple food at their next meal.
Only in this way can elevated blood sugar levels be lowered and help keep blood sugar levels in the normal range, avoiding aggravation of chronic damage to the body.
You are reading the article
The truth is 'one watermelon is equal to 6 bowls of rice' and the benefits of the fruit known as the 'king of summer'-Health

at
Blogtuan.info
– Source:
24h.com.vn
– Read the original article
here