Coconut flower (also known as cat tongue, flower that has not yet bloomed) is the flower part of the coconut tree, with many bile glands in it. This honey can be used to have a very sweet taste (it has about 14% sugar while fresh coconut water has about 4%), contains many minerals, vitamins and other nutrients necessary for your baby's health. should be consumed very quickly and marketed as a specialty.
However, without massage, the bile glands will not be stimulated to flow out, that's why the "coconut flower massage" profession was born. The most important technique of this industry is knowing how to massage coconut flowers properly. Workers must choose the right age of flowers to collect nectar because if the flower is too young or too old, it will not produce the desired amount of nectar. Every day, workers will climb the coconut tree twice to organize massage and cut new faces to collect honey.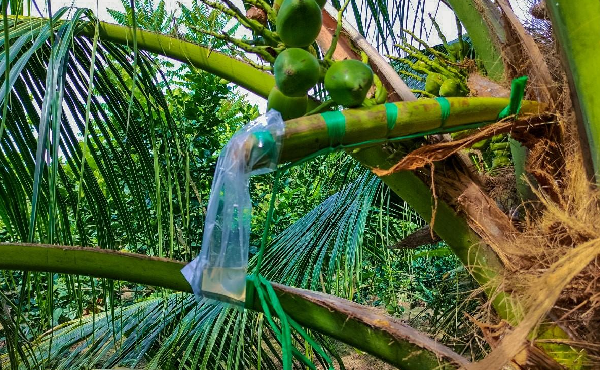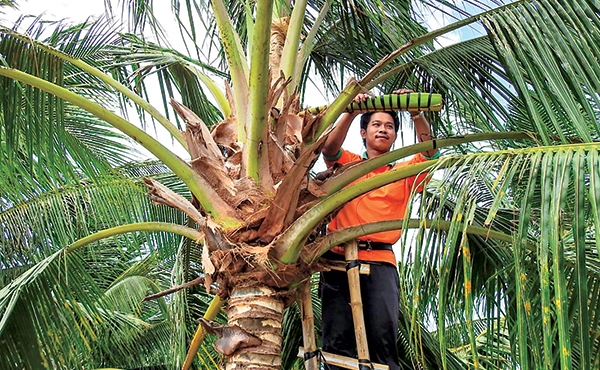 Coconut flower massage to get honey is a strange profession in Vietnam, few people know about it
Specifically, the worker will choose a dwarf coconut tree about 4 years old to get nectar. Flowers for nectar must be the largest ones, just 4-5 weeks old. The flower head is removed, the wound is covered with a plastic bag, and staples are used around it. Plastic bags can both store honey and prevent insects, water and microorganisms from affecting the quality of honey.
After about 3 days of cutting and repeatedly "massaging" to break the vascular tissue, nectar begins to secrete from the cut. This is a technique, a mandatory stage for this profession, requiring art, hand adjustment accordingly. On average, a coconut flower gives about half a liter of honey per day and can be exploited continuously for about a month. Thus, each coconut flower tree will give an output of 25 liters. The honey will be poured into a machine with a heated tank at a temperature of 65-70 degrees Celsius, then the solution will be passed through a cooling bath for about 5 seconds for sterilization, then bottled.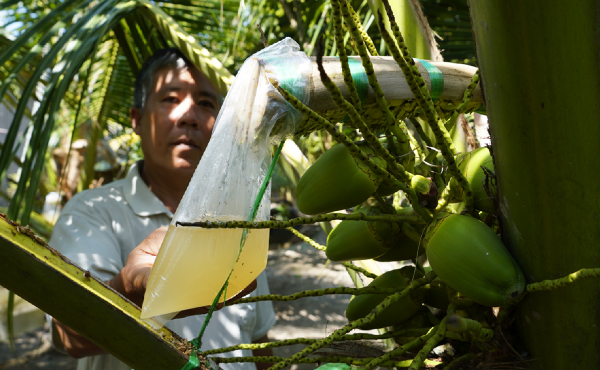 The coconut flower massage process requires technique, the amount of honey obtained depends on the coconut cotton massage technique.
In fact, the profession of getting nectar from coconut flowers has been popular in some countries for many years. However, countries like the Philippines and Indonesia, which have a large coconut area, planted as much as a forest, do not care much about productivity, so it is very normal to get nectar. However, in Vietnam, this job is still quite new and there are very few people doing it.
Mr. Pham Dinh Ngai (in Tieu Can town, Tieu Can district, Tra Vinh province) is one of the rare "coconut flower massage" people in Tra Vinh. Deciding to return to his hometown to start researching how to increase the value of coconuts, Mr. Ngai researched and learned about the coconut industry in the world to apply. In the first half year of continuous failure, Mr. Ngai has now completed the process of "coconut flower massage", constantly promoting production and building a factory. Until September 2019, the first coconut nectar products bearing the brand name of Tra Vinh people were introduced and delivered to domestic customers.
"Although the product is new and strange to consumers, our products have not been in stock, sometimes we can sell over 1,000 bottles of coconut nectar per month," Mr. Ngai shared.
The profession of "coconut flower massage" brings economic value 3-4 times higher than that of selling fruit. "For example, a coconut flower, I can get 25 liters of fresh honeydew, for 10 thousand VND/liter will earn 250,000 VND but 1 coconut flower left to fruit only sells about 50,000 VND/a dozen coconuts. 12. In addition to nearly doubling the income, growing coconuts for nectar also does not require much care or chemical drugs, saving additional costs," Mr. Ngai added.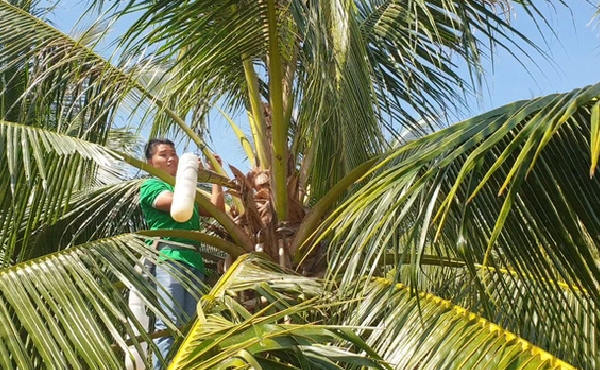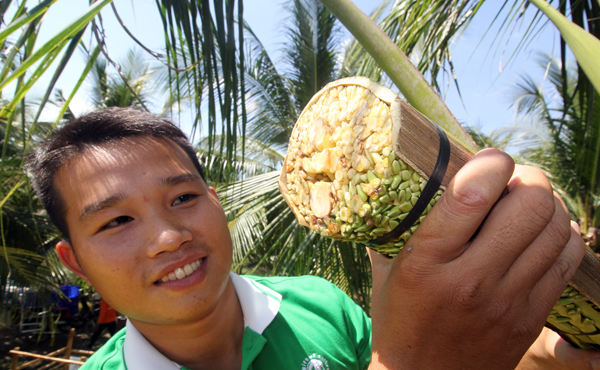 Mr. Ngai and passionate about coconut flower massage.
Currently, his factory offers two main products, including soft drinks with a shelf life of 14 days and concentrated nectar that can be used for 6 months. In addition to his time at the factory, Mr. Ngai often brings his coconut nectar products to display at festivals and fairs across the country, even abroad. In the past time, many businesses have come to visit his model and wish to cooperate in production and consumption.
Mr. Ngai's nectar processing workshop not only creates jobs for a few locals, but also opens up a new direction for coconut growers around the region. In order to have enough honey water to supply to the market (mainly business establishments in Ben Tre province, Can Tho city and HCMC), Mr. Ngai also cooperates with some local young people to work together. .
You are reading the article
Very strange job in Vietnam: High income but few people do it, what is obtained is a famous specialty of the whole region

at
Blogtuan.info
– Source:
Eva.vn
– Read the original article
here