Returning to Tan Thuan Dong island (Cao Lanh, Dong Thap) asked about the story of LVB and his wife who escaped poverty thanks to winning the jackpot, which everyone remembers, even the tiny children. Because it is a beautiful anecdote that has been "passed down" until now that few people can do after "changing their lives" like an old couple.
Mr. B was born and raised in a family with extremely difficult circumstances. Because of poverty, it was not until the age of 31 that he got married. The two people have a good heart, telling each other to do business with the hope of saving some money to get out of poverty. But doing it all the time… he still couldn't build a sturdy roof to avoid rain and wind.
Then Mr. B joined the guerrilla team to fight. The old woman stayed at home alone to cultivate and take care of two meals a day for her 3 children: 2 boys and 1 girl. Once peace was restored, he returned to share the burden of life with his wife, taking care of his daughter.
Mr. B didn't study and was not good at anything, so he had to stay up late and get up early to work for other people. In his spare time, he asked to join the fishing boats to cast nets in the river. The job is thought to only need health, but in reality it is extremely hard and the pay is not much.
The spacious house of Mr and Mrs B was built after winning the jackpot.
When he catches a lot of crabs and fish, the boat owner will "reward" more to bring home to help his wife improve the family's meals. As for the old woman, while her husband was fishing, he waded through the river to pick up water hyacinth and bring it home to sell to poultry farmers or to build up garden soil.
"Selling face to land, selling back to heaven" for 50 years still could not help Mr and Mrs B get out of poverty. He once said that if the people in the island had enough to eat, build a spacious house, buy good furniture, etc., his family would still "go in and out" of the tattered hut. He also had to accept the scene of sleeping with a blanket, drinking filtered water to forget hunger and thirst when he fell ill.
"We go hungry all year round, even during Tet. When my children got married, I also had to borrow from neighbors and relatives to organize the wedding.
People get married and prepare a whole tree of gold as a wedding gift, but we have nothing. Even after marriage, the two elderly relatives have to work hard to earn money to pay their debts. Many people love and should give alms without asking for interest, others if they have a business, hire us to gradually deduct them," said Mr. B.
Nearly half of his life was poor, making everyone think that when he died, Mr. B and his wife were still poor. No wonder God graciously gave them the "opportunity" to get out of poverty by the way everyone expected it! Accordingly, next to the old village, there is a lottery ticket seller who is over 70, living alone. Many times talking, he also picked up a few dong to buy 2 lottery tickets to support.
That day, Mr. B, like always, bought his neighbor 2 lottery tickets with the thought that if he won, it wouldn't be his turn. Unexpectedly that day, when the ticket seller passed by and informed the whole neighborhood that he had won the jackpot, he knew that one of the two lottery tickets he bought in the afternoon won a prize of 1.5 billion VND.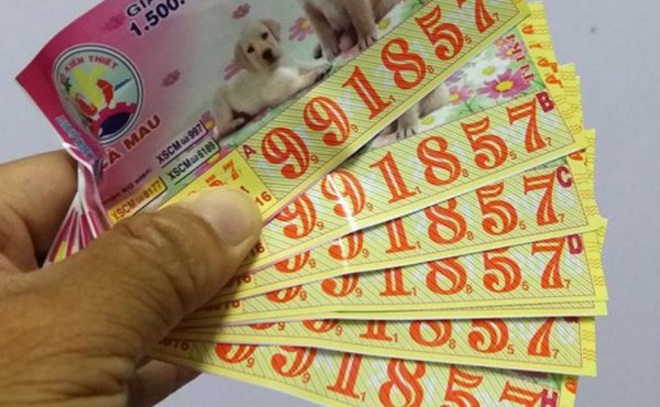 That day, Mr. B, like always, bought his neighbor 2 lottery tickets with the thought that if he won, it wouldn't be his turn.
After receiving the reward, Mr. B and his wife made a careful spending plan, not wasteful. The old man helped him sell lottery tickets a thank you and then deducted the money to repay the people who helped him when he was in need. Then he stood up and hired workers to break the hut to build a spacious and comfortable three-room house.
"If I didn't win the lottery, I wouldn't dare to dream of building a house worth 500 million dong by the time I go to the grave. Although the cost is really expensive, but I am happy because I have completed the settlement for the couple and their children in the last days of their life," he said.
After the house was built, he took his eldest son to live with him. The other two children, he invested in transportation and gave a sum of money as capital. The rest of the money, he did not dare to spend extravagantly, but sent it all to the bank.
With billions in hand, the two still maintain a simple life when they were poor. The elderly do not have to work hard, stay at home to take care of the garden and earn a monthly income. He said everything was like a dream, in an instant, he escaped poverty, had a house and accumulated money for the future. Therefore, he told you that you need to know how to cherish money, do decent and profitable business.
You are reading the article
Western couple won the jackpot, suddenly billions fell from the sky to escape poverty

at
Blogtuan.info
– Source:
Eva.vn
– Read the original article
here