Chinese cuisine has long become a very unique feature of Ho Chi Minh City. Whenever I mention it, my mind pops up with potential ducks, dumplings, tenders, dimsum, etc. There are dozens of dishes that can't be finished. Surely everyone wants to try once to taste the fatty flavor of the potential duck dish, or the bold dimsum balls steamed in a bamboo basket. Although there are now dozens of restaurants selling Chinese dishes, it is not easy to find a place with the right flavor and taste. If you want to have a "very Chinese" dining experience, follow these addresses immediately!
Baoz Dimsum
Address:
CN1: 88 Nguyen Tri Phuong, Ward 7, District 5
CN2: Ground floor of The Garden Mall – 190 Hong Bang, Ward 15, District 5
Open door: 6:30 – 22:30
Menus: 35k – 450k
The beginning is Baoz Dimsum – a name that is too familiar to those who often go to eat Chinese food in Ho Chi Minh City. No need to introduce too much, because this Chinese restaurant is already very famous in the district 5 area, you definitely have to arrange a time to visit once to taste how delicious Chinese food is.
The restaurant is designed in a cozy oriental style, suitable for dining with friends and family. Wooden furniture is used quite a lot, from the floor to the tables and chairs. Not only that, Baoz Dimsum is also quite delicate when decorating with carved ceiling lights and many green pots, making the space more airy and classy.
The menu of the restaurant is endless with all kinds of "standard Chinese" dishes, such as dimsum, dumplings, rolls, chicken feet, shumai, roasted duck, tofu with oyster sauce, kimsa dumplings,… Arrived. Baoz should definitely try the restaurant's "best seller" dimsum. The dimsum here is quite large with a tough outer shell wrapped around the filling, seasoned to taste. In addition to the usual dimsum sauces, Baoz also has a delicious and very strange scallop shrimp satay sauce.
Photo: @nhminhhanh, @zugmama
San Fu Lou
Address: Ground floor, AB Tower building – 76A Le Lai, Ben Thanh Ward, District 1
Open door: 7am – 3pm the next day
Menus: 50k – 300k
If you want to enjoy "genuine" Chinese dishes in a luxurious, Chinese-style space, then San Fu Lou is the "top" address.
The restaurant is quite spacious, smart design, many glass doors to help receive full natural light. San Fu Lou has 2 floors, the upper floor is for those who like to eat and watch the street from above. In addition, the restaurant also decorates many red lanterns, the walls are covered with pictures for guests to check-in.
The menu and the quality of the dishes are invested a lot by San Fu Lou and here and there, full of Chinese dishes, beautifully prepared and decorated. Some of the dishes that you should try at San Fu Lou are dimsum, char siu noodles, roasted meat and steamed chicken feet. Dimsum here is slightly modified according to Vietnamese taste, the inner shell is soft and chewy, the thickness is moderate, the inside is succulent and fresh. More specifically, the shrimp core is usually left whole, biting into it will see a slight roughness. Roasted bacon is equally delicious, the outer skin is crispy, sprinkled with a little fried garlic, dipped with yellow mustard sauce, it is guaranteed to be delicious "twisting the tongue".
Chi Dao Bao
Address: 97 – 99 Ly Chieu Hoang, Ward 10, District 6
Open door:
Morning: 7am – 2pm
Afternoon: 4pm – 9pm
Menus: 35k – 200k
A restaurant that you cannot miss if you are craving for "drooling" of Chinese dishes is Chi Dao Bao. It is no coincidence that this name is given to the restaurant, Chi Dao Bao, if translated into Vietnamese, is to eat until full. When coming to Chi Dao Bao, you will be overwhelmed by the menu with up to 1001 different dishes such as roasted duck, tofu with shrimp and meat, bamboo charcoal rolls with roasted duck, etc. All dishes are well seasoned.
When you come here, you definitely must not miss the Peking duck dish, which is made into 3 dishes, including the skin is peeled and rolled right at the table, the meat is fried with rice and crispy duck bones. very catchy.
The space here is decorated in Chinese style from tables and chairs, colors to decorative items. Suitable for those who live far from the center but still want to eat Chinese food at a good standard restaurant. Besides delicious food, the restaurant also has many unique dishes for you to sip, such as fragrant yin yang milk tea or refreshing pandan leaf juice.
Photo: @nai.nguyenn, @ansapsaigon, @tebefood
Ai Hue Restaurant
Address:
Sun 1: 412 – 418 Tran Hung Dao, Ward 11, District 5
Sun 2: 338 – 350 Tran Hung Dao, Ward 11, District 5
Open door:
Sun 1:
Morning: 10:30 a.m. – 13 p.m
Afternoon: 17h – 21h
Sun 2:
Morning: 7am – 13h30
Afternoon: 17h – 21h30
Menu: 80k – 3.5 million dong
It is no exaggeration to say that Ai Hue Restaurant is one of the most luxurious Chinese dining spaces in Ho Chi Minh City. The restaurant consists of many floors with a skylight in the middle, when dining, guests will sit around the railing. On the ceiling are sparkling chandeliers. Because the quality of the food and the space is extremely "top", so in the evening or on weekends it will usually be very crowded, you should take advantage of visiting in the morning or noon to find a satisfactory seat.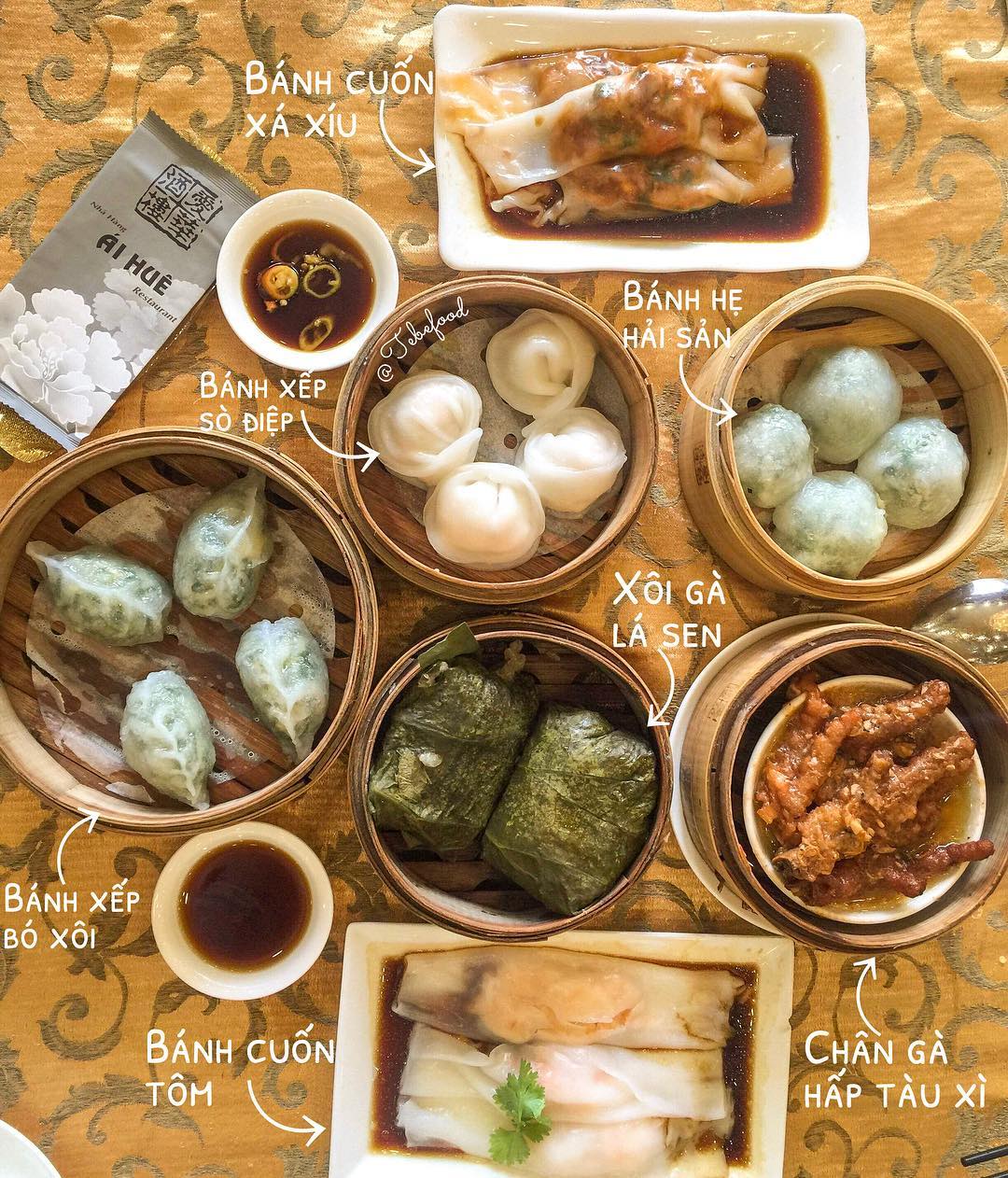 As for the menu, there is a variety of dishes on the table, all famous Chinese dishes are available in Ai Hue. If you have come here, you should try the dishes that have made the restaurant's name such as pineapple shrimp, dimsum, and roasted duck. The dimsum here deserves 10 points because the crust is soft and chewy, not too thick, the filling inside is full but the taste is just like the Chinese, served with dimsum's own sauce is delicious "swallow the tongue".
Photo: @tracypo, @foodaroundphuong, @min_private_kitchen
In addition, there are also desserts such as almond tofu soup, honeysuckle cake, snow milk tea or some cool drinks for everyone to balance the taste after the meal.
Dim Tu Tac
Address:
Sun 1: 55 Dong Du, Ben Nghe Ward, District 1
Sun 2: 29B Tran Hung Dao, Ward 6, District 5
Sun 3: 2nd floor – 202 Hoang Van Thu, Ward 9, Phu Nhuan District
Open door:
Sun 1, CN3: 10am – 10pm
Sun 2:
Morning: 8am – 2pm
Afternoon: 17h – 22h
Menus: 50k – 500k
Located in the city center, Dim Tu Tac is a very famous restaurant for Cantonese cuisine. This place offers a large open space with many cool green trees. Very suitable to come here with family and friends to sip some Chinese dishes in the evening or at the weekend.
Dim Tu Tac is too famous for all kinds of dimsum and when you eat 1 piece, you have to eat 10 more because the dimsum flavor here is extremely attractive, the shell is tough, the filling is light and fresh. Coming to Dim Tu Tac, definitely do not miss the Peking duck with crispy skin, served with rice paper (beef beef) rolled with a few slices of cucumber, chili and thinly sliced ​​onion, then sprinkle a little more Smooth sauce mixed according to the secret recipe. The dishes here are carefully prepared, helping to keep the traditional flavor and rich in nutrients.
Photo: @meidcout, @leosnak, @dao_bkksaigon, @letseatsaigon
In addition to the full dishes, you can order some more desserts such as longan tofu soup, black sesame tea, Duong chi powdered bangs, etc. Although the price at Dim Tu Tac is slightly higher, but if it is, If you taste the quintessential Chinese dishes here, you will find the price is totally worth it.
You are reading the article
Who wants dimsum or duck just "turn to choose"

at
Blogtuan.info
– Source:
Afamily.vn
– Read the original article
here