Business
5 years of establishment has reached the top 3 cricket manufacturers in the world, what did Vietnamese startup Cricket One do to win over competitors in the West?
Co-Founder and Business Development Manager of Cricket One – Bicky Nguyen
Born in 2016 and in just over 5 years, Cricket One has reached the top 3 cricket enterprises in the world. Currently, this startup is weak enough to export to Western countries, when 60% of revenue comes from the US, 30% from Europe and 10% from Japan.
With Cricket One having just been licensed to sell in the whole of Europe – being the second enterprise in the industry and the only one outside of Europe to achieve this achievement; In the future, their opportunities in this market are very wide. Currently, Cricket One products have been sold in 20 countries.
Started selling commercially in 2018, through many adjustments and improvements, Cricket One is currently often out of stock. In 2020, Cricket One reached breakeven point and by 2021, it started to be profitable. In 2021, Cricket One processes about 120 tons of crickets. This year, the company's output is expected to triple, but given what has happened in the past few months, it could be 5 times.
So why does a startup working in a very new industry based in Vietnam make such great strides?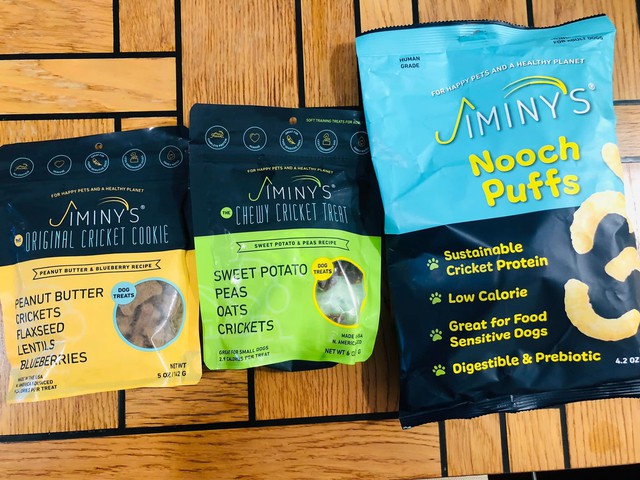 Snack products using cricket powder from Cricket One.
Because, like Co-Founder Cricket One – Bicky Nguyen: "The difficulty of the Vietnamese manufacturing industry is being labeled 'third country production' – 'product from a third country', which means that the product is always cheap but not of high quality. Therefore, when Cricket One brings any product to offer, it must try and strive 3-4 times more than competitors.".
So to get to where it is today, the Cricket One team had to do a lot of things: take advantage of the support from the Vietnamese Government, sales – expand the smart market, invest a lot in technology to have a production process. Optimal output possible, actively participating in startup competitions.
"In fact, starting an agricultural business in Vietnam has many advantages. In the past, Cricket One did a trial raising from 6 to 9 and 12 litters, the same cost; but if in Europe, then the cost will be higher. In Vietnam, the time is also favorable, the State policy is very supportive of high-tech agricultural enterprises and export enterprises.
For me, I have done nothing wrong, so I have a lot of support from the State. When applying for a license to export new products such as crickets, it will be very difficult without the support of the state.
In addition, because our country has a long agricultural history, it is also very convenient for Cricket One to open a farm or call on people to participate in the system.", said Bicky Nguyen.
However, according to Bicky Nguyen, Cricket One's competitive advantage over rivals in Western countries does not come from cheap inputs – such as labor or raw materials. So what if it runs out of cheap later? Therefore, no matter where, businesses should still compete with internal forces.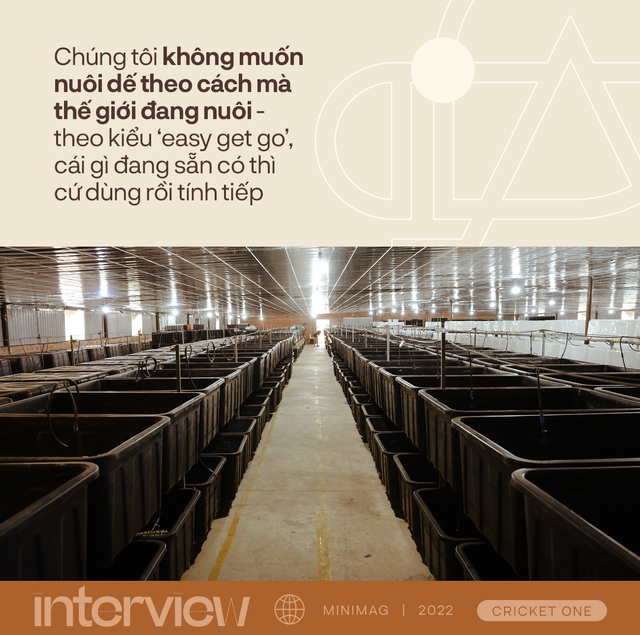 "Since its inception, Cricket One must have invested millions of dollars! I do a lot with difficult customers, I must have high standards, but to achieve high standards, my production facilities must have certain investments; such as modern machinery system, bright electric lights, the background must also be clean…
To produce high-quality cricket powder materials, Cricket One must purchase modern machinery, not outdated.
On the contrary, in order to 'input materials so output', the barn must also be decent and large-scale. In order to compete with the world, it is necessary to have solid resources.
In general, if you want to have a chain from farming – processing – producing tangible products, the investment cannot be light.", Cricket One's Business Development Manager confirmed.
Thanks to methodical investment and constant adjustment, Cricket One is performing the best in the industry. Specifically: this startup is having the shortest farming life, the most efficient feed input – for example, the same amount of feed input Cricket One produces the highest amount of crickets, the amount of energy/water they use also very effective – even insignificant.
In foreign companies like in Europe, their farming process takes about 70 days, even lasting 3 to 4 months, and Cricket One is up to 45 days.
There have been many specialized media that Cricket One is the one who sets the standard for the cricket industry. For example, to be called cricket protein, what percentage of protein must be, to be called cricket flour, what percentage of moisture must be – minimum and maximum, what is the particle size of the powder…; those Cricket One must be standardized.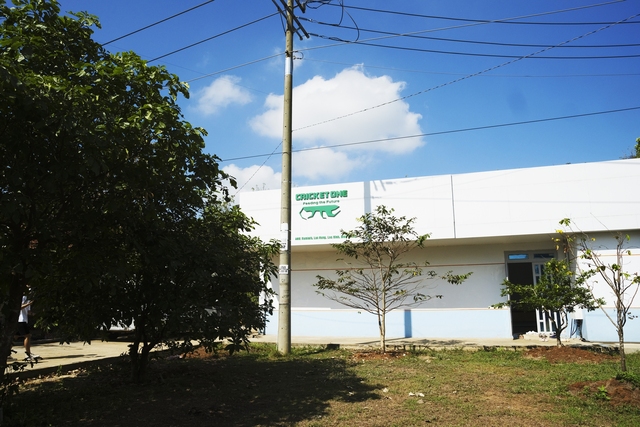 Cricket One's factory is in Binh Phuoc.
Sharing in Dan Viet newspaper, Dang Cao Nam – Co-Founder and CEO of Cricket One recently, said in more detail: According to Mr. Nam's calculation, each kg of cricket meat weight gain only costs 2kg of specialized food, with the price 12,000 VND/kg. Cricket farmers can take advantage of more agricultural by-products in the garden to serve livestock.
The cost of raising crickets is quite low, about less than 20,000 VND/kg. The price that the company buys for farmers is currently 50,000 VND/kg. Binh Phuoc farmers who link livestock can earn 30,000 VND/kg; excluding labor costs. "This is still a good income for farmers", said Nam.
However, according to him, in order to raise crickets successfully and achieve this level of profit, the Investment in technology and techniques is the most important.
As for marketing – sales, although he studied abroad in the Netherlands for a few years and is very fluent in English, in Bicky's point of view, when expanding the market, Pairing with a local partner is better than doing it yourself.
"Myself and Nam divide the work very clearly, I am front office and Nam back office. In terms of cricket production, there is no one like Nam and in terms of market research – selling products is Bicky's story. Of course, no one sells their products better than themselves.
However, if I have a partner in a foreign country – someone does well, has the same interests, and someone has the ability; It's a good channel for me to develop the market. I can't sit in Vietnam and sell goods all over the world! No matter how fluently I speak a person's language – how fluently I am, I cannot understand 100% of their culture. It is better to have a local partner.
For example: Cricket One goes to the US to sell goods, I speak English, people still speak English; But that doesn't mean all problems are solved.
Cricket One currently has a partner in the US, we will work as a unified team, it will be easier to convince customers. In addition to saving costs, local partners will also understand the market better than themselves. I can consider my partners as my 'eyes and ears', making market work much faster and more economical", confirmed Bicky.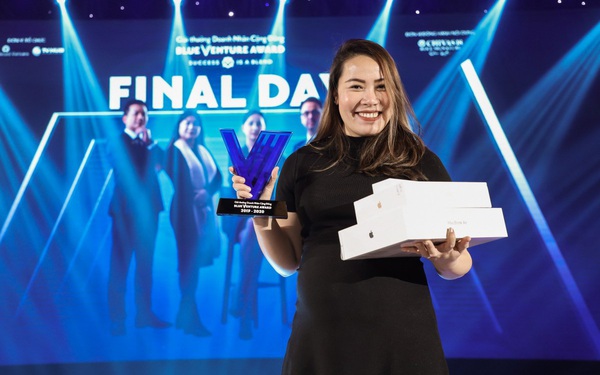 Cricket One is crowned Blue Award champion 2019.
Finally, when it comes to pitching, even though it competes with local rivals, Cricket One is still not outdone in the market. logistics stage.
Even in Covid-19, when the logistics industry in the world was paralyzed, it did not affect Cricket One's business much. First, because the number of goods they export is not much and the goods are of high value. And instead of anyone ordering how much, they send it from Vietnam, this startup often sends 1 time in large quantities, then stores it in a partner's warehouse or hires it, so that when customers need it, they can have goods immediately and reduce logistics costs. .
In order for the startup to continue to survive in the first years without having to raise capital and accept 'selling young rice', Cricket One has been very active in participating in events. startup contest, from domestic to international. In addition to expanding relationships, taking advantage of the professional and technical support of the startup ecosystem, it is also to get more financial resources to invest in factories and technologies.
In 2018, participating in the Young Social Entrepreneurs Program (YSE) organized by the Singapore International Foundation (SIF), Cricket One was one of the 7 lucky social enterprise models to win prizes and successfully raise capital within a short period of time. final. In the same year, they won the first prize of the Mekong Region Agricultural Technology Challenge (MATCH) program funded by the Australian Government and the Asian Development Bank (ADB).
In 2019, Cricket One won the National Innovative Startup Talent Search and won the Blue Award Vietnam; In 2020, they are the Vietchallenge champion, receiving a prize of 15,000 USD.
Thanks to that, despite having passed its 6th year and starting to make a profit, the new Cricket One is conducting a Series A funding round.
https://cafebiz.vn/5-nam-thanh-lap-da-lot-top-3-nha-san-xuat-de-the-gioi-startup-viet-cricket-one-da-lam-gi- de-chien-thang-cac-doi-thu-o-troi-tay-20220607181826711.chn
You are reading the article
5 years of establishment has reached the top 3 cricket manufacturers in the world, what did Vietnamese startup Cricket One do to win over competitors in the West?

at
Blogtuan.info
– Source:
cafebiz.vn
– Read the original article
here