Suggested dinner this afternoon will have the following dishes:
– Spicy fried gobies: 40,000 VND
– Boiled vegetables and fruits: 20,000 VND
– Guava salad with stomach: 40,000 VND
– Stir-fried chicken thighs: 25,000 VND
Total: 125,000 VND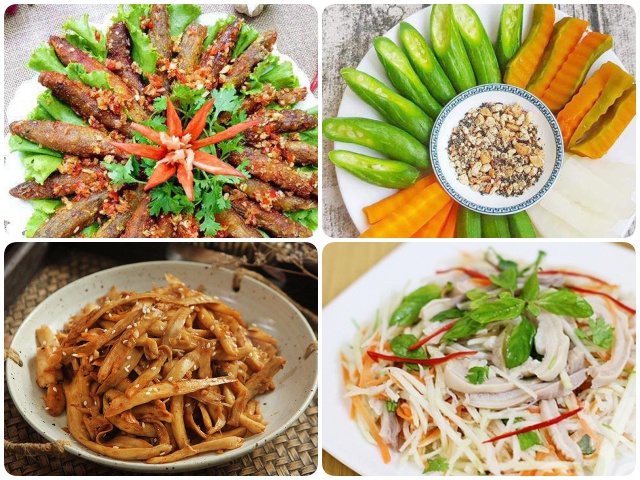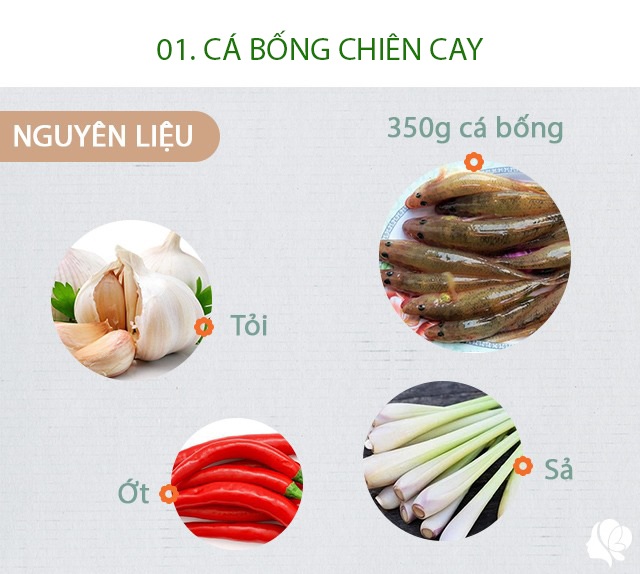 Preparation: Goby: 350g – Lemongrass: 2 bulbs – Garlic: 1 bulb – Chili: 1 fruit – Tapioca, pepper, cashew powder, chili powder, cooking oil – Seasoning: soup powder, main noodles.
The goby is gutted and washed with a little salt and then drained. You can use paper or a towel to pat dry. Put the goby in a bowl, add 3 tablespoons of tapioca starch, 1 teaspoon of pepper, 1 teaspoon of seasoning powder, then shake it up so that the tapioca layer is evenly wrapped around each fish. Leave for about 15 minutes before frying.
Garlic, peeled lemongrass minced with chili. Put the pan on the stove, pour in cooking oil, wait until it is hot, then add 1 tablespoon of cashew powder so that when frying the fish will have a nice color (if you don't like it, you can skip it). Fry the golden fish evenly on all sides. Remove fish to a plate lined with greaseproof paper.
In the same pan, add a little oil and then saute minced garlic with lemongrass and minced chili. Fry until the mixture is fragrant. Add the goby and stir it up, add a little seasoning powder and main noodles, chili powder, and then stir again to let the fish absorb the flavor. Turn off the stove, arrange the fish on a plate and enjoy while the fish is still hot. When enjoying the spicy fried goby, you will feel the crispiness of the fish alternating with the spicy taste of lemongrass and chili.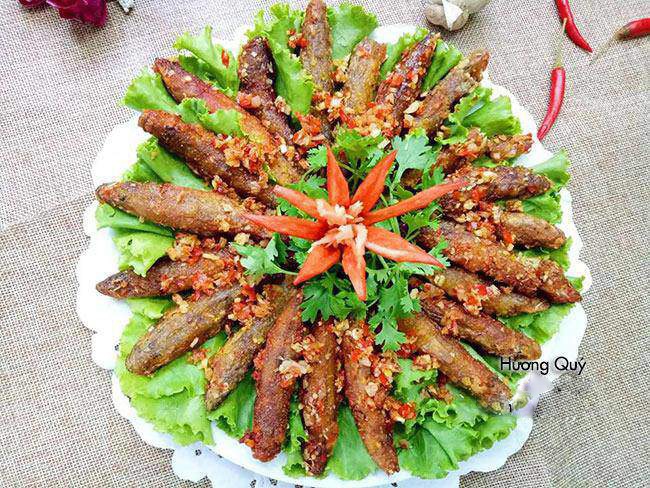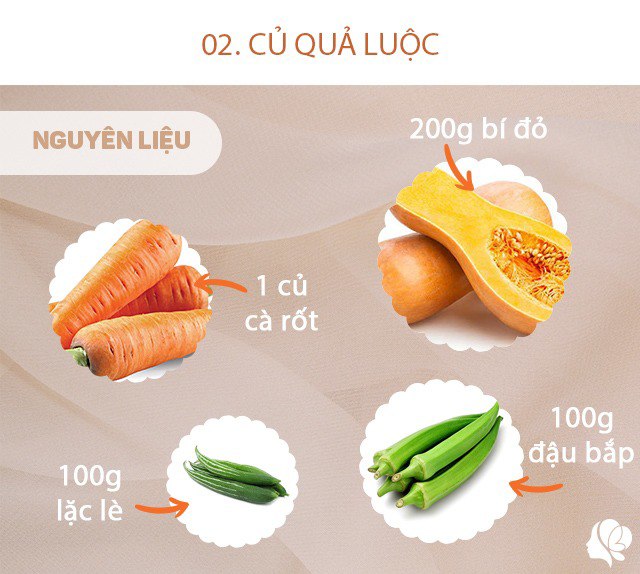 Preparation: 200g pumpkin, 1 carrot, 100g okra, 100g peanut
Prepared vegetables, cut into bite-sized pieces. Bring water to a boil, add a pinch of salt to the pot. Boil the vegetables. When vegetables are cooked, take them out immediately. Boiled water used to make soup.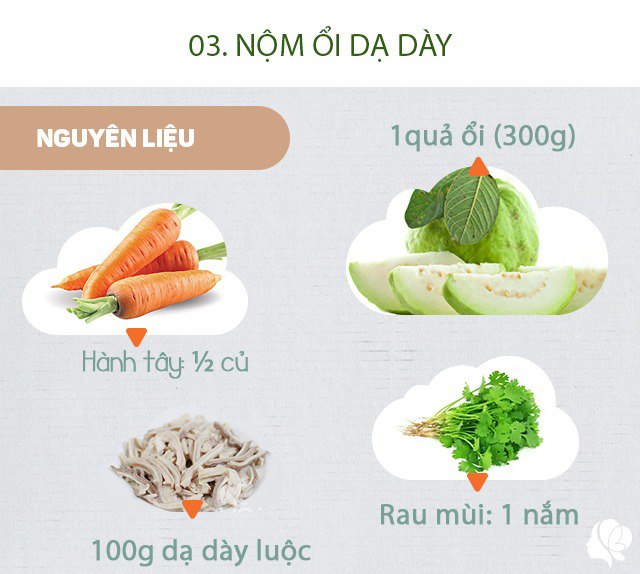 Preparation: – Pork stomach: 100g ready-boiled – Guava: 1 large fruit or 300gr – Carrot: 1 small tuber – Lemon, chili, spices… – Salt, sugar, vinegar…
Squeeze the stomach with salt and vinegar to remove the viscous, wash it several times with clean water and then bring it to a boil. Vegetables, peppers, carrots… peeled, washed.
Wash, peel and grate the guava. Grated carrots, add a little salt to stir evenly and leave for about 15 minutes, then rinse with boiled water, squeeze out the water. Stomach ripe cut into bite-sized pieces.
Mix guava, carrot, stomach, spices together and pour mannequin juice over it to infuse. Mixture of mannequins includes: 1/2 teaspoon sugar, 1 teaspoon lemon juice, ½ teaspoon salt (salty can be adjusted according to preference). When serving sprinkle roasted peanuts on top.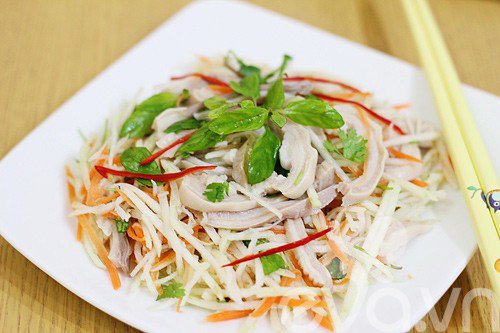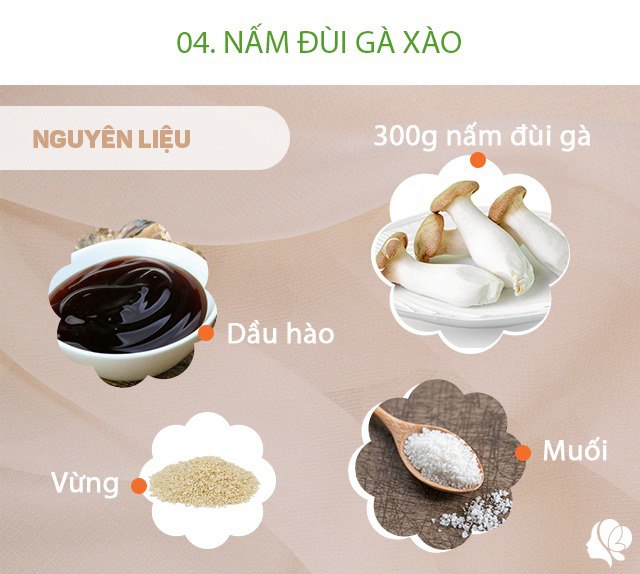 Prepare: – 2 pieces of chicken thigh mushrooms, appropriate amount of white sesame, half a teaspoon of salt, half a teaspoon of sugar, 1 tablespoon of oyster sauce, 1 tablespoon of soy sauce, 1 teaspoon of cumin powder, 1 teaspoon chili powder, 6 garlic cloves, 1/2 teaspoon black soy sauce
Chicken thigh mushrooms are washed, torn into fibers by hand, do not tear too thin because if thin, after stir-frying the mushrooms, they will shrivel. The chef recommends that you can tear the mushrooms by hand or use a knife to tear them, rather than using a knife to chop the mushrooms. Shredded mushrooms taste better.
Add 1 teaspoon of salt to the bowl of mushrooms, mix well and leave for 20 minutes. Salted mushrooms will produce a lot of water, then rinse the mushrooms with water, squeeze dry, and put them in a bowl. Heat oil in a pan, saute minced garlic until fragrant. Stir in the mushrooms.
Add oyster sauce and soy sauce, stir well, stir-fry until mushrooms are evenly colored, then add half a teaspoon of black soy sauce. Adding black soy sauce helps the color of the sautéed mushrooms to be more beautiful, but do not add too many darkened mushrooms, the flavor of the dish will also be affected. At this point, the size of the mushroom will shrink to half and also dry, add sugar, salt, sprinkle with paprika (you can't eat spicy, you can omit the chili powder) and cumin powder and stir well.
At this time, sprinkle with white sesame seeds, stir well, turn off the stove. Place sautéed mushrooms on a hot plate and serve with rice. The taste of this type of stir-fried mushrooms is especially delicious, making sure everyone likes it.
Thus, when stir-frying chicken thighs like this, you should tear them by hand. Also, if you like dried mushrooms, increase the sauteing time. If you prefer wet mushrooms, you should reduce the stir-fry time. Besides, chili powder and cumin powder if you don't like it, you can omit it, you can replace it with pepper as you like.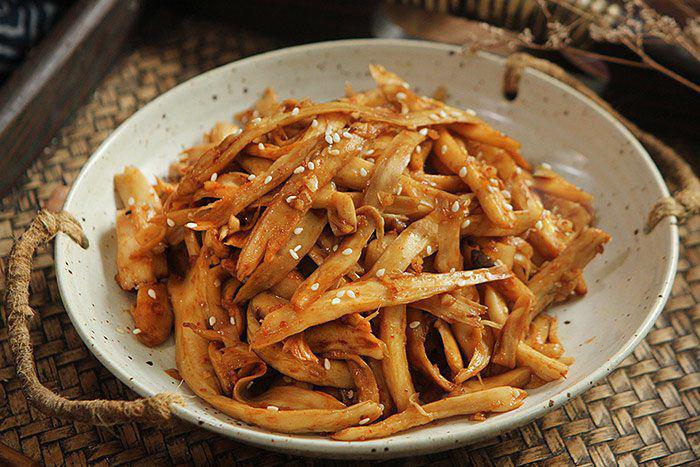 Good luck!
You are reading the article
Afternoon rice with 4 delicious dishes, easy to make without painting oysters, still runs out of rice

at
Blogtuan.info
– Source:
Eva.vn
– Read the original article
here