Mr. Tran Van Nam recounted the time when he alone saved 5 fishermen of Quang Ngai ship that was rammed by a cargo ship
As usual, at 3:30 am on June 6, Mr. Tran Van Nam (48 years old, in An Tran village, Binh Hai commune, Thang Binh district, Quang Nam) drove his small boat to the sea to catch fish. Around 5 a.m. he was in the sea 8 nautical miles from the mainland. As soon as he released the net, he heard a cry for help from afar, so he hit the boat and ran. When he got there, he saw 3 men holding 3 plastic cans, calling for help.
Talk to PV Tien PhongChairman of Quang Nam Provincial People's Committee Le Tri Thanh said that he had grasped the information and was waiting for all levels to complete the procedure for submitting the award.
"I reassured everyone to stay calm, then ran the boat closer to find a way to pull each person up. Because I was alone, I had to use all my strength, calmly pulling people while keeping balance, so that no one would slip off. hand," said Mr. Nam.
After pulling 3 people onto the boat, it was known that 4 people were still more than 100 meters away. Mr. Nam immediately moved in. Here, he witnessed the scene of two living people hugging two dead people and clinging to two plastic cans. The boat was small but crowded, so after putting 4 people on the boat, 2 bodies had to be tied with ropes and floated.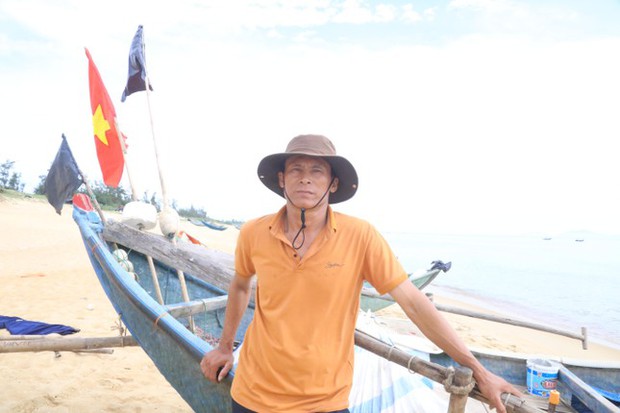 Mr. Tran Van Nam – the man who saved the lives of 5 crew members of the Quang Ngai ship that was hit by a cargo ship and sank at sea
At this time, all 5 fishermen were still alive but exhausted from drinking too much sea water, because he was cold, so Mr. Nam took off his shirt, gave him a raincoat to wear and performed CPR on the exhausted person. "Everybody's face is pale, people are cold and shivering, their legs can't stand, if someone can lift them up, they lie still, I give artificial respiration, rub hands and feet to warm the body, and also have to do ideological work to make them feel better." calm down," Nam shared.
After the fishermen regained consciousness and reported the incident, Mr. Nam called to notify the authorities on the shore and asked for assistance. About 3 hours after the functional forces approached the scene, he handed over the victims and continued to participate in the search for the remaining victims. The last fisherman's body was found at 9:30 a.m. the same day.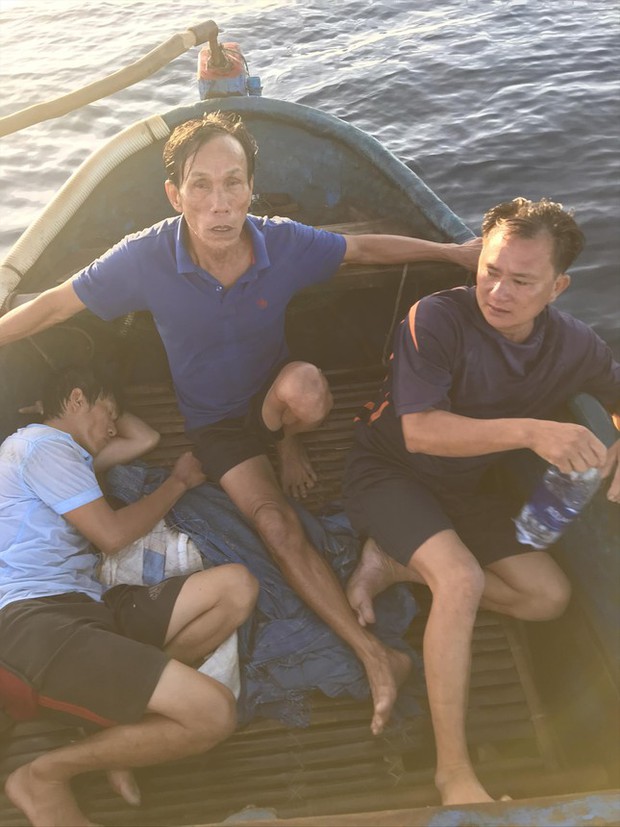 The fishermen were rescued by Mr. Nam on a small boat. Photo: Hoai Van
This is not the first time Mr. Nam has saved people in distress at sea. For nearly 40 years as a mariner, he has saved many unfortunate lives. In the past, he was a friend for large ships, then became a captain of a trawler with more than 20 CVs reaching out to sea to catch fish, and is also a famous diver. The seafaring profession has helped him raise 4 children to study and grow up. But a few years back, he suffered from severe degenerative spine disease, unable to carry heavy loads, so he had to buy a small boat to fish alone.
When he heard that Mr. Nam had saved many people in distress at sea, the neighbors had been busy visiting his house to congratulate him for a few days. "People often call him a carpenter. Whenever he touches him, he runs. Anyone who asks for anything runs, has a job, a difficult home, repairs a house… he's all very enthusiastic," said Mrs. Tran Thi Sau, Mr. Nam's wife. her husband smiled and said.
Mr. Nguyen Van Chau, Chairman of Binh Hai Commune People's Committee, said that the unit visited to give gifts and commend to fisherman Tran Van Nam for his brave act of saving lives. The chairman of the commune said that Mr. Nam is currently the Secretary of the Party cell of An Tran village, also a typical and excellent factor in production as well as enthusiastically participating in local activities. "Mr. Nam's actions are very respectful and commendable. We have prepared a file to submit to our superiors for commendation," said Mr. Chau.
Identified that the ship hit and sank the fishing boat QNg 91426
On June 8, information from the TT-Hue Port Authority said that Thinh Long 68 was detained and arranged to anchor at a safe area of ​​Thuan An port (Thuan An ward, Hue city) to recover. investigation into a ship collision at sea that killed three people.
At the Thuan An port border guard station, the authorities coordinated with the professional forces of the Command of the Coast Guard Region 2 and the Thuan An port border guard station to take statements from the crew members. Thinh Long 68 ship, in order to serve the investigation of the collision that occurred at about 3:30 am on June 6 in Quang Nam waters, causing 8 people on the fishing boat of Quang Ngai fishermen to fall into the sea, the fishing boat sunk. The accident killed three people on the fishing boat.
The crew members on duty on board Thinh Long 68 ship with number ND3648 confessed that at about 3 a.m. on June 6, they heard a strong collision of the ship. However, due to the darkness of the night, the specific information was not clear. Up to now, the functional forces have inspected the hull of Thinh Long 68 and the maritime equipment and security camera system of the above cargo ship. Initially, the authorities recorded images of a collision between the Thinh Long 68 ship and a fishing vessel with unknown number at sea. The authorities agreed to allow the ship owner to unload cargo ashore and arrange a safe mooring position for Thinh Long 68 to continue to serve the investigation and clarification of the case. According to the TT-Hue Port Authority, the ship Thinh Long 68 was captained by Mr. Bui Van Long (born in 1966, from Nam Dinh province), carrying 1,500 tons of kaolin from Dong Nai province to Thuan An port (Hue city).
You are reading the article
Alone to save 5 fishermen in the middle of the sea

at
Blogtuan.info
– Source:
Kenh14.Vn
– Read the original article
here