Tech
Anycast technology – Cloudflare CDN's distinct advantage for businesses
Unicast Technology Principle: One Machine – One IP
Most Cloud solution providers operate through the traditional Unicast routing scheme. The unique feature of Unicast is that every point (PoP) on the network has a unique unique IP address. Therefore, routers will be the place to store a map of IP addresses throughout the network, playing the role of finding the shortest path for data to travel from this point (node) to point (node). other.
To demonstrate this, you can do a traceroute for any website, for example laughingsquid.com.

Example illustrating navigation tracing (traceroute) when using Unicast technology for website laughingsquid.com.
Each of these lines of command is called a "Hop", which represents a router through which the "packet" packets carrying your request are passing. According to the information pictured above, the origin server is running on a Rackspace server near Dallas (By line 13, the phrase "DFW" is the airport code for Dallas-Ft. Worth). Also, the above results show that the estimated latency between you and the server is about 50 milliseconds (line 14).
And if you do the retrieval anywhere in the world, you will also get to the same server located in Dallas. This proves, Unicast does not automatically direct access requests to the data center (data center) closest to you, but is fixed at a predetermined data center.
Smart Anycast technology: Multiple machines – One IP
While Unicast is the easiest way to get a network up and running, it's not the only way. Cloudflare uses another, much more flexible routing scheme called Anycast. With Anycast, multiple machines can share the same IP address. When an access request is sent to an IP address using Anycast, the Routers will automatically redirect that request to the nearest data center.
Also with the above example access to laughsquid.com but using Cloudflare CDN you will get one or more IP addresses back. As a result, Cloudflare's network automatically directs access to the data center closest to where you're making the request. This is where the difference is – because when a website uses Unicast, it doesn't matter where in the world you are, you'll just get the same IP addresses back.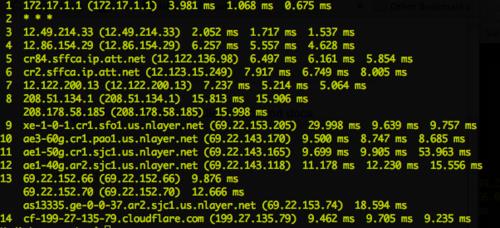 Example illustrating navigation tracing (traceroute) when using Anycast technology for website laughingsquid.com.
The above illustration was done "Traceroute" in Northern California (It is known that the nearest data center is in San Jose). Looking at the hop (hop) from 11 to 13, the information shows the Router at "SJC" – this is also the airport code for San Jose. Thus, if you do this same "Traceroute" to the website Laughingsquid.com from another part of the world, you will find that the access request you send will be processed at the data center closest to you.
Cloudflare CDN– Improved latency, increased resilience, and reduced attacks
With the intelligent auto-navigation mechanism, Cloudflare CDN gives businesses a solution to enhance the end-user experience – reducing latency, improving access speed significantly.
In addition, the application of Anycast technology brings extremely good access recovery. Specifically, Anycast will automatically find the best, fastest and shortest transmission path, thereby allowing all other data centers to "rest" and traffic will be automatically transferred to the nearest data center. This also helps businesses avoid an overloaded data center, leading to network congestion and affecting customer access speed.
An outstanding benefit of Anycast is to help minimize DDoS network attacks. Cloudflare will help maximize the surface area of ​​​​traffic traffic through its PoP network and data center. Currently, Cloudflare's network has a bandwidth of up to 121 Tpbps, meaning it can withstand any of the biggest DDoS attacks in history.
It's not easy to set up a powerful Anycast global network like Cloudflare. In addition to owning your own hardware, you must also build direct relationships with service providers and regulate Routing to ensure fast, safe, and efficient traffic.
In Vietnam today, Cloudflare CDN is also ready to meet the different needs of businesses. With small needs, customers can easily register and initiate services right on the website (Self-Service Portal) with 3 levels of packages: Free, Pro, and Business. Here, customers can use the smart paid Argo Smart Routing feature. However, this package will have restrictions on routing, PoPs used, cannot cache other html content such as photos/videos, etc. For large enterprise customers, choosing the Enterprise package will give good speed. with a high level of assurance. In addition to the superior cache and priority routing features to all Cloudflare PoPs, customers can add argo smart routing at a very attractive price. For more details about Cloudflare CDN, please refer to more here.

https://genk.vn/cong-nghe-anycast-loi-the-khac-biet-cua-cloudflare-cdn-cho-doanh-nghiep-20220608173543279.chn
You are reading the article
Anycast technology – Cloudflare CDN's distinct advantage for businesses

at
Blogtuan.info
– Source:
genk.vn
– Read the original article
here