Quốc tế
Dengue fever broke out record
"The cases are definitely increasing faster. This is a period of extreme urgency that we have to deal with," CNN quoted Singapore's Home Affairs Minister Desmond Tan in an article on June 7 talking about the situation. Dengue fever (DHF) in the lion island nation.
With only 5.7 million people, but the number of dengue cases in 2022 in Singapore is more than 11,000, far exceeding the figure of 5,258 for the whole year of 2021. That was just a statistic before June 1, before the peak dengue season really started. head.
The Americas are also unusually besieged by this disease. The report on dengue in the first 5 months of the year of the WHO Pan-American Health Organization (PAHO) recorded 1,238,528 cases, of which 426 people died; the highest were Brazil (1,114,758 cases), Peru (45,816 cases), Colombia (21,576 cases), Nicaragua (12,171 cases) and Ecuador (8,449 cases).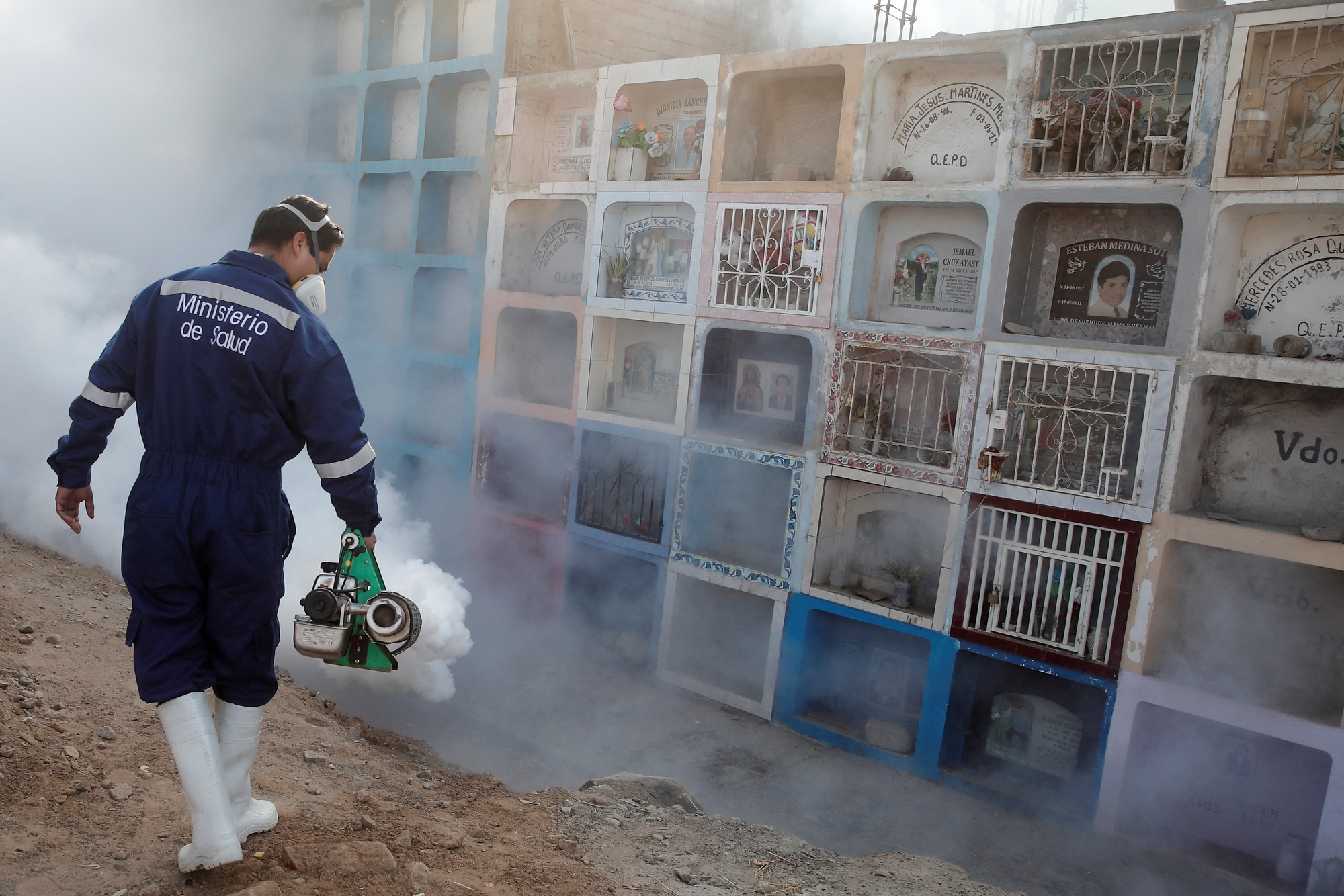 Health workers spray insecticide to prevent dengue fever at a cemetery in Lima, Peru. Photo: REUTERS
Figures published by the European Centers for Disease Control and Prevention (ECDC) also show that Asia is another hot spot, concentrated in Southeast Asia. The highest in the region is Vietnam with 25,694 cases and 13 deaths – according to a nationwide report on May 8.
Indonesia's report as of March 31 recorded 22,331 cases; Malaysia 13,651 cases, as of May 7. The number of cases in these countries and the whole region has continued to increase since the report to date.
Follow CNN, experts claim that the worse dengue outbreak in Singapore is due to recent extreme weather. It's also a foreshadowing of what's to come in the rest of the world as more and more countries experience prolonged heatwaves and thunderstorms, accelerating growth and spreading the virus. and the intermediate host is the mosquito.
In a report on global dengue in January 2022, WHO noted that the number of cases had increased "30-fold in the last 50 years" and warned that the disease was spreading and breaking out in new areas. Previously, in 2019, the world experienced a record dengue season with 5.2 million cases worldwide. But with data before the epidemic season began, many experts worry that this year is at risk of setting a new record.
Senior researcher Ruklanthi de Alwis from Duke Medical School – NUS, an expert on emerging infectious diseases in Singapore, thinks climate change is likely to make things worse:
"Previous modeling studies have shown that global warming due to climate change will eventually widen the geographic areas where mosquitoes thrive, as well as the length of disease transmission seasons. DHF".
A study conducted by the London School of Hygiene & Tropical Medicine (UK), Umea University (Sweden), Abdus Salam International Center for Theoretical Physics (Italy), University of Heidelberg (Germany), University of Liverpool (UK). ), published in The Lancet Planetary Health in July 2021, it is estimated that at today's rate of climate change, by 2078, there will be 8.4 billion people facing malaria and dengue in the global population. demand is expected to reach 9.4 billion at that time.
The dengue season in tropical lowland areas of Southeast Asia, sub-Saharan Africa and the Indian subcontinent will be up to four months longer than now.
Many Southeast Asian countries, including Vietnam, are dealing with a wave of hand, foot and mouth disease that mainly affects children under the age of five. Malaysia is one of the worst-affected countries with 82,846 cases so far this year, 32 times higher than the same period last year and 1.7 times higher than the same period in 2019 (before the Covid-19 pandemic). ) – according to a report dated 4-6 by the Malaysian Ministry of Health.