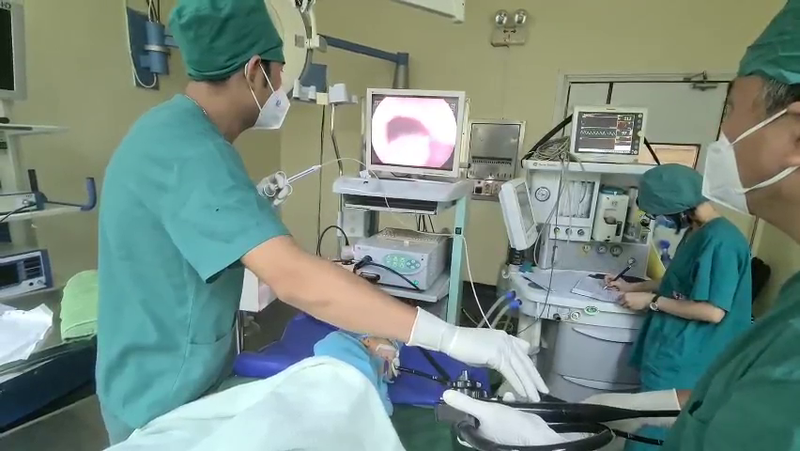 NMA patient (19 months old), was brought to the emergency room by her mother at Uong Bi Vietnam – Sweden Hospital (Quang Ninh) because she had previously accidentally swallowed a coin.
After conducting the examination, based on the results of the abdominal X-ray, the doctors consulted to evaluate the foreign body still in the stomach of the child. Very quickly, the patient was prescribed anesthesia for emergency esophagogastroduodenoscopy to remove foreign bodies.
According to doctors, this is a rather dangerous case because of the large coin size. The patient is young, so the esophagus and throat junction are very narrow. Therefore, it requires doctors to have ingenuity and experience.
In addition, anesthesia for young children requires careful calculation to avoid affecting the health of the child.
With the cooperation of doctors, a coin measuring 2.7cm was successfully removed from the stomach of the child.
Every year, the Department of Gastroenterology of the hospital receives and intervenes for many cases of children admitted to the hospital due to gastrointestinal foreign bodies, especially foreign bodies in the esophagus, stomach… Most of these foreign objects are surrounding objects. around children when playing, when eating and drinking and accidentally swallowed such as coins, button batteries, magnets, needles, toothpicks, bones, human…
For the most part, the foreign body can be eliminated spontaneously in the stool, causing no problems. However, among them, about 10% of foreign bodies are still trapped and cause vomiting, painful swallowing, dysphagia, esophageal abscess, intestinal obstruction, intestinal perforation or the release of toxic substances that are dangerous to the body. live.
As in the case of the above child, thanks to early detection and timely intervention, the foreign body was removed safely. Although the foreign body is a relatively large coin, it is difficult to move down the intestine, but if left for a long time, it will cause digestive system disorders such as bloating, abdominal pain, vomiting.
Through this, doctors recommend: Families with young children should pay attention to small objects such as: coins, batteries, needles, toothpicks, buttons… that need to be kept out of reach of children. It is necessary to carefully check children's food such as fish, chicken… to make sure there are no bones in their food.
When detecting or suspecting that a child has swallowed a gastrointestinal foreign body, the child should be taken to the hospital for examination and appropriate treatment.
You are reading the article
Emergency treatment for a 19-month-old child who swallowed a coin

at
Blogtuan.info
– Source:
Afamily.vn
– Read the original article
here