A stylish living space, too, fully converges values ​​so that anyone can find their full needs in it.
Living the Masteri style: Class doesn't mean ostentatious
As an inspirational ambassador through the talk show The Master of Living Show season 2, male singer Ha Anh Tuan and his artist friends brought to the audience interesting stories, full of colors and flavors. on the concept and standard of living style and class.
The male singer is known as an "underground giant" in the showbiz world, but he always appears with a discreet elegant style. The same is true of his concept of living space. Talking about his space at Masteri, he shared: "Masteri provides all the "hardware" of the house: Very modern, classy but also very modest. own, there is no right or wrong, no judgment."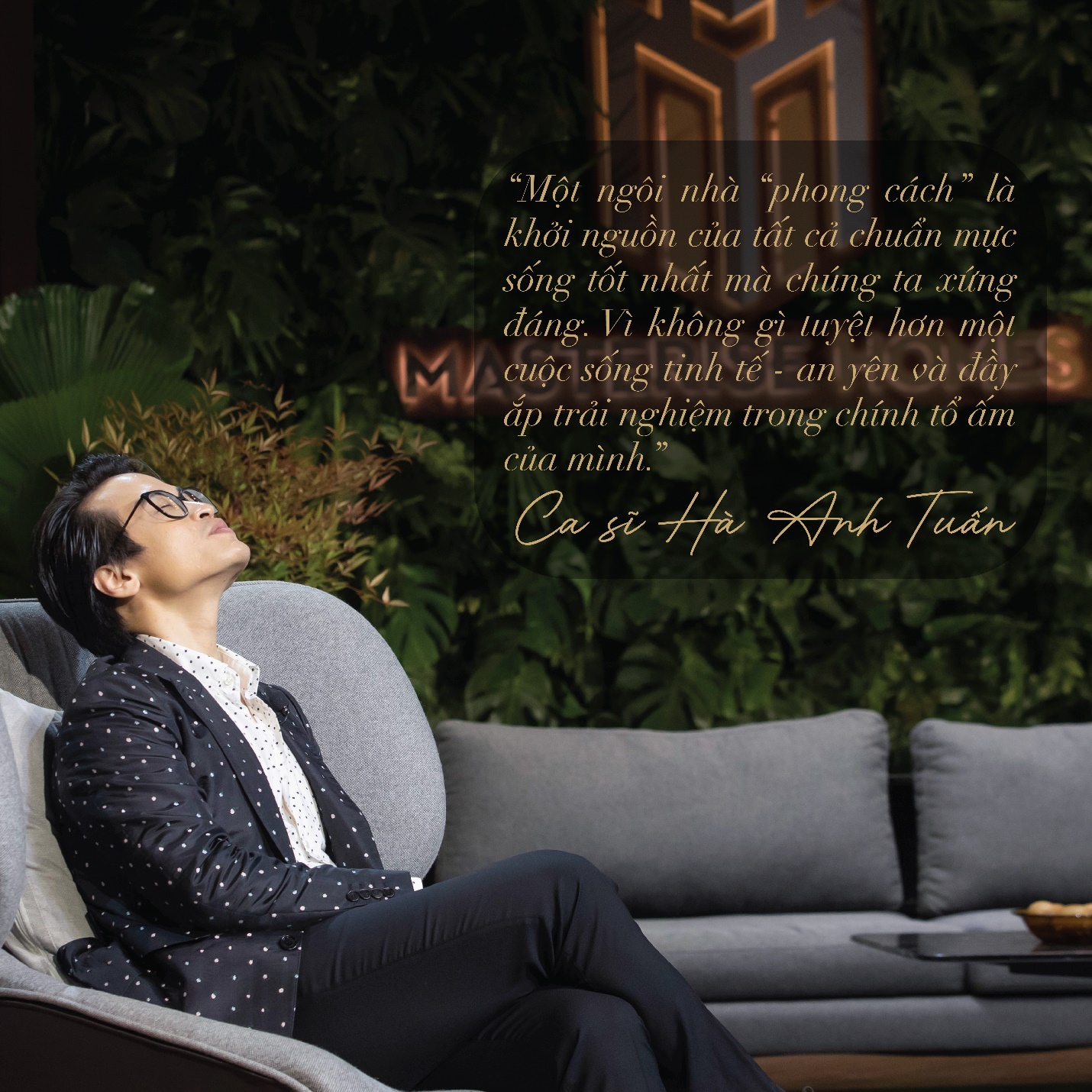 In a conversation on the occasion of the Lunar New Year with actor Le Khanh and young businessman Helly Tong, Ha Anh Tuan affirmed that no matter how beautiful a house is, how well-equipped it is, there is no cultural element. Vietnam is not a Vietnamese home.
Ethnic cultural background is what connects a community with diverse lifestyles. "Don't live as a habit, but live as enjoy because if you enjoy it, you will have creativity. Habit creates conservatism. With traditional culture, in order to preserve it, you have to be more open" – male singer the doctor advised.
Audiences are always curious about the living space of famous artists because they believe that they can learn from it the lifestyle and exquisite taste.
Ha Anh Tuan revealed his opinion on this: "Living delicately is paying attention to every little detail in the house. Artists are often sensitive, small details make us happy all day." He shared that his favorite moment of enjoyment at home is lying in the sun in front of the door frame with a view of the green garden, sipping the food he cooks, immersed in the music he creates.
The singer said that in order to build a sophisticated lifestyle suitable for them, each person needs to look deep within themselves instead of looking forward to other people's lives on social networks. "One of the pressures we often face in life is comparing ourselves to others and taking that as the norm, while everyone has their own problems. Let's be honest with each other about our shortcomings. We don't have to. need to find templates and no template is perfect."
Live full of experiences in peace
An experiential lifestyle and a peaceful life seem at odds with each other. However, along with her guests, Ha Anh Tuan pointed out that these are the two necessary and sufficient factors that make up the ideal lifestyle.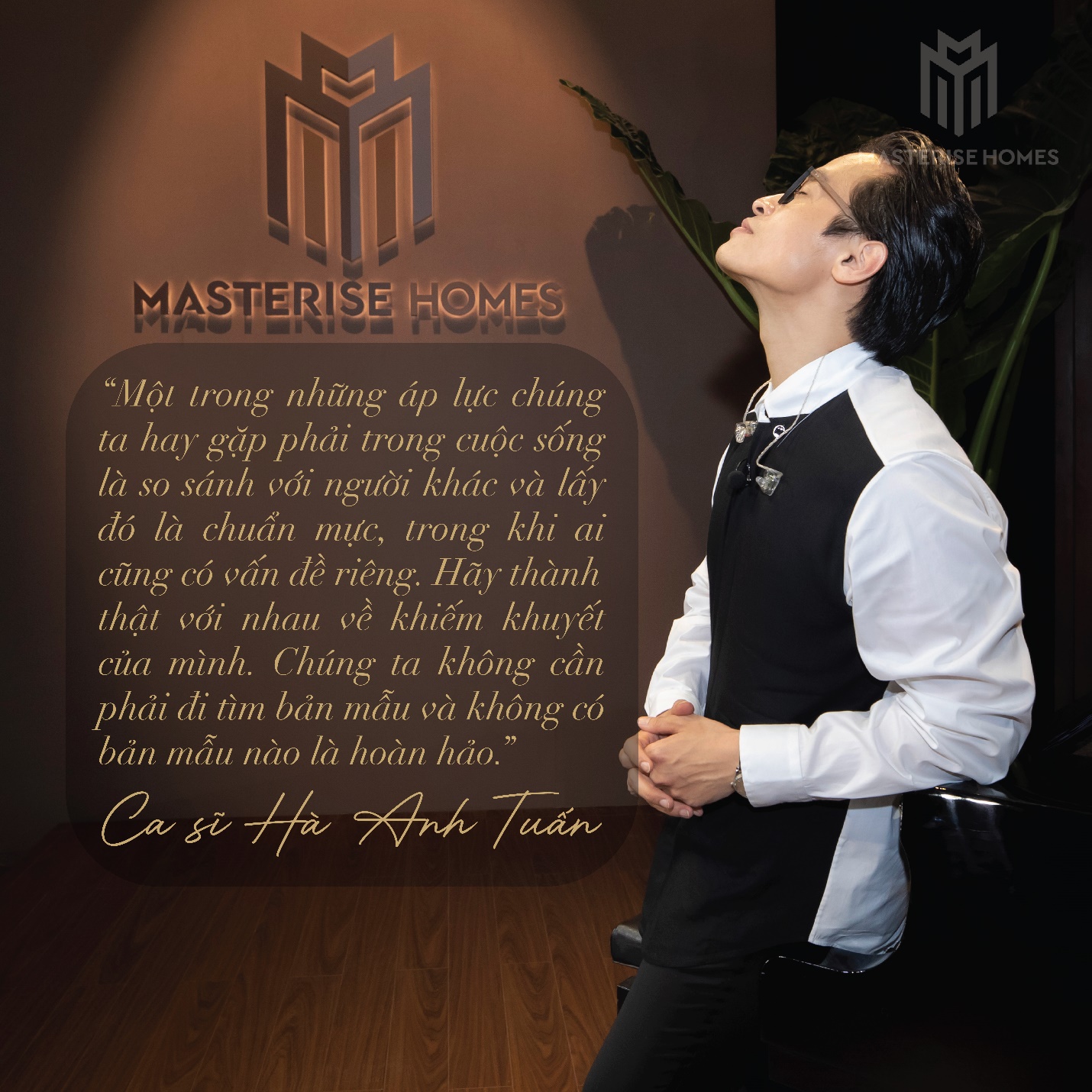 Agreeing with musician Ho Hoai Anh – Luu Huong Giang, he believes that a place rich in experiences plays an important role in modern life, because a family will be truly happy when living in a place. where all needs are met. "A home is only warm when everyone is happy. If one person is unhappy, the nest will not be warm anymore", Ha Anh Tuan shared.
In order for an apartment to fully meet the needs of its members, to expand private and shared experiences, it is not enough to equip an apartment with internal amenities, but also needs to be balanced with external utilities: "To have If the energy is good, the surrounding facilities are very important. There must be a place for children to run and jump, the elderly to walk; there needs to be a swimming pool below."
However, for family members to comfortably enjoy life and enrich their daily experiences, the house must really be a home where everyone feels at peace in mind and protected. . "Happiness comes from peace of mind knowing that your loved ones are comfortable and safe"- the male singer stated in a conversation with MC Diem Quynh.
The location of the house must be in a convenient place, with easy access to medical facilities, electricity, roads, and stations. The building is managed by a professional service and security team, ready to support residents at any time. Only when the living environment brings peace, can the whole family be free and encourage each other to open up to experience and explore.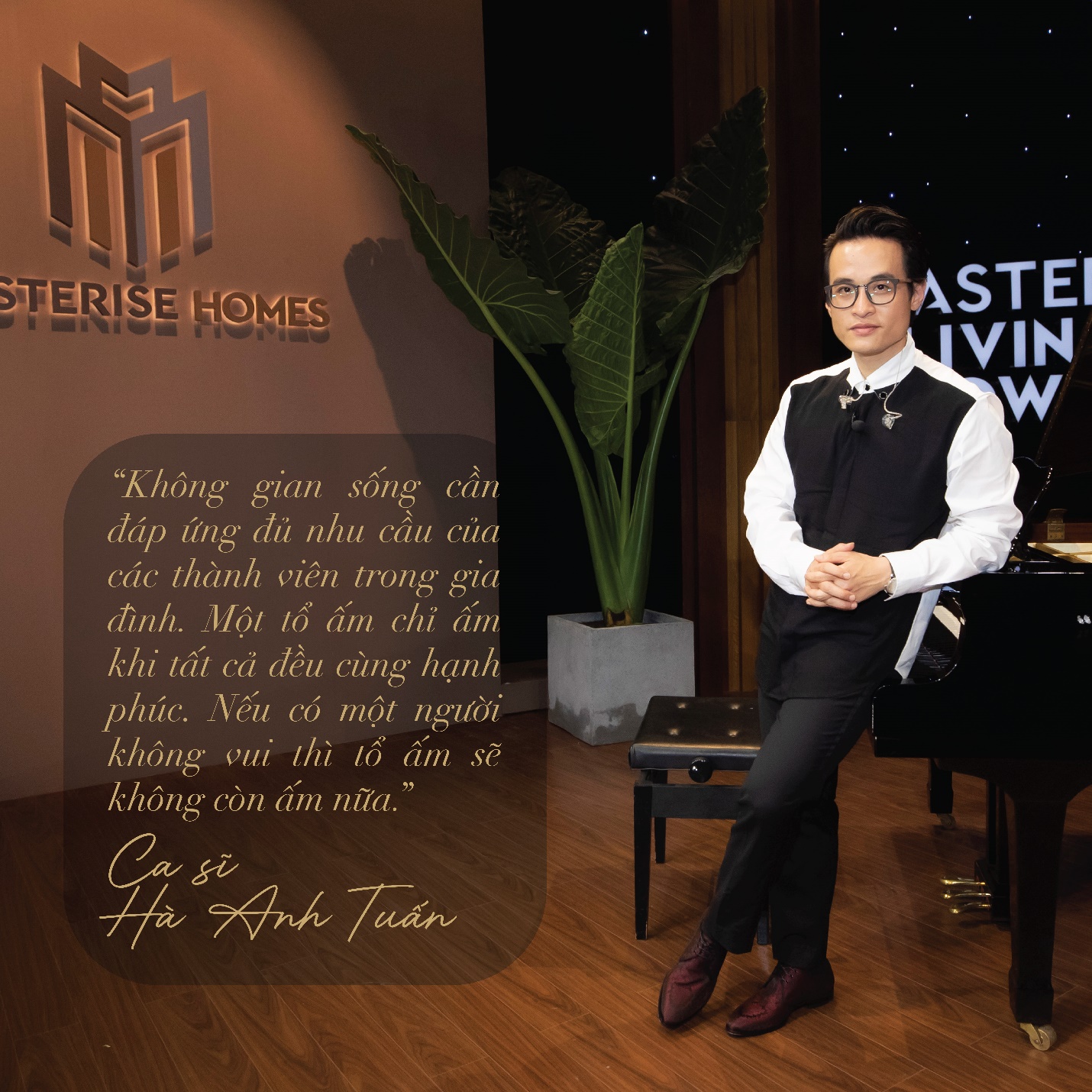 Influence the next generation with a positive lifestyle
In a conversation with young entrepreneurs Helly Tong and Mr. Julian Wyatt – CEO of Masterise Property Management about the lifestyle of Millennials, Ha Anh Tuan was pleased to see that Millennials are free from selfishness, not selfishness. only interested in private living space but always feel responsible for building civilized and positive values ​​for the community.
Through their own way of life, each person can make an impact on those around them and especially the next generation. The male singer pointed out, by choosing a living space that is aesthetically pleasing but in harmony with nature, we have come up with a green living solution for everyone to enjoy and enjoy in order to lead a sustainable life. than.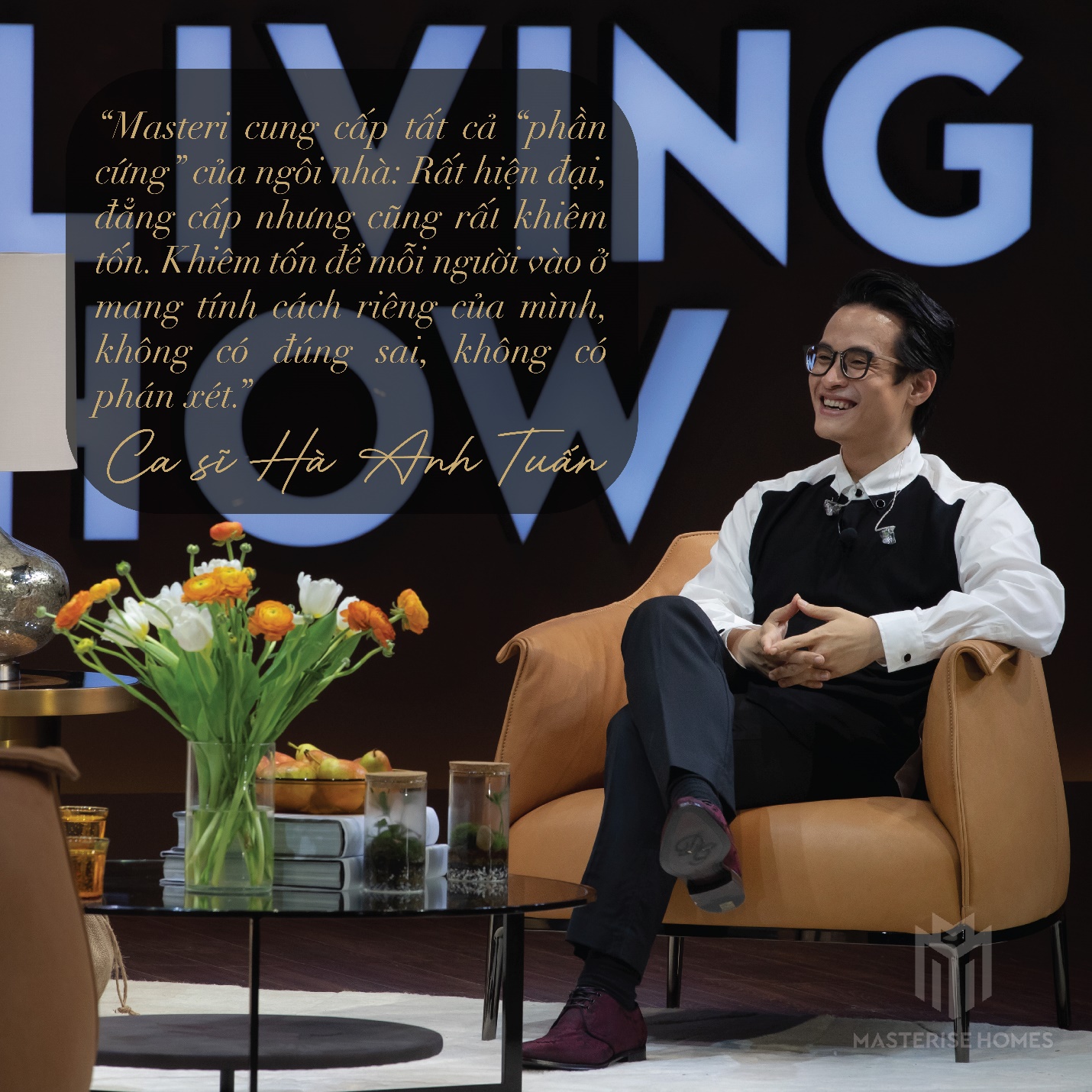 Throughout The Master of Living Show season 2, Ha Anh Tuan has inspired millions of viewers about "Living the Masteri style": "The beauty of Masterise Homes is not only building houses to live in, but also creating buildings. intangible values ​​to form a unique and different Masteri community, so that when you say 'I am part of the Masteri community', you will feel happy, proud and secure.'
He constantly encourages the audience to choose and build a living space that fully converges the elements of style – sophistication – peace. Because "a "style" home is the source of all the best living standards we deserve. Because nothing is better than a refined life – peace and full of experiences in your own home. ."
Lifestyle of Vietnamese showbiz gentlemen
The Master of Living Show is a series of seminars built by international real estate developer Masterise Homes, as part of promotional activities for "Masteri living" – an international standard lifestyle, created for exclusively for the resident community at all Masteri projects (Masteri Collection – including Masteri Waterfront, Masteri West Heights, Masteri Center Point). This style is shaped by three elements: Living delicately – living experience – living peacefully. This is the result that Masterise Homes "tailored" from the process of researching global lifestyle trends and Vietnamese people's desire for a dream living space.
Readers learn more about "Living the Masteri Style" at this.
https://afamily.vn/cam-hung-tu-phong-cach-song-ha-anh-tuan-song-tinh-te-day-ap-trai-nghiem-trong-su-an-yen-20220608203416385. chn
You are reading the article
Exquisite living, full of experiences in peace

at
Blogtuan.info
– Source:
Afamily.vn
– Read the original article
here