Sức Khỏe
Female student suffers from depression and stress due to the stress of the exam season
Her family took Ha to many places for medical examination and treatment. At the hospital, through examination and testing, the doctors concluded that there was no damage related to digestion. The patient was diagnosed with "visceral epilepsy", a brain disease syndrome caused by various causes. When I took the medicine, my symptoms improved, but then the stomach pain appeared again.
The family noticed that the daughter's abdominal pain often appeared before the exams. When the patient came home from the hospital and his friends finished the exam, he had no more abdominal pain or just a dull ache. In the last year of high school, while the students were busy studying for exams, stomach pains appeared more often with Ha. I always complain of being tired, so I often take time off from school to get treatment.
TS.BS Duong Minh Tam, Head of the Division of Treatment of Stress-Related Disorders, Institute of Mental Health, Bach Mai Hospital, informed that many cases of children are afraid to study, afraid to study or too stressed when entering the classrooms. exam will encounter this situation.
"During the examination, this student had abdominal pain due to stress. Not a child with fake abdominal pain, but real stomach pain caused by stress. When a child is under excessive stress, it can't be controlled, it can cause abdominal pain and sadness. vomiting, even fainting. To overcome this situation, it takes a long time to monitor and treat", Ths.BS Tam informed.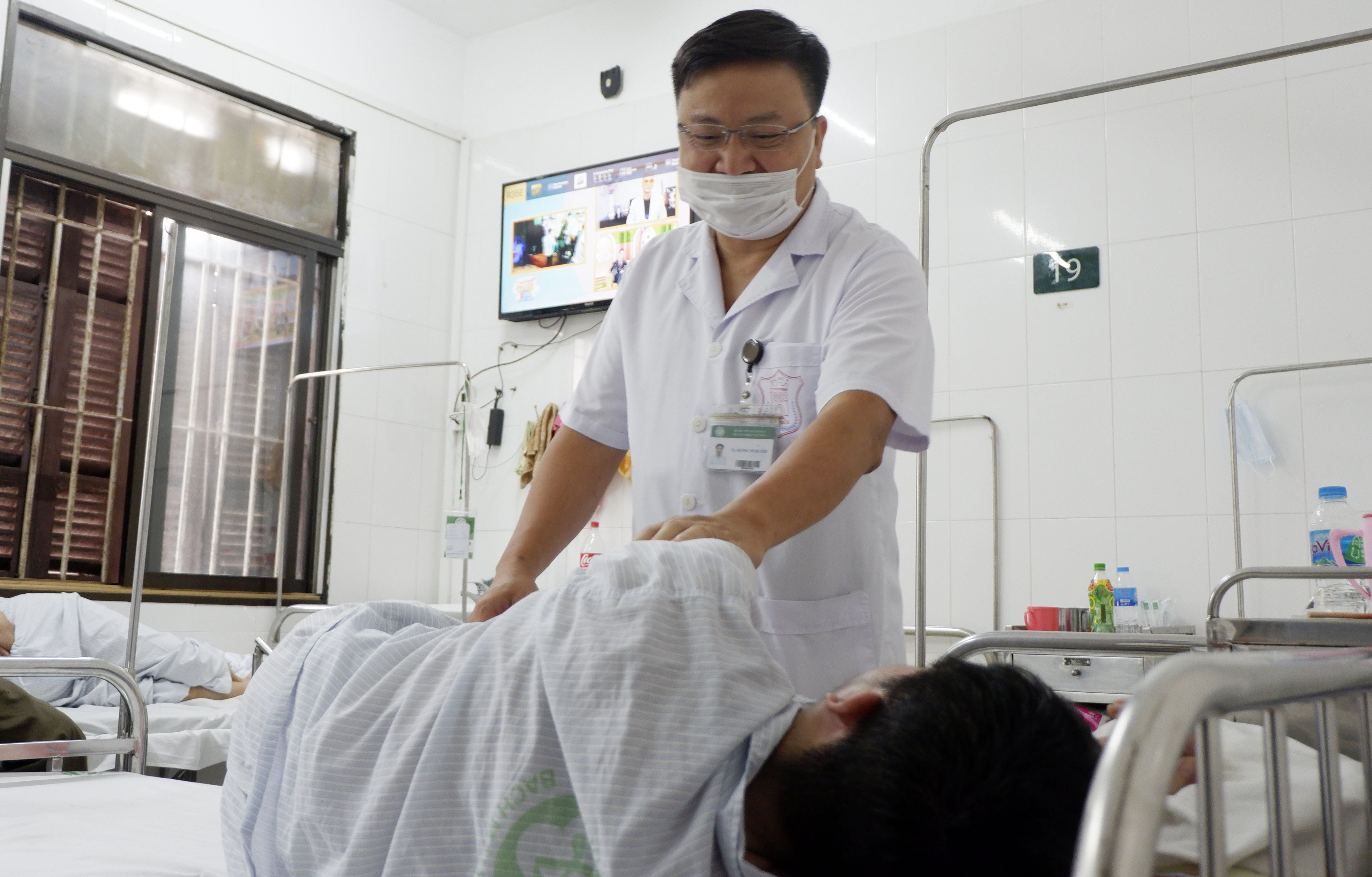 Stress and stress also cause some children to have clinical manifestations of abdominal pain and headache. Typical is Binh (grade 10, Hanoi). The family shared, from the day she entered 10th grade, she had a headache. Therefore, I was examined by a neurologist, had an MRI of the brain but no damage was found and no disease was detected.
When going to the Institute of Mental Health, Bach Mai Hospital, through examination, the doctor found that she had symptoms of depression. Before that, when I was in middle school, I tried to get into a specialized school, but I didn't meet my expectations and had to go to another school. After entering 10th grade, Binh was very bored with his results but still tried to adapt. However, my mother sometimes scolds me for not passing the exam, and telling me about the merits of taking extra classes makes me think a lot. Many times, I want to apply for more classes, but I don't dare to say it because I think about the "accountability" of my mother… Since then, Binh appears bored, tired and often has headaches, along with symptoms of depression.
Dr. BS Do Thuy Dung, Institute of Mental Health, Bach Mai Hospital also cited a similar case. It was a male student named VHP (18 years old, Hanoi) who was brought to the doctor by his parents in a state of constant anxiety and dizziness.
The patient's mother said that when he was in primary school, P's learning ability was only average. Wanting to have a better learning environment, the family transferred P. to secondary school in an international school. However, when entering a new environment, he is self-deprecating because his family is not as good as his friends, so P. is aloof and does not participate in activities with friends. By 7th grade, P. was often worried and decreased in school, so his mother took him to a hospital with a diagnosis of an emotional disorder, and was advised to change the learning environment.
After transferring to a public school, P.'s situation improved, but whenever there were conflicts or exams, P. was always afraid and worried. Right at the entrance exam to high school, because the child was too worried, the family had to take him to the doctor, receive fluids and be discharged from the hospital.
Dr. Dung said, before preparing for the graduation exam, 1 month ago, she appeared again with signs of palpitations, nervousness, difficulty remembering or forgetting when studying, not sleeping deeply.
"Recently, because the patient felt tired and had difficulty breathing in class, the teacher informed his parents to pick him up and take him to the hospital. At the hospital, through tests and tests, the doctors diagnosed me with anxiety syndrome," said Dr. Dung.
After 5 days of treatment at the Institute of Mental Health, Bach Mai Hospital with drugs and psychotherapy, the male student reduced anxiety and stress. The patient who realizes his problem is currently quite stable, studying and being monitored according to the hospital's prescription.
In this regard, Dr. BS Duong Minh Tam informed that stress affects thinking, emotions, behavior…
Children under stress are often restless, impulsive, less focused, easily irritable; often shows difficulty trusting others; difficulty connecting with friends; Difficulty in controlling behavior: binge eating, anorexia, self-injury…
For children with a medical condition such as an anxiety disorder, they will be prescribed medication, psychotherapy and other supportive means to improve the child's symptoms and pathology.
However, personality is a decisive factor that needs to be fostered from a young age from parents, school, living environment, and children's experiences, helping children to have a strong personality to overcome pressure and stress.
"The stronger the child's personality, the harder it is to overcome stress, so people who are romantic, flighty, lack of will, low self-esteem… are prone to stress. When a child is this type of person, parents need to build support to lift their spirits. fighting for children. The role of parents and families is very important to help children avoid stress, especially during exam season," said Ths.BS Tam.
Mr. Tam also emphasized: "It is necessary to realize that stress is a test that each time you pass helps to improve and mature. However, if you do not have the skills to cope with stress, it will increase stress in children."
Regarding the situation where children need to be examined for mental health, Dr.BS Tam said: "Parents are always close to their children, should pay attention to observe changes in emotions, physical health, eating and sleeping. If there is any difference in daily activities compared to before, even if they talk and share, but 1-2 weeks do not change, parents should let their children see a doctor or psychologist for timely intervention."
Besides, parents should avoid putting pressure on their children during exam season. Although pressure is not always detrimental, for children with weak personalities it is the cause of increased stress in children.
Patient name has been changed!
Ngoc Trang
You are reading the article
Female student suffers from depression and stress due to the stress of the exam season

at
Blogtuan.info
– Source:
vietnamnet.vn
– Read the original article
here