Business
From the wallet forgotten at the bank, a group of fake bank accounts opened up
On June 9, police of Thanh Tri district (Hanoi) arrested 3 subjects Vu Duc Tinh (born in 1993, residing in Thai Binh ward, Hoa Binh city, Hoa Binh province), Vu Duc Tinh (born in 1988, residing in Hoa Binh province). in Hoa Chinh, Chuong My, Hanoi) and Duong Gia Ha (SN 1995, HKTT in Vi Xuyen district, Ha Giang) to investigate acts of forging seals and documents of agencies and organizations.
Before that, in the middle of March, 2022, an employee of a bank transaction office in Thanh Tri district discovered an ownerless wallet on the table, inside there were many identification documents such as ID card, driver's license with many names. but he pasted a photo of a person, so he reported it to the police.
During the verification process, the police agency checked administratively the owner of the wallet, Vu Duc Tinh, discovered in the trunk of the motorcycle there were bank statements and account opening documents… named Hoang Anh Tu. At Tinh's residence in Dong Da (Hanoi), the police discovered a series of fake ID cards, driver's licenses, bank cards…
Initially, Tinh admitted that he knew Duong Gia Ha and cooperated to forge documents to open a bank account to sell. This object ordered 7 ID cards and fake driver's licenses with other people's names and then pasted his photo to open a bank account. Ha transferred to Calculate the total amount of more than 60 million VND of public money.
Expanding the case, the investigation agency determined that Vu Duc Tinh (Tin's brother) forged 1 ID card for his brother and collected 5 million VND… Currently, the investigation agency is continuing to expand the case.
In addition to the above case, the Criminal Police Department (Ministry of Public Security) said that the illegal collection and trading of information about bank accounts, CCCD, and ID card was complicated in some localities. This is a serious violation of the law, with potential for many crimes, especially crimes of fraud to appropriate property, money laundering, gambling, gambling organization …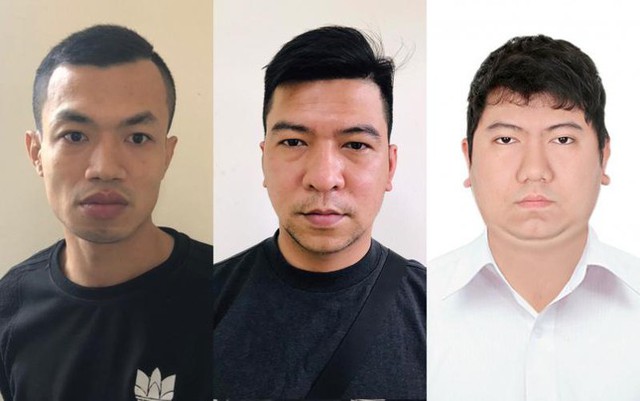 The group was arrested. Photo CAND
Blooming in the sale of personal information
According to the CSHS, the subjects will take advantage of people's loopholes in sharing photos of citizen identification, identity cards, and household registration on social networks (Zalo, Facebook…) and use them for personal purposes. register to use online services (buy goods, apply for jobs, borrow money to steal people's personal information.
In addition, some subjects take advantage of asking for portraits, CCCD photos, ID cards (can pay from 100,000 VND to 300,000 VND) or rent or buy people's bank accounts to use for illegal purposes. law.
When having these data, the subjects will create fake documents to open fraudulent accounts to appropriate assets through capital loans of banks, credit institutions, financial companies or transfer and receive money. gambling, gambling organization; fake, impersonated police officer, court, procuracy … call threatening to request money transfer to serve the investigation or make acquaintance via social network promising to send gifts, money hitting the heart people's greed and then ask them to transfer fees, fees and "facilitation" money to a bank account designated by them to appropriate…
"Most of the people who rent or lend personal information and bank accounts do not know the use of information and accounts to commit crimes. However, there are cases where even though they know well, they are still greedy for profit. aiding and creating opportunities for the subjects to commit crimes and have been handled as accomplices" – Department of CSHS information.
The CSHS recommends that people do not lend, take, or rent CCCDs, ID cards or bank accounts without legitimate purposes; at the same time do not post or share pictures of CCCD, ID card, bank account on social networks…
When personal information is stolen, it is necessary to contact the authorities for support, if detecting bad objects performing the above acts, it is necessary to report to the police for handling according to regulations.
Also related to the above trick, Hanoi City Police issued a warning, currently high-tech criminals based on Qr codes or information on CCCD cards can clearly know citizens' personal information, while People don't know they are being taken advantage of.
You are reading the article
From the wallet forgotten at the bank, a group of fake bank accounts opened up

at
Blogtuan.info
– Source:
cafebiz.vn
– Read the original article
here