Đời sống
Life Style
Hanoi heavy rain lasts, office people are tired of the weather, miserable because the combo price of gas – motorbike taxi – ship – food has increased
From May until now, Hanoi's weather has been continuously rainy and sunny. Roundabout in the early morning heavy rain, sunny in the afternoon, flooding in the afternoon like this every day, causing the health and spirit of people to be seriously affected, especially office workers.
Health "strike" because of the weather
Mr. Nguyen Huu Sinh (37 years old), lives in Mai Dich (Cau Giay district) and works at Vu Trong Phung (Thanh Xuan district). Sinh takes about 30 minutes to go to work every day, but recently, it rains often during work time, so the time on the road lasts for an hour. There were even days when he was helpless standing in the rain for half an hour because the traffic was jammed.
"Almost on rainy days, I'm late to work without time to timekeeping, my clothes are wet, then I sit under the air conditioner so I catch a cold. A lot of times I've been so depressed that I just want to go home or just go home. I wish my boss would let me work online"Sinh said.
Sharing the same feeling as Mr. Sinh, Ms. Hai Yen (25 years old) said that although the distance from home to work is not too far, Hanoi's early, sunny afternoon and rainy weather caused her health to deteriorate.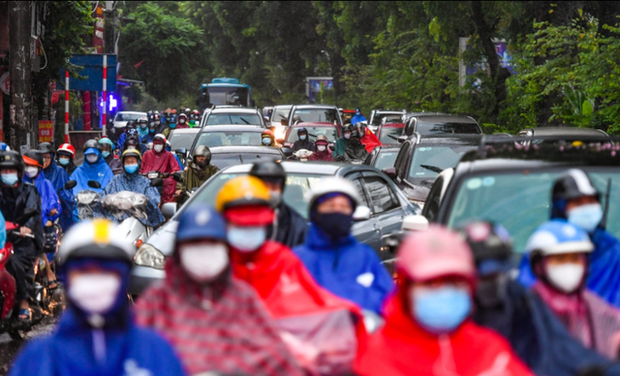 It rains during rush hour, causing traffic jams. Photo: Dan Tri
"After being infected with Covid-19 twice, my health has been significantly affected. Therefore, every time it rains and then it is sunny, I easily get a headache, on my desk there are always all kinds of medicines. From blood tonic, brain tonic to pain relief… If this situation continues, I will definitely be exhausted", said Yen tiredly.
Miserable because of rising costs
It seemed that rain was only a matter of God, but the weather brought many economic consequences for office workers.
Mr. Xuan Doan (35 years old) is working for a government agency in the central area of ​​Hanoi, and his wife works as a teacher near his home in Ha Dong district. 4 years ago, his family was determined to "buy" an old 7-seater car for convenience.
Having said that, owning a car has really brought a lot of value to the family, from serving young children to elderly parents; Especially during the Covid-19 epidemic for more than 2 years, the car makes the distance from home to work about 10km safer than that of the car. motorcycle.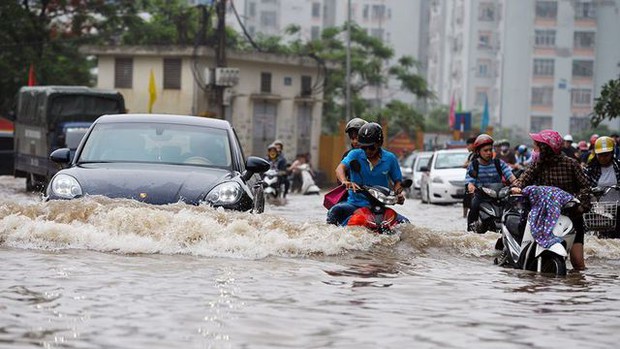 Gasoline prices increase, causing office workers to "burn out of pocket"
At the time of 2020, when the price of gasoline was sometimes only around 13,000 VND / liter, the roads were deserted, so on average, Doan only spent about 1 million VND per month on gas.
Up to now, when society has returned to normal, the Nguyen Trai – Tay Son road that Doan often travels has become extremely crowded, sometimes suffocating, especially on rainy days or when there are collisions.
Going slowly, or applying the brakes, makes the car consume more gas, sometimes the meter indicates fuel consumption up to 30 liters / 100km. If you calculate the average when used in the city, it also takes 14-15 liters / 100km. Meanwhile, the price of gasoline is constantly increasing, peaking at 31,500 VND/liter today, making the cost of gasoline alone more than 4 million VND, 4 times higher than 2 years ago.
The high gasoline price also entails a lot of other costs that also increase, such as shipping fees, technology motorbike taxis or food, causing great pressure for users when the salary is still "standstill".
Like the case of Ms. Phuong Loan (32 years old), due to one time riding in the middle of a slippery rain, she fell and broke her arm, so now every time it rains, she has to call a motorbike taxi. However, the cost for this is quite high, if before she went to lose 30,000 VND/time, now it increased to 40,000 VND/way, even going back also lost 80,000 VND.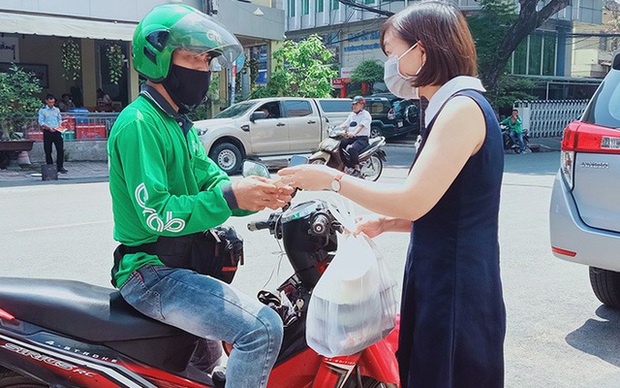 Many people do not dare to order lunch because of the storm
One day, she also tried to pamper herself, but in Hanoi, the rain didn't stop, day after day caused a significant loss of the monthly budget.
And yet, food prices and delivery fees also increased accordingly. A bowl of pho mixed with beef costs 55,000 VND, plus a shipping fee of 20,000 VND when the sky is clear and the clouds are clear, and the price goes up when it rains. Meanwhile, wages have remained "stagnant" for many years, making office workers like Loan poor, now even poorer.
In order to save money in the short term, she and everyone in the same office only had to prepare lunch from home and bring it to the office. When it's time to eat, put it in the microwave to heat it up and eat it through the day.
"I hope my company has a policy to increase wages or support employees in this situation of skyrocketing prices. I have heard that many companies have increased the lunch allowance or added travel expenses at the end of the day. It's hard for an employee like me to feel secure in working when inflation keeps going up but the salary is still the same," said Ms. Loan.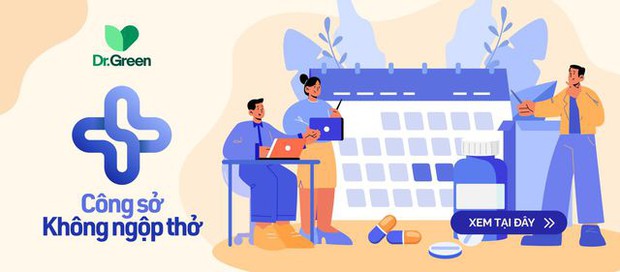 You are reading the article
Hanoi heavy rain lasts, office people are tired of the weather, miserable because the combo price of gas – motorbike taxi – ship – food has increased

at
Blogtuan.info
– Source:
Kenh14.Vn
– Read the original article
here