Giả - Thật
Regarding the image of Hon Mun Marine Protected Area, what does the Management Board say?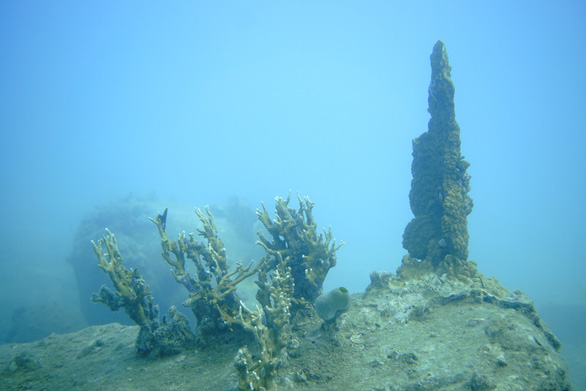 Many coral reefs in Hon Mun marine protected area have died – Photo from article NS
Posts of NS . account There is a lot of specific information about the status of coral reefs and vegetation at Hon Mun Marine Protected Area being seriously damaged: "Over a year and a half, I have returned to diving at Hon Mun since October 2020. I thought I would see the sea revived and beautiful, richer than before the epidemic many times, but no! The bottom of the sea is now ruined: no more schools of fish, no longer many corals, anemones and of course not many creatures. Even the ordinary clown fish nesting in the anemone bushes everywhere, 3 days diving in only 3 beaches Madonna rock, Mama Hanh and Moray beach in front of Hon Mun, can't find red eyes. threadbare".
The account owner also wondered about the management of the authorities: "I don't understand, what does the Hon Mun Marine Protected Area Management Board do to make the sea so shabby now? It's not natural that people take boats in Nha Trang has rumors about "selling yards" to fishing boats entering the fishing reserve for a long time.
There are rumors about extinction fishing like diving in and pumping cyanide into fish and shrimp burrows to let them float and then pick them up. It's not just a rumor because recent photos taken by a cruise ship show fishing boats casting nets around Hon Mun. And strangely, they took place right in front of the management patrol boat."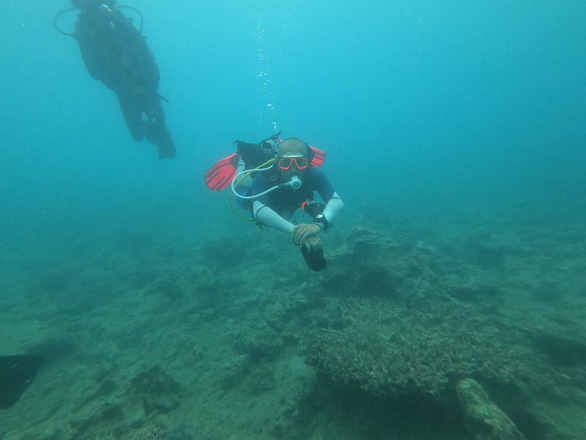 There are not many creatures and coral reefs on the seabed – Photo posted with the article by NS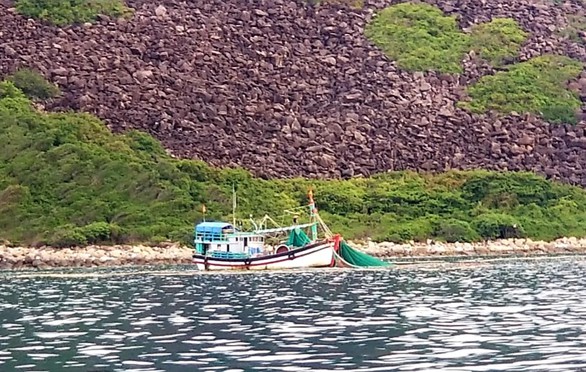 Fishing boats blatantly caught in Hon Mun Marine Protected Area – Photo posted with the article by NS
On June 9, responding to the above contents, Mr. Huynh Binh Thai – head of Nha Trang Bay's management board – said that after the storm No. 9 (in 2021), all coral reefs in Nha Trang Bay and some Other places are greatly affected, the affected coral reefs are mostly near the water surface and are broken and dumped by big waves.
"These pictures are not taken by the account holder NS, but this account holder uses photos from a diving unit. We will have a written work with the account holder, the article has a lot of negative information, misleading readers because of conservation, not nature.
Because coral reef degradation is the result of many factors such as: increasing global temperature, rainstorms, outbreaks of pests, besides there are also human factors," Mr. Thai said.
Regarding the image of fishing boats in Hon Mun Nature Reserve, Mr. Thai said this image was taken by the diving unit and sent to the Management Board around May 2022, the Bay Management Board later. made an administrative sanctioning minutes and requested the Provincial People's Committee to issue a sanctioning decision.
According to Mr. Thai, currently, the Management Board has only 1 patrol boat and about 5 members on duty who are not equipped to support. Meanwhile, there are still some fishermen deliberately fishing in the forbidden area. They are very reckless, even using knives to threaten members of the patrol team.
In 2021 and the first 6 months of this year alone, the patrol has prevented about 49 cases of illegal mining. "The fishing boats are always waiting when the force turns away to sneak in to catch, in many cases it is necessary to rely on the border guards and combined fleets to handle violations," Mr. Thai said.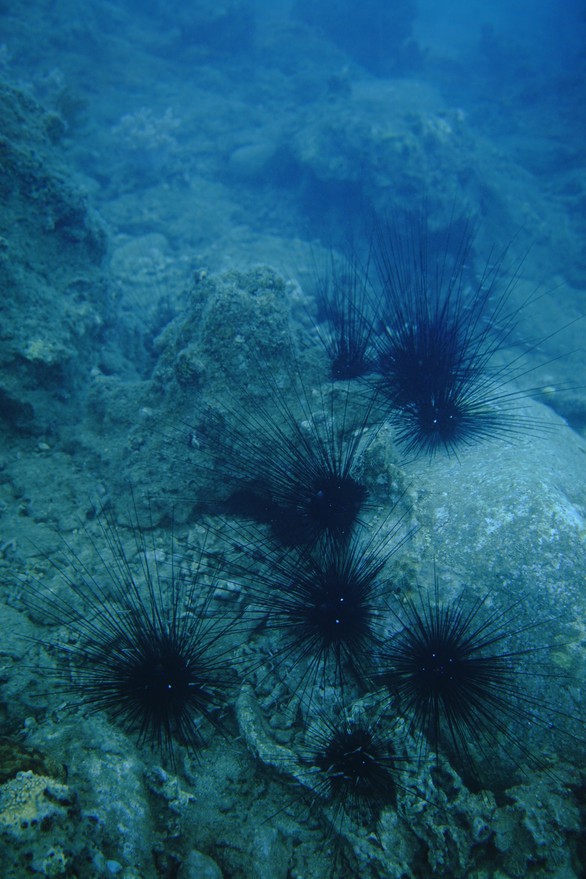 Instead of schools of fish on the seabed, Hon Mun conservation area only has sea urchins – Photo posted with the article by NS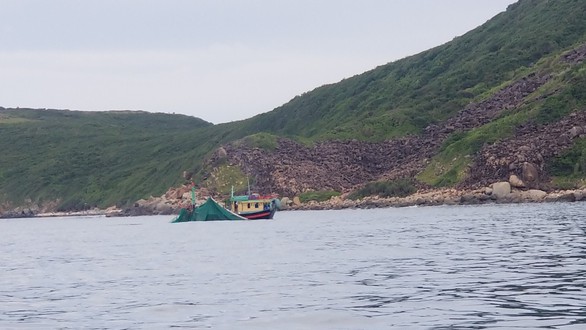 The patrol force is thin, so it is difficult for the Nha Trang Bay Management Board to control fishing vessels that come to illegally exploit – Photo posted with the article by NS
Regarding the comment at Hon Mun Marine Protected Area that there is an act of "selling the beach, catching all kinds of fish", the leader of Nha Trang Bay Management Board affirmed that it is always resolute to thoroughly handle all acts that are not allowed to be carried out. present in the Marine Protected Area, there is no policy to cover any individual or collective when committing violations.
"Currently, the fine level for mining in the nature reserve is very high, up to more than 100 million VND, making it difficult for people to pay the fine. With this deterrent fine, we regularly propagate it to people.", said Mr. Thai.
However, Mr. Mai Hoang Kien Kha, a diver with more than 10 years of experience in Nha Trang City, said that the fact that corals at Hon Mun died in mass whitewashed hundreds of square meters. "Van Phong Bay is the point to catch the wind first, but the corals are still healthy and growing. And the area of ​​Hon Mun island, which is airtight, is ruined like this, if the corals die a lot due to storms, it is too unreasonable," he said. Kha said.
Regarding the protection of Hon Mun conservation area, Mr. Nguyen Tan Tuan, Chairman of Khanh Hoa Provincial People's Committee, said that he had directed Nha Trang City to strengthen inspection forces when detecting fishing vessels encroaching on the area. conservation, will be strictly handled. At the same time, promote propaganda to tourists about hygiene issues when traveling, avoiding littering.
"In the coming time, the Nha Trang Bay Management Board will coordinate with the Institute of Oceanography and related organizations to research to cultivate and restore coral reefs on the seabed," said Tuan.
90% of coral in Nha Trang Bay has disappeared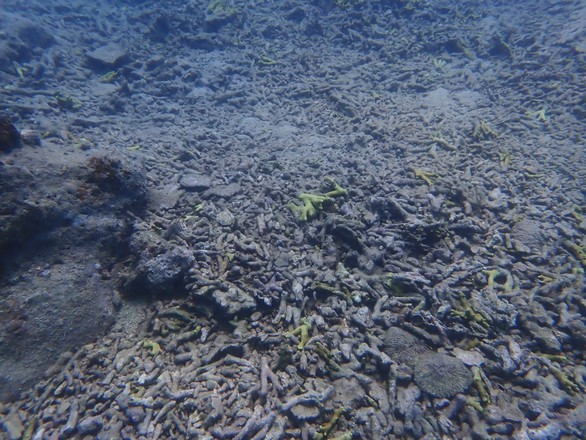 Coral reefs in Nha Trang Bay are gradually disappearing – Photo: MAI KHA
Research results of the Institute of Ecology and Evolution – Russian Academy of Sciences, Vietnam – Russia Tropical Center in Nha Trang and Institute of Oceanography published in the journal Marine and Freshwater Research (March-2021). 90% of corals in Nha Trang Bay have disappeared compared to 1980. In which, the current period is the strongest and alarming decline.
According to Dr. Hoang Xuan Ben, deputy director of Nha Trang Institute of Oceanography, andThe decline of coral reefs in the bay has many causes such as: destructive mining with explosives, cyanide (now no longer); environmental pollution (tourism activities, waste discharge, aquaculture…), explosion of coral-eating organisms (thorny starfish) and local eutrophication (eutrophication); coral bleaching and natural disasters (storms, floods)…
However, the biggest loss of coral reefs is due to the process of leveling, building tourist infrastructure and living in coastal and island areas. The leveling not only loses the area of ​​coral reefs but also brings the amount of sediment to the sea, causing deposition on the surface of the reef, causing coral death.
You are reading the article
Regarding the image of Hon Mun Marine Protected Area, what does the Management Board say?

at
Blogtuan.info
– Source:
tuoitre.vn
– Read the original article
here