Bitter gourd is one of the cool fruits and vegetables, has a characteristic bitter taste but can be processed into many delicious dishes. For example, bitter melon can be eaten raw, salad dressing, stir-fried, stuffed with steamed meat, cooked in soup… Each dish cooked from bitter melon has its own charm that is hard to refuse. However, for those who do not like the bitter taste, they are afraid of this nutritious and healthy fruit.
Therefore, the chef has suggested a way to help you remove the bitterness of bitter melon, making it easier to eat for everyone. According to the chef, usually, when stir-frying bitter melon, we will put it directly into the pan that already has a bit of heated cooking oil. Stir for about 2 minutes, season to taste. However, it is this method that makes the melon even more bitter. Before stir-frying the melon, we need to do one more step, so what is it, please refer to the chef's method below:
Ingredient:
– 1 large bitter melon (you can also add as much bitter melon as you like), 2 eggs, salt, cooking oil
Making:
Bitter gourd bought by many people only washes a few times under the tap and it's done. However, bitter melon has many crevices, so when washing bitter melon, you can use corn starch and a little salt to sprinkle on bitter melon skin and then rub gently. Starch and salt will help you remove dirt, even insect eggs in the crevices of bitter melon. Then rinse it off with clean water.
Cut the bitter gourd in half. Use a spoon to scrape off the intestines and the white membrane clinging to the inside of the fruit core. This white film is the main cause of its bitter taste, so you should shave as clean as possible.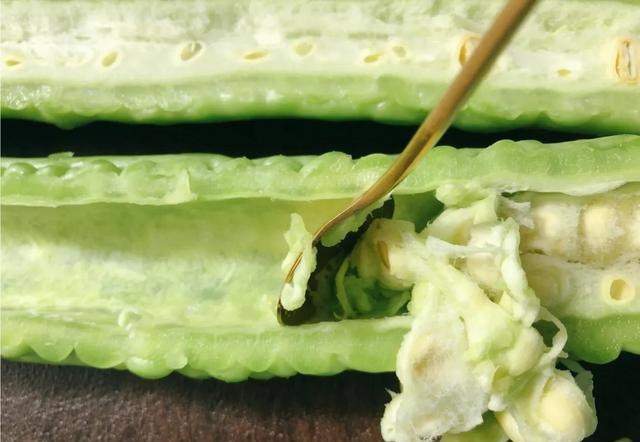 Use a knife to cut the melon into thin slices. It should not be too thin, making the melon easily mushy when stir-frying.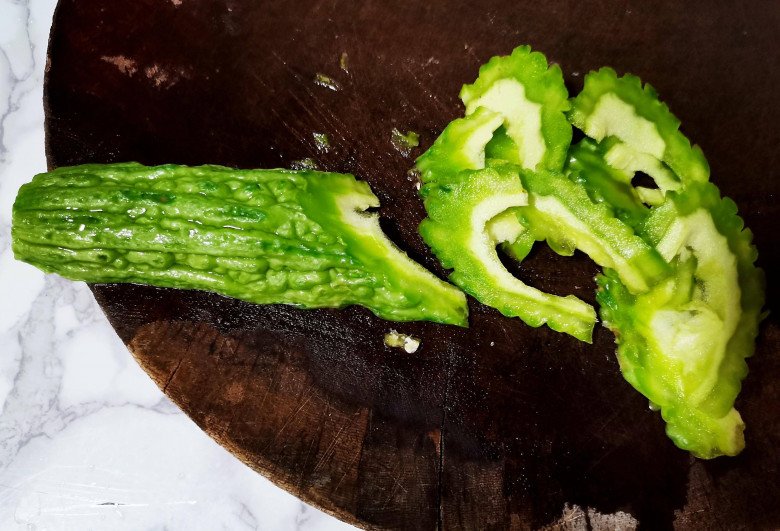 At this time, put the bitter melon in a bowl, add a teaspoon of fine salt, mix well and marinate for 5 minutes.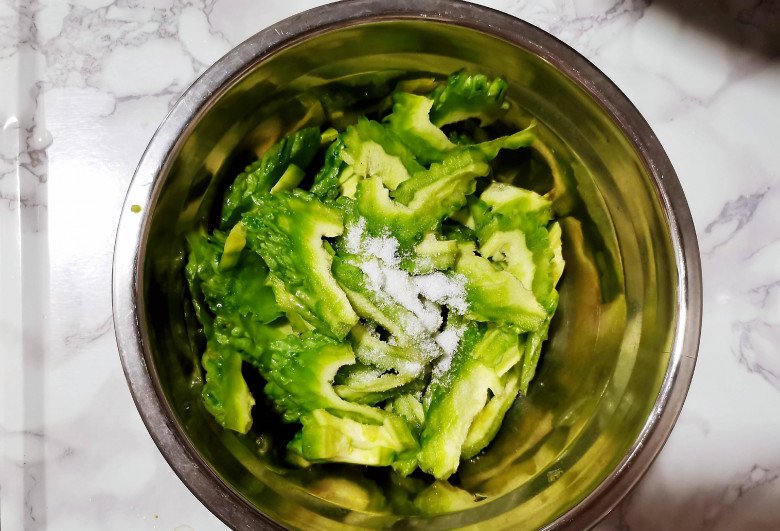 Crack two eggs into a bowl, add a pinch of salt, add 30 ml of warm water, beat with chopsticks. Adding a little warm water and stirring the eggs will help the eggs when fried will be softer.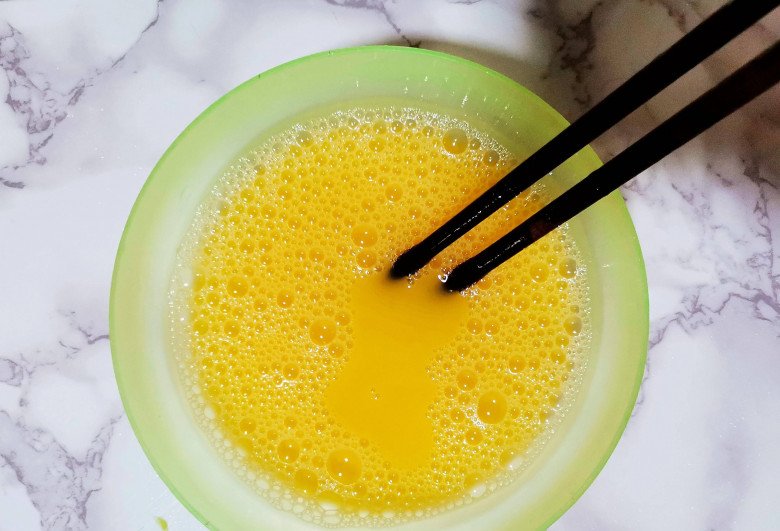 Put bitter melon in clean water, rub it lightly to wash away the salt on the melon and also wash away the bitter taste of the melon. Remember to add this step, the bitter taste of the melon will be eliminated, making sure everyone can eat it.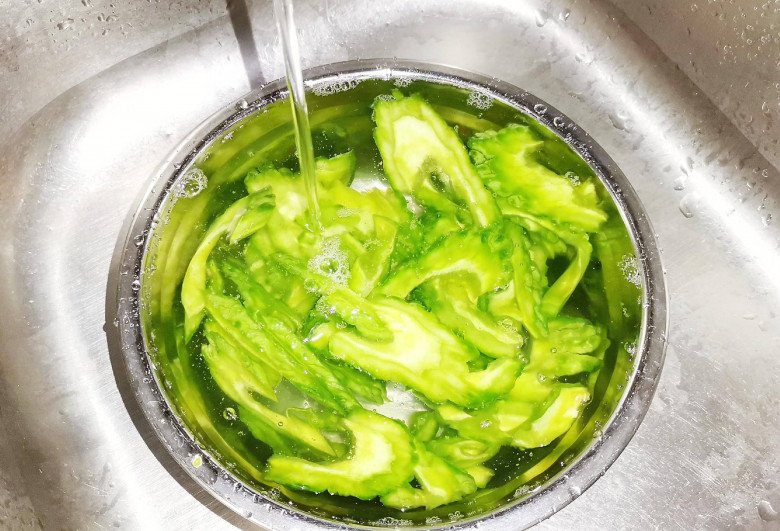 Heat a little cooking oil in a pot, add bitter melon and sauté for about 1 minute on high heat, season with a little salt (add a little water if you're afraid of burning melons) until the bitter gourd is cooked.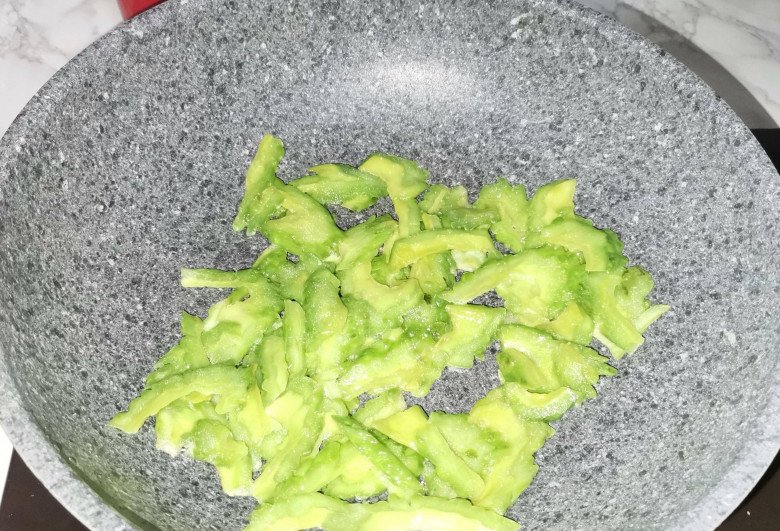 Pour in the eggs, wait until the eggs are slightly frozen, then use chopsticks to stir the eggs evenly on the bitter melon, the eggs are completely cooked. In fact, adding eggs to stir-fry with bitter melon also reduces the bitter taste of melon. The total stir-fry time is only about 2-3 minutes, otherwise the bitter melon will be soft and lose its crispness.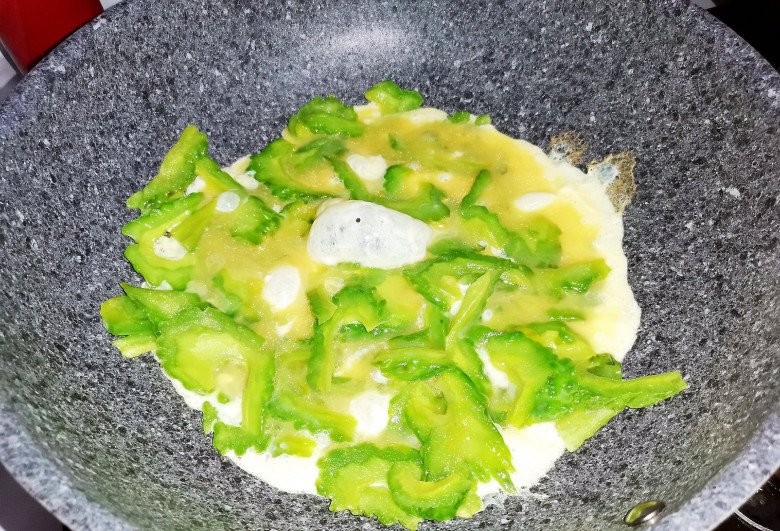 So when stir-frying bitter melon, you need to note, when preparing bitter melon, it is necessary to scrape off the white core inside the fruit. Before stir-frying, marinate bitter melon with a little salt and then wash it to help remove its bitterness.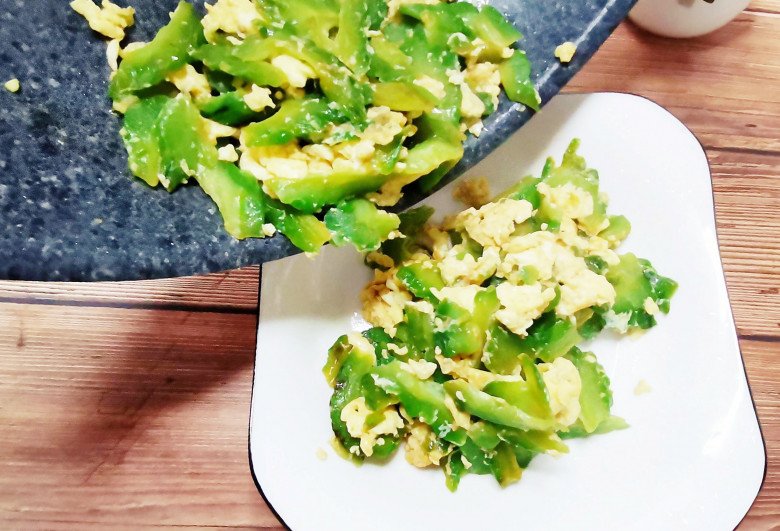 Good luck!
You are reading the article
Stir-fry bitter melon, don't put it in the pan right away, marinate it with this dish, the bitter taste is crispy and delicious

at
Blogtuan.info
– Source:
Eva.vn
– Read the original article
here