Event: Prize U23 Asia 2022 Thailand Football U23 Vietnam Share Bored because the home team stopped in the group stage of U23 Asia, but Thai fans and media gave "winging" words to U23 Vietnam.
In the last match of Group C of the AFC U23 Championship 2022, U23 Thailand suffered a 0-1 defeat against U23 Korea and officially said goodbye to the tournament. Meanwhile, U23 Vietnam led U23 Korea to the quarterfinals thanks to a 2-0 victory over Malaysia U23.
"Holding U23 Vietnam is the biggest achievement of U23 Thailand in 2022", Thai fans mocked the home team.
After the match, Thai fans did not regret the sarcasm of Worrawoot Srimaka's teachers and students on social networks because the tournament failed:
"Holding U23 Vietnam in the opening match of the group stage is Thailand's biggest achievement in 2022."
"The players don't know how to deal with pressure, they don't know how to handle it even with the ball at their feet."
"Thailand and Vietnam share the throne of Southeast Asia, but somehow only Vietnam can show strength in the continental arena?".
After the match, head coach Worrawoot Srimaka said that the reason why Thailand U23 did not play well was due to a shortage of forces, many players had physical problems or injuries. A member of the medical team explained: "The hot weather during the day, the continuous tournaments, and the fatigue accumulated over the past time have made some players not in the best shape."
However, this excuse did not receive sympathy from the fans because U23 Thailand changed more than half of the squad that attended the SEA Games, bringing to the tournament many players playing football in Europe. Even many comments compared with U23 Vietnam, the team also "plowed" from the SEA Games, had health problems right before the opening match (draw U23 Thailand 2-2), but always in state of fullness:
"After watching the match between Thailand and Korea, I realized that Thailand must review the physical problem. We are far behind Vietnam on this point."
"The physical strength of Vietnamese players is better than Thai players. They are as strong as Korean players."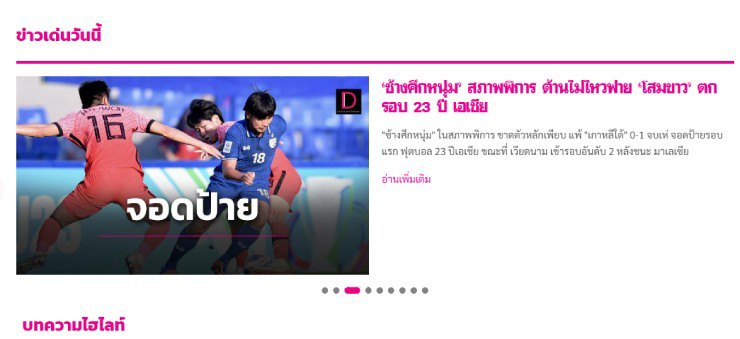 Daily News criticized Thailand's U23 as "immature, crippled, unable to resist"
"Thai players seem to be exhausted from the middle of the second half, they don't press, run less compared to U23 Vietnam. The Korean coaching staff of U23 Vietnam is too good at improving the player's fitness, which is why That was shown on the pitch."
Besides the fans, the media also used heavy words to talk about the defeat of Thailand U23. SMM Sport newspaper called being eliminated from the Asian U23 group stage a "broken dream", and Daily News commented: "The young, crippled, and incapable of resistance were defeated by the Korean U23s. , bid farewell to the Asian U23 tournament right from the group stage".

"Shared the throne of Southeast Asia, but only Vietnam shows strength in the continental arena"

"Thailand needs to improve physical fitness, we are far behind Vietnam"

"The Korean coaching staff of U23 Vietnam did a great job in improving the players' fitness"

"Vietnamese players are as strong as Korean players"
You are reading the article
Thai newspaper criticized the home team for being eliminated, fans were shocked because U23 Vietnam is as strong as Korean players

at
Blogtuan.info
– Source:
Eva.vn
– Read the original article
here