Business
The poor female student was unexpectedly awarded a scholarship of 2.2 billion from an international university
Struggling life of 4 women
Since her mother's birth, Nguyen Thi Thuong (20 years old, from Huong Ngai commune, Thach That district, Hanoi) does not know who her father is, only knows that her mother is mentally ill. Her mother was rarely awake, she even wandered around, unable to remember the way home.
She and her mother lived with two aunts in a cottage in Thach That district. The second aunt also suffers from the same disease, fortunately can still help with the housework. Among the four women, the eldest uncle is the only one who is able to earn money to support the family.
Often grew up under the care of the eldest uncle Nguyen Thi Khanh Linh (58 years old). Everything big and small in the house depends on your hands.
Knowing his family situation, often used it as a motivation to study. From elementary to high school, she is known to many people for her outstanding academic achievements, sometimes winning the district Math Olympiad, sometimes winning the second prize in Literature at the city level, or being commended for typical excellent students. of the Capital.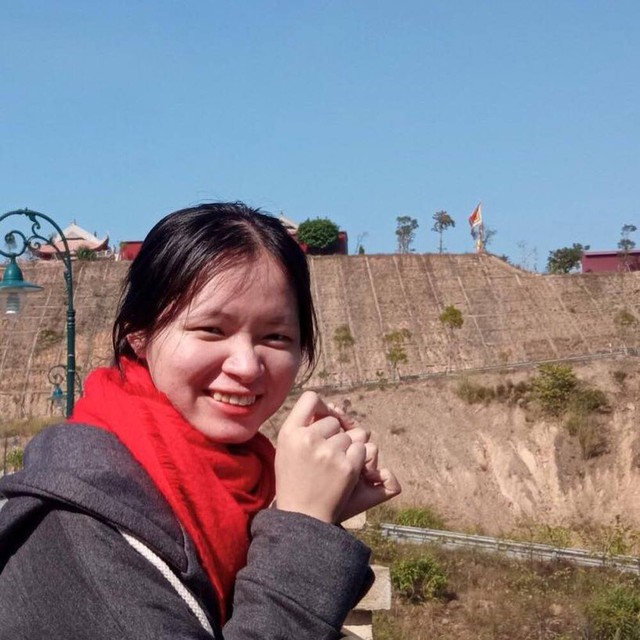 Usually during a picnic in Bac Giang with the Khat Vong charity fund, in 2021.
Despite many achievements, Thuong still cannot avoid the gossip of his friends about his family. "People don't say it in front of me, but I can still feel the gossip around. That is understandable because everyone is curious. I've been used to this since I was a child and quickly forget it, but with negative words, I get a little upset.
Since becoming aware, Thuong has had to witness the hardship, suffering and poverty of his family, so he always has a will to make efforts in his head. "I still remember vividly the scene where Uncle Linh borrowed money to buy books and send me to school. Then when the family has nothing to eat, only 2 eggs for 4 people to eat all day. Or on rainy days, the whole family huddles, …", often recounts.
Not wanting her children and grandchildren to live in a too dilapidated and damp thatched house, Uncle Linh borrowed 80 million to build a grade 4 house. Afraid Thuong had to shoulder this debt, Uncle Linh worked hard to earn money, doing everything from weeding, cleaning,… However, no matter how hard Uncle Linh tries, he can only afford to send Thuong to school. The loan to build a house is still outstanding until now, the mother's interest, the child's interest, is up to nearly 100 million.
Every time I talk about Uncle Linh's efforts and sacrifices, Thuong sheds tears. She knew that her aunt had beautiful wishes but had to give it up to support her.
"When I was young, Uncle Linh wanted to be a teacher and wanted to have a small family. But this dream must be unfinished because life is too difficult. When my grandmother passed away, my mother became ill and could not take care of herself, so Uncle Linh had to give up everything to stay and take care of the family.
On normal days, when going to school, Uncle Linh always said: The opportunity to go to school is very precious. I wish I could go to school but I can't, so I give it all to my children. The uncle wants his grandchild to become a teacher, then marry a police officer, like the life he always dreamed of but could not fulfill", Thuong said and said that Uncle Linh was the person who had the biggest impact on his life. with me, teaching me the virtues of sacrifice, resignation, and patience.
From "Ordinary" to Extraordinary
Uncle Linh's sacrifice is the reason why often has to pressure himself about his studies. No matter how humiliating and needy life is, she has not stopped trying for a day.
"Since I was a child, I have had the thought: If I don't study well, I won't have opportunities in the future, I'm afraid to go back to the cycle of difficulties and hardships. Maybe you've already experienced economic and mental difficulties, so you don't want to repeat them. Besides, Uncle Linh's merits are too great, I can't help his feelings and sacrifices", Thuong said.
Since 6th grade, often received financial and spiritual help from the Aspiration Fund to focus on studying. In 10th grade, she was oriented to an international school in accordance with her ability.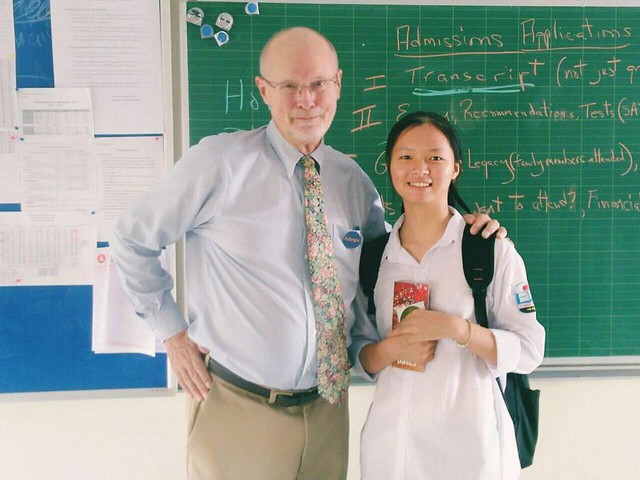 Often attended the international school introduction, when I was in 12th grade.
"I know that Uncle Linh's dream for me is very noble, but I want to try to do more great things. That's why I researched about international schools, then worked hard to refine myself for 3 years, to confidently apply to Fulbright University Vietnam."
However, the chances of getting into an international university are very slim because of the high competition rate. When applying for the first time, often failed in the interview round because of poor English communication and stupid answers.
"I remember when I received interview questions in English, I did not understand and had to ask again in Vietnamese. When I had to answer in English, I couldn't say the whole thing and asked for additional Vietnamese. Besides, my answer was not really good, so I failed the interview round", Thuong said and said that he was very sad at that time.
That failure was also an opportunity for Often to question himself. She pondered over her efforts and her worth. After that, Thuong redoed a new set of documents and was shortlisted for an interview. In this round, Thuong confidently showed his best because "there is nothing left to lose". After that interview, although she knew she had answered well, she was still anxiously waiting for the results.
On June 5, 2020, while taking extra lessons at the teacher's house, Thuong received an email from the school. She immediately opened the English version, dimly knowing that she had passed the exam, but still couldn't believe her eyes. Often go online to look up every word, confirm it is 100% correct, and then can't help but be happy, shouting in the middle of the class.
"It was around 7-8 pm, I was so happy that I couldn't learn anything more. I drove very quickly to the reporter to tell you. Uncle Linh was collecting firewood in the garden, when he heard the news that he broke down, he cried a lot, but still doubted why there was a school to raise his grandson to go to university.
For me, 20 million is a big amount of money to earn a lifetime, I don't think my grandson will receive a scholarship of 2.2 billion. Uncle Linh then went to burn incense to thank the ancestors, urged her to call to thank the person who accepted her, and then thought of bringing a gift from her hometown to the school. Although my biological mother did not understand what happened, she also smiled with eyes that exuded happiness. At that moment, I feel very happy because I have brought pride to my family", said Thuong with tears in his eyes.
The burden is on the poor student's shoulders
Received a full scholarship of 2.2 billion from Fulbright University Vietnam, often choosing a major in Social Science and a half major in Psychology. She then had to leave Thach That for HCMC. The first time away from home, often unfamiliar, she misses and worries about her family a lot. But that nostalgia was quickly replaced by pressures from student life.
In the first days of entering university, Thuong was very happy that he had found a "treasure" but could not help but feel self-conscious about his background. She even created a cover for herself to hide from friends, often afraid of being isolated, afraid of repeating the feelings she had experienced in the past. She did not dare to join clubs because she suspected that her level was still low compared to her friends, the other part was afraid of judgments about the gap between rich and poor.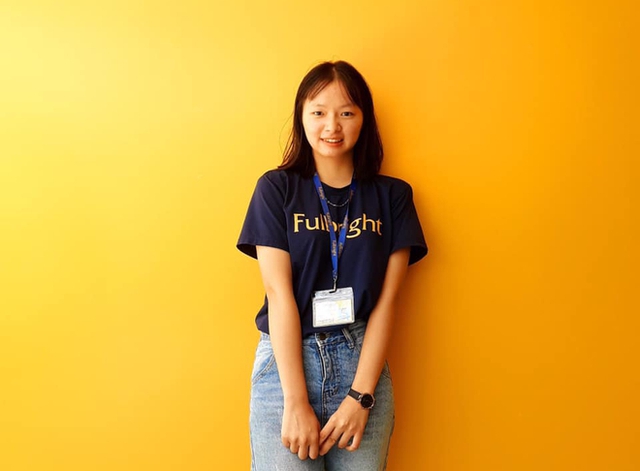 When he first entered university, he was often shy, self-deprecating, afraid to communicate with friends.
"Going to a prestigious university is only the first journey to find your values. It's a map to know there are many people better than me, see where I'm weak. And in fact, I know that I am the worst at English, while the curriculum and teachers both use this language to teach. I was so weak that I had to meet my teachers every week to ask me to repeat the lesson. There are lessons that have to be re-learned 3-4 times to understand. Sometimes, I also have some doubts about my ability", often fretted.
It was not until the 2nd semester of her first year that she felt stable, confident in living and participating in more activities, participating in many online self-development courses on free platforms. In 2021, Thuong received an invitation to join the debate club and won the Top 8 best national debate teams organized by the school and won the "Light up the future" scholarship. That is also the motivation for her to try to prove her strength, ignoring the inferiority complex about her family background.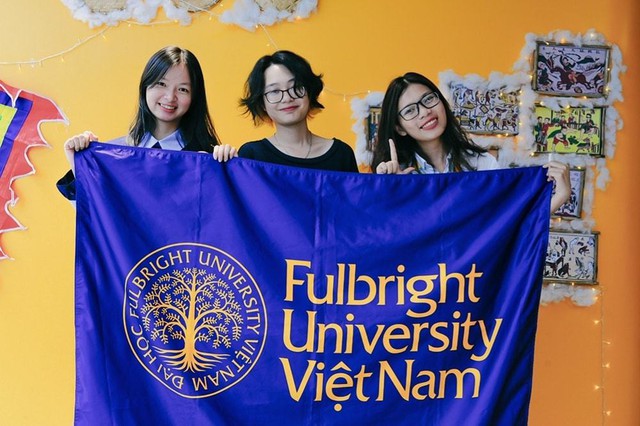 Often and his friends won the Top 8 best debate teams in the country.
When Thuong had just settled into university life, Uncle Linh's health declined, unable to earn money to support his family, buy medicine and pay debts. All three women's activities in the countryside depend on a meager co-payment of less than 1 million dong. The debt and health of 3 mothers put a lot of pressure on Thuong's shoulders.
"In the past, Uncle Linh didn't want to share that burden with me until I was in my freshman year of university. At that time, I knew that the interest to be paid each month was too much and that Uncle Linh could not stand it anymore. I still know my family is difficult, but now it's more difficult than I imagined," said the second-year student.
To help the family, Thuong sent to Uncle Linh a part of the school's allowance. "I am fortunate to have a support of 3 million VND/month from the school to eat and live. Without this support, even if I get a scholarship, I will not be able to pay the cost to study in an expensive city. With that 3 million, I can save 1.5 million dong every month and send it back to my hometown to Uncle Linh. But it can only bear a part of living expenses and medicine, and the amount of interest owed has not been paid", Thuong confided.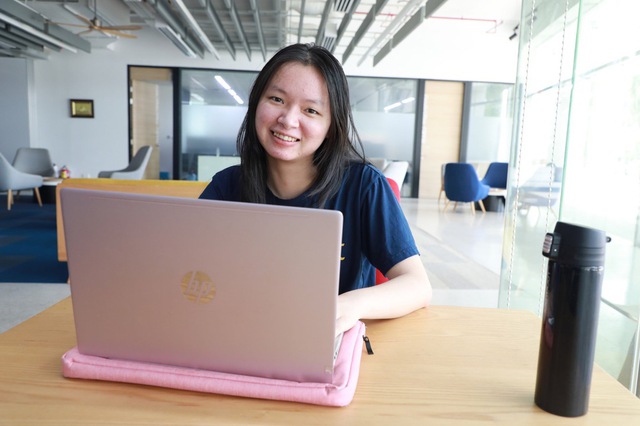 Taking advantage of the time off from school, often works part-time to earn money to send back to his uncle.
Wanting to pay the debt on behalf of his uncle, Thuong takes advantage of his free time to work as a tutor and work for education companies. It is not only a job to generate income to support the family, but also an opportunity for her to experience. However, despite their best efforts, the amount of debt did not decrease much. At the age of 20, having to bear many things while going to school, often feels tired at times.
"My aunts and uncles are getting older and older, and everyone's health is getting weaker. Concerns about finances, income, and medicine put the whole family under a lot of pressure. I don't want Uncle Linh to suffer alone because he spent his whole life raising me. I really hope that I can help you a lot so that you can rest and relax in your old age.
I thought I was strong, but there are days when I feel very dark, or I feel lonely, especially when I stay up at night to work on a project to earn more money. No matter how tired I am, when I close my eyes, I force myself to open them because I know I have to work hard. I also don't dare to be depressed because then my family will also lose hope", Thuong confided.
The burden is always on his shoulders, but Thuong is still optimistic. She dreams of one day graduating soon, studying abroad and then dedicating herself to Vietnamese students.
"After graduation, I want to work in the field of psychology and education. I want to help students who are in the same situation as me. I believe that with support and guidance, they can develop their abilities and realize their dreams", the second year student wished.
https://soha.vn/nu-sinh-ngheo-bat-ngo-duoc-nhan-hoc-bong-22-ty-cua-truong-dh-quoc-te-2022060815555177.htm
You are reading the article
The poor female student was unexpectedly awarded a scholarship of 2.2 billion from an international university

at
Blogtuan.info
– Source:
cafebiz.vn
– Read the original article
here