Giải trí
The specialty of Khuong Thuong village (Hanoi) with the nickname "smashing tron ​​provocative intestines", whoever eats it is addicted!
The specialty of Khuong Thuong village, which is nicknamed 'smack tron ​​provocative intestine', is on the list of delicious traditional dishes, it is difficult for anyone who has eaten this dish to give up.
The village on the outskirts of Khuong Thuong (Hanoi) in addition to making delicious imitation sausages, is also a village with delicious snail vermicelli – so it is called a "dam tron ​​khau gut" village. Strangers are scared and don't understand, but it's a funny way to call it when it comes to the village's specialty: Khuong Thuong snail noodle soup.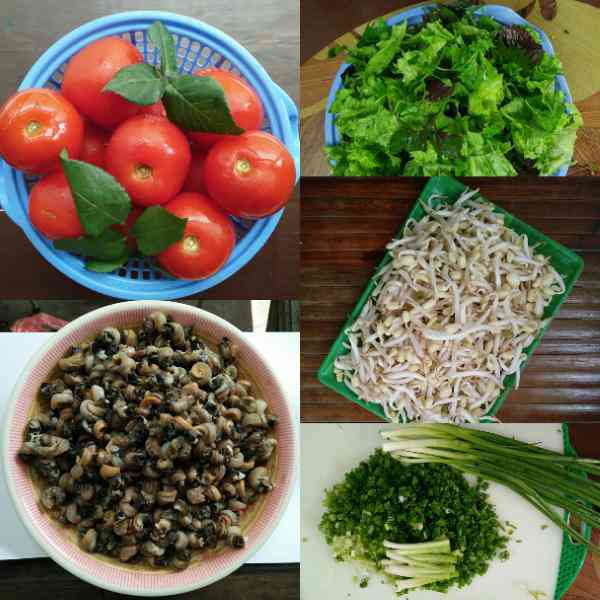 Prepare the ingredients for noodle making. Illustration
Hanoi has many villages that have become cities, and the old Khuong Thuong village is now Khuong Thuong street, but right from the beginning of Khuong Thuong market street, the first noodle shop is located under the old eagle tree, and there are many noodle shops. more in Khuong Thuong.
Khuong Thuong village is not rich, but customers who come to eat snail noodle soup only focus on the owner's hands that are provoking snails. Snail noodles are liked by many people, so the customers are also diverse, from the old lady to the fashion shop owner. From Mr. Cuu Vang to Mr. Director… who is in love with Khuong Thuong's authentic and well-matched snail vermicelli noodles, it's hard to stay away.
Khuong Thuong snail noodle soup is famous for being delicious and crowded, so the owner does not have to invite, and when crowded, customers have to wait. The shop owner is busy with "smashing the intestines" with the fat and golden stuffed snails, blanching the white bowls of Phu Do vermicelli. The sound of a small ax smashing snails, the sound of vermicelli vermicelli murmuring in flowing water… also sounds fun and sexy when the delicious food is about to come to your mouth.
Many gourmets commented that Khuong Thuong snail noodle soup bears traces of snail bung – also known as braised snail of the Northern Delta in the past. The broth looks a bit cloudy, smells sour and vinegary.
Khuong Thuong snail juice is a bit thick because it has powder from green bananas and tofu. The bowl of vermicelli is also just medium, not sagging like the hot snail vermicelli on the street.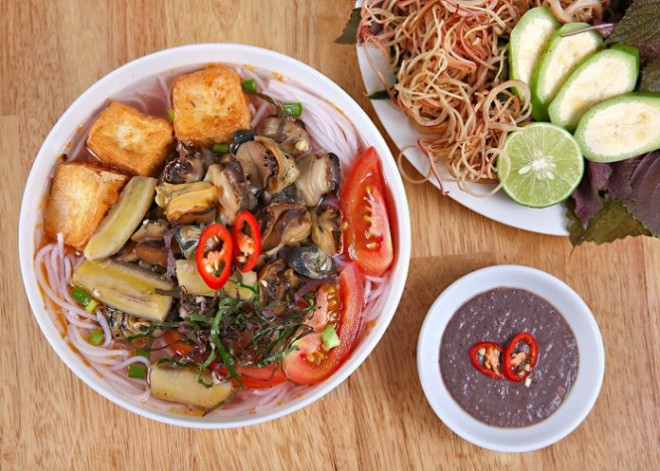 The finished product of home-cooked snail vermicelli is ready, enjoy. Illustration.
Khuong Thuong snail noodle soup is a unique gift of the countryside, but it is attractive to both guests from far and near, besides the reputation, there is also a little charm of the owner.
Ms. Luong – the owner of the snail noodle shop at the top of Khuong Thuong market street has just twirled around, and briefly shared the "secret of snail noodle soup" Khuong Thuong:
– The first is to have experience in choosing fat, full mouth, and chubby snails.
– Tofu must be freshly fried to be soft and delicious.
– Green bananas must choose old ones.
– Vinegar suddenly blooms right, suddenly the yellow flower is sticky.
– The batch is self-made, not bought from the market.
– Vegetables must be fresh…
Not finished sharing, the owner of the restaurant has finished smashing a few golden, greasy snails lying on the face of selling vermicelli.
She quickly picked up a handful of scallions and perilla, sprinkled them with hot broth, bright yellow in turmeric, and red in the color of tomatoes with fragrant onions, and urged her children to serve them to guests.
This Khuong Thuong snail noodle shop is said to be 40 years old, well known by young people and tourists because it is on the list of delicious snail noodle shops rated by tourists.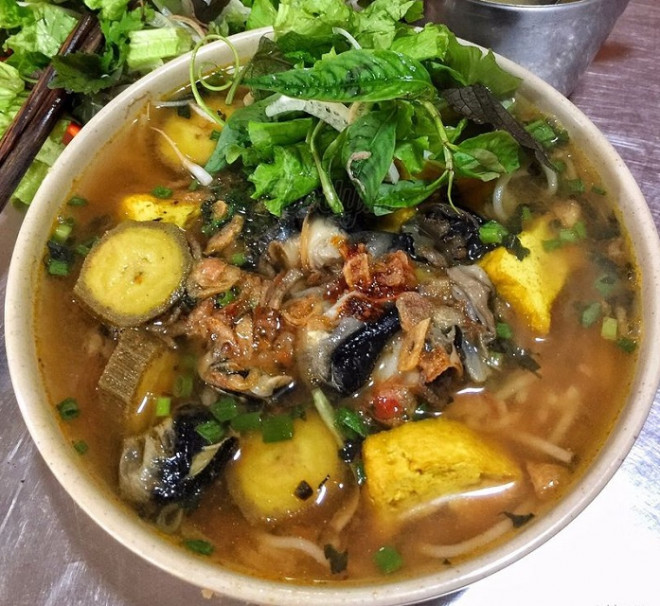 Khuong Thuong snail noodle bowl with crispy, fatty snails. Illustration.
Nowadays, many noodle shops follow the tastes, so they accidentally lose the rustic flavor of the snail noodle dish – which is mixed with snail noodle soup with bones, snail vermicelli with beef, spring rolls…
As for Khuong Thuong snail vermicelli, many shops are still rustic with fresh snail broth, sweet and crispy, vinegar taste suddenly sour… seasoning is very mouth-watering, everyone loves to eat. Eat a bowl of Khuong Thuong snail noodle soup if you want, you can also enjoy snail spring rolls, snail rolls with guise leaves… delicious but not fishy at all.
How to make snail noodle at home
Ingredient
– 1kg of screws and 1kg of jackfruit.
– 2 tablespoons of vinegar, 3 tofu covers, 4 tomatoes, dried onions, noodles.
– Spices: Turmeric powder, seasoning seeds, main noodles, salt, sugar, cooking oil, cashew oil.
– Tomato, cilantro, onion, perilla, lettuce, herbs, spring onion,
Making
– Wash the snail a few times and then soak it in water, drop a few slices of chili in it to let the snail release dirt and oil. Or wash with vinegar, or diluted lemon juice to remove the viscosity.
– Boil about 4 liters of water, add a little salt and boil the snails. The process of boiling snails to make vermicelli is different from that of boiled snails, which is not to add lemongrass and lemon leaves to boil together (this step many people use 2 liters of chicken broth to make fresh water).
– While waiting for the snails to boil, prepare finely chopped onions and perilla (for the vermicelli bowl). Lettuce and chopped vegetables to serve.
Tomato cut areca (large fruit cut 4, small fruit cut in half to cook for a long time and not be crushed).
Tofu cut into square pieces, fried golden.
– When the pot of snails boil for a few minutes, use a ladle to skim off the foam, until the snail lids fall off, the snails are just cooked. Turn off the stove and take out the snail to cool, then remove the snail's intestines and clean the snail's intestines.
– Snails boiled water to settle all residues, then decant the clear water to cook the broth and boil again (or pour more chicken broth to boil).
– Sauté dried onions, add cashew oil, then add chopped tomatoes and areca, stir-fry for 2 minutes, then pour into the pot of snail broth. At this stage, the family can process it at will, because some people like to put the snail meat and then put it directly into the bowl. Some people like to pour the cleaned snail meat into stir-fry with tomatoes to hunt, season with 1 teaspoon of seasoning, 1 teaspoon of turmeric powder, a little salt and MSG, stir well, and then pour into separate bowls.
– Season with fish sauce, seasoning seeds, vinegar, a little rock sugar to taste.
– Add vinegar, drop fried tofu and seasoning to taste. The pot of snail broth at this time must wake up the smell of vinegar suddenly delicious and cool.
When eating, blanch the vermicelli in boiling water, drain it, and pour it into a bowl. Put onions and perilla (finely chopped) in a bowl, then arrange snails on top. Cook the broth, add a teaspoon of shrimp paste and chili paste and enjoy as soon as the bowl of snail vermicelli is hot and delicious (if eaten in cold weather, it will be more delicious and interesting).
You are reading the article
The specialty of Khuong Thuong village (Hanoi) with the nickname "smashing tron ​​provocative intestines", whoever eats it is addicted!

at
Blogtuan.info
– Source:
24h.com.vn
– Read the original article
here