Gia đình
The woman who was burned alive by her husband revives her life, has a new happiness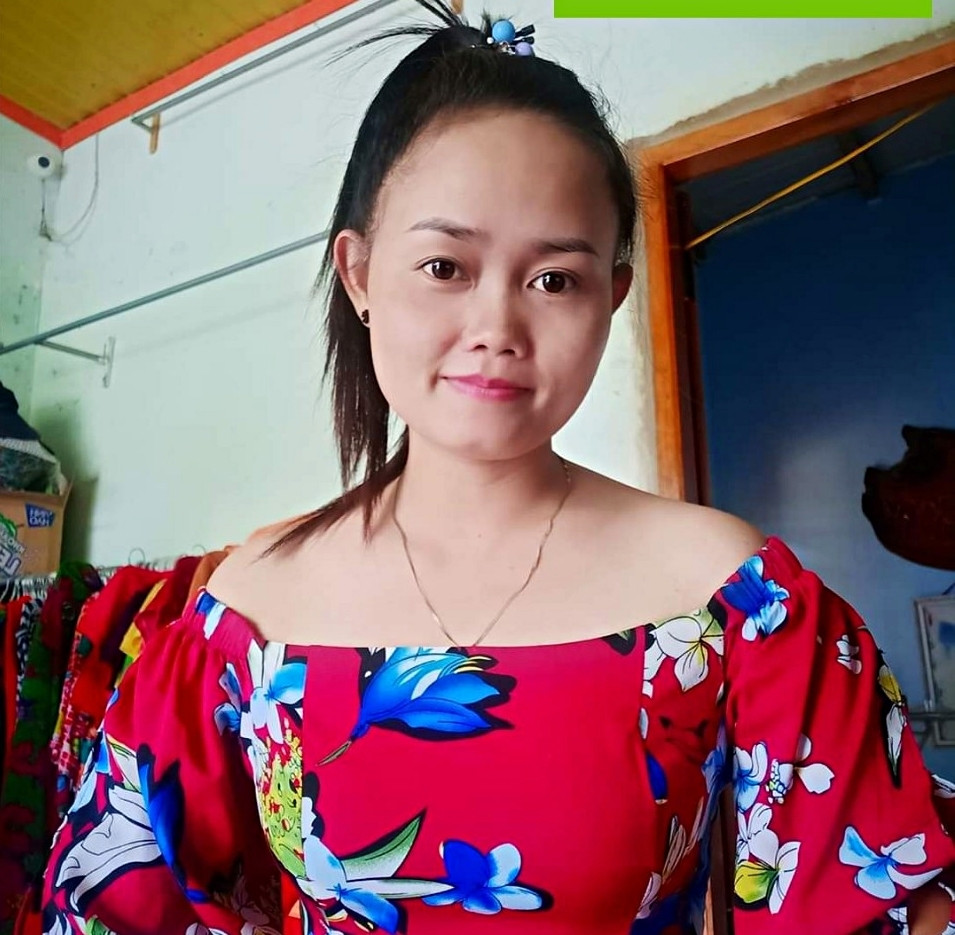 Revive life
Returning after going to the hospital to check her health, Ms. Le Thi Kim Ngan (35 years old, living in Cu Chi district, Ho Chi Minh City) is busy with online sales. On the opposite side, the man whose body was covered with scars after a severe burn shyly brought her a glass of cool water.
He is her new happiness after the pain of being burned alive by her ex-husband with gasoline. It was a March night 3 years ago. That night, she was awakened by the sound of her husband's lighter.
When she opened her eyes, she saw flames engulf the room. In an instant, her body flared up like a torch. Loving her children, she let the burning pain torment her to open the door and take her two children out before she fainted.
The next day, she regained consciousness in the hospital. Her body burns to 92%. After that, she returned home with the end of physical and mental pain. From a beautiful girl with property in her hand, in an instant, she became a white-haired, disabled person, her body covered with huge scars.
But after going to the prison to visit her husband, she realized that if she kept that pain forever, she and her children would be heavy and melancholy forever. Returning home, she hid from her family and wrote an application to reduce her husband's sentence.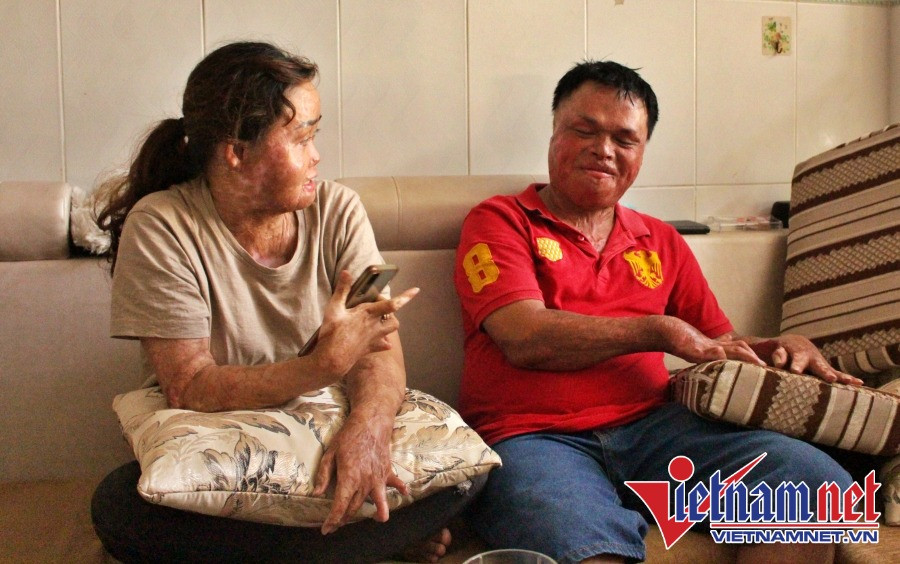 After writing the application, she took her two children out of her hometown to Ho Chi Minh City. In a foreign land, with an extraordinary energy, she gradually revived her life. She applied to work in a sewing factory near her house, learned how to sell airline tickets, receive goods to sell online…
In the end, her tireless efforts also brought her certain results. When her job gradually stabilized, she opened a shop selling massage oils and essential oils, spending time supporting difficult situations and people in the same situation.
On the road of volunteering, she encountered and found new happiness in her life. It is Mr. Nguyen Van Minh (33 years old, living in Cu Chi district), who gives her and her children a "feeling of peace, being able to rely on when life is tiring".
New happiness…
Like Ms. Ngan, Mr. Minh suffered severe burns after the motorcycle fuel tank fire incident. Ngan knows this younger boyfriend after reading an article calling for his support on social media.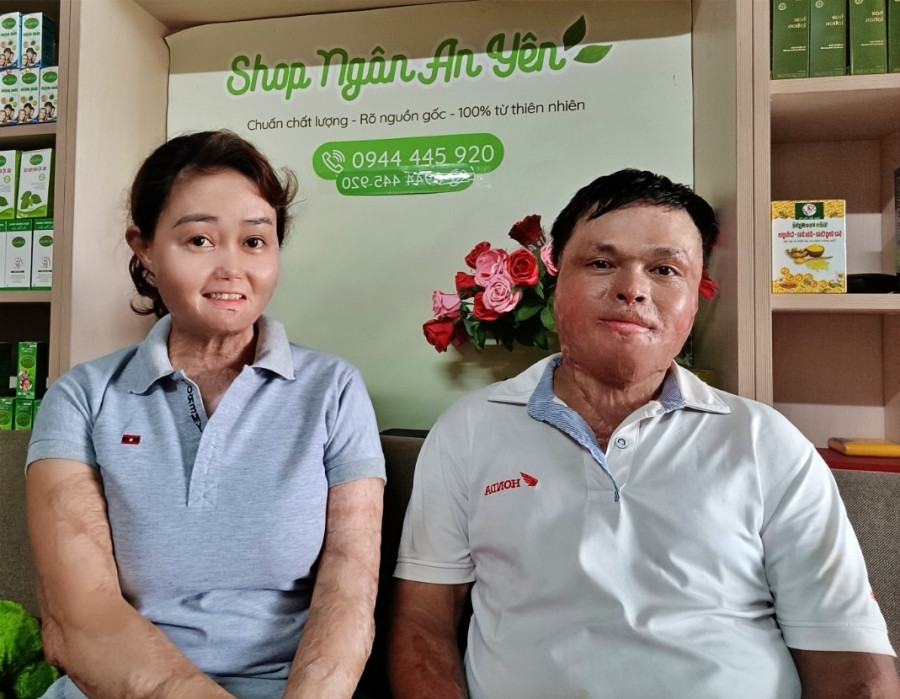 Knowing that Minh was also in Cu Chi, she went to the hospital to visit with the intention of providing spiritual support, helping "the younger brother to overcome the pain and injury step by step". However, she could not meet him. A few months later, Minh accidentally saw her on social networks. He contacted and the two had their first conversation.
At that time, Ngan did not immediately have feelings for Minh. She even made a maid for a friend who was also burned. Whenever she gets the chance, she tries to put these two together.
She shared: "But in the end, we came together even though we hadn't said any words of love to each other. Minh is not sweet and romantic, but I can feel his love for me through every action, gesture…".
Sitting on the opposite side, Minh was shy when he heard Ngan mention his age difference love story. He admitted to falling in love with an older woman before he knew if he would be accepted. To this day, he is still surprised by that unexpected happiness.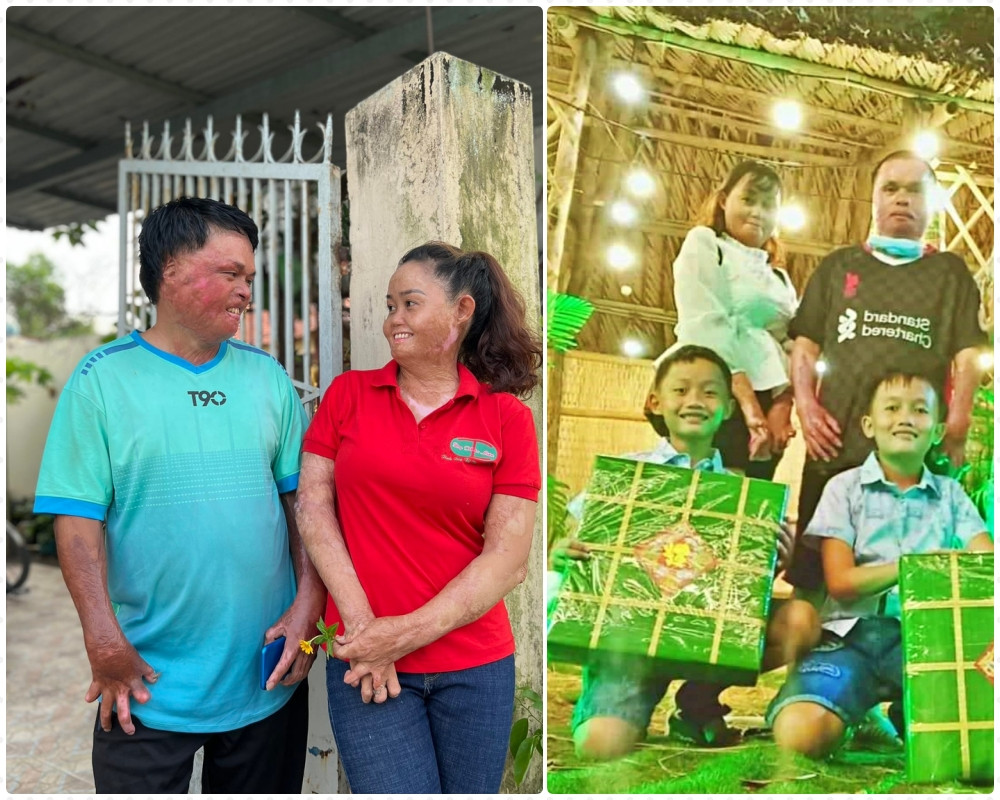 Meanwhile, the decision day came to Mr. Minh, Ms. Ngan encountered the words of discussion, dissuade… But, all did not make her sad.
She shared: "Before coming to Mr. Minh, I was also asked by many healthy people, even abroad. I did not dare to open my heart. I'm afraid they haven't experienced the same pain as me, so they won't be able to empathize, understand and share with me."
"When I got to know Mr. Minh, he also gave me advice, but he and I had sympathy. More than that, I think when I'm sick and tired in life, I still need someone to rely on and share…. I'm just afraid that my children won't accept him, people can't live together under a roof…", she added.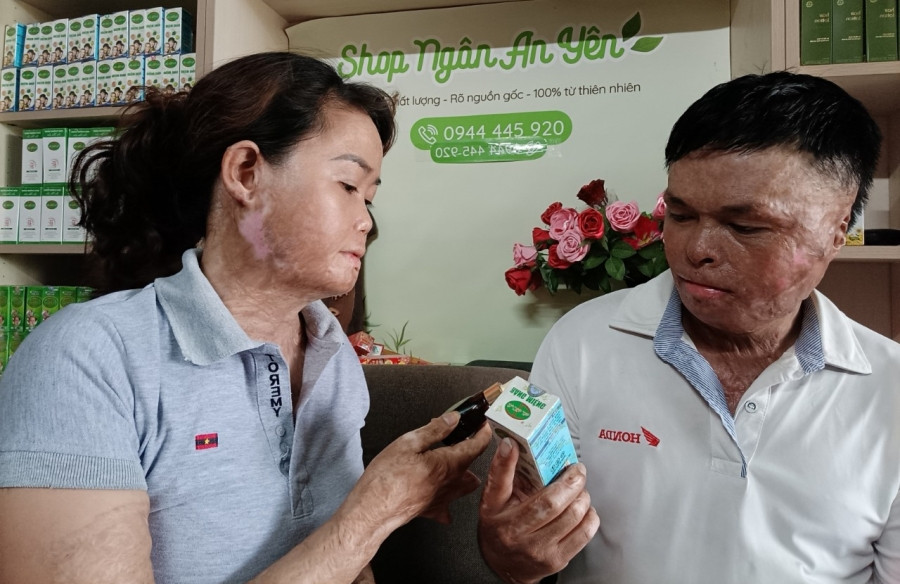 However, her worries soon disappeared. After the first meeting, her children were all happy and soon felt the love of "father Minh". In a short time, the children had fun, appreciated, and considered Minh as a family member.
Finally, after the loss that cannot be described in words, now, she loves life and truly feels happy. She shared: "With each other, we are more confident when going out on the street. In the past, when going out alone, people would look at people like us with prying eyes."
"Now, when we're together, people don't look like that anymore. At home, we share everything from doing business to taking care of our children, teaching them… Honestly, we both feel better when we're together," she added.
Post: Ha Nguyen
Photo: Character provided
You are reading the article
The woman who was burned alive by her husband revives her life, has a new happiness

at
Blogtuan.info
– Source:
vietnamnet.vn
– Read the original article
here