Business
Businesses need to be wise in technology investment
Consumers in the "maze of battle" virtual pharmacy
Since the time when the whole of humanity is facing a pandemic, pharmaceuticals and medical items have become the top concern of any consumer. The fact that some essential medical products such as masks and alcohol sanitizers are always in short supply has shown the essential importance of this product group. Not only are they scarce, but it is also very difficult for consumers to buy these items because of travel restrictions, as well as a lack of reliable sales channels.
In the midst of difficulties in accessing products and choosing vendors, the first consumers to enter the online pharmaceutical market continue to fall into the "maze" of advertising and inaccurate information. Taking advantage of consumers' ignorance, some non-medicinal products are listed or advertised "ambiguously" for sale. According to statistics of the Food Safety Department, by the end of the first quarter of 2022, through reviewing media such as newspapers, radio, social networking sites, or receiving information from reporters and consumers, there are 197 cases of violation of regulations on advertising.
A bright spot in branding, a chain of pharmacy stores combined with website supply, such as Pharmacity, Long Chau Pharmacy, and Central Pharmacy. Even pharmaceutical distributors or pharmaceutical manufacturing enterprises are looking for marketing solutions to bring products closer to consumers. However, not all distributors or pharmaceutical enterprises have enough financial resources to invest in a massive store system right from the start. While the needs of consumers are becoming more and more specific, "specialty stores" are also born: cosmetic pharmaceuticals, physiological pharmaceuticals, imported pharmaceuticals, home medical instruments…
So, what can Vietnamese pharmaceutical businesses rely on to build a unique experience and attract the right consumers while still within their financial capacity?
Smart web – Building "genuine drug stores" right from the face to the service
According to SmartHint statistics, the future of e-commerce is still in the hands of smartphones, when the percentage of purchases made by phone accounts for 70% of global sales. The role of the sales website still prevails over the application. In the Vietnamese market, although the concepts of CX (Consumer Experience) and UX (User Experience) are no longer strange, most SME businesses in the pharmaceutical business sector have not really recognized the concept. out the importance of "professional face" is the sales website.
The interface is tailored to the sales strategy and understanding of Consumer behavior of the pharmaceutical industry. Unlike the traditional website that only focuses on displaying products, the streamlined structure, UX / UI design follows the customer's buying journey on the website to provide necessary information and stimulate customers to act as well. This is the first lesson businesses should pay attention to when building smartweb.
With Bizfly Smartweb, product information such as prices, information, instructions for use, licenses and certifications are all publicly available to help create confidence for customers with products directly related to consumers' health. used as medicine. Thanks to the public selling price, consumers can compare prices, as well as other noteworthy criteria without fear of risks such as fraud and price blowing. Pharmaceutical businesses have the opportunity to strengthen trust and brand reputation from a "genuine" website from face to features and services.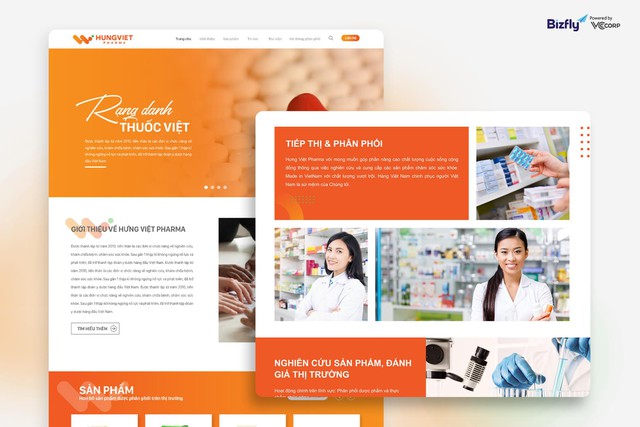 Hung Viet Pharma is one of the pharmaceutical customers who have trusted and chosen Bizfly Smart Web
On that scientifically organized and friendly interface, the user's behavior will be automatically recorded to display products that match the needs of the buyer during the shopping experience on the website. This not only gives consumers a well-understood impression, but also increases the chances of up-selling & cross-selling products, which is especially important for groups of products that are often bought in a process such as food. functional, pharmaceutical and cosmetic etc…
In addition to organizing a smart "booth", consumers also need more automated consulting functions such as Bizfly chatbot, 24/7 automatic switchboard connection, as well as different online payment options. conveniently. In addition, once integrated with Bizfly CRM on the site, pharmaceutical enterprises can also easily collect potential customer data from pop ups, playing minigames, or Loyalty apps to accumulate customer points, thereby creating a premise to deploy new campaigns. future marketing or customer care programs. Thanks to the comprehensiveness of the Bizfly solution ecosystem, businesses can save up to 80% on personnel and operating costs, especially during holidays or peak demand cases, even costs. marketing.
As part of the Bizfly Martech & Salestech product and service ecosystem, smartweb design and construction services for the pharmaceutical industry have been placed as the focus of development by experts from VCCorp in 2022. Bizfly Smart Web has been trusted by many pharmaceutical brands such as Sohaco, VN Pharma, Dong Tay, Hung Viet Pharmaceutical… to build an online pharmacy distribution system nationwide.
With the trend of "post-pandemic normalization", the combination model of on-offline pharmacies still plays a leading role with large drugstore chains. However, with tools to support sales and maintain after-sales relationships, SMEs in the pharmaceutical industry can completely consider the bold step of doing business online 100%.
Bizfly Martech & Salestech is a brand of digital transformation services of VCCorp Joint Stock Company. Bizfly owns 15 years of experience in providing marketing & sales solutions: Website design, storage solutions – management – customer data exploitation (CRM), automated sales solutions via chatbot & solutions Email marketing (Email marketing).
Bizfly Smartweb is one of the solutions in the comprehensive service ecosystem provided by Bizfly Martech & Salestech.
Bizfly Smartweb is an optimal solution for pharmaceutical businesses wishing to build effective brand communication channels, product introduction and sales, free integration with marketing automation tools to increase sales opportunities. goods, x2 effective revenue.
Learn more about the Bizfly Smartweb platform:
Website: https://bizfly.vn/giai-phap/thiet-ke-website-theo-yeu-cau.html
Hotline for consultation: 1900 63 64 65
https://cafebiz.vn/mo-hinh-cua-hang-duoc-online-viet-doanh-nghiep-can-thong-thai-trong-dau-tu-cong-nghe-20220609191840416.chn
You are reading the article
Businesses need to be wise in technology investment

at
Blogtuan.info
– Source:
cafebiz.vn
– Read the original article
here