Thế Giới
China Focus at Shangri-La Dialogue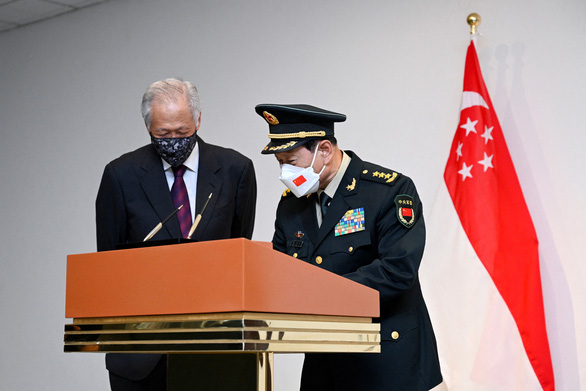 Chinese Defense Minister Wei Fenghe (right) signs the scrapbook while his Singaporean counterpart Ng Eng Hen stands next to him (photo taken on June 9) – Photo: Reuters
From June 10 to 12, the 19th Shangri-La Dialogue will be held in person in Singapore, resuming after two years of being postponed due to the COVID-19 epidemic. Talking to Tuoi Tre, international experts shared their views on this conference often called "Asian security summit".
Still "competition" America – China"
Peter Layton, a research fellow at the Griffith Asia Institute (Australia), said that this year the US and its allies and partners will look at dialogue through the lens of the conflict in Ukraine. However, the main concern remains China's assertiveness on the diplomatic and military fronts.
According to Mr. Layton, China's actions are being assessed as more negative than before. With Australia, Chinese Foreign Minister Wang Yi proposed the "reset" of Sino-Australian relations to return to the goodwill as before. But Beijing also showed a tough line with Australian military aircraft in the South China Sea on May 16.
"China's open arms of diplomatic friendship at the same time as its uncompromising stance elsewhere seems to be the way Beijing is dealing with countries today," Mr. Layton commented.
According to this expert, the simultaneous application of "sticks" and "carrots" is not the rule of ordinary diplomacy. "Given these developments, China is likely to be assertive at this year's Shangri-La Dialogue," he stressed.
Expert Layton also said that India's participation at this forum will be "an interesting thing" when New Delhi has some moves to support Russia after the outbreak of conflict in Ukraine. US media will closely follow India's comments at Shangri-La. At the same time, the US press will also follow ASEAN's statements regarding Ukraine.
Adding to his comments on the risks in the region, Mr. Lucio Blanco Pitlo III, a research fellow at the Organization for the Roads of Progress in the Asia-Pacific (Philippines), said China's ambition to build a treaty security with countries in the Pacific makes countries worried that Beijing is looking for ways or strategic bases that can change the balance of power in the region.
Mr. Bilahari Kausikan, former permanent secretary of Singapore's Ministry of Foreign Affairs, said that Ukraine conflict and US-China competition will be the two main themes of this year's Shangri-La Dialogue and they are related.
It is not clear how much tension the US and China will show when the defense ministers of both countries are in attendance. "The nature of the US-China competition has not changed since former US president Trump promoted it in 2017," Mr. Kausikan said.
According to Professor Robert Ross – Boston School (USA), US – China competition is an important issue that all countries pay attention to. In the South China Sea, China is worried about the US "intervening" in sovereignty disputes between Beijing and countries in the region, while Washington has expressed concern about Beijing's bullying of neighboring countries.
"China is worried about the US blocking its rise, and Washington is worried about Beijing reducing its influence. That's a fundamental issue of competition," Mr. Ross said.
increase dialogue, reduce risk
Professor Ross said the Shangri-La Dialogue 2022 is an opportunity for delegates to meet and exchange face-to-face after a two-year hiatus. This is an opportunity for countries to resume discussions when the role of leaders is important in international relations. Therefore, he expected countries to increase bilateral exchanges on the sidelines of the forum.
Notably, if the US and Chinese defense ministers meet, this will be a good opportunity for the two sides to promote discussion. "Informal exchanges will facilitate the diplomacy of the parties," Ross said.
According to Mr. Kausikan, during this year's Shangri-La Dialogue, countries can enhance mutual understanding to reduce miscalculations. He noted the recent "encounter" between Chinese and Australian aircraft in the South China Sea, saying that the parties could discuss to prevent a dangerous incident.
Expert Pitlo expressed his hope that countries should reconsider and test their communication and crisis management mechanisms. "Either states need to set up these mechanisms when no one is preventing incidents that could lead to conflict to the detriment of the parties," Pitlo said.
The largest scale of dialogue ever
The Shangri-La Dialogue 2022 takes place at Singapore's Shangri-La Hotel. The International Institute for Strategic Studies (IISS), the organizer of the Shangri-La Dialogue 2022, said that this year's forum is the largest in many years.
About 500 delegates who are government officials, defense – security officials, diplomats, defense – security experts… from more than 40 countries and territories will attend.
According to IISS, Vietnam's Defense Minister, General Phan Van Giang will attend and speak at the Wednesday plenary session on June 11 with the topic of military modernization.
US Defense Secretary Lloyd J Austin III will speak on US next steps in the Indo-Pacific strategy, while Chinese Defense Minister Wei Fenghe will talk about China's vision. with the regional order.
SPIRITUALIST