In many localities, there is a custom that when a person dies, personal items that they regularly use such as clothes, bedding, blankets will be thrown away or burned. Recently, a Chinese woman also cleaned up the belongings of her late mother-in-law to remove, unexpectedly discovered something that made her extremely emotional.
Recently, Ms. Huang's mother-in-law passed away. After arranging the funeral, Ms. Huang's husband told his wife to clean up what was left of her mother-in-law and then dispose of it.
On June 6, 2022, Ms. Huang started cleaning her mother-in-law's bedroom, intending to get rid of the old blankets that her mother-in-law used to often use. However, the blankets that were tied together were so big that they couldn't fit in a public trash can, so Ms. Huang decided to take them apart one by one to make them easier to dispose of.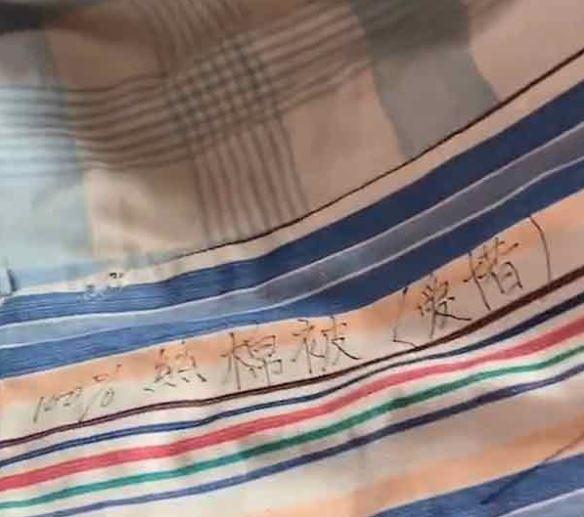 Unexpectedly, as soon as she opened a blanket, Ms. Huang accidentally saw an inscription on the duvet cover, which read: "November 2010, 100% silk cotton, I like it very much". As it turned out, this was the line that Ms. Huang's mother-in-law had written to mark the blanket, the handwriting was very neat and careful.
As soon as she saw this text, Ms. Huang burst into tears because she missed her mother-in-law. Ms. Huang's mother-in-law is a very frugal person, always wanting to give good things to her children and grandchildren but never thinking about herself. This old quilt has been used by the mother-in-law for many years but refuses to throw it away. In the last years of her life, when she gradually forgot everything, the mother-in-law also tried to write this word on the blanket to remember and avoid wasting it.
Ms. Huang said that her mother-in-law had previously worked in a government unit, so she was not only meticulous in everything but also very good at writing.
Ms. Huang recounts: "When my mother-in-law was alive, we rarely lived together. Whenever I came home, my mother-in-law always treated me to delicious food while she only ate raw food. She is also a very frugal person. One set of her clothes can last 7-8 years. Whenever I offer to buy clothes for her, she refuses at all costs. I have a very old TV, but she refuses to let us buy a new one. Whenever I think about how my mother-in-law has helped us so much, I feel deeply moved.
When I took off the comforter and saw the little words my mother-in-law had written on it, I immediately cried. I feel sorry for my mother-in-law. Before she passed away, we not only did not help her have a good life, on the contrary, we made her worry more. I don't think I'm a filial son."
Ms. Huang then shared her story on social media. She confided that she will never give up the old quilt her mother-in-law used to cover all her life, but will keep it as a souvenir to always remember her mother-in-law.
Chinese netizens were equally moved when they heard about Ms. Huang's story, saying that the quilt was a heirloom "treasure" that should be carefully preserved and passed down from generation to generation as a reminder. descendants of the great sacrifice of the creator.
You are reading the article
Cleaning up for the late mother-in-law, the daughter-in-law burst into tears when she opened the old quilt

at
Blogtuan.info
– Source:
Eva.vn
– Read the original article
here