Giải trí
Clip: The young man "stops his heart" when the orangutan grabs his leg-Young man
A viral clip shows a zoo visitor being grabbed by an orangutan's leg and won't let go.
In the clip filmed at Kasang Kulim Zoo in Riau, Indonesia, a tourist gets too close to an orangutan named Tina and it grabs his leg. According to a local news agency, the young man, named Hasan Arifin (19 years old), climbed over a fence without having to try to get close to the orangutan to be able to record a video.
Hasan Arifin ignored signs warning not to get too close to the animal and climbed over the cement fence. The zoo's curator also believes Hasan Arifin kicked the orangutan, who he says is usually docile, before cameras started rolling.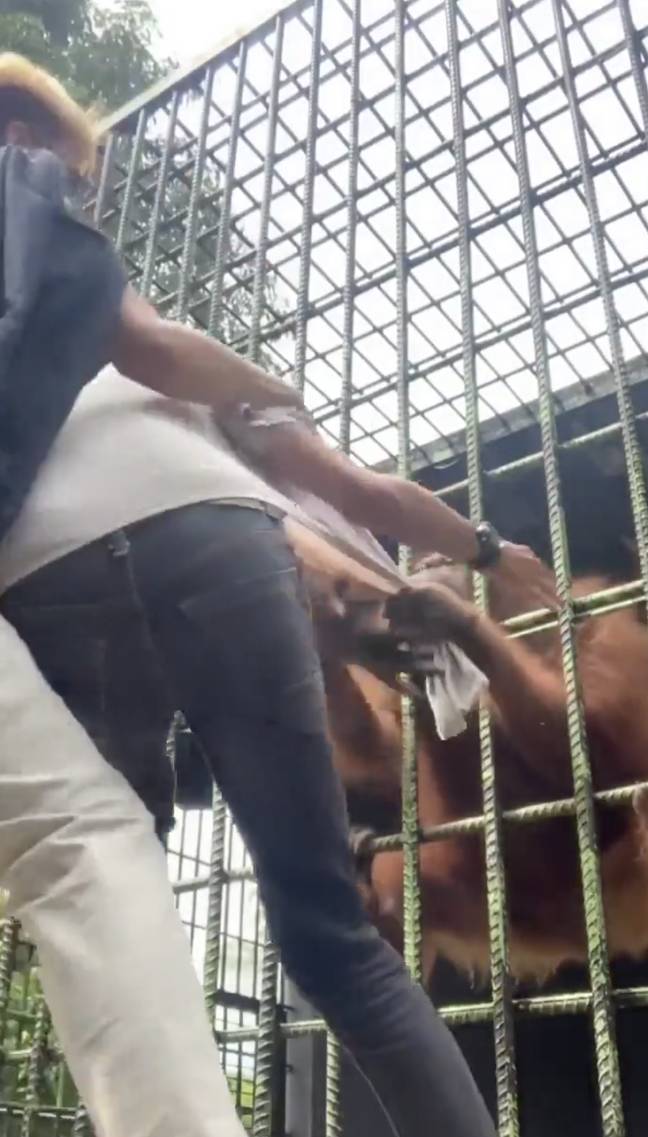 Kasang Kulim Zookeeper Desrizal told Riau Saura: "What happened Monday afternoon, visitors jumped on the railing of the orangutan cage to take a video without the permission of the officer. The tourist broke the rules by jumping over the railing and kicking the orangutan."
But his rule violation quickly led to consequences when the orangutan leaned forward and grabbed his t-shirt. Tina refused to let go of the young man's hand despite the struggle between the two sides. The orangutan then decided to drop the t-shirt and grab Arifin's leg instead. Tina managed to grab his leg kindly, with both hands, and didn't seem to be in a hurry to let go.
Towards the end of the clip, Tina shows off her incredible strength as she rotates the man's leg at a 90-degree angle as he flips over on his side to avoid breaking. Although the clip ends with Arifin still very firmly in Tina's hand – a longer video shows him finally breaking free.
Fortunately, neither of them were injured in the incident and Arifin learned a valuable lesson about following the rules when it comes to wildlife. Arifin later apologized for breaking the zoo's rules, saying: "I apologize to Kasang Kulim Zoo for crossing the fence and I'm sorry for the viral video."
You are reading the article
Clip: The young man "stops his heart" when the orangutan grabs his leg-Young man

at
Blogtuan.info
– Source:
24h.com.vn
– Read the original article
here