From someone who has experienced a broken marriage, Cuong Dola is now a full-fledged father with 2 "full and boring" children and a happy home with beautiful Dam Thu Trang. Following the personal page of the mountain town businessman, it can be seen that he is often happy to "show off" about his family as well as the warm scene with his children.
Recently, Cuong Do posted a very cute clip of three father and son playing in bed. In it, Cuong Do hugged his daughter Suchin, helping her dance on the bed. Meanwhile, Subeo extremely coordinated with his sister, enthusiastically jumping higher, making Suchin amused. Before the dynamism of two children, husband Dam Thu Trang must exclaim: "Super naughty".
The clip of father and son Cuong Do is super cute.
Cuong Do himself is also very excited, often encouraging his daughter: "Ay da, ey da". Suchin is full of energy, smiling to the fullest, making the whole family happy. Both Subeo and Suchin are huge in the new clip. In particular, the two Cuong Dollar children inherit the same gene of long legs as their mothers, Ho Ngoc Ha and Dam Thu Trang, so they have outstanding height. The eldest son of Cuong Dola is about to enter puberty, so he "pull out" quickly. Although she did not appear in the clip, Dam Thu Trang still enthusiastically joked with the father and son. She is the one who recorded the clip, emitting laughter and laughter, in harmony with the bustling atmosphere of the family.
Baby Suchin jumped up and down like crazy.
On the other hand, the whole family was gathered in the room in Subeo. On the bed is a picture of Subeo taken with Cuong Do at the wedding of his father and stepmother Dam Thu Trang. The picture quickly attracted the attention of the online community. Someone suggested, Cuong Doa should change the picture to a new one, including his daughter Suchin. In fact, Cuong Dola's family took a lot of family photos together, and probably hung them in other corners of the villa.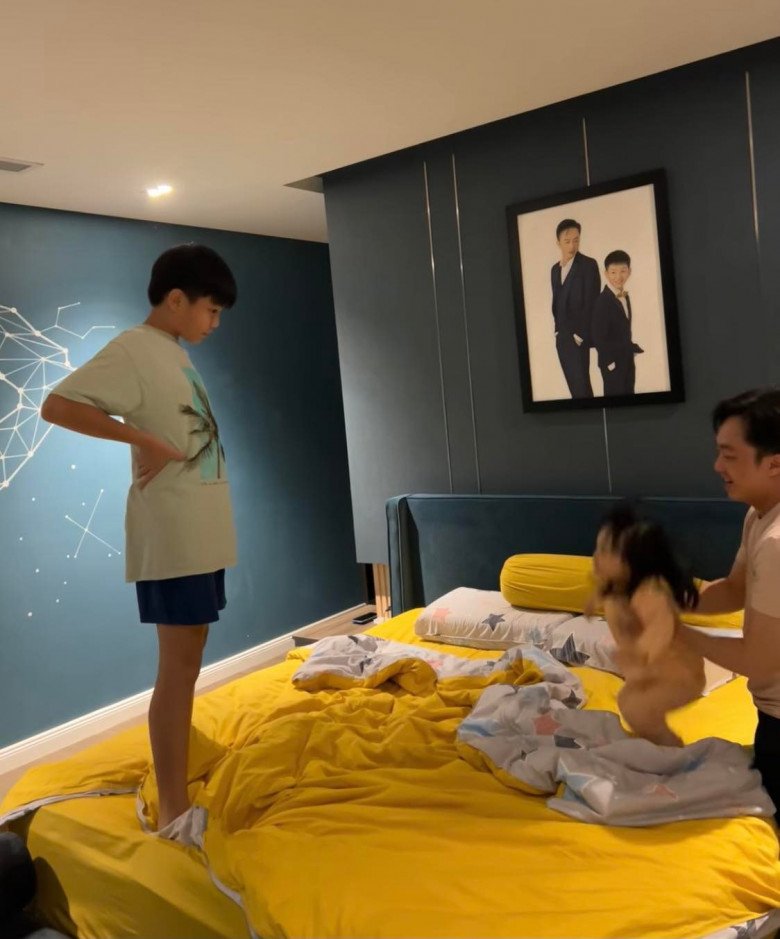 On the nightstand is a picture of Subeo taken with Cuong Dola.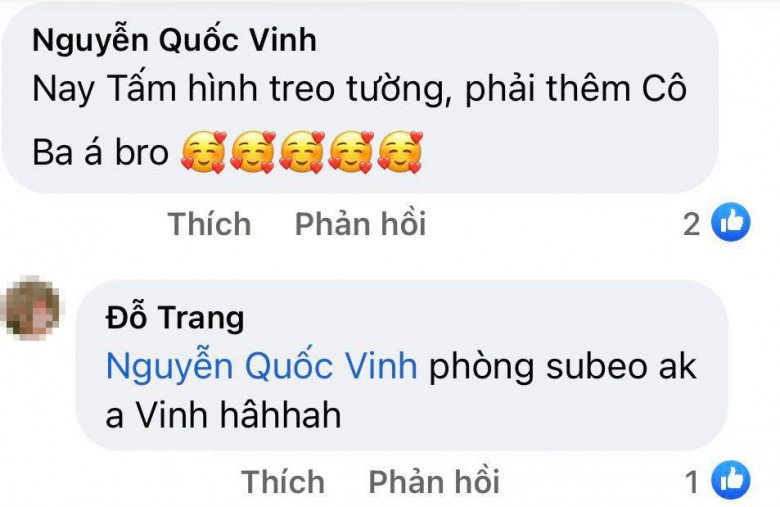 Someone suggested that the mountain town businessman should hang a picture to have the youngest girl.
Cuong Dola's family love has always received the attention of the public, especially the half-brother relationship. In fact, Subeo and Suchin are extremely close, the two not only joke around, but Subeo also repeatedly expressed care for his sister. Subeo's personality is partly formed from the parent's upbringing and psychology.
Create opportunities for brothers to get close
Ever since Suchin was in the womb, Subeo had been acquainted with his sister. Dam Thu Trang confided: "Since knowing that Trang and Cuong will get married, Subeo has calculated that after the wedding 9 months and 10 days, she will have a brother or a sister. And when at the time of the routine antenatal checkup, Subeo was very eager to go. check with Trang's mother so that she can see the baby and talk to her, draw pictures for her, always ask: "What's the size of the baby in the mother's womb now?"… Previously, when I came home from school, I was looking for something. her parents but now the first person Subeo looked for was Suchin's sister, who came into the room to find her, hold her and wish the baby good night… That's the happiness of a mother like Trang, happy because she is a boy. good children, affectionate, selfless and most of the time ahead of time".
When Dam Thu Trang "gave birth", Subeo immediately went to the hospital to visit her, and was instructed by her father how to hold her. Subeo was involved in Suchin's care. Thanks to that, the two brothers had a strong bond since childhood.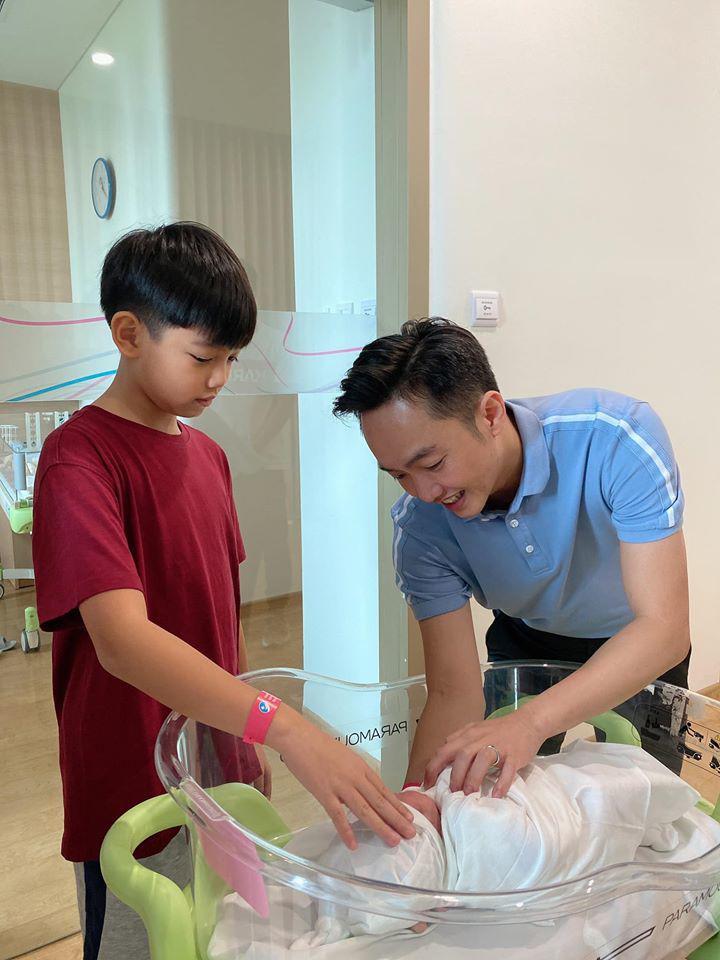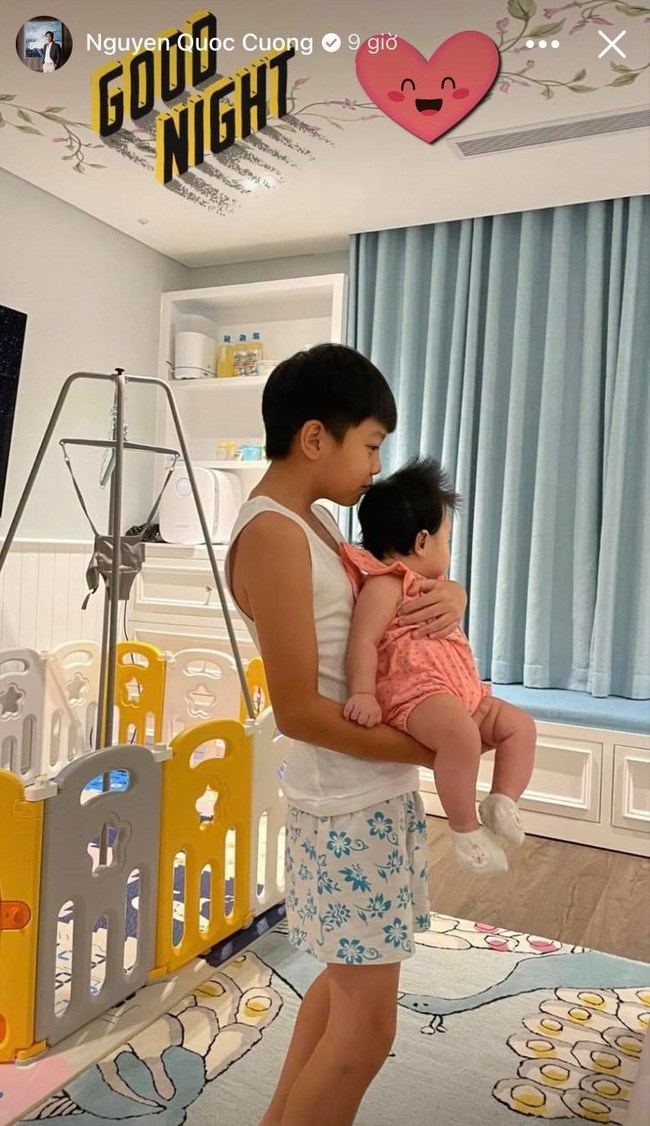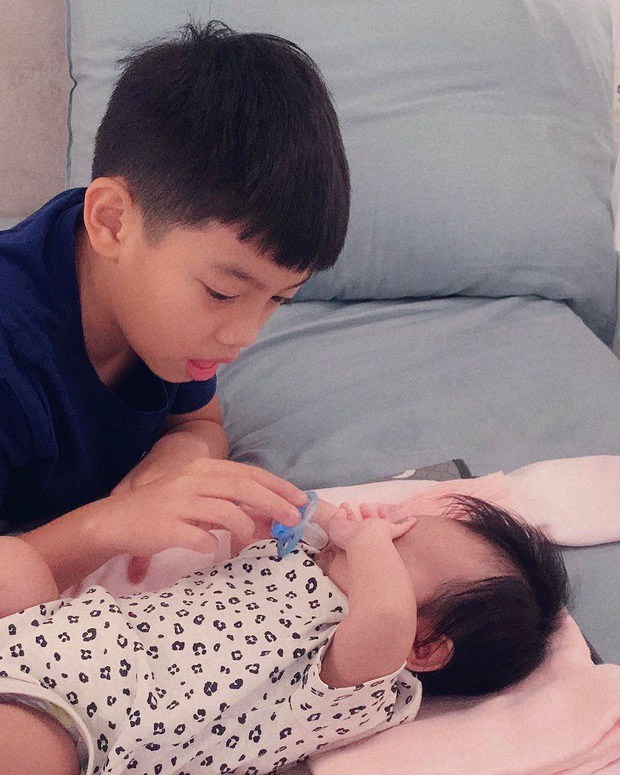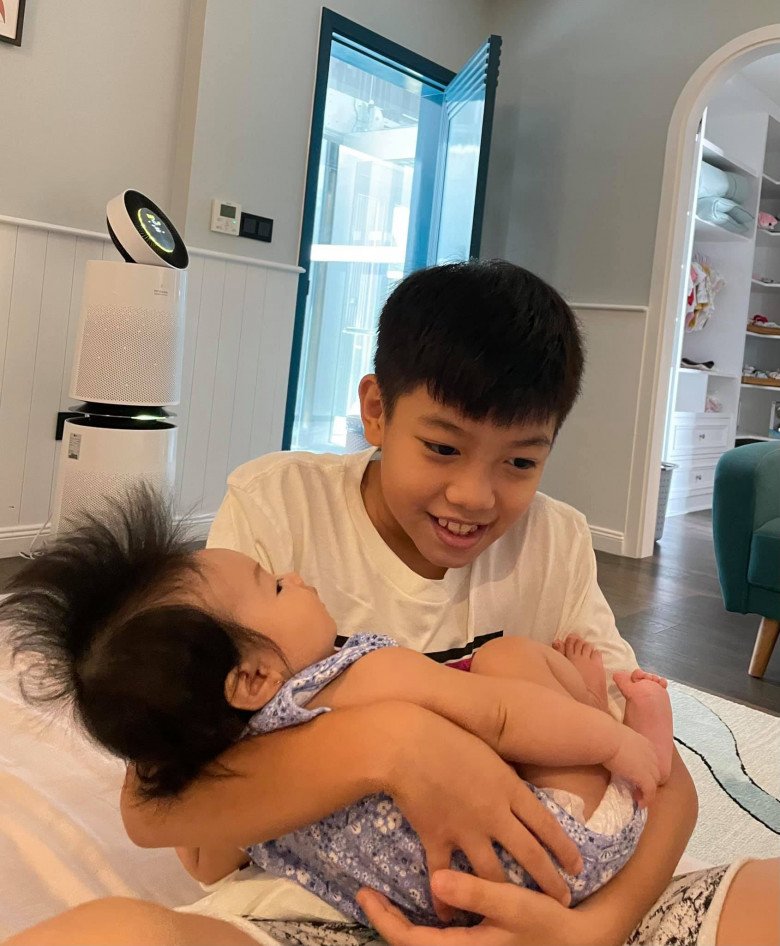 Fair treatment and affection for 2 children
If there is a dispute between brothers and sisters in the family, most of it comes from jealousy. For that reason, in order for their children to love each other, parents need to be delicate in their behavior, especially treating them fairly. Thanks to that, the older child will not feel "outside" when there is a younger child. Cuong Do La and Dam Thu Trang do very well in this role.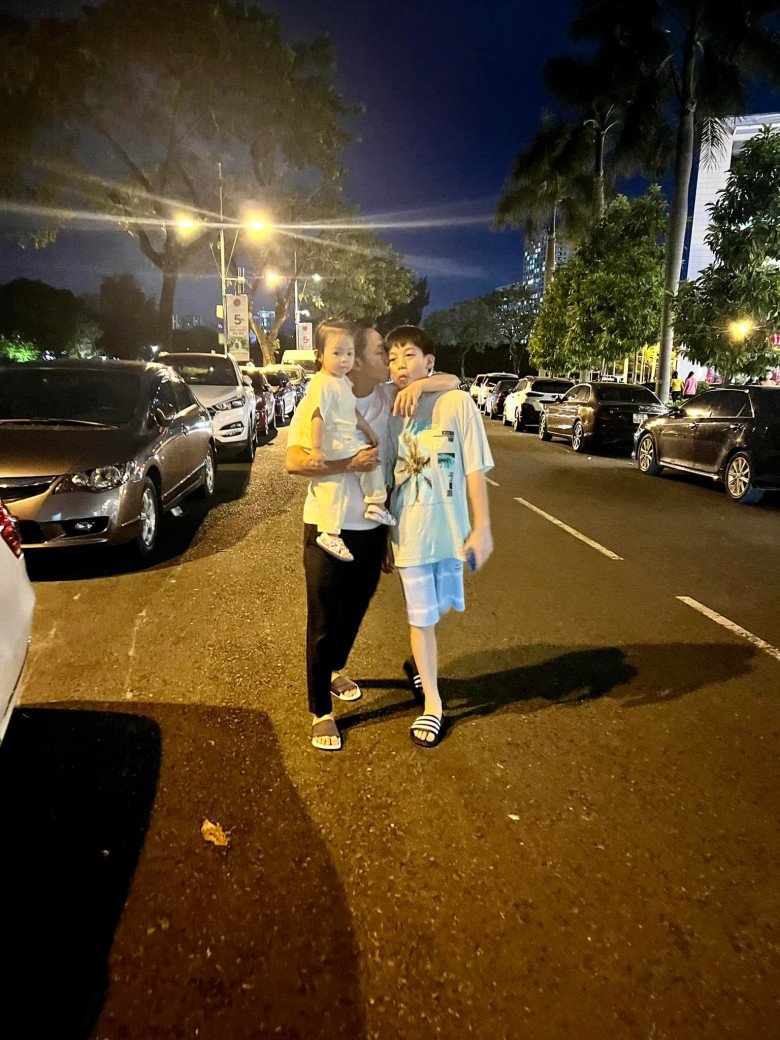 Since his little daughter was born, the mountain town businessman still spends time with his son, such as going to parent meetings, watching him compete or taking him out, etc. The two are extremely close. Subeo even wrote an emotional essay describing his father. Dam Thu Trang in the role of stepmother, always tenderly cares for Subeo. She often posts pictures of Subeo – Suchin, cutting her husband's hair for her stepchild, and organizing a surprise birthday party for her eldest son.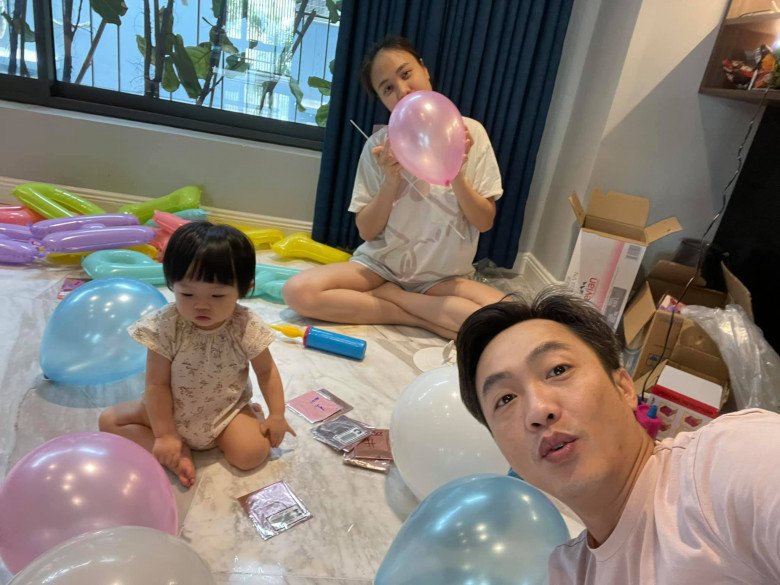 The whole family prepares for Subeo's birthday.
You are reading the article
Cuong Do posted a clip of 2 children messing around in bed, a picture of Subeo taken with his father to receive comments

at
Blogtuan.info
– Source:
Eva.vn
– Read the original article
here