Văn hóa - Giải trí
Director Lai Bac Hai Dang and his wife rarely reunited with Diem Quynh and Anh Tuan
The premiere of the films "Trinh Cong Son", "Em and Trinh" last night had the presence of many familiar faces of artists from the North such as: Editor Diem Quynh, MC Anh Tuan, director Lai Bac Hai Dang and wife, director Nguyen Hoang Diep, Miss Duong Thuy Linh, former model Thuy Hang, MC Thai Dung, Duc Bao, actor Binh An…
Director Lai Bac Hai Dang and his wife reunited with editors Diem Quynh, Anh Tuan and former model Thuy Hang. Photo: GLX.
In the cozy atmosphere of the press conference in Hanoi, Ms. Trinh Vinh Trinh – musician Trinh Cong Son's sister shared: "My brother Son is a very lucky person. He was loved and welcomed by Hanoi. received when he was in 1975. So I also hope that the film Em and Trinh will also be loved by Hanoi audiences as they used to love Mr. Son."
Director Nguyen Hoang Diep, actor Binh An and Miss Duong Thuy Linh check in at the film premiere. Photo: GLX.
Director Lai Bac Hai Dang and his wife, Editorial Board Diem Quynh, Anh Tuan
Meritorious Artist Tran Luc immediately affirmed that his generation, his predecessors or the young generation in Hanoi now all love Trinh Cong Son, of which the romantic street named Trinh Cong Son Walking Street is an example. for that love of Hanoians for him. Therefore, the production team expects that both the 95-minute "Trinh Cong Son" and 136-minute "Em and Trinh" versions will be supported by the city's audience "the season of milk flowers returns to the fragrant wind". .
Artist Tran Luc playing the role of Trinh Cong Don in middle age last night was also surrounded by fans at check-in points. Photo: GLX.
Before the end of the red carpet event, Avin Lu – who took on the role of Trinh Cong Son in his youth – was suddenly asked what he would say to "Khanh Ly" Bui Lan Huong, a girl originally from Hanoi.
He immediately chose the sentence that Trinh Cong Son said when he invited Le Mai to sing with him: "I am looking for someone whose voice and soul are in tune with my compositions".
In response to that emotional invitation, "Le Mai" Bui Lan Huong immediately sang vegetarian "Look at the autumns" extremely painfully, this is the first song that Son taught Mai to sing in the first days of meeting. .
The time travel in Hanoi also took place in the same way in Ho Chi Minh City. In Ho Chi Minh City, when guests came to the press conference, they were nervous until the last minute right before the movie show time to know which version of the movie they would film. After immersing in the space of the memory domain, many viewers had emotional shares about two movies about Trinh Cong Son.
Talking about the movie version of "Trinh Cong Son", designer Le K Chi said that he enjoyed every moment in the film: "The scene is beautiful, but its beauty is very blended with Trinh's music, with the spirit in the lyrics. Perhaps because I liked listening to Trinh and listened to it a lot during my youth years, every piece of music played in the film, along with each beautiful and lyrical frame, touched emotions very strongly, evocatively. remember the old vibrations".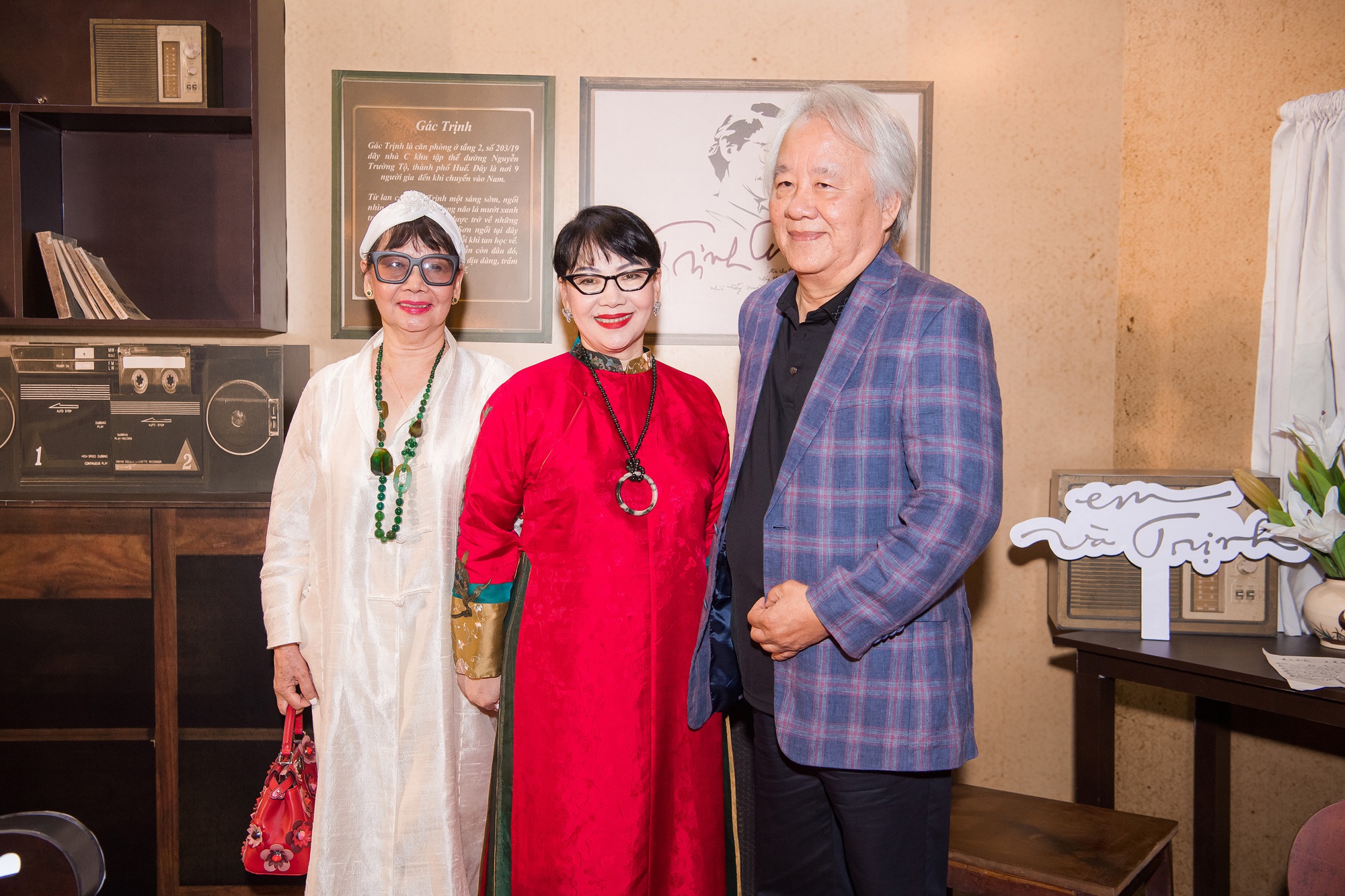 MC Ta Nguyen Bao said that both versions of "Trinh Cong Son" and "Em and Trinh" have highlighted the musical and personality elements of Trinh Cong Son. At the same time, the film is about his friends, an aspect that is rarely mentioned but often refers to love more. It is a generation devoted to art and ideals.
Films Trinh Cong Son (95 minutes) and Em and Trinh (136 minutes) have special screenings nationwide from 19:00 on June 10, 2022 and all day on June 11, 2022 before the official release on the 17th. June 2022.
You are reading the article
Director Lai Bac Hai Dang and his wife rarely reunited with Diem Quynh and Anh Tuan

at
Blogtuan.info
– Source:
danviet.vn
– Read the original article
here