There are only 3 days left until the final of Miss Global 2022, which is expected to take place on June 11 in Bali, Indonesia. These days, the beautiful Doan Hong Trang and the contestants have had a lot of activities and schedules within the framework of the contest.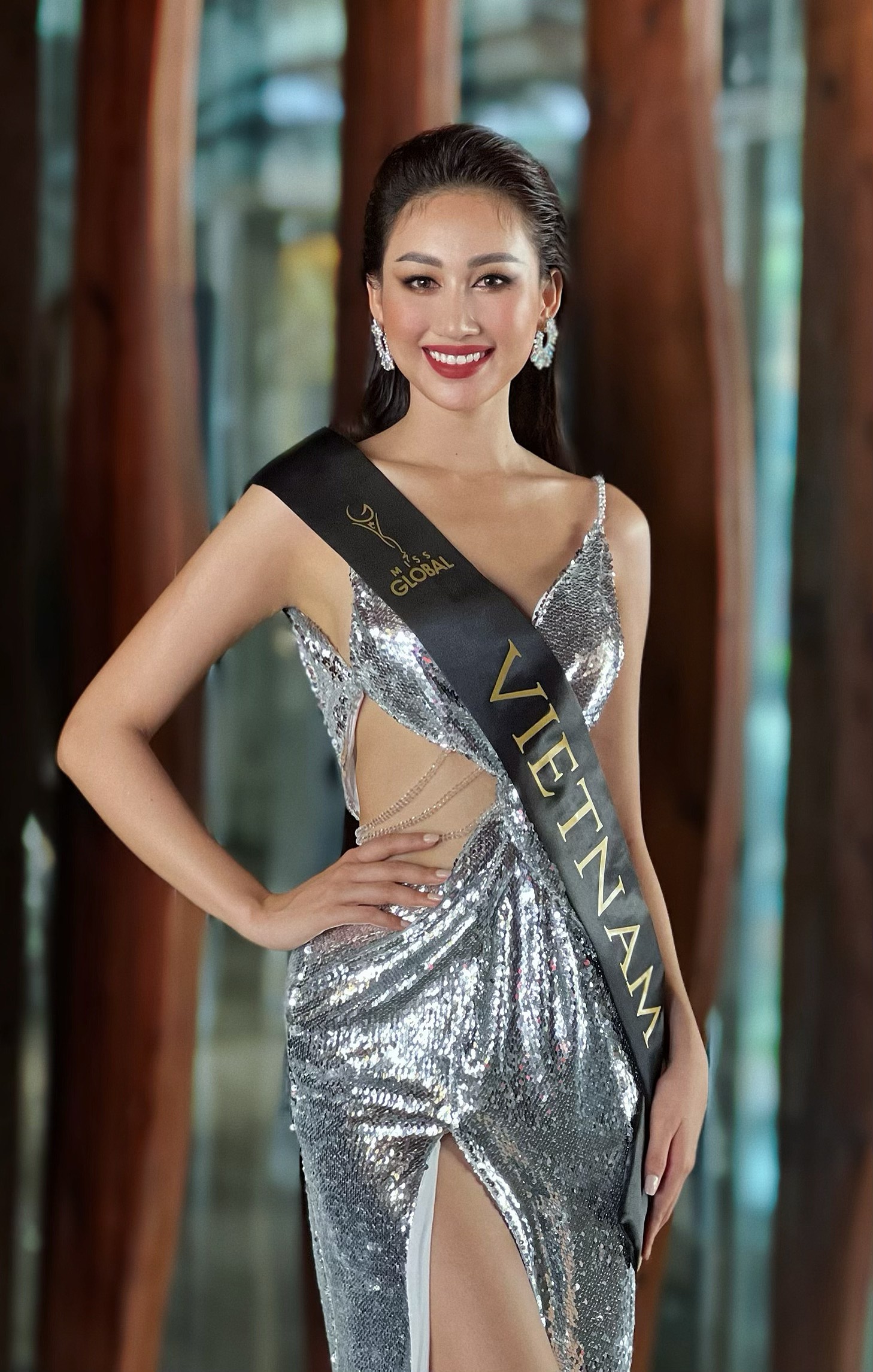 Doan Hong Trang shared, every day she and the contestants get up at 6 a.m. to participate in outdoor exercise and yoga sessions, then attend events such as press conferences, photo shoots of evening gowns, and more. Ethnicity, bikini…, attend sessions to visit famous landmarks and monuments of Bali, experience local culture, practice actively to prepare for the final night.
Doan Hong Trang said, the interesting thing that she finds herself "gaining" a lot when participating in Miss Global 2022 is how the organizers focus on increasing the cohesion between the contestants. In practice sessions like Yoga, the organizers always ask the contestants to have moments of light meditation and hold hands to feel more about each other and bond more.
Doan Hong Trang wears traditional Indonesian costumes and visits the monument with international friends. Photo: NVCC.
"I had great days at Miss Global 2022. We come together with a spirit of friendliness, sociability and solidarity so there is always a lot of laughter in the contest. Every time we move together on the roads During the bus ride, we all sang, danced, danced… very close.
We always take the time to visit each other, introduce ourselves and our country. I have had many opportunities to introduce the beautiful and culturally rich Vietnam. I have made many good friends after this journey. It was definitely the first "win" and a great victory when I came to Miss Global 2022 "- Doan Hong Trang shared.
With a friendly and sociable personality, the Vietnamese representative also received a lot of love from the contestants. With the spirit of coming to Miss Global 2022 not only to win glory but also to experience and learn… Doan Hong Trang has always been willing to support the contestants in the contest's activities. Many contestants wrote special praises for Doan Hong Trang, which touched her very much.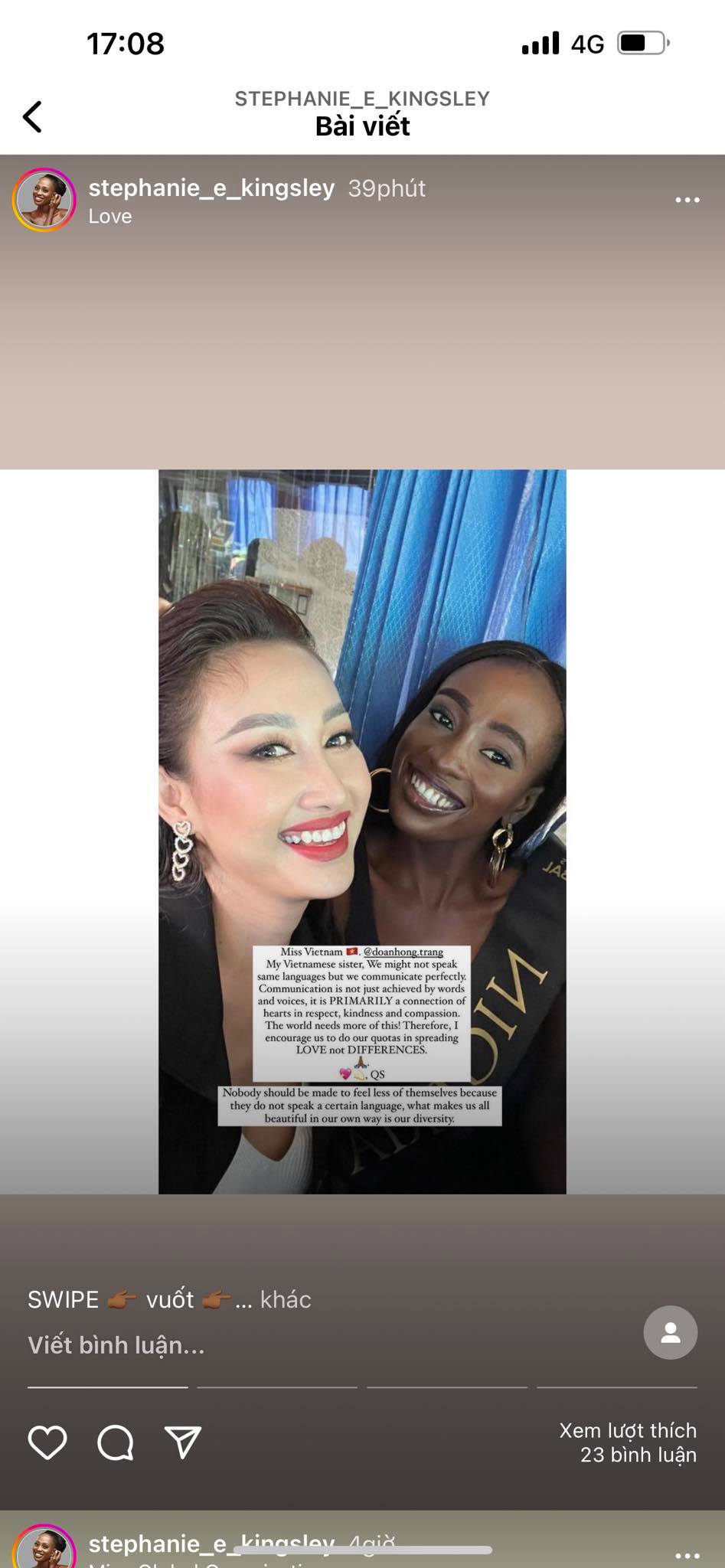 The Nigerian contestant posted a photo of herself taken with Doan Hong Trang on her personal page story with sentimental lines: "My Vietnamese sister. We may not speak the same language, but we communicate. Perfect. Communication is not only achieved by words and voices, but it is a connection from hearts."
During the competition, seeing that the Nigerian contestant did not have a dress to wear at the press conference, Doan Hong Trang was ready to lend her a beautiful dress. Being in a highly competitive contest like Miss pageant, this act made the representative of Nigeria extremely touched and impressed.
Not only the Nigerian representative, the representative from Kazakhstan also clicked on the phone in the… Google translate section to send it to Doan Hong Trang when the two were sitting at lunch together to "explore" themselves after being warmed by the friendliness and warmth. Conquered by Doan Hong Trang.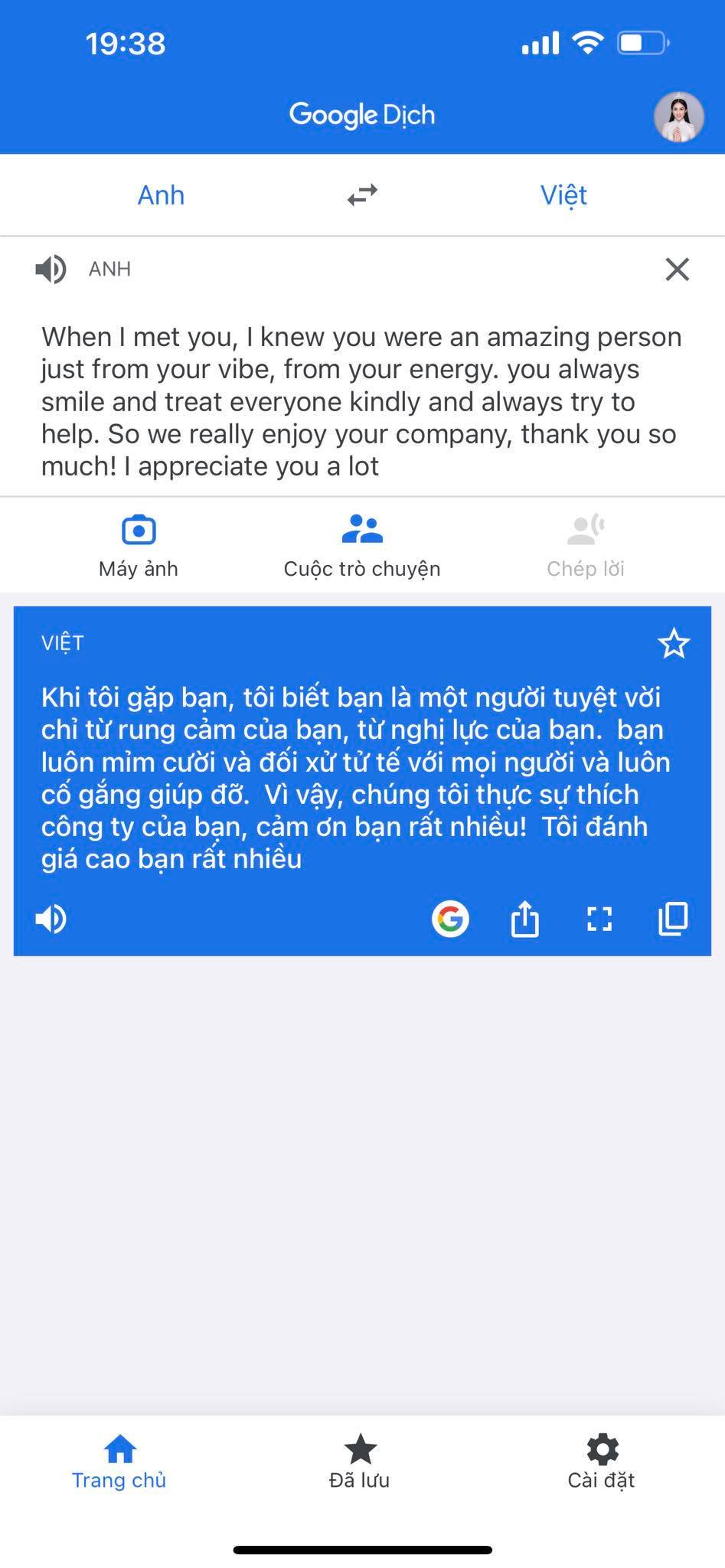 "When I met you, I knew you were a wonderful person, from the things you bring, from your energy. You always smile and treat people kindly and always try to help" – representative of Kazakhstan wrote so. Doan Hong Trang said that she did not have any special help for the representative of Kazakhstan, but the representative of Kazakhstan always said that he was very impressed with Doan Hong Trang's daily actions, so she wanted to write a few words.
Doan Hong Trang made an impression when she helped Miss Global 2022 contestant cut her skirt
In the contest, Doan Hong Trang is always willing to share what she can with the contestants, when the Singapore representative is sick, she also pours all the medicine she is about to bring to support and take care of … making Singaporean beauty very appreciate.
The friendliness and warmth of Doan Hong Trang not only helped her win the hearts of many candidates but also turned her into a "reluctant Vietnamese teacher". That is, many candidates insisted on Doan Hong Trang teaching Vietnamese with great interest. Seeing international friends speak Vietnamese, Doan Hong Trang is extremely happy and proud.
In the preliminary night that took place last night in Bali, Doan Hong Trang also had an extremely daring and… risky job for a contestant. And have received the endless thanks from this representative. It was before the preliminary performance, this contestant was in big trouble when the prom dress was too long for her to move. The organizers sent someone to support her and fixed it back and forth several times, but it still didn't work.
Seeing this, Doan Hong Trang asked for help and dared to cut a line in the wrong part of the design so that the other contestant could walk. Thanks to this clever cut, the contestants were able to perform confidently and comfortably on stage. The reason Doan Hong Trang dared to boldly fix the dress for that contestant was because she was fortunate to know the sewing profession and because she saw everyone in difficulty, she wanted to help, so she did not hesitate. That is also the reason that the representative of Vietnam has won a lot of love from the contestants in the contest.
You are reading the article
Doan Hong Trang cut the dress to help Miss Global 2022 contestant

at
Blogtuan.info
– Source:
danviet.vn
– Read the original article
here