Department of Defense Russia announced on June 7 that it had opened a land corridor to the Crimean peninsula, allowing civilians and goods to pass through the territory. Eastern Ukraine currently controlled by Moscow.
According to Defense Minister Sergei Shoigu, the country's military has cooperated with the Russian Railway Company to restore 1,200 km of railway tracks and open a road to allow traffic connections between Russia and the Donbass region in eastern Ukraine. and Crimea – the peninsula that Russia annexed in 2014. Water supply to the peninsula through the North Crimean Canal has also resumed.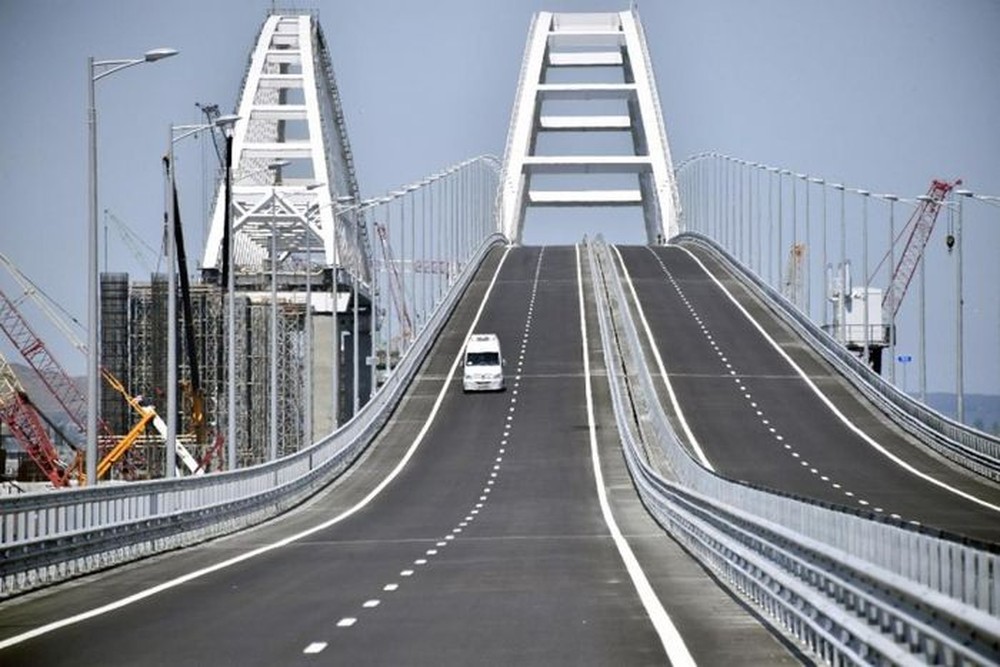 The Crimean Bridge crosses the Kerch Strait, connecting southern Russia with the Crimean peninsula. Photo: AFP
Strengthen long-term presence in the region
This land corridor allows Russia to begin shipping goods to Mariupol, Berdiansk and Kherson, the southeastern port cities of Ukraine currently controlled by Russia. Shoigu said that the ports of Mariupol and Berdiansk are operating normally and ready to ship grain, in the context of Russia's accusations by the West that the blockade of Ukraine's ports has caused a global food crisis.
Shoigu also pledged "comprehensive transportation" to and from Russia to the territory controlled by Moscow in Kherson and to Crimea after hundreds of kilometers of roads were repaired.
According to the Guardian, the establishment of a land corridor to Crimea comes as Russia is seeking deeper control over many areas in southern Ukraine, including the use of the ruble, changing mobile communications. to Russian networks and issue Russian passports.
Last month, Russian President Vladimir Putin signed a decree simplifying the procedure for issuing Russian passports to residents of the Zaporizhzhia and Kherson regions in southern Ukraine. In 2019, Russia took a similar measure against the people of the self-proclaimed peoples' republics of Donetsk and Lugansk in eastern Ukraine. Before Russia launched a military operation in Ukraine on February 24, about 800,000 people in the Donbass region were given Russian documents.
Goal accomplished?
Mathieu Boulègue, an expert on Russia's military and policy at Chatham House, a think-tank think tank, said that Russia's statement about establishing a land corridor to Crimea was aimed at public opinion surrounding the military operation. special in Ukraine.
"Establishing a land corridor to Crimea is a goal that Russia has emphasized in the past, but we should not pay too much attention to this phrase. Those are areas that Russia controls. Militarily, It is entirely reasonable for the Kremlin to want to control the southern region of Ukraine. Establishing a land corridor is considered a complete task because Russia cannot control this region politically, "said Mr. Boulègue.
Boulègue argues that Russia's control is being exercised through changes to the curriculum in schools, the introduction of the ruble and new political structures, and a household strategy. alongside military and security efforts. The establishment of a land corridor to Crimea is seen as "mission accomplished".
"It's an important signal, given the fact that it was Defense Minister Shoigu who made the announcement. To the public, it shows that everything is going according to plan," Mr. Boulègue said.
Minister Shoigu's announcement marks Russia's official establishment of a land corridor to Crimea, but experts say this has become a reality since the fall of the port city of Mariupol.
Two weeks ago, Professor Michael Clarke at King's College London told Sky News that it is a reality for Russia to establish a land corridor to Crimea.
"When Russian forces took control of Mariupol, Moscow got the land corridor they wanted. This corridor runs from the Donbass through Crimea and a little further to the west. Ukraine will need to regain this corridor if it is not. they really want to push back the Russian forces in the current war," Mr. Clarke assessed.
However, whether Ukraine can regain the southern region or not is still unclear. Despite launching a counter-offensive around Kherson, so far Kiev has made very limited progress.
You are reading the article
Establishing a land corridor to Crimea, has Russia accomplished its goal?

at
Blogtuan.info
– Source:
Soha.vn
– Read the original article
here