Kinh doanh
World
Expensive money to spend, buy a villa of billions by raising weasel
The civet, also known as the civet, the civet, or the civet, is a wild animal. Due to its high economic value, in recent years, many households across the country have raised this animal to develop the family economy. Huynh Thanh Hung's household (42 years old) in Tan Thanh commune, Ca Mau city, Ca Mau province is also a similar household.
Sharing in Nguoi Lao Newspaper, he said that because he comes from a purely agricultural family, he has a special passion for animal husbandry. He has invested in raising fish and raising wild boar, but this economic model does not bring high economic efficiency.
Since 2016, he has been in love with raising ferrets. In 2019, he started investing money to build a barn to raise ferrets. The mink has a long slender body, short dark gray hair and has a color cavity on the body, along the spine there are dark gray stripes running from the shoulder down to the buttocks, the head. pointed muzzleshort legs, long tail with 7 white rings interspersed with 7 black rings.
At Mr. Hung's farm, each cage is only for one animal to sleep, with space to exercise. The barn is built in the style of a stilt house, below the cage is more perch, catfish… His weasel farm has more than 140 animals, of which 40 are in the breeding period.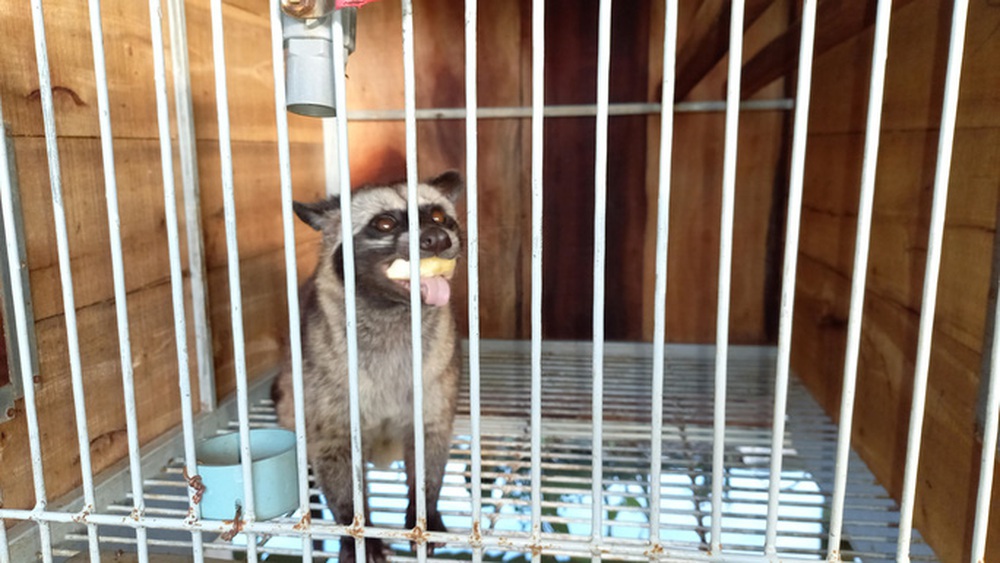 Weasel in the farm of Mr. Hung. Photo: Workers.
Weasel is a species that likes cleanliness, does not like wet, smelly places. The cage should be sloped gently for easy drainage of urine. During the rearing process, the cages must be kept clean so that the ferrets do not get sick, the water must be changed regularly, and the cages are always clean, dry, airy, and protected from moisture.
Weasel has the characteristics of eating at night and sleeping during the day, so it is easy to raise with little time to care. The main meal of the mink should be done in the evening, breakfast is just a side dish. They usually eat around 7pm. Weasel's food focuses on ensuring nutrition, in which fruits must be fresh. Weasel likes to eat insects such as ants, termites, birds, mice or reptiles such as snakes, lizards and some types of papaya, ripe bananas, coffee… or rice.
According to Mr. Hung's calculations, because most of the mink food is available locally, the cost of raising it is very low. A weasel only costs 4,000 VND/2 meals. Farms with hundreds of animals per day only take about 3 hours to feed and clean the barn.
In the process of rearing, so that ferrets do not suffer from inflammatory diseases or diseases of the digestive tract, can let ferrets use more digestive enzymes.
"In mink farming, breed selection is considered the most important factor. Because, when there is quality seed plus experience in care and breeding, in a short time, the owner can multiply the number of breeding animals. In my family, the male ferret weighs more than 6 kg, the female is 4-5 kg. With such a weight, it will produce quality cubs. In the case of selling mink meat, the price will be high because it is the best. over 2.5 kg/head)" – Mr. Hung shared.
With breeding mink, when raising mink from 8 to 12 months, weasel will start to reproduce. A mother ferret will give birth to 2 litters a year, with 3-4 pups each year. Currently on the market, ferrets about 3 months old or older cost from 10 million VND/pair, depending on size and weight. Commercial mink of 2.5 kg or more are sold for 1.4-1.5 million VND/kg.
With the large number of mink being raised, more than 200 mink breeds are exported to the market. According to Mr. Hung's calculations, his family earns 800 million VND on average each year.
https://soha.vn/tien-tieu-xung-xinh-tau-biet-thu-tien-ty-nho-nuoi-chon-huong-20220610134126878.htm
You are reading the article
Expensive money to spend, buy a villa of billions by raising weasel

at
Blogtuan.info
– Source:
Soha.vn
– Read the original article
here