Business
"Fighting" two telecommunications giants VinaPhone and FPT Telecom in the race for profits
Considered as the "trump card" of the two leading technology – telecommunications groups in the country, VNPT and FPT, VNPT VinaPhone and FPT Telecom have always been two close competitors in terms of market share in the fixed telecommunications segment. since its establishment until now.
But despite being born at the same time (VinaPhone – 1996, FPT Telecom – 1997), having the same age, the business results of the two carriers with the distinctive blue and orange colors are clearly different.
According to the published financial report for 2021, while FPT Telecom achieved revenue of 12,686 billion VND (up 10.6% compared to 2020), VNPT VinaPhone's revenue was more than 3 times higher with 41,500 billion VND. Before that, the time when the revenue gap was most clearly shown was in 2016, when VinaPhone reached more than VND 37,000 billion, FPT Telecom was only about 1/6.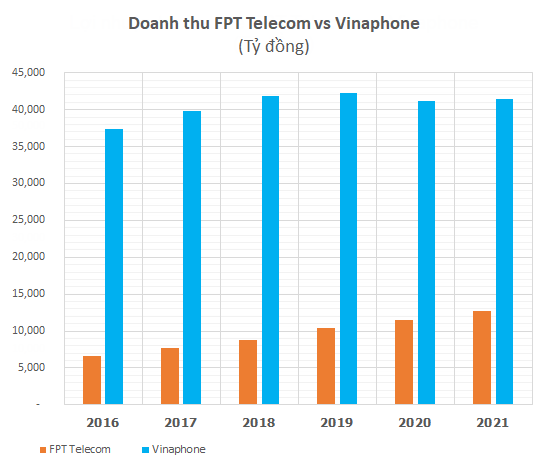 Comparing in the 6-year period, counting from the milestone 2016 – the first year Vinaphone fully operated under the form of independent accounting for the whole year after being restructured from VNPT – by the end of 2021, the total revenue of Vinaphone FPT Telecom is only 1/4 of VNPT VinaPhone's revenue, equivalent to the average annual operating rate of FPT Telecom is only 1 quarter of its main competitor.
However, in contrast to revenue, in terms of profit, FPT Telecom was only surpassed by VNPT VinaPhone in the two years 2017 – 2018, but the gap is not large, and in other years FPT Telecom has earned a higher profit than VinaPhone. .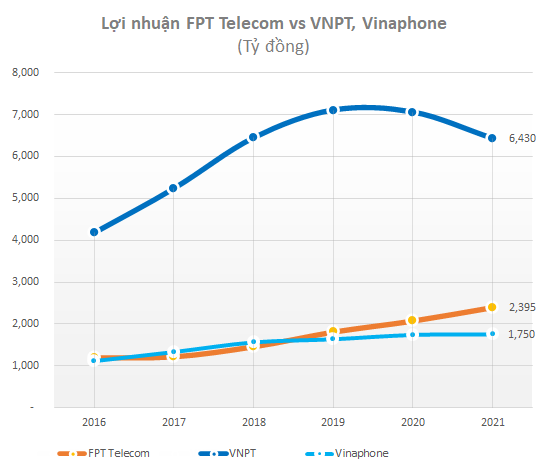 In 2021, both units recorded the highest pre-tax profit ever. Specifically, VinaPhone reached VND 1,750 billion, FPT Telecom reached a higher level of 1.4 times with VND 2,395 billion, fulfilling the profit target assigned for the whole year.
From the above figures, it can be seen that VinaPhone's profit-to-revenue ratio in 2021 is only 4.2% and is quite low in the telecommunications industry in general. Meanwhile, FPT Telecom's profit margin is around 18.9%, reflecting business performance far exceeding VinaPhone.
On average, VinaPhone needs 23.7 dong of revenue to generate 1 dong of profit, while FPT Telecom only needs about 5.3 dong of revenue to generate 1 dong of profit.
This difference is because Vinaphone is the unit that deals in mobile telecommunications services based on the telecommunications infrastructure of the parent company VNPT and has to pay for this.
In fact, in the revenue of nearly 37,000 billion VND of parent company VNPT, up to 31,100 billion VND is revenue from providing services for two subsidiaries Vinaphone and VNPT-Media; That is, most of Vinaphone's input costs are purchased from the parent company. In other words, most of VNPT's telecommunications business profit mainly belongs to the parent company, Vinaphone only directly contributes a part.
Meanwhile, FPT Telecom's business results reflect the entire telecommunications value chain along with the consolidation of business results of FPT Online, which has a profit of about 300 billion per year.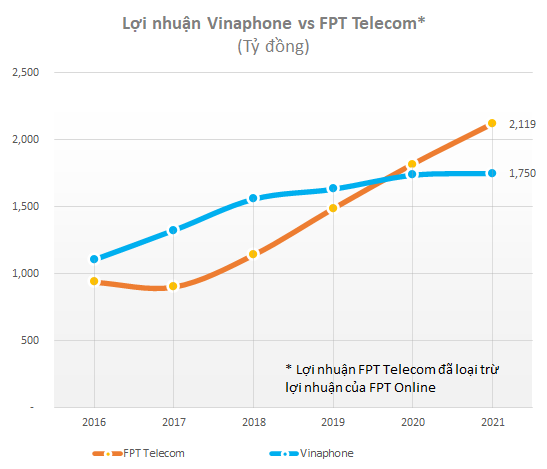 Besides, like FPT Telecom, VinaPhone also provides fixed internet services with wired, television, IPTV…
In general, when VinaPhone's business results were almost flat, FPT Telecom saw a clear growth and change. In 2022, FPT Telecom continues to target revenue of VND 14,560 billion and profit before tax of VND 2,812 billion, up 14.8% and 17.4% respectively over the previous year. With the results achieved in the first quarter, FPT Telecom has fulfilled 24% of the revenue target and 25% of the full year profit target.
https://cafef.vn/so-gang-hai-ong-lon-vien-thong-vinaphone-va-fpt-telecom-trong-cuoc-dua-loi-nhuan-20220607164437845.chn
You are reading the article
"Fighting" two telecommunications giants VinaPhone and FPT Telecom in the race for profits

at
Blogtuan.info
– Source:
cafebiz.vn
– Read the original article
here