Life Style
Xã Hội
GrabCar has skyrocketed prices, customers are "shocked" when booking at rush hour
Along with the increasing travel demand of people, the application of car booking technology is increasingly blooming, especially in big cities. In many applications that are springing up like mushrooms at the moment such as Be, Gojek…, GrabCar can be considered as a "pioneer" and occupies a large market share in this fertile market.
However, in recent times, GrabCar has received many negative feedbacks from consumers.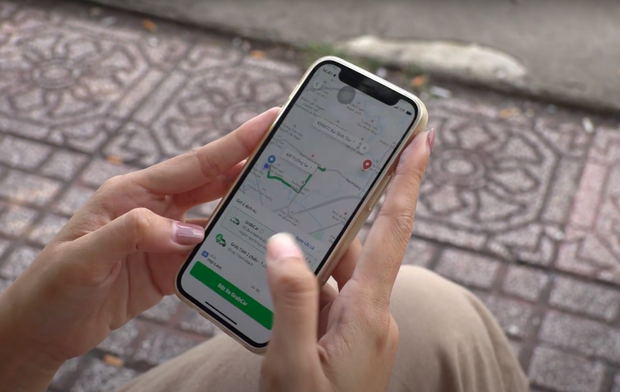 High fare, "red eyes" looking for drivers
In March 2022, Grab announced that it would adjust the rates of some services starting from March 10. Grab said This fare adjustment "will help offset a part of the driver's operating costs so that they have more income opportunities to cover their lives, and at the same time encourage partners to be active and serve users." better".
Accordingly, the announced price of GrabCar increases from VND 20,000 to VND 29,000 for the first 2km. And in the next kilometers increased from 9,000 VND to 10,000 VND.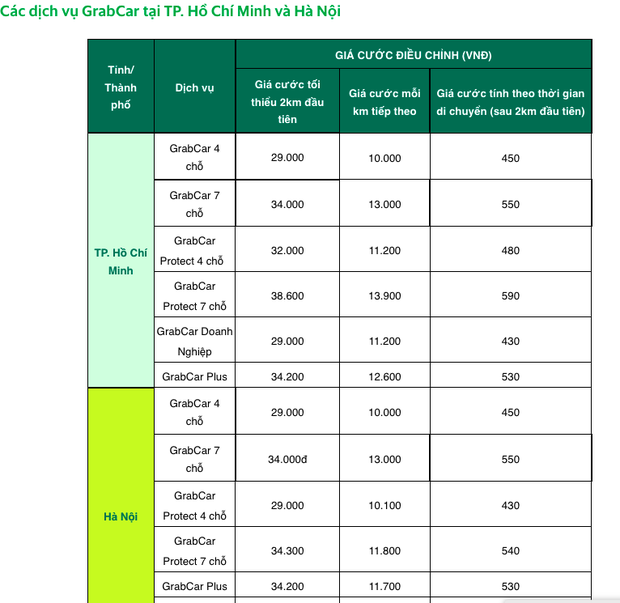 Notice of adjustment of service charges of Grab
However, in fact, even if it is not at peak hours, the situation of booking a car is still increasingly difficult and the fare is still high. On the Grab app, the words "high fare due to high demand" appear at any time of the day.
On the same 10km route, GrabCar price at the moment is usually VND 185,000 for a 4-seat car and VND 222,000 for a 7-seat car. But at peak hours, it is 204,000 VND for a 4-seat car and VND 244,000 for a 7-seat car.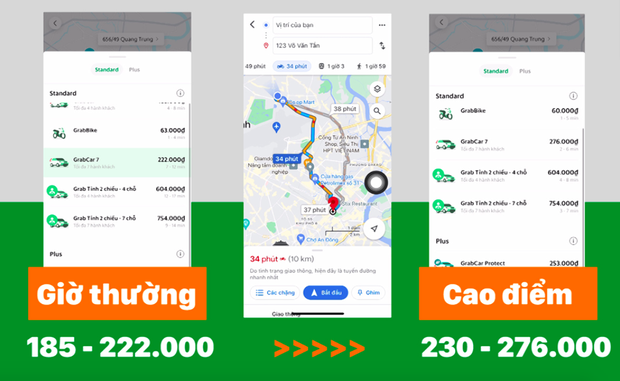 GrabCar prices soar during rush hour
It is the rapid increase in prices and high increases at peak hours that have made many customers quite frustrated in recent years.
Ms. Le Thanh My (living in Binh Thanh District, Ho Chi Minh City), a "real customer" of GrabCar said: "As a person with small children, I often use GrabCar service to move around and can clearly see that in the past time, Grab has increased its price quite quickly and high. With the same distance, but in recent times has increased. tens of thousands."
Similarly, Ms. Nguyen Thi My Hanh (Go Vap District) also told about her own experience when using this car booking application. She was quite surprised when the price of GrabCar recently increased by 2-3 times compared to the previous time:
"From my house in Go Vap to the hospital in Phu Nhuan, it ranges from 54,000 – 55,000 VND without promotion. If there is a promotion, it is only from 35,000 – 36,000 VND.
But recently, I also continue to go to that hospital to vaccinate my children, the price has increased to about 88,000 VND and even 101,000 – 102,000 VND for the hours from 9 to 10 am, an increase of 2-3 times. times compared to the previous day. This made me feel very shocked. Sometimes it is equal to the price of a traditional taxi, but no longer applies technology."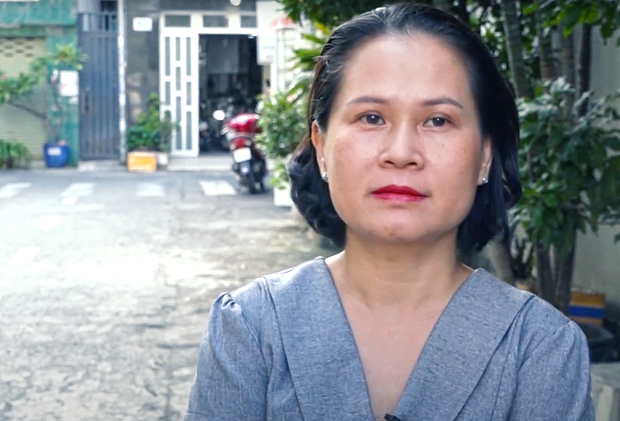 Le Thanh My shared about how difficult it is to order Grab technology cars recently
"Especially on rainy days, it is very difficult to book a car. For example, a few days ago, during a heavy rain, I took my children with me to the company, but when I returned, it took a long time to order but couldn't and the price of the car increased by about 3 times. The route is booked for 112,000 VND and when it comes back, the price is about 300,000 VND." – Ms. Thanh My shared.
Finding a driver is already difficult, but when it comes to contacting the driver, it's even more difficult because a rather useless feature on Grab is free calls through the app.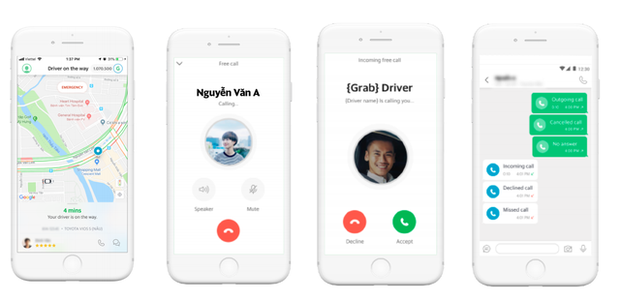 Do not show personal phone number when making free calls using the app
As a Grab user for many years, Ms. H shared about a time she forgot her wallet on a Grab car, but it took a lot of work and time to get it back. "Just because of calling through the app's free call, I couldn't contact the driver directly, but had to call the switchboard, wait for the switchboard to confirm with the driver before I can contact you. And time I waited a long time, it took me almost 1 day to get my wallet back."
After the call was too laggy, after only 4 seconds of calling, I had to switch to regular phone calls
This call was also reported by many users with errors such as not ringing, lagging, poor signal … causing frustrated customers and drivers to cancel the trip.
GrabCar's fare is 3 times higher than similar apps
Not only has the price increased rapidly compared to before, when put on the "balance sheet" with traditional car services as well as similar ride-hailing applications, GrabCar's price is still much higher.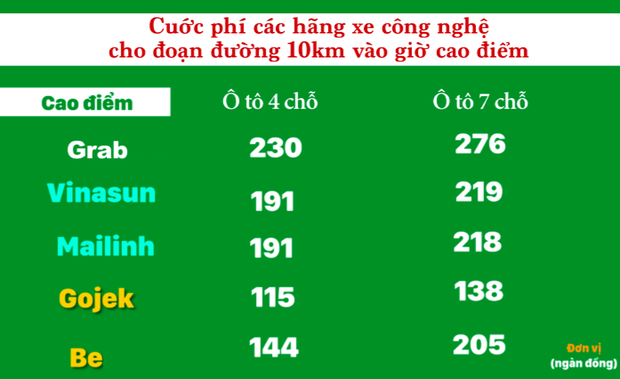 GrabCar fares are higher than many traditional taxis and higher than other technology car booking applications
Specifically, compared with the price of Vinasun's car booking on weekdays, Vinasun has a price of 191,000 VND for a 4-seat car and VND 219,000 for a 7-seat car. So, the price of a 7-seat car for GrabCar on weekdays is higher than that of Vinasun.
Compared to Mai Linh, on weekdays, GrabCar prices are still higher for 7-seat cars, although the difference is not large.
Compared with similar technology application, Gojek on the same road is priced at 70,000 VND for 4 seats and 86,000 VND for 7 seats. But Gojek has the corresponding price of 30,000 VND for 4 seats and 40,000 VND for 7 seats. Nearly 50% lower.
At peak hours, traditional taxi applications still maintain stable prices, while GrabCar increases the price quite a bit. According to the display on the application, the price of 4-seat GrabCar is 204,000 VND, 7 seats is 244,000 VND. Meanwhile Vinasun remained at 191,000 – 219,000 VND. Compared to a similar technology application, Gojek on the same road, the Gojek application has a price of 115,000 VND – 138,000 VND for a 4-seater and a 7-seater, respectively. Thus, still almost half lower than Grab.
On June 5, Ms. L. (38 years old, an office worker in Hanoi) said that she booked a car from Kham Thiem to Tran Huu Tuoc, the distance was not too long, so the BeCar fare was only 35,000 VND, while the cost of BeCar was only 35,000 VND. GrabCar then displays the price up to 105,000 VND.
"This situation happens often, the fare is too high, the application calls through the app continuously, there are errors, many times when the car is booked, after waiting for a long time, the driver cancels, causing a lot of damage to the customer. my job"Ms. L said.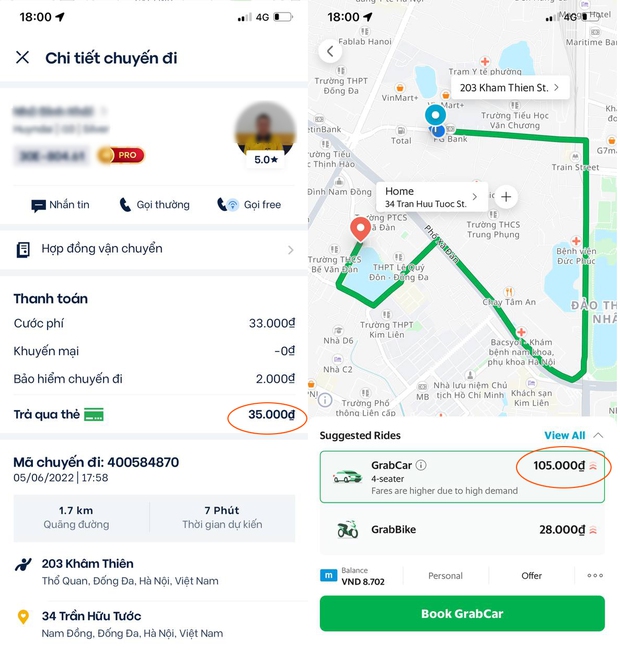 A passenger in Hanoi even discovered that GrabCar fare was almost 3 times higher than BeCar's at 6pm, the same distance traveled.
Ms. Nguyen Thi Hong Giao (living in District 1, Ho Chi Minh City) said: "I used to order a Grab car, don't remember the price is 245,000 VND, but through Gojek, it is only about 200,000 VND or about 180,000 VND".
Not only Hong Giao, a Other customers also have similar experiences when comparing 2 rates of 2 similar apps, GrabCar and Gojek:
"The same way from here to my house, if I book GrabCar, the price will be 93,000 VND, while if I book the Gojek app, the price will be 70,000 VND for 4 seats and 7 seats is 84,000 VND".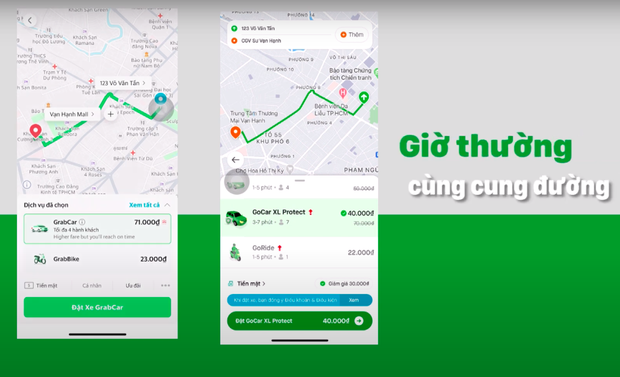 Usually, but always, Grab appears the words "high fare due to high demand" and therefore the price is many times higher than other technology applications.
Drivers are tired of customers complaining
Asked about the problem of high fares, Grab drivers said that compared to before, the price of Grab has indeed increased.
"I worked since 2019, at that time 1km was not 10,000 VND. Now the first kilometer is ten thousand." – A driver who has been with this application for a long time said.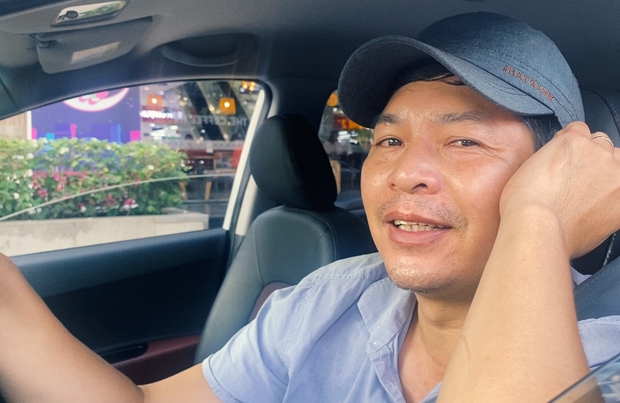 The driver said that Grab's fare has not increased much compared to the previous time
However, the drivers also agree that at peak hours, the price of GrabCar increases by 2 times, sometimes more. This sometimes also brings some trouble when customers complain and get frustrated because the price difference between the two times is too big.
"Grab will increase the price every hour. He thinks that if the price increases, the driver can get it back, but when the price increases, the traffic jams. Every rain, Sunday, rush hour, the price will increase.
Sometimes it's doubled. Normally it is 100,000 VND but every peak hour is 200,000 VND. For example, if you go to 100,000 VND but return 200,000, will you be angry? Only increasing to 120,000 – 130,000 still helps. If only on weekdays, it would be a crime for the driver, but if it increased a lot, the customers would be angry and cursed." – The driver thinks that the price should only be increased a little more than the normal price so as not to make customers feel uncomfortable and frustrated.
We have contacted Grab media representatives about the concerns of passengers over the past time, but the airline has not yet given an official answer on this issue.
Clip: Passengers lament the high price of GrabCar
https://kenh14.vn/hanh-khach-than-troi-vi-gia-cuoc-grabcar-tang-cao-hon-ca-taxi-truyen-thong-dat-xe-ngay-cang-kho-20220608181556359. chn
You are reading the article
GrabCar has skyrocketed prices, customers are "shocked" when booking at rush hour

at
Blogtuan.info
– Source:
Kenh14.Vn
– Read the original article
here