Israel tries to prevent Russia from delivering S-300 . missile for Syria: A fearsome weapon
Moscow accused Israel of not informing Russia of the attack on targets in Syria, which resulted in its IL-20 electronic reconnaissance plane being shot down by a Syrian anti-aircraft missile, killing 15 Russian servicemen. killed in the tragedy related to the Israeli air strike in Syria.
In September 2018, Moscow decided to deploy the S-300 air defense system to Syria within two weeks of the IL-20 tragedy.
Before the S-300 missile, Syria's air defense system was quite outdated, mainly with old missile complexes such as S-125, S-200, supplemented with a number of Buk and Pantsir complexes. The S1 is relatively modern.
Moscow's delivery of S-300 missiles to Syria has changed the game significantly, Israeli and American F-15, F-16 and even stealthy F-35 fighters have a worthy opponent. ranged by the "terrible" capabilities of modern Russian-made long-range air defense systems.
Because the Israeli Air Force will no longer be able to easily roam around and suddenly launch a surprise attack on Syria. In particular, in the long run, the possession of the S-300 by the Syrian armed forces has created a great deal of dissatisfaction, a threat to US forces in Syria…
In addition, accompanying the S-300 complexes that Russia transferred to Syria are automatic control systems that will ensure the centralized management of all Syrian forces and air defense facilities, monitor the situation of aerial imaging and receive commands quickly and accurately target designations.
Most importantly, the identification of all Russian aircraft by Syrian air defense means will be ensured, preventing the situation of "our troops shooting our own troops" like the IL-20 tragedy.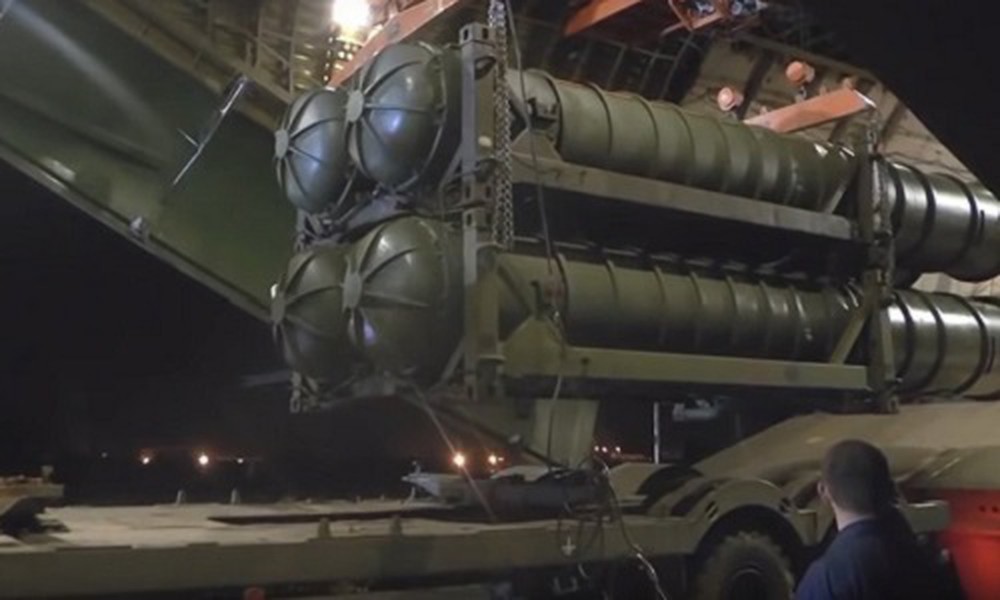 Russia transfers missiles to Syria.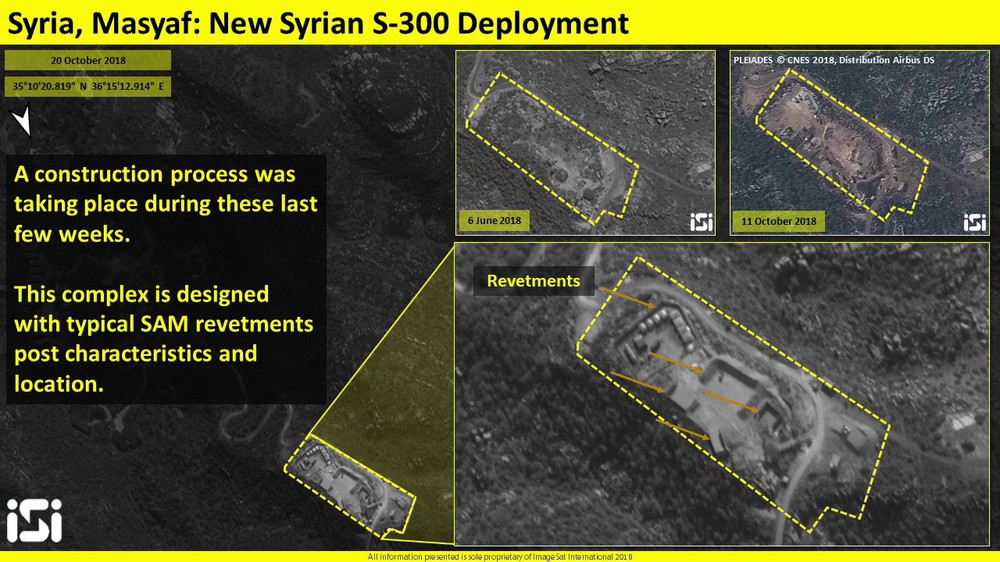 Satellite image of Syria's S-300 missile site.
The outstanding advantages of the S-300 missile (version S-300PMU1)
Mission
According to the manufacturer's catalog. The S-300PMU1 air defense missile system is designed for the prevention of massive air attacks at all combat altitudes and speeds, as well as strong electronic suppression of combat vehicles. current and new generation of air combat.
The target range of S-300 missiles that can destroy is fighter aircraft of all kinds, low-level attack weapons, strategic cruise missiles, tactical ballistic missiles, tactical – campaign or missile. Ballistic fire operates in the atmosphere.
The S-300PMU1 multi-channel mobile air defense missile system is a long-range air defense weapon capable of fighting independently or synergistically in a composite air defense formation through command weapons systems. sync like 83M6E, Baikal-1E or Senezh-M1E.
Thanks to the application of advanced connected weapons compatible with ground security identification systems and communications equipment of combat commanders, the S-300PMU1 air defense missile system is capable of adapting to rapid response and integration in all national air defense systems.
The S-300PMU1 system and the 83M6E synchronous command equipment can be upgraded to the standard of the S-300PMU2 Favorit air defense system at the request of the customer.
Configuration of the system S-300PMU1:
• Anti-aircraft missile complex
• 48N6E anti-aircraft missile ammunition (or 5V55R and 5V55K missile rounds) – each vehicle carries 4 rockets
• Weapons to ensure combat and repair
• Other combat equipment
The basic components of the S-300PMU1 air defense missile system include combat equipment, combat equipment and other combat equipment.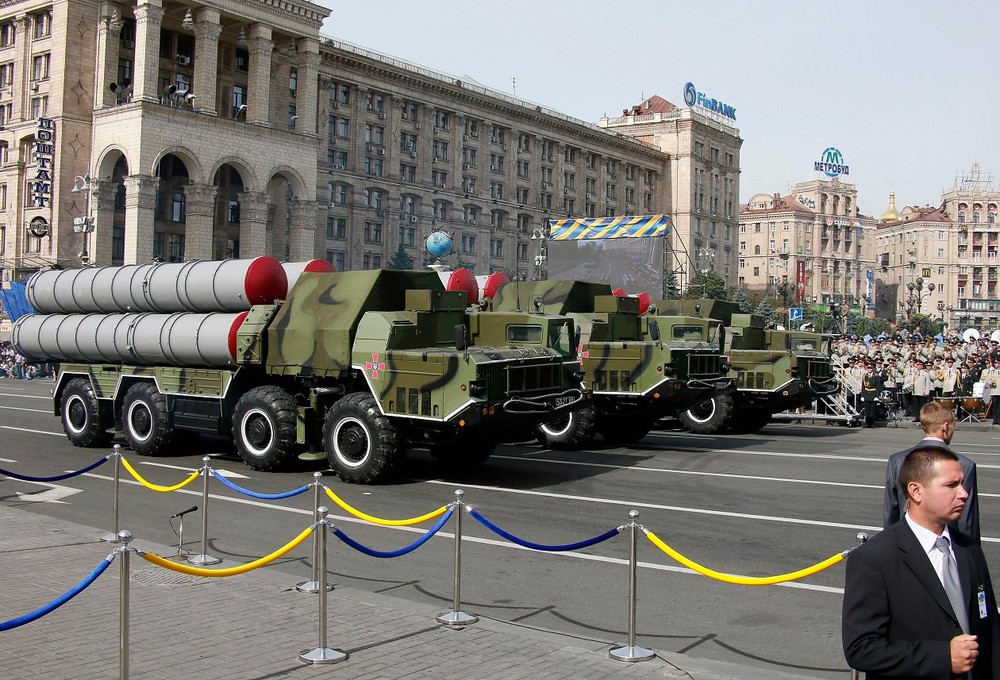 S-300 missile of Ukraine's air defense
The combat weapon set includes:
• A 30N6E1 (30N6E) multi-channel target indicator and firing control vehicle capable of providing an automatic element with 83M6E, Baikal-1E or Senezh-M1E synchronized command and control weapons systems, (radio alone) 30N6E IGR is only capable of integrating with the Senezh-M1E synchronous command weapon system);
• No more than 12 self-propelled launchers (5P85SE self-propelled launchers or 5P85TE self-propelled launchers) – 4 rockets per vehicle.
• A battlefield reconnaissance vehicle 1T12-2M-2.
The set of weapons to ensure combat includes:
• The set of weapons to store, transport and ensure combat for 82Ts6E missile ammunition (including 5T58E ammunition carrier, 22T6E ammunition carrier and other auxiliary equipment);
• Container for full-sized model of 48N6E2.GVM ammunition;
• Auxiliary vehicle components and operating manuals;
• The transformer block uses mains power to supply the launch vehicles and firing stations.
Other combat gear may include:
• 96L6E 96L6E all-height round-robin radio/76N6 low-gain sighting station;
• Vehicle antenna tower 40V6M;
• 48N6EUD training missile ammunition;
• Weapons kit to ensure combat and repair.
The S-300PMU1 air defense missile system can be supplied with the ALTEK-300 combat simulation kit to train crews to operate the 83M6E synchronous command system and combat equipment. of the S-300PMU1 missile system.
Basic technical parameter:
Target detection distance (km): 300*
Number of simultaneously detectable targets (targets): up to 300*
Number of targets that can be automatically tracked at the same time (targets): up to 100*
Number of targets that can be tracked and fired at the same time (targets): up to 6
Effective range (km):
– Flying target (min – max): 5 – 150
– Ballistic target (minimum – maximum): 5 – 40
Min/max altitude (km): 0.01/27
Target's maximum speed (m/s): 2,800
Number of rockets that can be fired at the same time (missiles): 12
Time to be ready to launch projectile from when the control station captures the assigned target (seconds): 5-7*
Time to be ready to launch projectiles when an independent self-reconnaissance system detects a target with a 96L6 (or 76N6) ring sight (seconds): up to 22
Time to change state from marching mode to combat readiness (minutes): 5
* When controlled by the 83M6E fire control system.
Russia delivers S-300 missiles to Syria
https://soha.vn/ten-lua-s-300-uy-luc-dang-so-the-nao-ma-my-israel-lo-den-mat-an-mat-ngu-20220609155345216.htm
You are reading the article
How powerful is the S-300 missile that the US and Israel are worried about "losing sleep and eating"?

at
Blogtuan.info
– Source:
Soha.vn
– Read the original article
here